Discover more from Accelerated
News and jobs in tech & venture capital.
Over 34,000 subscribers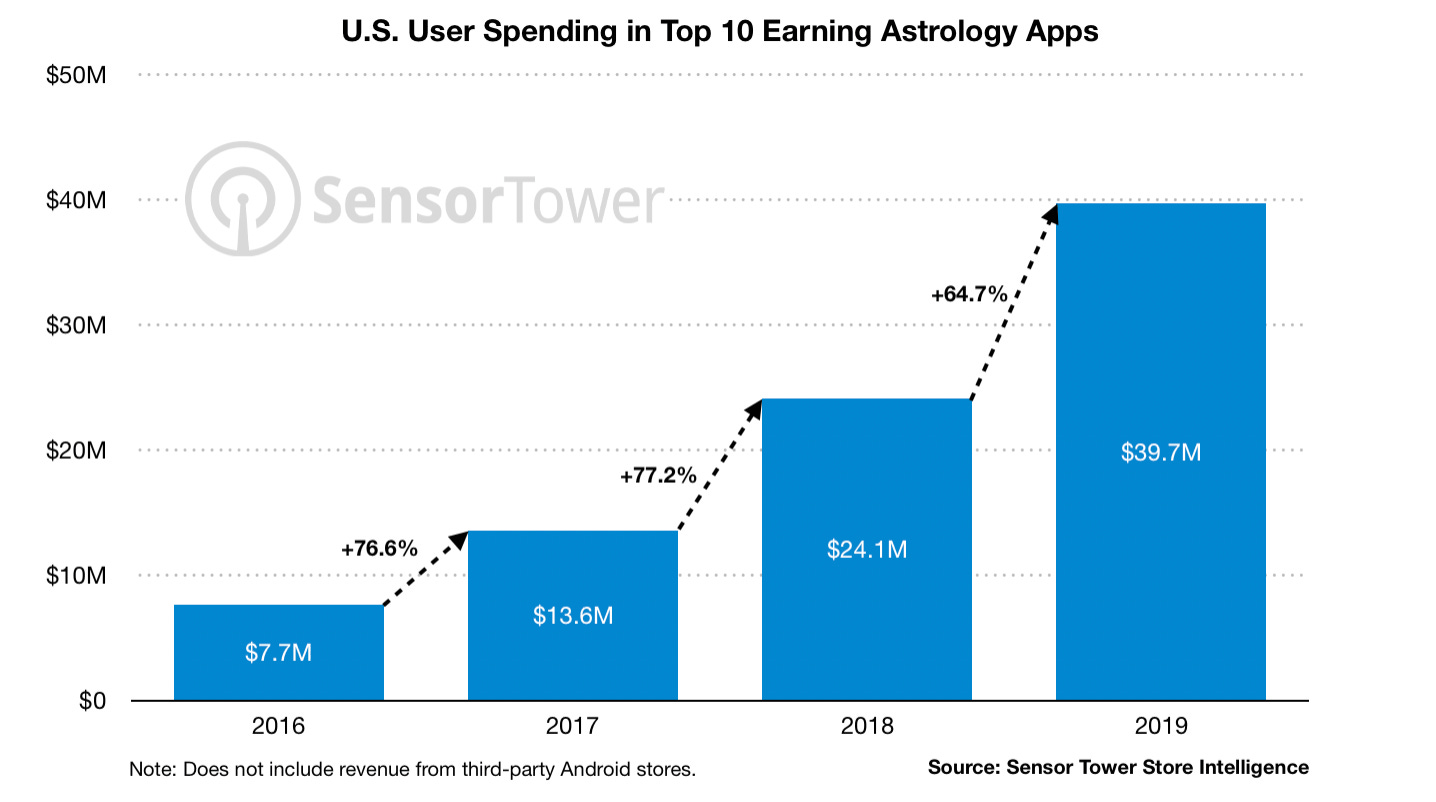 TechCrunch did an interesting writeup on astrology apps this week, with an assist from SensorTower data. Astrology seems to be trending right now, but in-app revenue is still relatively small - the top 10 grossing apps only brought in $40M in 2019.
Though revenue grew 65% YoY, the top-of-funnel traffic to these apps seems to be slowing. The top ten most downloaded apps only saw 3% YoY growth in new installs, down from 71% in 2018. The two most popular apps last year were Astrology & Palmistry Coach and Co—Star (a VC-backed company).
It's a bit odd to see revenue increase so much while installs slow. A few possibilities:
These apps have focused on converting users into paid accounts instead of growing their user bases, so they spent less on marketing last year.

There's significant user growth in the long tail of apps beyond the top ten—installs are increasing, we just can't see it in the data!

These apps have largely "tapped out" the market of potential users who are interested enough in astrology that they'd download an app, but they're getting better at monetizing the power users.
We'd be curious to hear if astrology apps have become more or less popular among your friends in the past year—let us know in the comments below!
---
news 📣
📈 Robinhood falters under heavy volume. It was a tough week for Robinhood, which had severe outages on Monday and Tuesday during the biggest market rally in 12 years. According to Robinhood's CEOs, the company's infrastructure was unable to handle the "unprecedented" levels of activity. Many customers were (understandably) angry - Robinhood is providing Gold users with three months free (it usually costs $5/month), and will consider other compensation on a case-by-case basis.
🚘 Waymo takes on outside capital. Self-driving car company Waymo, which spun out from Google, raised its first external funding - a $2.25B round at a $30B valuation. The company is piloting an autonomous taxi service in Arizona that has served "thousands" of customers, and just launched a local delivery service called Via. In other Waymo news, former exec Anthony Levandowski (who left Alphabet for Uber) filed for bankruptcy after being ordered to pay Google $179M.
📱 Quibi bolsters its war chest. Mobile video startup Quibi announced an additional $750M in funding. The company has now raised $1.75B pre-launch, which is truly a "go big or go home" approach. It's worth noting that Quibi isn't a normal startup - it's a full content development and distribution studio, and will compete with players like Netflix and NBC. Quibi launches on April 6 with 50 shows, and plans to roll out 175 shows in its first year. The initial slate is full of top-tier actors and directors, as well as an incredible-sounding home improvement show called Murder House Flip.
💻 Twitter takes a page from Snap's book. Twitter is finally adding ephemeral content with "fleets," a new feature being tested in Brazil. Fleets expire after 24 hours and cannot be liked, commented on, or retweeted. The feature is intended to encourage users to share thoughts more openly. In other Twitter news, the company is under fire from activist fund Elliot Management, which wants to replace CEO Jack Dorsey (or at least force him to choose between leading Twitter and Square).
😥 Austin cancels SXSW. After weeks of speculation, SXSW is officially cancelled. The conference was expected to host 400,000 attendees and bring $350M+ in revenue to Austin, and it's a major source of income for many locals. Despite numerous withdrawals of high-profile speakers and companies, SXSW's organizers had been insisting it would proceed as planned. On Friday, Austin's mayor issued an emergency order that effectively cancelled the conference due to public health concerns.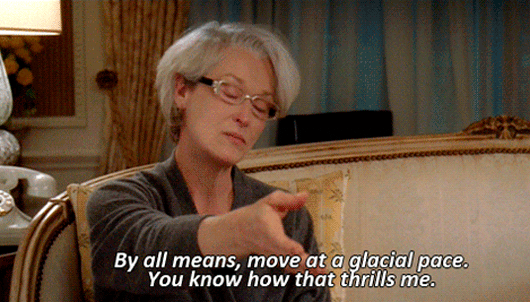 Have you dealt with a slow iPhone? Apple agreed to a $500M settlement this week over claims that the company "throttles" older phones to encourage users to buy new ones. The settlement still needs to be approved by a U.S. District Judge, but would result in a payout of $25 per impacted consumer. Apple has denied wrongdoing, with spokespeople saying they agreed to the settlement to avoid the lawsuit cost.
---
what we're following 👀
The co-founders of Sprinkles Cupcakes are starting a venture fund.
Why are teens on TikTok livestreaming while they sleep?
After raising $76M, legal tech startup Atrium is shutting down.
Floodgate's Shawn Xu is launching The Anchor List for top startup operators.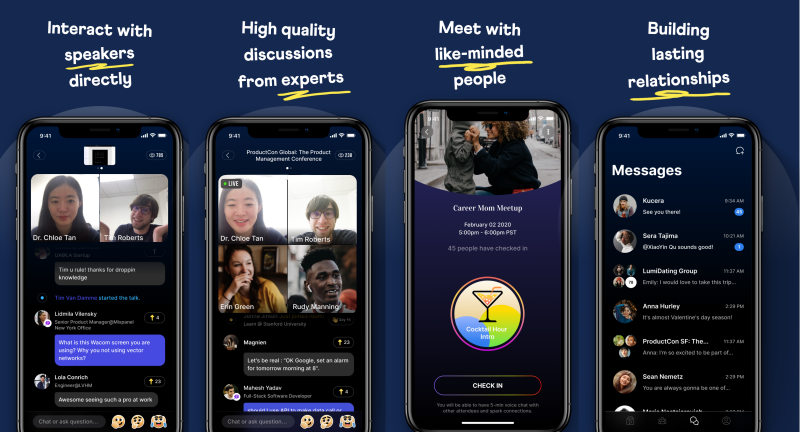 While the coronavirus has been hammering the public markets for weeks, it's taken a bit longer to trickle down to private companies. This week seemed to mark a turning point, with many VCs making public proclamations about how they expect the virus to impact startups. Sequoia outlined in a memo to portfolio companies that they should be prepared for slower growth, supply chain issues, and a tough time fundraising.
However, there are some industries where the coronavirus may be a net positive. Remote communication tools like video conferencing and chat benefit from more employers asking people to work from home - Zoom's stock is up 42% since late January. Companies that help people stay fed (e.g. DoorDash), entertained (e.g. Netflix), and fit (e.g. Peloton) while they're stuck at home will also likely see a bump.
We see significant opportunity for startups trying to enable virtual connections, for both work and personal reasons! Run The World (screenshots above), a platform that enables companies and other communities to host virtual events, just announced a $4.3M seed led by a16z. The startup launched four months ago and has powered dozens of events for communities worldwide, from hackathons to dating workshops.
Any other virtual communications startups you like? Let us know in the comments below!
---
jobs 🎓
Atomic (Venture Fund) - Launcher (SF)*
Munich Re Ventures - Portfolio Development Analyst (SF)
Pathrise - Entry Level Data Scientist (SF)
Wells Fargo Strategic Capital - Healthcare Associate (SF)
Workstream - Chief of Staff (Palo Alto)
American Express Ventures - Investor (Palo Alto)*
Dollar Shave Club - Technical PM (LA)
M13 - Brand Coordinator (LA)
CB Insights - Emerging Technology Associate (NYC)
Goldman Sachs - Marquee Product Manager (NYC)
Square Capital - Credit Analyst (NYC)
Revolut - Product Associate (London)
internships 📝
Kapor Capital - Startup Internship Program (Various)
Stride Funding - Spring BD Intern (Remote)
Signia Venture Partners - Spring/Summer Intern (SF)
Gusto - MBA Insights and Ops Intern (SF)
Glassdoor - PM Intern (SF)
Pill Club - MBA Strategy & Ops Intern (San Mateo)
Anthos Capital - VC Summer Analyst (Santa Monica)
Lyft - Content Producer, Financial Analyst Interns (SF); Market Ops Intern (LA)
Shoprunner - MBA Strategic Insights & Initiatives Intern (Chicago)
Compass - Associate PM Intern (NYC)
Ellevest - Data & Analytics Intern (NYC)
---
puppy of the week 🐶

Meet Les Woof Woof, an (almost) three-year-old goldendoodle who lives in the Bay Area.
Les enjoys eating bananas, sprinting around the yard (he has long legs and is very fast), and swimming with his best friend Kai the bernedoodle, pictured above. He is also the incoming co-VP of Networking for the Stanford GSB Venture Capital Club.
You can follow him on Instagram @leswoofwoof!
---
Hi! 👋 We're Justine and Olivia Moore, identical twins and venture investors at CRV. Thanks for reading Accelerated. We'd love your feedback - feel free to tweet us @venturetwins or email us at twins@crv.com.