Discover more from Accelerated
News and jobs in tech & venture capital.
Over 34,000 subscribers
🚀 Accelerated: Casper files for IPO
Plus, 23AndMe develops its first drug from user data!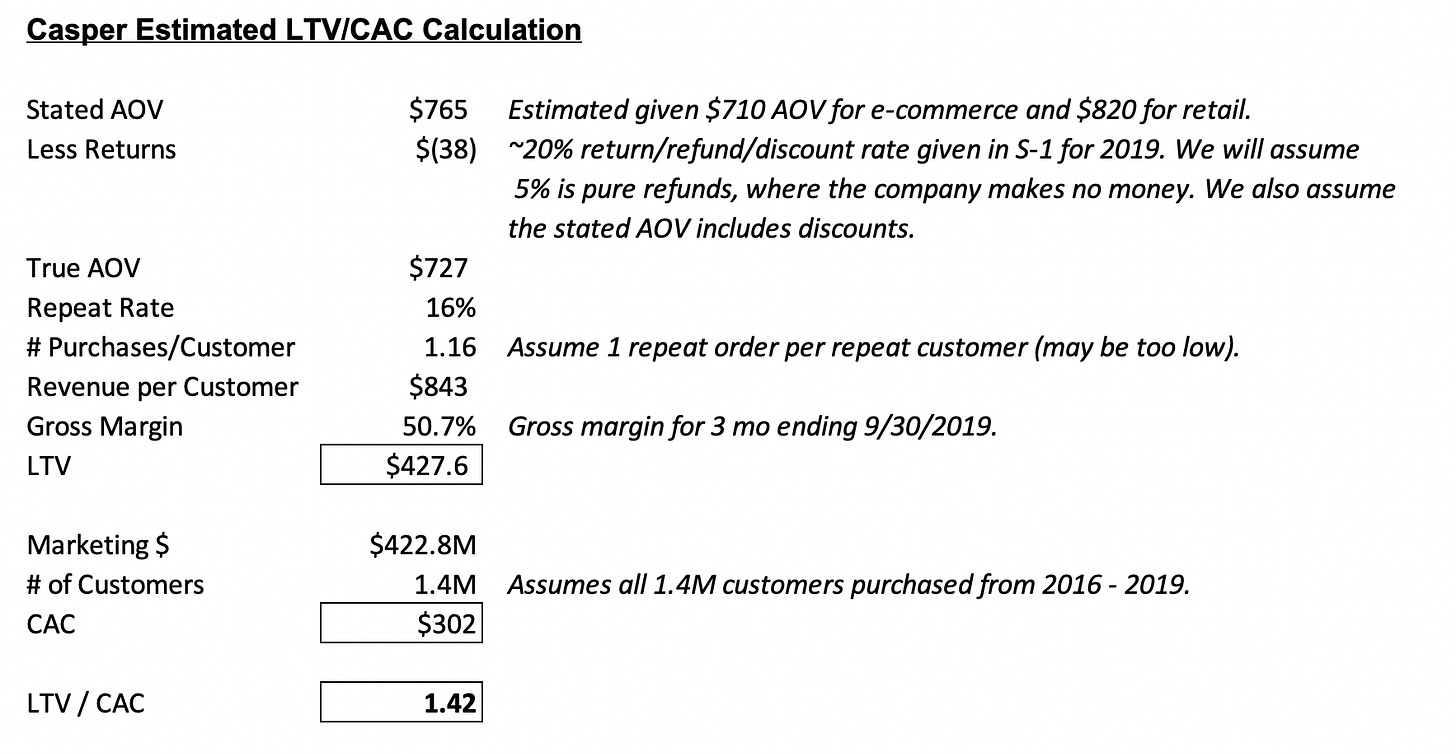 Mattress company Casper filed its S-1 this Friday, and we published a breakdown of four things we learned from it (including our attempt to calculate Casper's LTV/CAC, a key D2C ratio that isn't provided by the company!) The full blog post is available here, but here's a summary of our key takeaways:
Casper sees itself as a "sleep economy" company—this goes beyond mattresses to meditation apps, sleep counseling, and eventually even medical devices.

Physical stores are boosting e-commerce purchases and generating impressive revenue/square foot, but it's unclear how long it takes to recoup the setup costs.

Casper makes a profit on a customer's first purchase, but we calculate they are only paying back 1.4x the acquisition cost in gross profit over a customer's lifetime - which isn't great for either a tech company or a D2C brand.

Partnerships with other retailers (even major ones, like Amazon and Costco) still comprise only 17% of Casper's revenue. Casper sees higher margins and can more closely control the customer experience on its own channels.
---
news 📣
🛑 Layoffs hit SoftBank's portfolio. It was a tough week for the SoftBank portfolio, with major layoffs at five companies. As SoftBank no longer has unlimited capital to fund unprofitable growth, these companies may be forced to significantly cut their burn to survive. Robotic pizza company Zume (last valued at $2.3B) is laying off more than half of its employees and pivoting into compostable packaging. Micromobility startup Lime laid off 100 employees (14% of its workforce) and shut down 12 markets in a bid for profitability. Getaround, a P2P car rental company, is cutting a quarter of its staff, while on-demand delivery startup Rappi is laying off 300 people. Finally, hotel chain Oyo plans to cut 1,800 jobs across India and China.
👟 ClassPass becomes a unicorn. The first 🦄 of 2020 has been born! ClassPass, a fitness/wellness membership program (and CRV portfolio company) announced a $285M Series E led by L Catterton and Apax Digital. Along with its consumer customers, the company now has 1,000 corporate partners who provide ClassPass as a benefit to employees. ClassPass operates in more than 28 countries (up from four in the last 18 months), and users can choose from 5M classes operated by 30k+ partner studios.
📰 Social networks battle fake news. As the 2020 elections approach, social networks continue to refine their approaches to false content. TikTok released a new list of community guidelines, prohibiting "content distributed by disinformation campaigns" and banning hate groups and extremist organizations. While Facebook announced a ban on "misleading manipulated media" (e.g. deepfakes), the company largely maintained its stance against policing content, and will continue to allow political campaigns to microtarget users with (potentially false) ads.
💊 23andMe sells first drug. Personal genetics company 23andMe (former employer of our BFF Kai) has officially sold the rights to the first drug it developed using user data. The move marks 23andMe's evolution into a drug development company - prior pharma deals involved selling data to companies like GlaxoSmithKline. The drug, which was sold to Spanish company Almirall, is based on an antibody that targets skin conditions like psoriasis and inflammatory conditions like Crohn's disease. 80% of 23AndMe's 10M users have opted in to having their data used for drug discovery.
😀 SmileDirectClub gets into retail. Clear aligner company SmileDirectClub (which went public last year) is moving into mass retail with a new Walmart distribution deal. The company is expanding beyond aligners into other kinds of oral care that will be sold exclusively at Walmart, including a UV cleanser, toothbrush heads, and retainers. The move puts SmileDirectClub in closer competition with other D2C dental startups like Quip and Goby. The news sent SmileDirectClub's stock up almost 30%, but it's still trading more than 50% below its IPO price.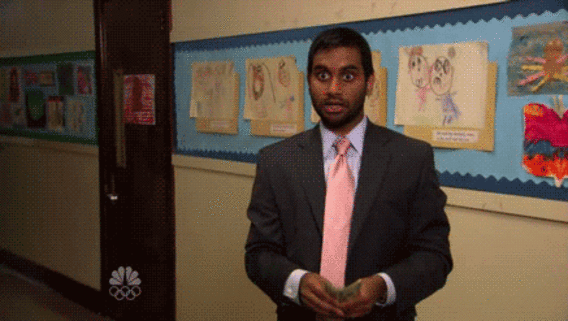 Mobile video company Quibi has joined Magic Leap on the list of startups that have raised $1B+ pre-launch. With another $400M announced this week, Quibi has now raised a total of $1.4B. Quibi's mobile-first streaming service will feature short (<10 minute) shows starring celebrities like Chrissy Teigen and Zac Efron. As Netflix has taught us, producing quality content is expensive, and we're interested to see if Quibi's investments will pay off! Quibi will launch on April 6 at a price of $5/month (with ads) or $8/month (ad-free).
---
what we're following 👀
Lightspeed's Nicole Quinn shares her predictions for 2020. 
It's apparently possible to live off free trials from D2C mattress companies.
Is SoftBank walking away from startups after committing capital?
Thanks to lax security practices, over a billion medical images are freely available online.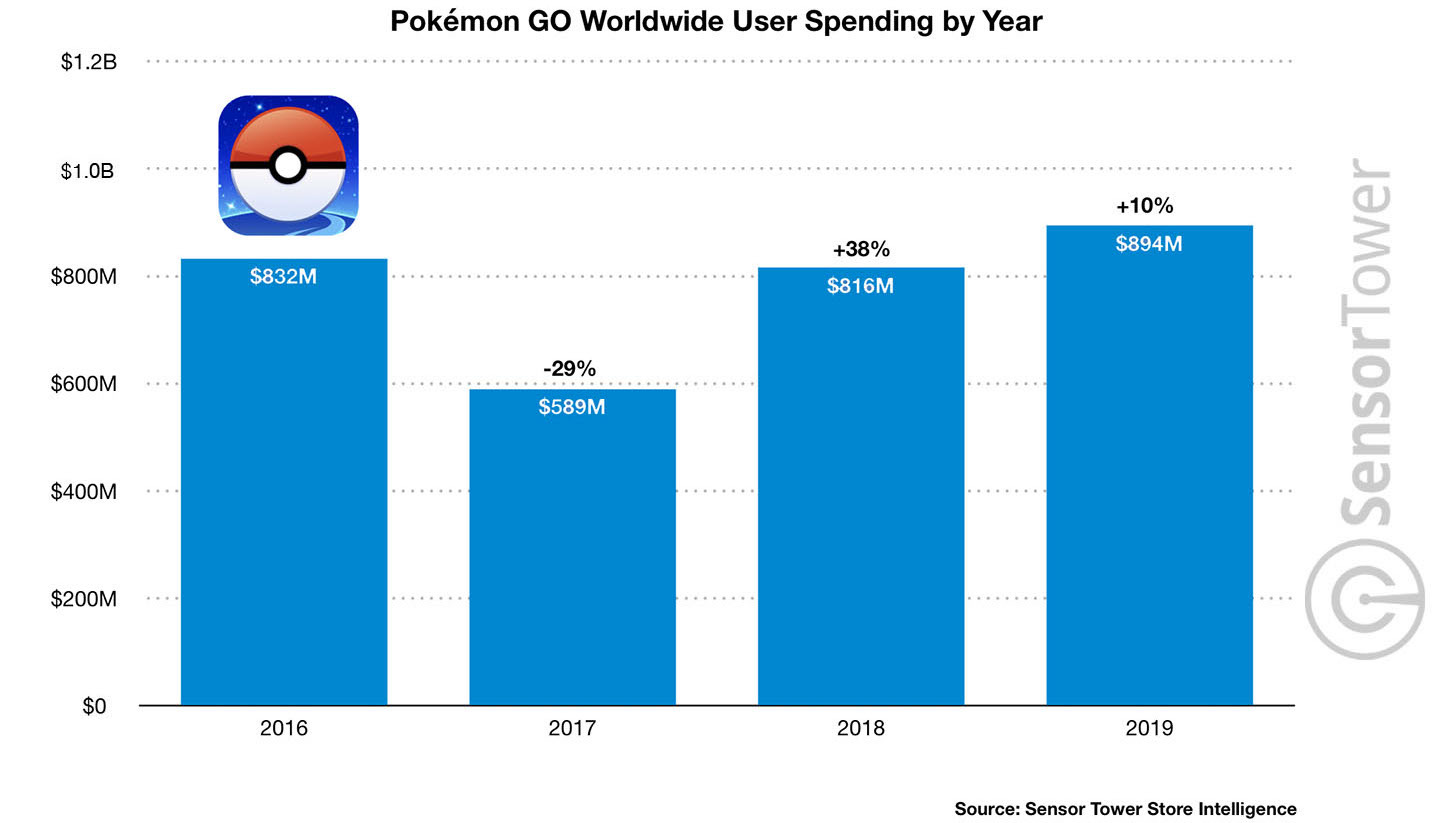 2019 was a great year for Niantic (a CRV portfolio company) - according to Sensor Tower data, Pokémon GO hit a record high of $894M in player spending. The game launched in 2016 and has had tremendous staying power, with 55M installs last year.
Why is it still so popular? Pokémon GO has an extremely engaged community of users who make friends (and compete against each other) on the app, which makes it unusually sticky. Niantic holds monthly community days to bring players together IRL, as well as larger events like regional Safari Zones that attract hundreds of thousands of players. They've also kept the game fresh by regularly adding features and new Pokémon to catch—you never "finish" the game because there's always more challenges to take on and events to participate in.
---
jobs 🎓
Core Innovation Capital - Associate / VP (SF)
Viz.ai - Chief of Staff (SF)
Plaid - New Business Associate (SF)
Wells Fargo Strategic Capital - VC & PE Associate (Palo Alto)
RigUp - BD Associate (Austin)
Hilma - Product Development & Ops Manager (NYC)*
Compound - Investor (NYC)
Quona Capital - Platform Associate (DC)
OpenView - Investor (Boston)
Uala - Chief of Staff (Buenos Aires)*
Octopus - Investment Associate (London)
*Requires 3-5 years of experience.
internships 📝
Costanoa Ventures - Summer Fellows (SF)
Splunk - Mobile PM Intern (SF)
The AI Foundation - Research Intern (SF)
Zynga - PM Intern (SF)
ServiceNow - MBA Corporate Strategy Intern (Santa Clara)
Daily Harvest - Brand Intern (NYC)
Datadog - PM Intern (NYC)
Alumni Ventures Group - Deal Team Intern (NYC, Boston)
Cambridge Associates - MBA Summer Associate (Boston)
Cheer - Global Growth Intern (Various)
---
puppy of the week 🐶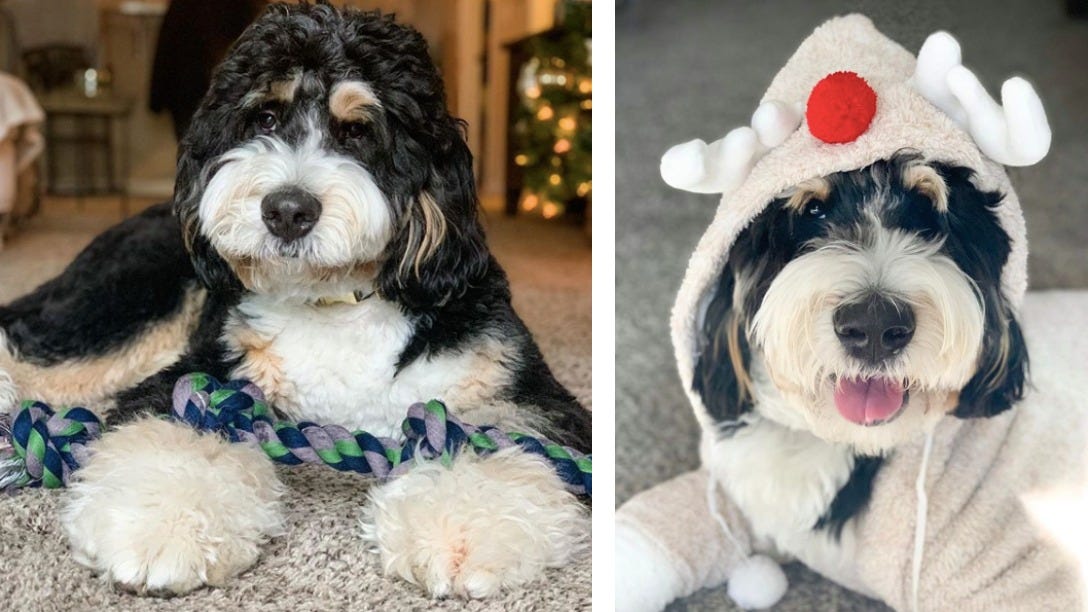 Meet Carter, a one-year-old bernedoodle who lives in Cleveland, Ohio.
Carter's hobbies include hiking, playing in the snow, eating leaves, and hanging out by the fire. You can find him on Instagram @carter.the.bernedood!
---
Hi! 👋 We're Justine and Olivia Moore, identical twins and venture investors at CRV. Thanks for reading Accelerated. We'd love your feedback - feel free to tweet us @venturetwins or email us at twins@crv.com.