Discover more from Accelerated
News and jobs in tech & venture capital.
Over 34,000 subscribers
🚀 Accelerated: Facebook's crypto project loses steam
Plus, Uber lets you bring your pets!
We're testing a new format using Substack this week - we'd really appreciate if you could take this one question survey to let us know what you think!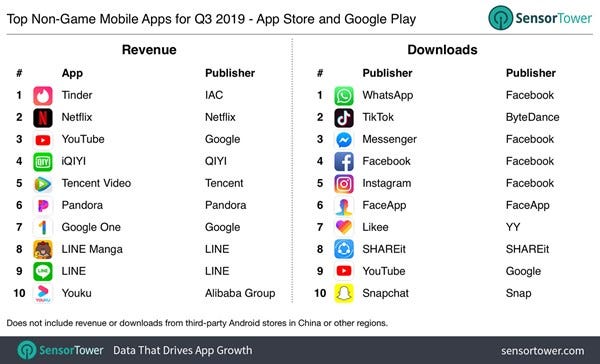 Research firm SensorTower released its Q3 2019 report on worldwide mobile app usage, with $22B in consumer spend (up 23% YoY) across the App Store and Google Play. One of the top conclusions? TikTok continues to gain momentum as the #2 non-gaming app, and the only non-Facebook app to make it into the top 5! 
On the gaming side, Pokemon Go (created by Niantic, a CRV portfolio company!) had the fastest QoQ revenue growth, up 63% to $308M. This is particularly impressive given that the app is now more than three years old! Check out the full report here. 
---
news 📣
💰 Libra loses members. It was a tough week for Facebook's Libra, a new cryptocurrency initially supported by 28 founding members, from marketplaces like Uber to VC firms. This Friday, all of the major payment processors (Visa, Mastercard, Stripe, and Mercado Pago) withdrew from the project - Paypal already backed out last week. These payment processors were under pressure from politicians, who warned them of significant regulatory risks if they participated. The remaining members are expected to sign a formal charter tomorrow.
❌ SEC blocks Telegram. In other crypto news this week, the SEC filed an emergency restraining order to block messaging app Telegram's $1.7B token sale. Telegram plans to launch a blockchain-based payment network similar to Libra, but has struggled with regulatory issues after announcing the project in early 2018. The SEC alleges that the Telegram tokens are securities (and therefore must be registered), which Telegram didn't do.
💳 Robinhood relaunches cash. After a botched launch of checking accounts last December, Robinhood is back with Cash Management, a debit card linked to a cash account that earns 2% interest. The company isn't holding the cash itself, but partnering with six FDIC-insured banks where users' funds will be deposited. Robinhood isn't the first investment startup to get into cash  - Betterment and Wealthfront both launched similar products earlier this year.
🥡 Postmates delays IPO. Food delivery startup Postmates, which was expected to go public this year, is officially delaying its IPO due to market conditions. At TechCrunch Disrupt last week, CEO Bastian Lehmann referenced  the poor outings of Uber and other unicorns. Postmates reportedly confidentially filed its paperwork in February, but then raised another $225M in September from a private equity firm. 
🤔 New questions plague Vision Fund. In the wake of the WeWork debacle, questions are emerging about the structure of SoftBank's $100B fund. The fund's LPs were reportedly promised a 7% annual coupon on 40% of their invested capital, which is extremely unusual - LPs typically only earn a portion of returns. Thus far, only 25% of coupons have been paid from distributions, which means that SoftBank is paying out LPs with their own capital. 
In fundraising news this week, medical practice Parsley Healthraised a $26M Series B, electric moped startup Revel raised a $28B Series A, and dental clinic Tendraised $36M. We also saw three new unicorns - Grammarly raised a $90M round at a $1B+ valuation, RigUp (job marketplace for oil & gas)  raised a $300M Series D at a $1.9B valuation, and Next Insurance (SMB insurance) raised a $250M Series C at a $1B valuation.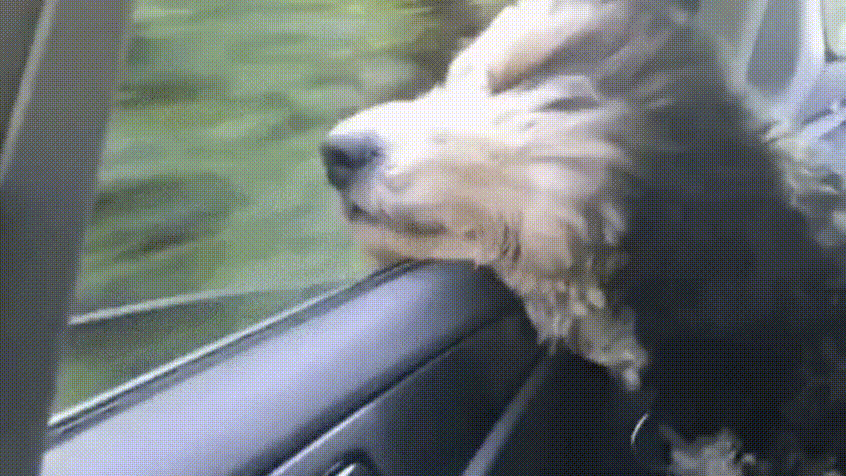 In more positive news this week, Uber is testing a new feature called Uber Pet. For a "small surcharge" of $3-5, riders will be allowed to bring their pet along with them - they'll have to notify the driver ahead of time, as drivers can opt-out of transporting non-service animals. The feature is launching in eight markets on October 16. 
We will take literally any opportunity to feature our BFF Kai (pictured above) - check out our trip to Bernese Mountain Dog Day in Half Moon Bay with her last weekend.
---
what we're following 👀
WeWork is shutting down its private school, WeGrow, in Manhattan. 
Teens are competing to spot celebrity fashion pieces  via  "closet accounts" on Instagram. 
Vanity Fair gets up close and personal with Glossier CEO Emily Weiss. 
Newsletters are starting to monetize - and attract venture capital. 
An online school is now offering a degree in how to be an influencer, with help from Cristiano Ronaldo.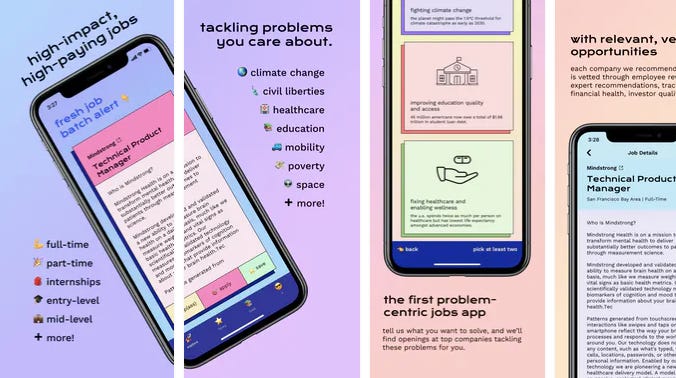 We're a bit pessimistic when it comes to LinkedIn's future with Gen Zers, and have featured several next-gen recruiting apps. We were particularly excited to see the launch of Dolphin, which focuses on jobs & internships at impact organizations. 
Dolphin features more than 6,000 companies working on issues like education access, healthcare reform, and poverty reduction. After onboarding with six quick questions, users swipe on jobs to pass, save, or apply - Dolphin sends you an email link to complete your application.
We were really impressed by Dolphin's delightful user experience - the app is easy to use and beautifully designed, and the focus on impact is really smart for Gen Z. Mobile-first makes sense when browsing for jobs, but we're curious to see whether Dolphin can go further "down the funnel" and improve the entire application process. 
What do you think? Let us know!
---
jobs 🎓
internships 📝
---
puppy of the week 🐶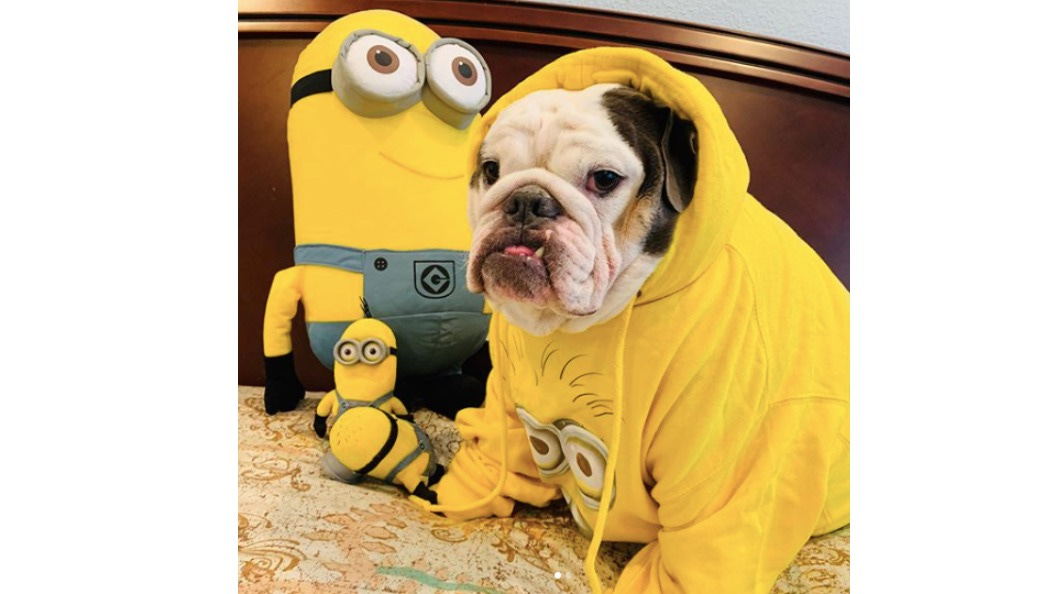 It's officially Halloween season, and we couldn't be more excited to start featuring amazing dog costumes - like bulldog Oscar dressed up as a minion!
Oscar lives in NorCal with sidekick Tobi. While he may not always love dress up, he does enjoy cruising in the car, chewing on tennis balls, and napping hard.
Follow him on Instagram at @mybulliesandme!