Discover more from Accelerated
News and jobs in tech & venture capital.
Over 34,000 subscribers
🚀 Alphabet scraps plans for "tech utopia"
Plus, we're looking for guest columnists for Accelerated!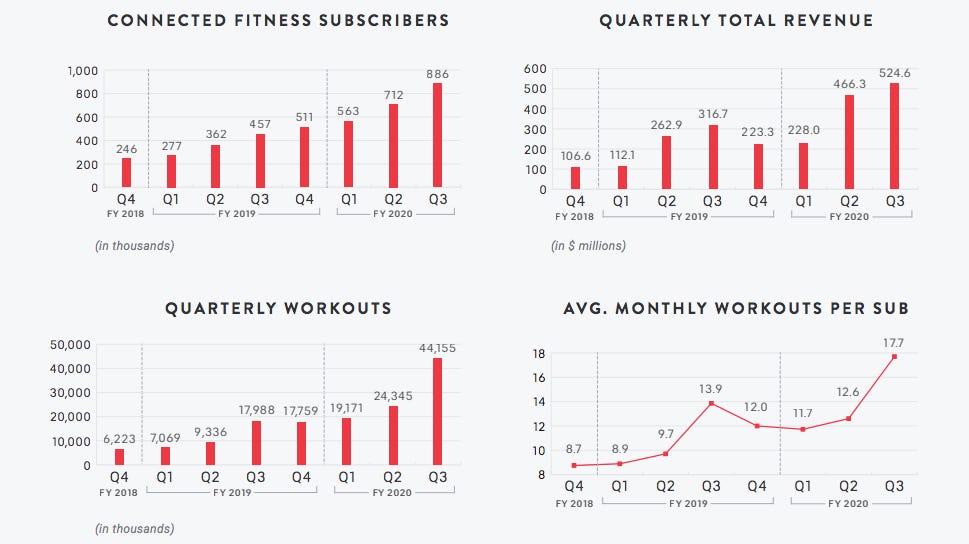 Peloton reported stellar quarterly earnings this week, sending the stock up 20% to a record high. The company, which now trades at a $12.2B market cap, saw revenue jump 66% YoY. Unsurprisingly, Peloton is seeing significant demand for its premium indoor bike, treadmill, and connected classes in the shelter-at-home era.
In addition to acquiring nearly 175,000 new subscribers, Peloton saw extremely high engagement among its existing subscriber base. The company's average monthly churn was 0.5% (the lowest its been in four years!), and average monthly workouts per subscriber grew 27% YoY. Peloton increased its revenue expectations for 2020 to $1.73B, and now expects to have more than 1M subscribers by the end of this quarter.
---
news 📣
🚴‍♀️ Uber invests in Lime. Uber led a $170M round in e-bike/scooter company Lime, reportedly at a $510M valuation (down ~80% from the company's last fundraise). As part of the round, Uber will be handing over Jump, its micro-mobility business, to Lime. The round also comes with a new CEO, the company's third in the last year. Uber first invested in Lime in 2018 - this round will significantly increase Uber's ownership, and reportedly includes an option for Uber to buy Lime in the next few years.
🏙️ Alphabet cancels "smart city" project. Alphabet subsidiary Sidewalk Labs withdrew its plan to build a 12-acre, tech-first community on the Toronto waterfront. The project had been in the works for 2.5 years, and would have involved a $1.3B investment from Google. CEO Dan Doctoroff blamed the economic uncertainty due to COVID for the cancellation - but many believe the project was doomed from the start, as residents repeatedly vocalized their concerns around data privacy issues.
⚖️ Neumann sues SoftBank. The WeWork drama has gotten exhausting, but we're in too deep to give up now! This week, former CEO Adam Neumann sued SoftBank for withdrawing its offer to buy $3B in stock from shareholders (Neumann would have received $970M). Neumann claimed he stepped down in exchange for the buyout, and accused SoftBank of "secretly taking actions to undermine" the tender offer.
📈 Rideshare earnings & layoffs. Lyft and Uber reported mixed earnings. Both companies recorded losses that exceeded estimates, but a surprise YoY increase in rides (for Lyft) and strong food delivery performance (for Uber) kept the stocks afloat. Both companies made layoffs to reduce costs - Uber cut 14% of employees this week, while Lyft laid off 17% of staff last week. Uber's CEO also announced that ride volume is on the rise after bottoming out in mid-April, sending both stocks up further.
🎥 Hedge fund enters Quibi drama. Activist fund Elliot Management is joining the fight between interactive media company Eko and Quibi (Meg Whitman and Jeffrey Katzenberg's video startup). Eko filed suit in March, claiming Quibi infringed on Eko's patents when developing the Turnstyle video-switching feature. Elliot will fund Eko's side of the suit, and take an equity stake in Eko. This fairly unusual move for Elliot is not good news for Quibi, which had a disappointing launch in April after raising $2B.
Social networks struggled this week to fight the spread of a 26-minute COVID conspiracy video called "Plandemic." The video features medical researcher Judy Mikovits, who claims that there is a hidden agenda behind the coronavirus perpetuated by doctors and other experts. YouTube, Vimeo, and Facebook all decided to take the video down for violating their terms of service, primarily for spreading misleading health info (the video encourages viewers not to wear masks).
The "plandemic" battle illustrates the difficulty social networks have had fighting disinformation during this crisis - even TikTok has added a banner to COVID-related videos telling users to "learn the facts"! Thus far, most of the social giants have become more aggressive in promoting verified information, and blocking content that doesn't pass a fact-check. The pandemic provides an interesting opportunity for social platforms to innovate on content moderation tools and policies, and we're curious to see what comes out of this - and what lasts post-COVID!
---
what we're following 👀
A blockchain company CEO is suing a 15-year-old for reportedly stealing $24M of crypto from him.
Should consumer startups fundraise right now? Two GPs share their thoughts.
A look at "Zoom Bachelorette" and other creative ways people are dating online.
Harvard Ventures has a new podcast about entrepreneurship & innovation called The Bottom Line - check out their interviews with Mark Cuban, Anne Dwane, and more!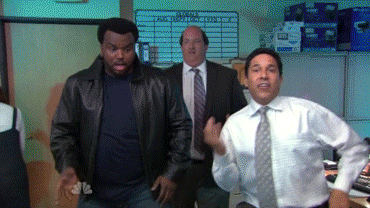 Ever wanted to write for Accelerated? We're excited to announce a new initiative - guest columnists! This is a cool opportunity to broadcast your writing to our audience of 15,000+ students & recent grads, VCs, and startup founders. We'll be publishing your content in this section, where we typically feature things like:
A few guidelines:
Keep it short - we're looking for pieces that are <250 words

No self-promotions, please! (don't feature a startup you founded or work for)

Don't cover anything too mainstream, unless you have an interesting take (a feature on Slack won't work, but an overview of why student groups are switching from Slack to Discord would!)

Have a graphic (e.g. GIF, graph, app screenshots) - it doesn't have to be yours, but let us know where you got it from
If you're interested in submitting something, please send it to twins@crv.com. You can also email us before you start if you'd like feedback on your idea! ☺️
---
Dorm Room Fund announced the Blueprint Investor Track, a remote, 6-week summer masterclass for aspiring black, latinx, and indigenous student investors. Applications are due 5/27 - learn more and apply here!
jobs 🎓
Fifty Years - Chief of Staff (SF)
Sensor Tower - Associate PM (SF)
Invoca - Product Manager (SF)
Blend - New Grad Software Engineer (SF)
Goodwater Capital - Data Scientist (Burlingame)
Care.com - Associate Product Manager (Austin)
Quona Capital - Platform Associate (DC)
Rowan - Launch & Ops Associate, Marketing Ops Associate (NYC)
Justworks - Product Design & New Product (NYC)  
The New York Times - Web Engineer (NYC)
Peloton - Financial Analyst (NYC)
internships 📝
Salesforce - Product GTM Strategy Intern (SF)
Fivestars - PM Intern (SF)
Curology - Data Science Intern (SF)
Boulevard - PM Intern (LA)
Flowspace - MBA Intern (LA)
Formlabs - Product Marketing Intern (Boston)
Nate - MBA Strategy & Ops Intern (NYC)
Endeavor - Summer Finance Intern (NYC)
Summer - Marketing, Graphic Design, MBA Biz Dev Interns (NYC, Remote)
K50 Ventures - Analyst Intern (Remote)
Equal Ventures - MBA Interns (Remote)
---
puppy of the week 🐶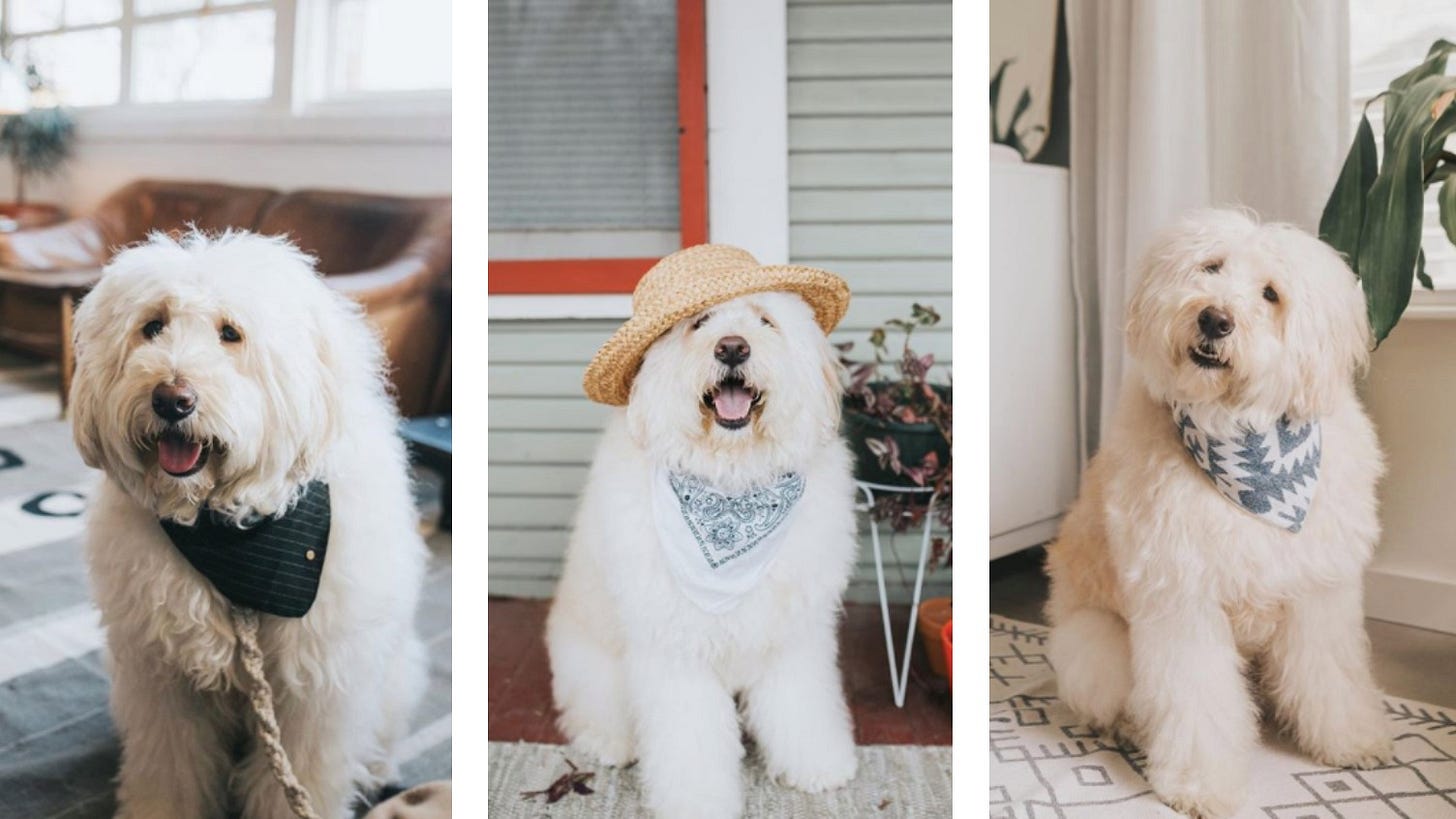 Meet Marlow, a three-year-old labradoodle who lives in Austin, Texas.
Her hobbies include chilling by the pool, eating cheese, and hanging out with her foster siblings. As you can see above, she also knows how to rock a straw hat.
Check her out on Instagram @marlowdoodledog!
---
Hi! 👋 We're Justine and Olivia Moore, identical twins and venture investors at CRV. Thanks for reading Accelerated. We'd love your feedback - feel free to tweet us @venturetwins or email us at twins@crv.com.