Discover more from Accelerated
News and jobs in tech & venture capital.
Over 35,000 subscribers
🚀 Announcing the 2020 Liftoff List!
Meet the 25 most promising student companies from campuses across the country.
Hi Accelerated readers,
It's a very special day! We're excited to announce the 25 companies selected for the 2020 Liftoff List, celebrating the top student startups across North America. The founders represent 16 schools and a range of degree programs, from undergrad to PhD.
We received 225+ applications from companies at nearly 70 universities across the U.S. and Canada. All companies that applied were required to have either: (1) a live product; or (2) substantial commercial traction/interest - both of which are already amazing accomplishments for student founders!
Picking the 25 companies that made the list was incredibly tough. Four companies also pitched to our amazing panel of VC judges (Saar Gur, Ryan Hoover, Hunter Walk, and Alexia Bonatsos), and Atomus (USC) received a $100K investment from CRV.
We've included blurbs on each company below - we'd encourage you to check out the Liftoff List website for more info! TechCrunch also published an overview of the competition and an interview with the Atomus team.
- Justine & Olivia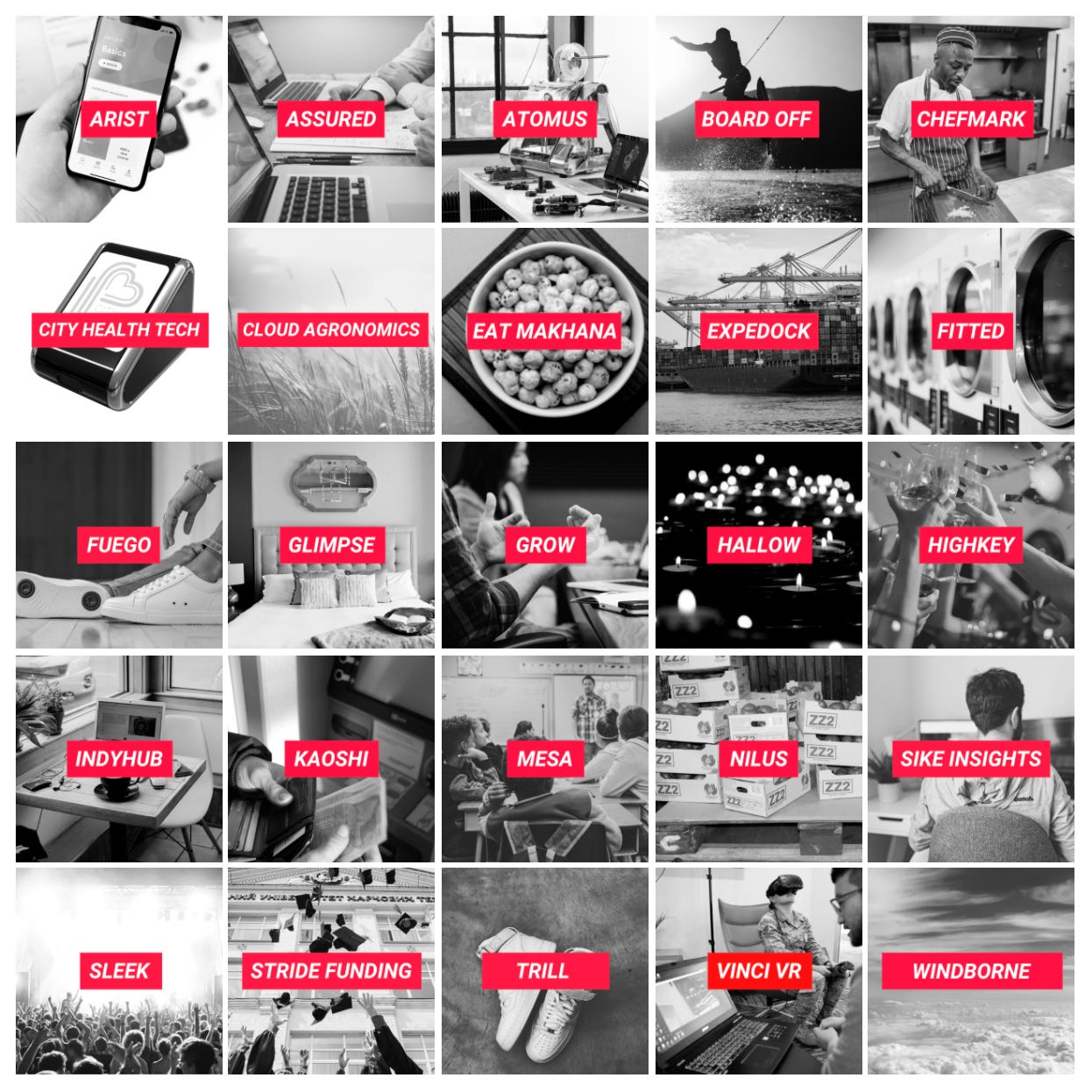 ---
2020 Liftoff List
📱Arist (Babson, Quinnipiac) - text message-based learning platform that allows organizations to create and deploy courses via SMS.
💻 Assured (Stanford) - disrupts the insurance industry by modernizing its most archaic component: claims.
🖨️ Atomus (USC) - digital rights management platform for 3D printing, enabling users to share design files in a secure way & get compensated every time their file is printed.
🌊 Board Off (Georgia Tech) - booking & planning software for action sports, starting with watersports centers.
📦 Chefmark (Wharton) - marketplace for used restaurant equipment, aggregating fragmented supply and demand in a $28B industry.
🚰 City Health Tech (Northwestern) - IoT hardware and software solution that teaches and tracks good hygiene habits, starting with hand washing. 
🌾 Cloud Agronomics (Brown) - global analytics platform providing predictive insights for agriculture.
🍘 Eat Makhana (Berkeley Haas) - delicious, nutritious, and allergy-friendly snacks from popped water lily seeds.
🚢 Expedock (Stanford, Ateneo de Manila University) - solves inefficiencies in the international cargo supply chain using artificial intelligence.
👚 Fitted (Penn State) - laundry pickup and delivery service that operates on three campuses in the Northeast.
💃 Fuego (Wharton) - D2C brand reinventing the dance sneaker through a patent-pending outsole with pivot points for both dance and streetwear.
🛏️ Glimpse (Purdue) - connects brands to hospitality spaces looking to provide amenities to their guests.
🙋‍♀️ Grow (Cornell) - Slack and Microsoft Teams app that lets you easily give and request high-quality feedback with your team.
🙏 Hallow (Stanford GSB) - Catholic meditation app that offers prayer-based meditation sessions and a spiritual journal.
🎉 Highkey (USC) - social app that helps Gen Z'ers find local events, starting with college students and growing with them as they graduate.
🚘 IndyHub (Stanford GSB) - company-funded benefits for contractors, enabling workers to purchase insurance and savings products most relevant to their lives.
🏦 Kaoshi (University of Chicago) - fintech company revolutionizing diaspora banking. 
📓 Mesa (UNC Chapel Hill) - software that helps school districts manage their students' academic progress.
🥫 Nilus (HBS, Harvard Law School) - B2B food marketplace that matches community kitchens with food retailers & producers who have excess inventory.
👩‍💻 Sike Insights (UCLA) - communication platform for remote teams.
🎟️ Sleek (Stanford) - software reinventing the way users wait in lines.
💸 Stride Funding (HBS) - offers income share agreements (ISAs) as a flexible, affordable alternative to traditional student loans.
👟 TRILL (NYU) - app for discovering and buying streetwear from independent brands around the world.
🚁 VINCI VR (Babson, UPenn) - enables teams working with critical, high-value equipment to train together in immersive virtual reality.
☁️ WindBorne Systems (Stanford) - provides high resolution weather data through a new kind of smart, long-endurance weather balloon.
---
Hi! 👋 We're Justine and Olivia Moore, identical twins and venture investors at CRV. Thanks for reading Accelerated. We'd love your feedback - feel free to tweet us @venturetwins or email us at twins@crv.com.