Discover more from Accelerated
News and jobs in tech & venture capital.
Over 34,000 subscribers
🚀 Away's CEO makes a comeback
Plus, a new social puzzle app is quickly climbing the charts!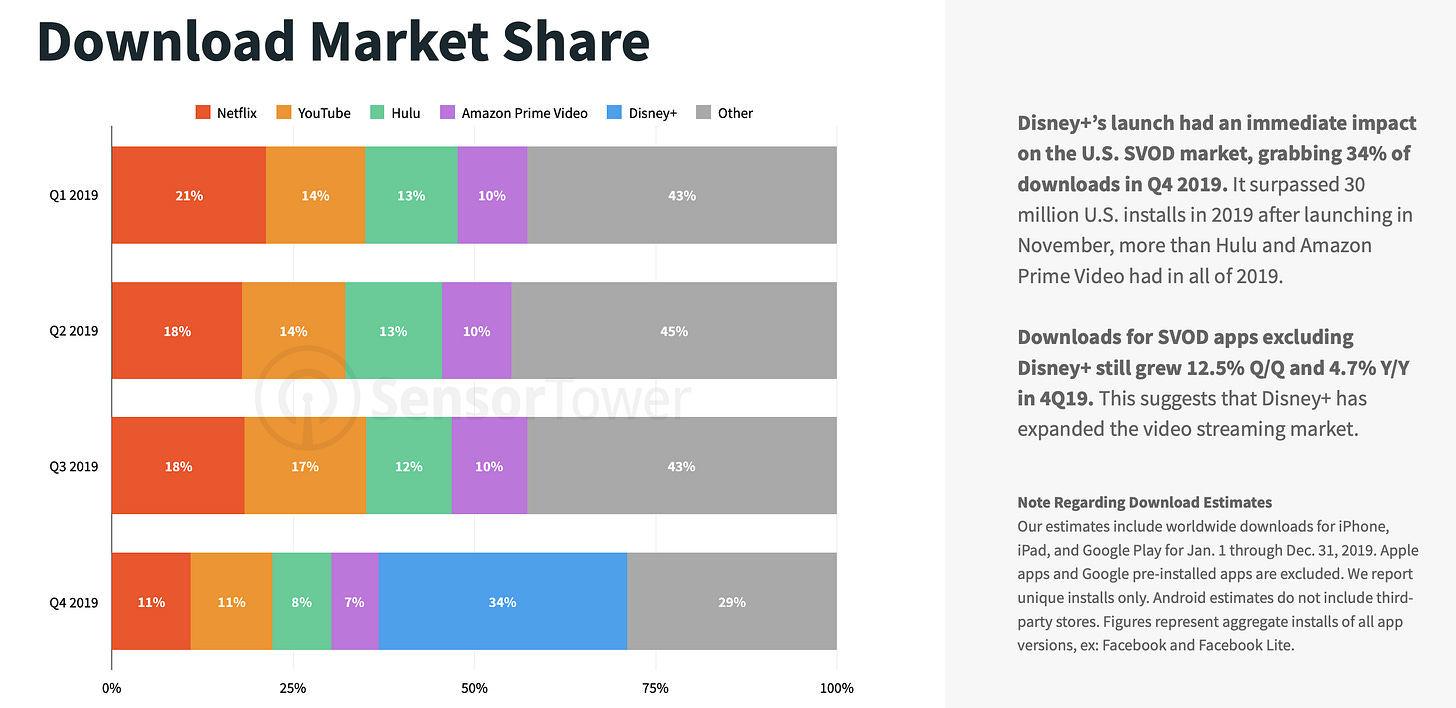 Mobile data provider SensorTower published its Q4 2019 data digest, including a recap of the top three "stories" in mobile for 2019. What were they?
Despite launching halfway through Q4, Disney+ had a huge start, getting 30M downloads and grossing $50M in revenue in its first 30 days. Disney+ saw 34% download market share and 16% revenue market share for Q4 2019 among streaming video on demand (SVOD) mobile players.

TikTok broke Facebook's dominance at the top of the charts - while the social giant had the top four apps in 2016 and 2017, TikTok ranked fourth in 2018 and second in 2019. India and Brazil are TikTok's top markets by downloads, but China contributes most of the company's revenue (78%).

Some of the most successful mobile games of the year were transplants from the console world - Call of Duty: Mobile, and Mario Kart Tour. Call of Duty saw 180M downloads in Q4 2019, the second-best quarter for any mobile game (behind Pokemon GO). Mario Kart Tour had more than 80M downloads in its first six days.
---
news 📣
💳 Visa acquires Plaid. Big news in fintech this week! Visa is spending $5.3B to acquire Plaid, a platform that enables financial services apps to connect to users' bank accounts. One in four people in the U.S. with a bank account have used Plaid - if you've ever deposited money in a Venmo, Robinhood, or Coinbase account, you're in that group. The company raised a total of $310M, and the acquisition price was 2x Plaid's last private valuation (in late 2018). The deal is expected to close in 3-6 months, pending regulatory review.
👜 Steph Korey returns to Away. We covered the Away story in past editions, but here's a quick recap - co-founder and CEO Steph Korey stepped down in December due to allegations of a toxic work culture, and was replaced by former Lululemon COO Stuart Haselden. Korey will now return as Haselden's co-CEO. She told The New York Times that after reflecting on the situation, she (and the company's board) decided they had reacted too quickly to the "inaccurate reporting" that led to her resignation.
🚘 Eaze pivots to direct sales. Marijuana delivery startup Eaze is reportedly struggling to find a sustainable business model. According to a new TechCrunch article, the company failed to raise a planned $50M Series D and instead took a bridge round, and is now quickly running out of cash. Eaze only operates in two states, and has run into a number of operational issues around accepting payments and securely storing customer data. Delivery is a low margin business, and Eaze is now attempting to boost its margins by selling its own cannabis products.
🎮 Twitch loses momentum. While streaming service Twitch (which is now owned by Amazon) still dominates the live gaming market, its growth is starting to slow. Hours streamed, concurrent viewers, and number of streaming channels all dropped in Q4. Twitch is now battling Mixer, YouTube Gaming Live, and Facebook Gaming, all of which have taken some of Twitch's top creators in the past year. If you're interested in esports, we'd recommend checking out the full report from Streamlabs and Newzoo - it has some interesting stats on the most watched games and top publishers.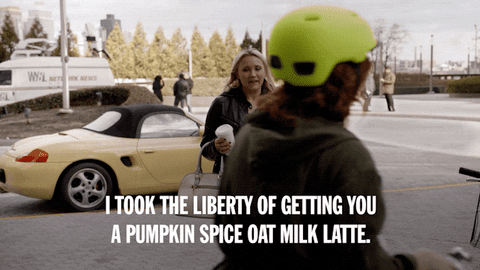 Plant-based milk is all the rage, and Califia Farms is cashing in. Califia was founded in 2010 by one of the co-founders of Odwalla, and originally sold juice made from imperfect fruit. The company quickly picked up on the nut milk craze, and now sells milk, creamers, yogurt, and coffee made from oats, almonds, coconuts, and cashews. Califia just raised a $225M Series D to expand its product offerings - we can only hope oat milk ice cream is on their roadmap!
what we're following 👀
How "The Bachelor" is launching a new generation of Instagram influencers. 
Amazon wages war against browser extension Honey (recently acquired for $4B).
An in-depth history of Chicago-based Cameo, the startup that lets you buy video shoutouts from celebrities and influencers.
Is "techlash" making college students turn down jobs in big tech?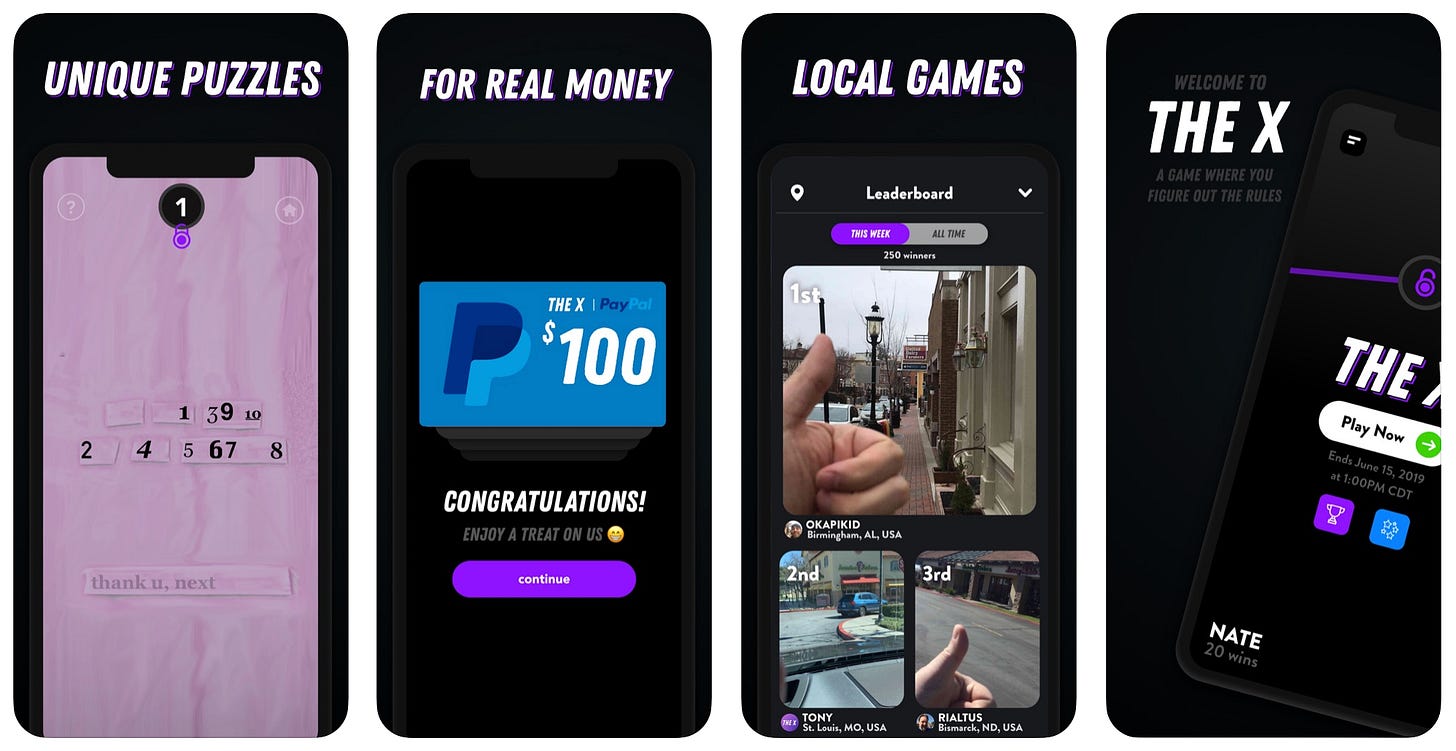 Since HQ Trivia launched in 2017, we've been obsessed with the idea of live, mobile experiences that bring people together and create "watercooler" conversations. The X, a weekly scavenger hunt app, is one of the coolest ideas we've seen in this space. 
The app launched in 2018, but has blown up in the past few months (partially due to hype on TikTok!). Every Saturday, a new game opens with five puzzles to solve, usually related to current events. We've seen users congregate on Instagram, Twitter, YouTube, and in group chats to figure out the clues - and once you solve them, the app has you complete one final step at a nearby location. Everyone who makes it through all the challenges splits a cash prize.
There's only one game a week and the challenges are different every time, which keeps the experience fresh. Users can also control the level of difficulty by trying to tackle it on their own or completing it with the help of others online - which makes the app more accessible to a broad user base. Do you play The X, or have any thoughts on it? Let us know!
jobs 🎓
Shift - Chief of Staff (SF)
Index Ventures - Data Analyst (SF)
YC - Data Scientist (SF)*
Blend - Product Manager (SF)
Emerson Collective - Energy & Environment Venture Investor (Palo Alto)*
Stanford Management Company - Investment Analyst (Palo Alto)
Amazon Studios - Finance Ops Analyst (LA)
Touchdown Ventures - Associate (Philly)*
CB Insights - Research Ops Associate, Data Associate (NYC)
DoorDash - Product Ops Associate (NYC)
Otis - Chief of Stuff (NYC)
*Requires 3-5 years of experience.
internships 📝
Zynga - Project Management, Data Science Interns (SF)
Dropbox - Digital Data Analyst, Business Analyst Interns (SF)
Verily - Genomics Intern (SF), Entrepreneurship PM Intern (Boston)
Apple - MBA App Store Business Management, PM Interns (Cupertino)
Hewlett Packard - MBA Venture Investments Intern (San Jose)
ZipRecruiter - PM Intern (Santa Monica)
SpotHero - Strategic Verticals Intern (Chicago)
Lerer Hippeau - Summer Associates (NYC)
Peloton - Social Media Intern (NYC)
Rent the Runway - Marketing Intern (NYC)
Brex - Winter/Spring MBA Business Development Intern (NYC, SF)
puppy of the week 🐶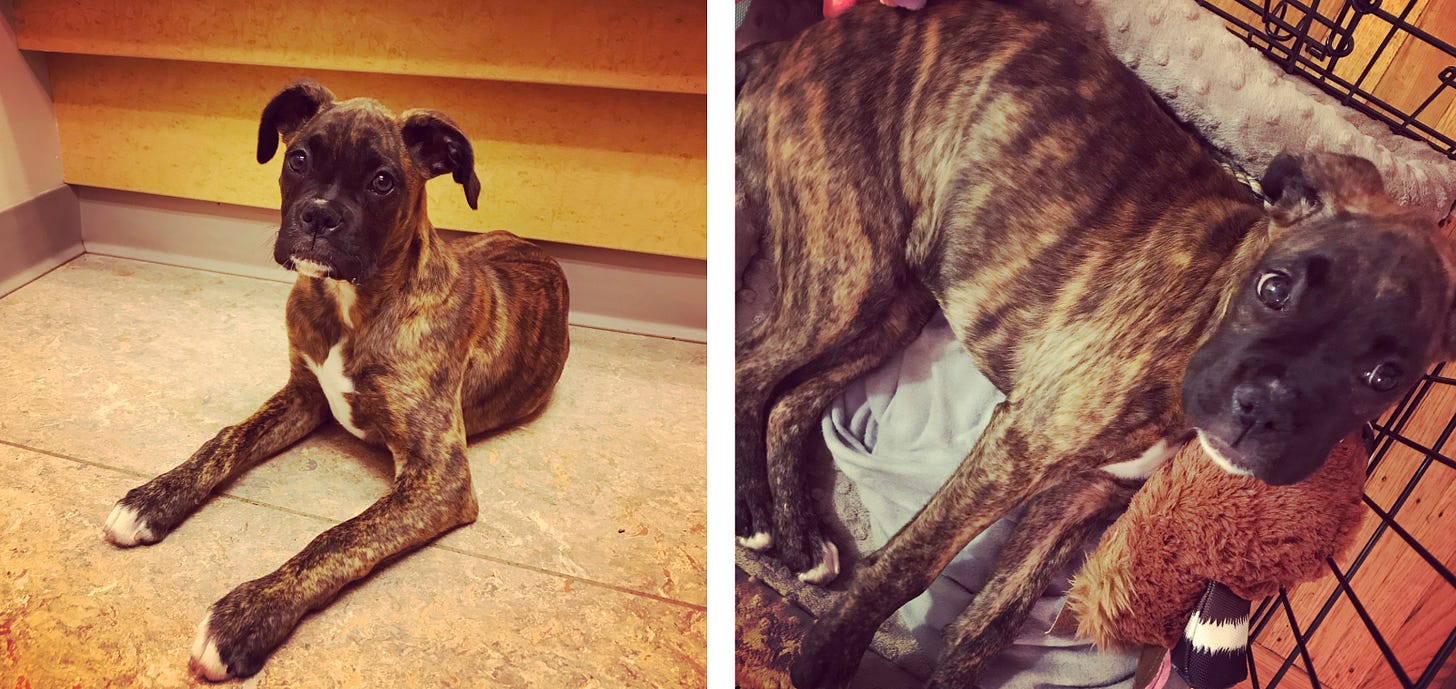 Meet Callie, a 14-week-old boxer that lives in Palo Alto.
Callie's hobbies include zoomies (classic), lounging on the couch, and reaching for drawstrings. She is also passionate about trying to nibble on jewelry.
You can follow her on Instagram @callie.the.boxer!
---
Hi! 👋 We're Justine and Olivia Moore, identical twins and venture investors at CRV. Thanks for reading Accelerated. We'd love your feedback - feel free to tweet us @venturetwins or email us at twins@crv.com.