Discover more from Accelerated
News and jobs in tech & venture capital.
Over 35,000 subscribers
🚀 Coinbase courts controversy
Plus, Asana and Palantir make their NYSE debuts!
Coinbase sparked debate this week after a blog post from CEO Brian Armstrong went viral on Twitter. To recap it briefly:
Coinbase will focus on its mission of building "an open financial system for the world," and won't engage in other political/societal issues.

Armstrong argued that engaging in social activism creates internal division and distracts from the company's core work.

Coinbase employees won't be able to internally debate causes or political candidates, and shouldn't expect the company to represent their own beliefs.

Employees who choose to leave as a result of this policy will receive a severance package of 4-6 months pay (this was included in an internal email, not the blog post).
As Armstrong noted, this is a controversial stance for a Silicon Valley company. Many employees expect their companies to make statements about issues like #BlackLivesMatter, and Coinbase's unwillingness to due so caused issues this summer. Unsurprisingly, the post fueled debate between supporters (who believe more companies should implement similar policies) and critics (who argue this is a privileged perspective).
FWIW, we did a quick, anonymous poll of 30 Accelerated readers in our Slack group. 48% said the "manifesto" made them like Coinbase less, 24% said it made them like Coinbase more, and 28% said it didn't change how they feel about the company. Would love to hear what you think about this - comment below to let us know!
---
news 📣
💸 Double direct listings. The NYSE saw two direct listings this Wednesday! As a reminder, direct listings allow companies to bypass the traditional IPO process. Unlike an IPO, no new shares are created in a direct listing - instead, the company's investors and employees sell their existing shares. The exchange typically publishes a "reference price" for the direct listing (to give a general sense of potential value), but this may be completely different from the price at which the stock actually trades.
Workplace management software Asana saw a modest bump from its reference price, but closed the day relatively flat from the initial trading price. Despite the overall market turmoil, Asana ended the week at a $4B market cap, up from $1.5B in its last private round in 2018. While the company has strong growth and solid gross margins, widening net losses have concerned some investors.

Palantir faced a technical issue that prevented some shareholders from selling their shares. The stock similarly opened above its reference price, but closed the day down 17% from the initial trading price. Palantir ended the week at a $15B market cap, down from its last private valuation of $20B. Some investors may have been spooked by the company's unique governance structure, which allows the three co-founders to maintain control even as they sell down their stakes.
📈 On the road to IPO…In other IPO updates, used clothing marketplace Poshmark confidentially filed to go public - no word yet on any metrics or potential IPO date. Gaming platform Roblox is also reportedly preparing to go public, and is still debating between a traditional IPO and a direct listing. Meanwhile, telemedicine startup Hims plans to go public via SPAC - it will be merging with a blank check vehicle formed by Oaktree Capital Management. The deal will reportedly value Hims at $1.6B.
🗞️ Google pays publishers. Google held its annual hardware event, with very few surprises (just standard device upgrades). More interestingly, the company announced it will spend $1B in the next three years to pay publishers for creating and curating quality news content. Google will produce interactive "News Showcase" panels for Android devices, which may roll out to a broader audience via Google search. Google has signed deals with 200 publishers worldwide, and will pay to license their content.
D2C footwear startup Allbirds (famous for its wool sneakers) closed a $100M Series E at a $1.7B valuation. According to Pitchbook data, this is a slight down round from the company's last financing in January, which reportedly ended prematurely due to the pandemic. Allbirds has raised a total of $203M since it was founded in 2014. 
Interestingly, the company will be doubling down on brick-and-mortar. Allbirds has re-opened all stores that closed during COVID, and will be opening its 22nd store this month. Other goals include returning to profitability (the company was profitable pre-COVID), launching new products, and continuing to expand internationally.
Also worth noting - Allbirds also just launched a mobile app that allows you to "try on" shoes virtually via AR, and get early access to new drops!
---
what we're following 👀
How Reddit successfully shut down QAnon when other platforms have failed.
Some colleges are hiring their own students as coronavirus safety influencers.
Liquid Death, the controversial canned water brand, raised another $23M.
Nikhil Basu Trivedi shares thoughts on evaluating consumer subscription businesses.
Audio social app Clubhouse came under fire this week after a conversation titled "Anti-Semitism and Black Culture" spilled into the Twittersphere.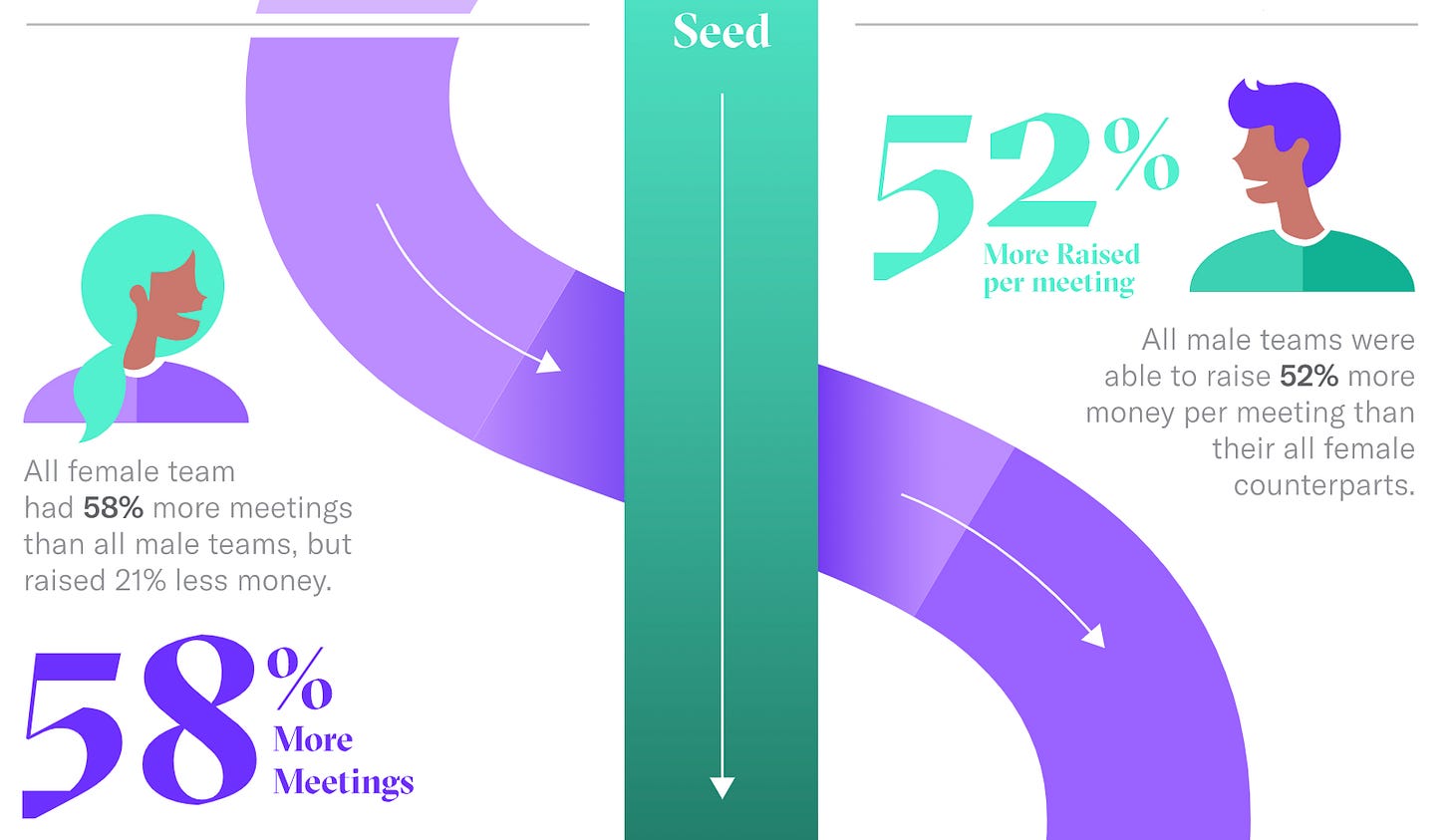 If you work in the startup ecosystem, you've probably sent or received a pitch deck via DocSend. The company is using its data to publish a series called The Funding Divide, which looks at how founders of different backgrounds access VC funding.
As well as tracking who receives and opens each deck, DocSend can also see the amount of time spent on each slide. The DocSend team followed up with startups to see how deck views from investors translated into meetings, and eventually into funding - which yielded some interesting data points!
Time spent on any slide (besides "Fundraise Ask") is negatively correlated with investor excitement to take a meeting. Investors spent 50% more time scrutinizing "Traction" and 24% more time scrutinizing "Product" slides for all-female teams, but 30% less time on the "Fundraise Ask."
At the seed stage, all-female teams took almost 60% more meetings than all-male teams, but ultimately ended up raising 21% less capital.

At the pre-seed stage, teams with a minority founder were actually able to raise 4% more money than teams without a minority founder. However, this had reversed by the Series A, where minority founders raised 32% less money.
DocSend's data powers its Fundraising Network, where pre-seed and seed founders submit decks for warm intros to VCs. CRV portfolio company Mercury, which helps startups open bank accounts, launched a similar Raise program for seed startups who are Mercury customers.
---
jobs 🎓
CircleUp Growth Partners - Partner (SF)
Zetta Venture Partners - Associate (SF)
Rippling - Platform Analyst (SF)
Transcend - Partnerships Lead (SF)
Scale AI - Biz Ops & Strategy (SF)
Misfits Market - Growth Analyst (NYC, Remote)
FirstMark - Platform Associate, Corp Dev Lead (NYC)
Lemonade - Strategic Finance Associate (NYC)
Spruce - Associate Product Manager (NYC)
Route 66 Ventures - Associate (DC)
Blueprint - Technical Lead (London)
internships 📝
Curology - MBA Brand Intern (Remote)
Calendly - Revenue Ops Intern (Remote)
TheGuarantors - General Ops Intern (Remote)
Clever - Product Design Intern (SF, Remote)
Reddit - Summer 2021 Product Intern (SF)
Pinterest - Data Science Intern (SF)
SoFi - Summer 2021 Engineering Intern (SF)
Fanatics - Summer 2021 Product Manager Intern (San Mateo)
Heroes - Content & Community Manager Intern (LA, Remote)
Datadog - Summer 2021 Finance, Sales Interns (NYC)
EasyKnock - Marketing Intern (NYC, Remote)
Splice - Generalist Intern (NYC, Remote)
---
puppy of the week 🐶

Meet Leena and Larry, two Canadian rescue dogs who live in Vancouver Island, BC! Leena is a year old, and Larry is six years old. 
Leena and Larry both enjoy chasing sticks through fields, camping out and exploring caves, and making friends in the wilderness - they are definitely adventure dogs!
Follow them on Instagram at @leena_and_larry!
---
Hi! 👋 We're Justine and Olivia Moore, identical twins and venture investors at CRV. Thanks for reading Accelerated. We'd love your feedback - feel free to tweet us @venturetwins or email us at twins@crv.com.