Discover more from Accelerated
News and jobs in tech & venture capital.
Over 34,000 subscribers
🚀 Crypto crashes amid market meltdown
Plus, an app to catch up with friends in the age of coronavirus!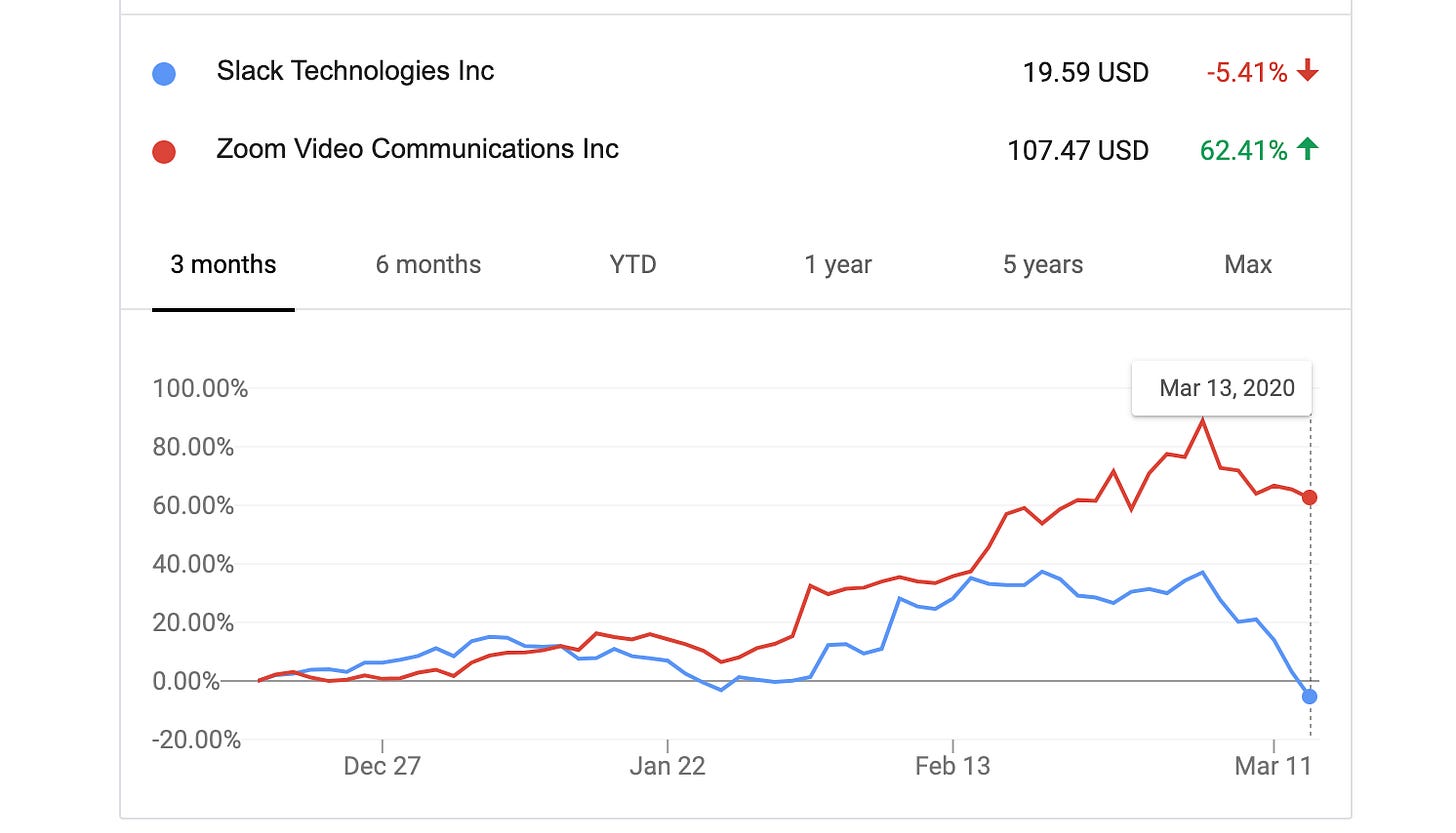 Over the last few weeks, companies worldwide have transitioned to work-from-home, increasing usage of remote communication platforms. Microsoft Teams reportedly saw a 500% increase in usage in China since the end of January, while Zoom's CFO said the company's run rate of annual meeting minutes hosted was "up pretty significantly" over the last month. Microsoft, Google Enterprise, and Zoom have also offered or expanded the free version of their product for schools and other education customers. 
While the broader stock market has fallen somewhat dramatically in recent weeks, some remote companies have benefited from these usage trends - most notably, Zoom, which is up 63% over the last three months. Zoom CEO Eric Yuan said that a lot of the new usage was on free accounts (which may or may not convert to premium) - however, this hasn't stopped the company's valuation from climbing.
Somewhat surprisingly, Slack's stock is down more than 5% over the same period. Why? The company released Q4 2019 earnings on Thursday - while it beat revenue expectations with 49% YoY growth, investors were disappointed with the company's projections for FY 2020. Slack is projecting 35% revenue growth for the year, compared to 46% for Zoom. Why might investors be spooked? Slack faces increasingly tough competition from Microsoft Teams, and is increasingly reliant on large enterprise deals that may be tough to close when travel is limited for salespeople. 
We know it's been a stressful few weeks, and we hope all of you and your family members are staying healthy. We're opening up our Slack group (click here to join) and hoping to put together a virtual event for our readers stuck at home this week - check it out for more details!
---
news 📣
🔮 Magic Leap looks to sell? AR hardware startup Magic Leap, best known for raising $2.6B pre-public launch, is reportedly looking to be acquired. The company was founded in 2011, and finally released the beta version of its first headset in 2018. Though CEO Rony Abovitz expected to sell 1M units within a year, leaked data suggests that the company only sold 6,000 units in the first six months. According to internal sources, Magic Leap could be valued at $10B+ (🤔), and the company is in conversations with potential acquirers like Facebook and Johnson & Johnson.
📉 Stitch Fix cuts forecast. It was a tough week for Stitch Fix, whose stock plunged 35% after the company released quarterly earnings. Despite growing net revenue by 22% YoY and beating expectations for earnings per share, Stitch Fix disappointed investors by lowering revenue guidance for 2020. The company noted that it has been increasingly selling lower-priced products due to retailer discounts, while also seeing customer acquisition cost (CAC) rise across digital channels.
🧘 Outdoor Voices loses CEO. Three weeks ago, D2C athleisure brand Outdoor Voices announced that founder Ty Haney was resigning (after reportedly being forced out of the CEO role). In the aftermath, a number of articles have come out about the company's high spend (it burned $19M on $38M in revenue last year) and "toxic" culture. Haney issued a statement on Instagram this week, questioning the trend of "hit pieces" on female-founded companies, and her statement has led to significant debate about whether female CEOs are held to an unfairly high standard.
👩🏼‍⚕️ Healthcare startups tackle the coronavirus. Last week, we profiled a startup helping companies and communities host online events. This week, we wanted to highlight a few healthcare startups that are helping curb the spread of coronavirus virus and serving patients. Telehealth company Ro launched a free telehealth assessment for people who worry they may be infected. Meanwhile, at-home health testing startup Everlywell is offering up to $1M in cash incentives for labs to develop home test kits, while Mammoth Biosciences is developing a faster (and more accurate) test. Any initiatives we missed? Let us know in the comments!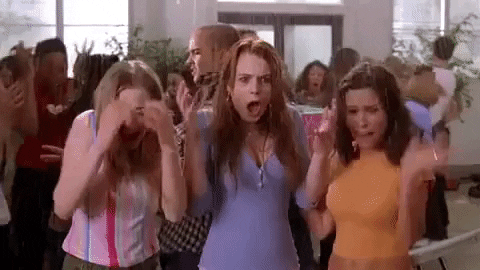 The crypto market had a bit of a meltdown this week! The price of Bitcoin plummeted nearly 50% in one day, and the total crypto market cap fell by $93.5B during this time. It was a puzzling development for an asset class that was intended to be largely uncorrelated with public equities - one of selling points of Bitcoin is that it can function as a "safe haven" during periods of market turmoil.
Crypto enthusiasts argue that Bitcoin will bounce back and eventually thrive in a prolonged downturn, and some (including beauty guru Michelle Phan, who is now a crypto influencer) are encouraging their followers to "buy the dip." Interestingly, many of the sellers were reportedly institutional investors (not individual traders) taking advantage of Bitcoin's liquidity vs. other asset classes.
---
what we're following 👀
Behind-the-scenes at the USC class/club that trains students to become influencers.
Why are some people still taking cruises? The Daily Beast investigates. 
A look at the man who has allegedly stalked and attempted to extort high-profile VCs.
Etsy is booming, but its success may be hurting the small sellers the platform was made for.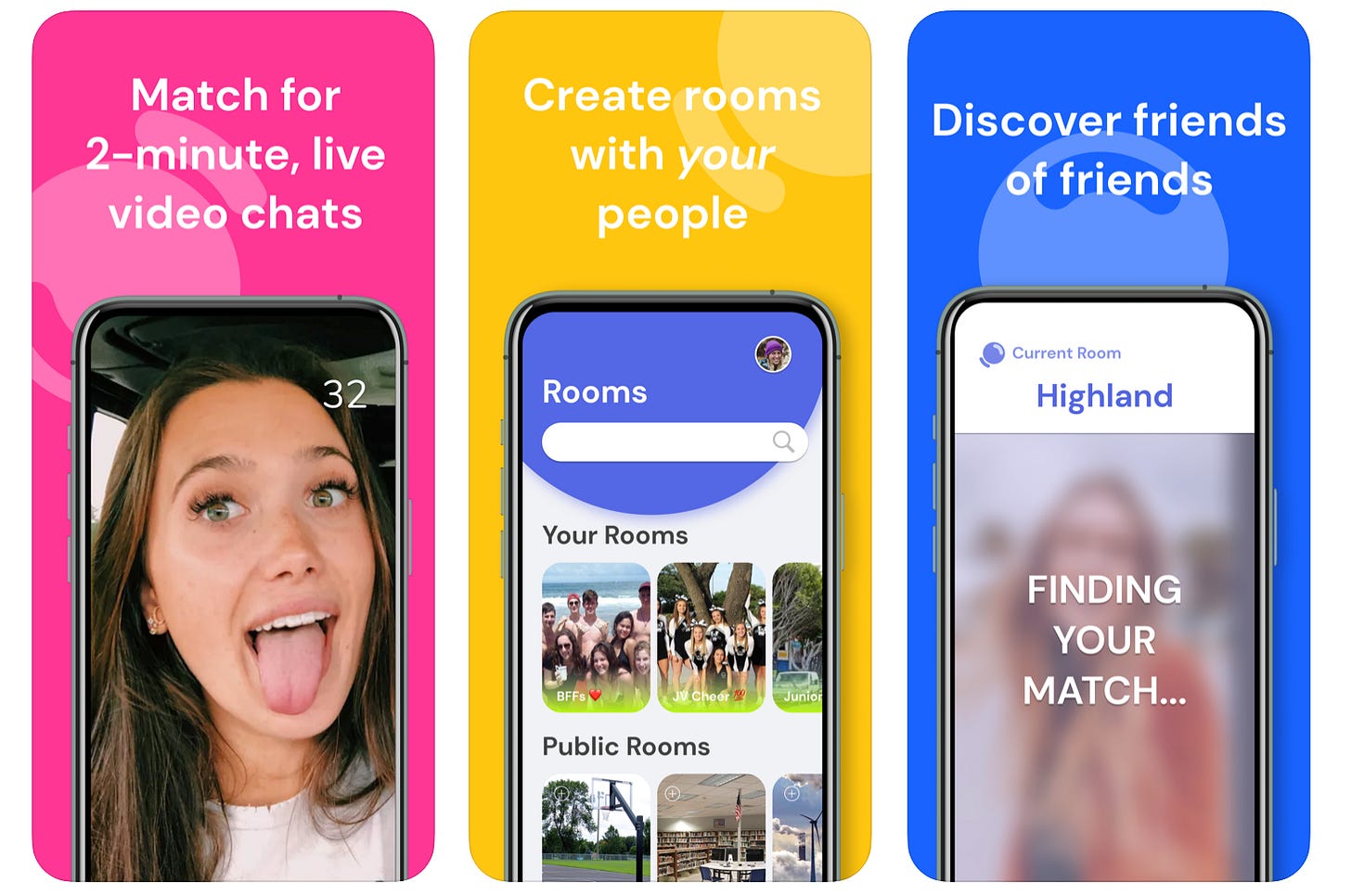 YC Demo Day may was been moved online this year, but that hasn't stopped this cohort's startups from launching their products and raising funding! We were excited to see the debut of Glimpse, a new social app founded by former Duke students Helena and Brian. Glimpse aims to solve the loneliness epidemic (which is becoming more and more relevant by the day!) through connecting users for two-minute video chats. 
You've probably seen apps that match you with a random stranger for an online chat - Glimpse only matches you with friends or friends-of-friends. How does this work? A user creates a "room" and adds friends, who can then add their own friends. All Glimpses are then limited to this group, creating a low pressure experience (all chats are only two minutes) with people that you either already know, or will likely get along with. You can have a Glimpse room with just one friend or hundreds of people.
Unsurprisingly, Glimpse is quickly gaining popularity among the high school and college crowds, helping students stay in touch as campuses shut down due to coronavirus. The app has a fairly low barrier to entry on the user side - you're only committing to a two minute chat - and aims to provides a moment of surprise & delight around seeing your match. Have you been using any new products to keep in touch with your friends in the age of social distancing? Comment down below! 
---
jobs 🎓
AngelList - Venture Associate (SF)
Plaid - Startup Success (SF)
Convivialité Ventures - Analyst (SF)
Coinbase - Chief of Staff to the CPO (SF)*
Verily - Strategy & Biz Ops Associate (SF)
Honey - Growth Coordinator (LA)
Goldman Sachs - Digital Product Manager Analyst (NYC)
Blue Collective - Associate (NYC)
Infarm - Expansion Ops Associate (NYC)
Aberdeen Standard Investments - Senior VC Analyst (Boston)
*Requires 3-5 years of experience.
internships 📝
Silicon Valley Bank - Intern (SF)
Pandora - Product Management Intern (SF)
Dropbox - Business Analyst Intern (SF)
Plaid - New Business Associate Intern (SF)
GSVlabs - Program Intern (San Mateo)
Sapphire Ventures - GTM Ops Intern (Palo Alto)
Chapter One - VC Intern (LA, Remote)
ClickUp - Content Intern (San Diego)
PayPal - MBA Product Manager Intern (Boston)
Everfi - Social Impact Intern (Boston)
Great Jones - MBA Business Ops Intern (NYC)
Two Sigma Ventures - Marketing & Comms Intern (NYC)
---
puppy of the week 🐶

Meet Bumble, a three-month-old Saint Bernard who lives in Colorado. 
Bumble's hobbies include sleeping, playing in the snow, and watching his brother's lacrosse practice (he's unfortunately not allowed to chase the balls). 
Check him out on Instagram @bumblethesaintbernard!
---
Hi! 👋 We're Justine and Olivia Moore, identical twins and venture investors at CRV. Thanks for reading Accelerated. We'd love your feedback - feel free to tweet us @venturetwins or email us at twins@crv.com.