Discover more from Accelerated
News and jobs in tech & venture capital.
Over 34,000 subscribers
🚀 Does Instagram or YouTube make more money?
Plus, our take on Casper's disappointing IPO!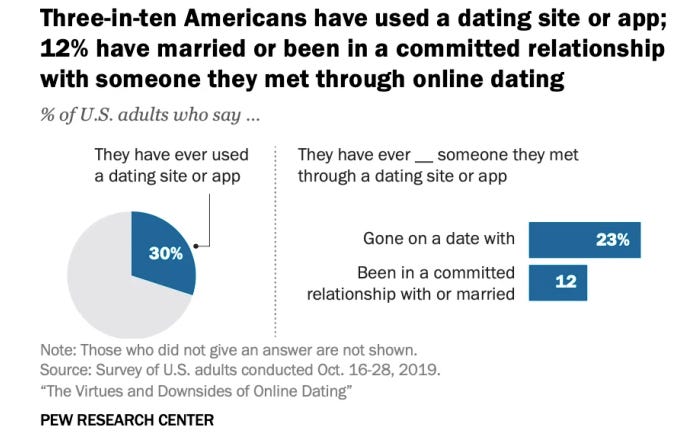 It feels like it's increasingly common to meet people who are in a long-term relationship that started on an app, so we were interested to see the Pew Center's new data on online dating! 30% of U.S. adults say they've used a dating site or app - this jumps to 48% for people ages 18-29. 23% have gone on a date with and 12% have been in a committed relationship with (or married!) someone they met on an app.
57% of those who have used a dating app say that their experience has been generally positive, though 71% of people believe it's very common for others to lie about themselves on these apps. Unsurprisingly, young women are more likely to report being harassed on these platforms, and 53% of women believe that dating apps are not a safe way to meet people.
---
news 📣
🚫 FTC blocks Harry's acquisition. Flashback to May 2019 - Edgewell (which owns Schick & other personal care brands) announced its intent to buy D2C razor startup Harry's for $1.4B. That acquisition hit a major roadblock this week when the FTC filed a lawsuit to block it, stating that the deal "promises serious harm to consumers." Why? Harry's has forced razor incumbents like Schick to offer more competitive prices and flexible purchase options, and the FTC worries this pressure will disappear post-acquisition. Harry's co-founders said they were "disappointed" by the decision and are "evaluating the best path forward" for the company.
💰 Instagram makes more than YouTube. We finally got to see standalone revenue for Instagram (via leaked data) and YouTube (which Google reported for the first time). Instagram brought in $20B in ad revenue in 2019, which was 25% of Facebook's total revenue. YouTube, surprisingly, made only $15.1B in ad revenue in 2019, representing 10% of Alphabet's total revenue. Unlike Instagram, YouTube gives away the "majority" of this revenue to creators, according to CFO Ruth Porat.
🗳️ Iowa caucus chaos puts spotlight on startup. You've probably heard about the somewhat disastrous Iowa democratic caucuses this week, with delayed and questionably accurate reporting of results. A Denver-based startup called Shadow was behind the app used for compiling results across precincts, and tweeted an apology for the issues. Shadow's team stated that there was no hack, the accuracy of the results was unaffected, and the company already resolved the error. However, the Nevada Democratic Party pulled out of using the app for its caucuses later in February.
Check out the New Yorker's profile of tech consultancy Acronym, which acquired Shadow in 2019.
🏢 New leadership at WeWork and LinkedIn. WeWork just got its first permanent CEO in the post-Adam Neumann era - Sandeep Mathrani, formerly CEO of Brookfield Properties' retail group. Some see Mathrani's appointment as a sign that WeWork is leaning in to its identity as a real estate firm, a departure from the company's prior attempts to be seen as a tech startup. LinkedIn also announced a leadership change this week, with CEO Jeff Weiner stepping down on June 1. Weiner, who has run LinkedIn for the past 11 years, will be replaced by Head of Product Ryan Roslansky.
📈 Tech earnings part 2. Pinterest stock climbed almost 18% after the company beat expectations for revenue and user activity, with global MAUs growing 26% YoY. Twitter was up 17% after crossing $1B in quarterly revenue for the first time, and Uber had its best trading day ever (up 10%) after stating it should be profitable by Q4. On the flip side - Alphabet fell 4% after missing revenue expectations, Spotify dropped 4% after average revenue per user declined by 5%, and Snap fell 14% despite continuing to grow DAUs, as YoY revenue growth of 44% came in below analyst estimates.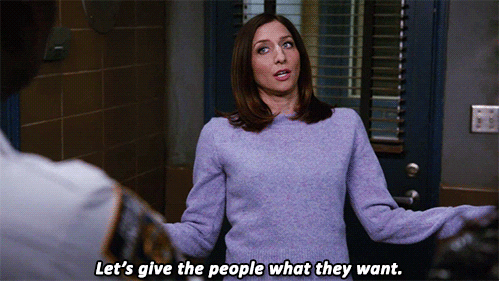 Another week, another startup bypassing Wall Street to go public! Workplace productivity company Asana is following in competitor Slack's footsteps by going public via direct listing instead of the typical IPO process. Spotify is another notable startup that took this approach, and Airbnb is a likely candidate later in 2020. Companies that choose direct listings tend to have strong consumer brand recognition, and don't need to raise money in the public offering (read more here!) Asana has raised $215M in VC funding, most recently at a $1.5B valuation.
---
what we're following 👀
How much is the average American spending on subscription services? 
An activist fund took a significant stake in SoftBank and is planning reforms.
Spotify continues its podcast acquisition streak by buying The Ringer.
Alex Taussig shares data on valuations for various types of D2C companies.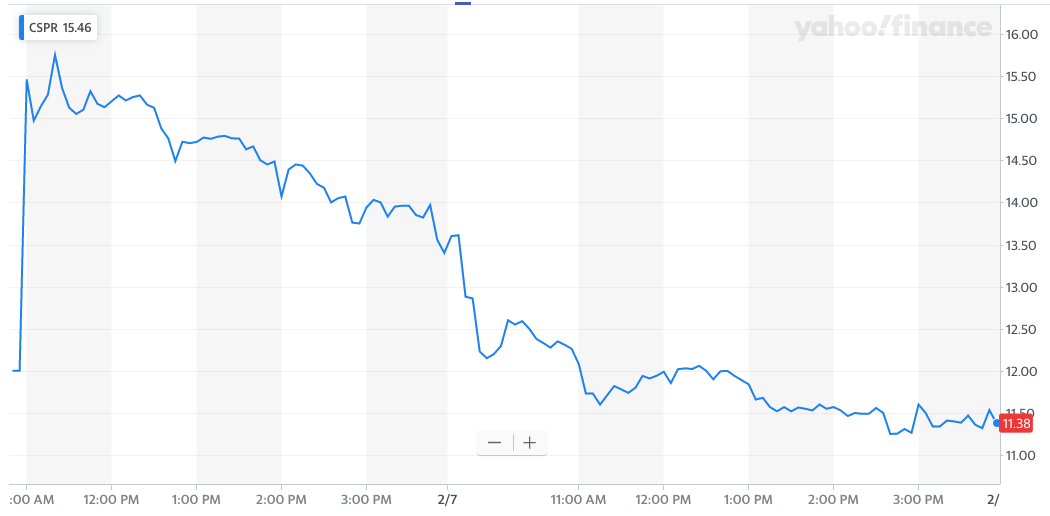 Casper had a rough run-up to its IPO this week. After initially setting a target price range of $17-19 per share, the company cut the range to $12-13 and priced at $12. Though the stock climbed to $16 on the first day of trading, it closed Friday at $11.
The company now has an implied enterprise value of $386M, which is 0.9x TTM revenue and only slightly above the $340M in equity raised pre-IPO. The market is clearly signaling that Casper will be valued as a retail business - which tend to trade at 1-3x revenue multiples - and not a tech company. Casper is even trading at a lower multiple than the largest public mattress company, Tempur Sealy (2.3x TEV/revenue), which is growing more slowly (11% YoY) but is profitable.
This outcome illustrates an interesting disconnect between public and private investors, as Casper raised its last private round a year ago at $1.1B. We're curious to see if other D2C brands see similar valuation haircuts at IPO - Casper was penalized for an unfortunate combination of slowing growth and heavy losses, and we expect to see other brands making a hard push towards profitability before going public.
---
🚨 We're excited to feature a new VC-backed startup in the careers space - Crash! Crash helps users bypass the traditional job application, and send tailored video pitches directly to hiring managers. Accelerated readers can get a Crash pro account for free here. This isn't an ad, and we aren't Crash investors - we're just fans of the product!
jobs 🎓
Loom - Product Manager (SF)*
Kauffman Fellows - Program Associate (SF)
Spin - Chief of Staff (SF)*
Robinhood - Business Ops Associate (Menlo Park)
M13 - Community Manager (LA)
Techstars Sports Accelerator - BD & Growth Associate (Indianapolis)
Vista Equity Partners - BD Associate (Austin)*
TrueBridge Capital Partners - Analyst (Chapel Hill)
Attention Capital - Analyst (NYC)
Cohen Private Ventures - Associate (NYC)
Octopus Ventures - Associate (London)
Webflow - Growth Product Manager (Remote)*
*Requires 3-5 years of experience.
internships 📝
Amazon - MBA Corp Dev Manager Intern (VC/Startups) (Seattle)
DocuSign - Product Manager Intern (Seattle)
Bloomberg Beta - Summer Fellow (SF)
Snap - Global Brand Strategy Intern (LA)
GOAT Group - Operations Intern (LA)
Ritual - Brand Marketing Intern (Culver City)
Great North Labs - VC Analyst Intern (Minneapolis)
LDV Capital - Summer Analyst (NYC)
Zola - MBA Product Intern (NYC)
Quip - Creative Design Intern (Brooklyn)
---
puppy of the week 🐶

Meet Kenai, a four-month-old English Cream Golden Retriever who lives in North Carolina.
He's very playful and inquisitive, and his hobbies include chewing on boots and watching UNC football.
Find him on Instagram @kenaithegoldenbear!
---
Hi! 👋 We're Justine and Olivia Moore, identical twins and venture investors at CRV. Thanks for reading Accelerated. We'd love your feedback - feel free to tweet us @venturetwins or email us at twins@crv.com.