Discover more from Accelerated
News and jobs in tech & venture capital.
Over 35,000 subscribers
🚀 Facebook takes on Zoom!
Plus, which company managed to go public this week?

Don't call it a comeback! Snap's stock climbed 36% this week after a strong Q1 earnings report, with 44% YoY revenue growth. The company had 229M daily active users (DAU), a 20% YoY increase (Snap's highest user growth since Q2 2017).
Snap's lenses and other AR content continue to drive usage and downloads, with 75% of DAUs engaging with AR on a daily basis. Interestingly, the company reported a 30x increase in daily downloads of Snap Camera, a desktop app that allows you to add lenses to livestreams and video chats - it has a cool Twitch extension for gamers.
Snap also reported a 35% increase in daily time spent watching the "Discover" feed, a positive sign for monetization as the company can run ads against this content. However Snap's quarterly average revenue per user (ARPU) of ~$2 still significantly lags Facebook, which typically sees a quarterly ARPU in the $7-8 range.
---
news 📣
👀 Magic Leap pivots to enterprise. The Magic Leap saga continues! The heavily hyped mixed reality startup, which has raised $2B in capital, had a disappointing launch of its first headset. CEO Rony Abovitz announced this week that the company is shifting focus to enterprise, and is "negotiating revenue generating strategic partnerships" based on its underlying tech. Unfortunately, this pivot came with reported layoffs of 1,000 employees (almost half the company's workforce).
📱 Facebook launches new apps. It was a big week for Facebook, which is moving quickly to capitalize on the extra time we're spending online. The company launched a Zoom rival called Messenger Rooms, which enables video hangouts of up to 50 people. Facebook also expedited the release of its gaming app, originally intended to debut in June. The app will compete with Twitch and YouTube in allowing users to watch and stream gameplay, as well as provide quick access to Facebook's own Instant Games.
In other Facebook news, the company invested $5.7B into Indian mobile company Jio. India is home to the largest group of Facebook and WhatsApp users worldwide, and Mark Zuckerberg said the partnership will allow Facebook to provide Indian SMBs with "digital tools they can rely on to find and communicate with customers and grow their businesses."
🏈 DraftKings goes public. It's an odd time for a sports betting company to go public, but DraftKings managed to pull it off! The company completed a reverse merger - instead of raising funding in a public offering, DraftKings merged with a publicly traded special purpose acquisition corp (SPAC). CEO Jason Robins said that this strategy "makes total sense" given the difficulty involved in attracting outside capital now, though he believes DraftKing's story "resonates with investors for the long-term."
🚘 Uber launches new products. The coronavirus has had a mixed impact on Uber - while its food delivery has spiked, the company's core rideshare business has taken a hit, forcing Uber to withdraw 2020 guidance. This week, Uber launched two new delivery products - Uber Direct (retail deliveries) and Uber Connect (P2P package delivery) - which will roll out in select cities in the U.S., Mexico, and Australia. CEO Dara Khosrowshahi announced in December that Uber planned to expand its delivery service to "every single local retailer," and COVID seemingly expedited these plans.
🌎 Expedia raises $3.2B. Most travel companies are suffering from major disruptions right now, and some are forced to seek new funding to stay afloat. Airbnb took on $1B in debt earlier this month, while Expedia just disclosed a $3.2B equity and debt infusion after gross bookings fell more than 40%. Expedia also announced the appointment of a new CEO, former vice chairman Peter Kern, as the company's former CEO resigned after a conflict with the board in December (bad timing!).
Netflix's earnings surprised everyone this quarter, even the company's execs! Though Netflix reported 15.7M new subscribers (almost double analyst expectations), Netflix's stock was fairly unchanged on the news. Why? Some investors are concerned that the company's growth and engagement metrics are "as good as it gets," and worry performance will slide when shelter-in-place ends. Netflix execs acknowledged that their future projections are "mostly guesswork" at this point, and that they do expect to see a slowdown later this year.
---
what we're following 👀
An early Clubhouse user's take on why people are flocking to the app.
A Q&A with Lightspeed's Ashley Brasier on her journey to venture and tips for students interested in VC.
Have you been inundated with Masterclass ads? Here's why.
Behind-the-scenes with the life coach guiding influencers through the coronavirus.
Accelerated readers Alexis Teixeira and Danielle Mantich share three D2C brand trends they're noticing in the age of COVID-19.
Anyone who has met us in person knows that we're not big into fashion, but quarantine boredom prompted us to try Making the Cut. For the unfamiliar - it's a new fashion competition show from Amazon co-hosted by Heidi Klum and Tim Gunn, where 12 contestants from around the world compete in weekly challenges judged by celebrities, models, and famous designers. They get eliminated one-by-one until a winner is crowned and gets a $1M investment (!!) to grow their brand. 
It was more interesting than we expected, largely due to uncomfortable tension between Amazon and the world of "high fashion." Many of the designers had established brands sold in exclusive retailers, and rebelled against the pressure to make their designs more accessible. Part of the grand prize was developing a clothing line to be sold on Amazon - watching the designers pretend to be thrilled about this was entertaining! Almost anyone can list products Amazon's marketplace, but many brands avoid it out of fear that Amazon will create copycat products. It's also rare to see luxury brands on Amazon, as it may diminish their cachet and sense of exclusivity.
However, the show was a cool case study in blending entertainment and commerce. Every week, one of the winning looks was available on Amazon for purchase (which Heidi Klum repeated 10 times every episode). They sold out almost immediately, prompting angry social media posts that drew even more attention to the show. 
We'd be interested to see this model applied across other categories of content, and Amazon seems well-positioned to do it due to their logistics advantages. Imagine you're watching a cooking competition, and with one click you get the ingredients for the winning dish delivered to your home. Or you're binging Glow Up (a makeup show), and can get the products you want to try sent straight to your door. What shows would you like to see add commerce? Let us know below!
---
We know many companies have paused hiring - these roles were all posted or updated in the past week!
Soma Capital is helping portfolio companies hire technical talent over the coming weeks - the fund has more than 200 portcos, mostly at the seed and Series A stage, who are hiring for interns and full-time roles. Submit your info to be considered here!
jobs 🎓
Tophatter - Growth Analyst (SF)
FT Partners - Fintech Strategy & Ecosystem Development Associate (SF)
TDK Ventures - Associate (San Jose)
Chegg - Corp Dev & Strategy Analyst (Santa Clara)
Saltwater Capital - Associate (LA)
B Capital Group - Chief of Staff (LA)
Modern Animal - Product Designer (LA)
AngelList - Investment Ops Specialist (Seattle)
Global Founders Capital - Healthcare Associate (NYC)
Propel - Business Analyst (NYC)
Aaptiv - Biz Ops Associate (NYC)
internships 📝
Instabase - Data Analyst Intern (SF)
Descript - BD Intern (SF)
Vouch Insurance - MBA Summer Intern (SF)
Malwarebytes - MBA Summer Associate (Santa Clara)
thredUP - Product Intern, Product Design Intern (Oakland)
Happy Money - Business Strategy & Analytics Intern (LA)
Fabletics - Mobile PM Intern (LA)
BookedBy - Digital Marketing Intern (Austin)
Teladoc - B2B Marketing Intern (Boston)
14W - MBA Summer Associate (NYC)
Sidewalk Labs - Health Innovation Intern (NYC)
Coursedog - Customer Success Intern (NYC)
---
puppy of the week 🐶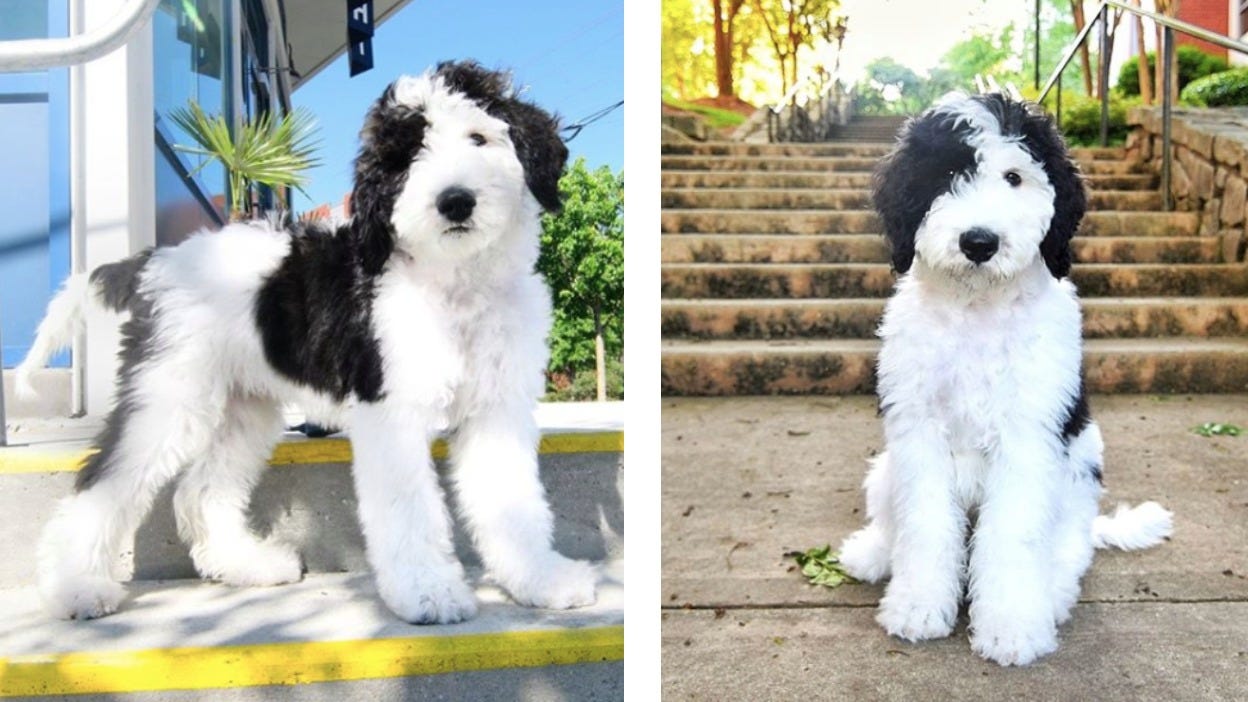 Meet Walter, a three-month-old sheepadoodle who lives in Atlanta.
Walter's hobbies include chewing on sticks, snuggling with his stuffed animals, and hanging out at the dog park. He is also growing fast - his parents expect him to be 80 pounds!
Check him out on Instagram @walterthegentlegiant!
---
Hi! 👋 We're Justine and Olivia Moore, identical twins and venture investors at CRV. Thanks for reading Accelerated. We'd love your feedback - feel free to tweet us @venturetwins or email us at twins@crv.com.