Discover more from Accelerated
News and jobs in tech & venture capital.
Over 34,000 subscribers
🚀 Facebook throws it back to 2004
Plus, Bessemer released investment memos from some of its most successful companies!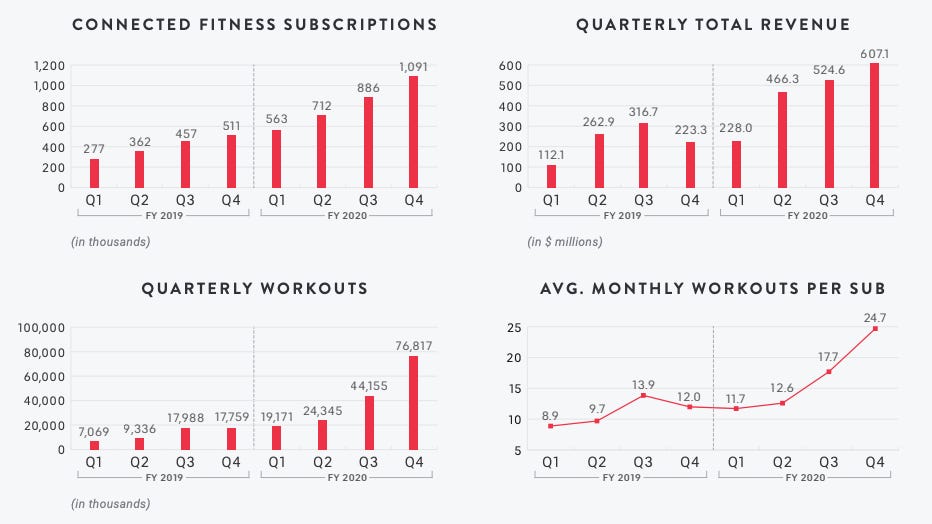 Peloton reported another blowout quarter, with nearly 3x YoY revenue growth. The company announced its first quarterly profit, and saw a continued increase in average monthly workouts per subscriber (a predictor of future churn, or lack thereof!). Peloton ended the fiscal year at 1.1M subscribers, and expects to add another 1M next year.
What's next for Peloton? The company is struggling to keep up with demand, and is working to ramp up production capacity. It also announced two new products - a premium version of its standard bike, and a less expensive version of its treadmill.
---
news 📣
📉 Slack stock slides. Slack reported Q2 earnings - the company saw 49% YoY revenue growth and broke even on an adjusted basis. However, the stock fell 16% post-announcement. Investors were disappointed revenue growth didn't accelerate in a continued WFH environment (unlike Zoom). As enterprises downsize workforces and re-evaluate budgets, Slack has experienced more churn and less customer expansion. The stock is now up 12% YTD, down from a 73% increase at its peak in early June.
🎮 Unity plans non-traditional IPO. Gaming engine Unity, which is expected to go public on Friday, will join the ranks of companies eschewing the standard IPO. Instead, Unity is running a bidding process through an online portal managed by Goldman Sachs. Institutional investors will input bids, and Unity will then determine a price and allocate shares to investors who bid at or above that price. Unity's proposed maximum price is $42, which would value the company at ~$11B.
🏠 Opendoor considers public debut. Opendoor is the latest startup to consider going public through a SPAC. The company is reportedly looking to merge with a blank-check company, Hedosophia Holdings Corp II, that was formed by Chamath Palihapitiya earlier this year. Palihapitiya was an early advocate of SPACs, using his first vehicle to take Virgin Galactic public last year. The deal would value Opendoor at ~$5B, a step up from its last private valuation of $3.8B in 2019.
👚 Everlane raises $. Everlane (one of the D2C OGs) quietly raised an $85M round led by L Catterton. According to Pitchbook, this is the company's first raise since 2017, and its largest round by far. It's been a rocky year for Everlane - the company came under fire in March after laying off employees at the start of COVID, and again in June after allegations of workplace racism emerged. CEO Michael Preysman reportedly told employees that Everlane was profitable two years ago, but would lose $15M this year.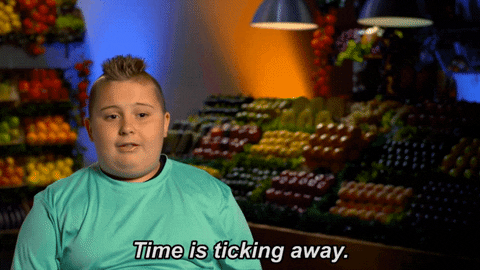 Time is running out for TikTok! President Trump's deadline for the company to find a US buyer (which is either September 15th or 20th, it's not entirely clear) is quickly approaching, and he told reporters this week that he won't extend it. The two final bidders are reportedly Oracle and a partnership between Microsoft and Walmart.
However, some sources claim that the Chinese government is pressuring Bytedance to shut down TikTok, due to fears that a forced sale makes China look weak. And the Chinese government's new regulations around exporting technology still linger - they could be used to delay or even potentially halt a sale.
---
what we're following 👀
Bessemer published the original memos from some of its most successful investments, including Shopify, Pinterest, and LinkedIn.
Reggie James on why Niantic (maker of Pokemon GO, and a CRV portfolio company!) could be the next Disney.
Theranos's Elizabeth Holmes may use a "mental disease" defense at her trial.
The NYT profiles TikTok's new interim global head as she fights to save the company.
🏖️ Bonus! Poolside.fm launched an app, so you can soak up summer vibes on the go.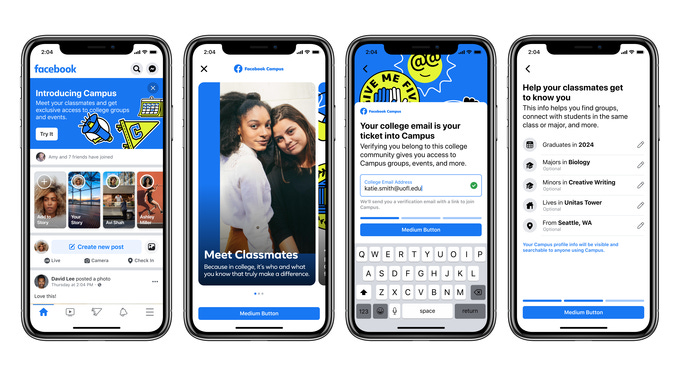 In a strange turn of events, Facebook is attempting to re-invent itself with the launch of Campus, a new section of the app for college students. It requires an .edu address to join (sound familiar?), and will initially be restricted to 30 schools.
We've been talking about the decline of Facebook on college campuses for a while. The signal-to-noise ratio is very low - upon logging in, you have to wade through dozens of posts from distant relatives, your parents' friends, and high school acquaintances to find any content you actually care about.
Individual apps have largely disintermediated Facebook's core use cases. Instagram is the best destination for photos, WhatsApp/GroupMe have replaced Facebook's group messaging, Snapchat works for one-on-one messaging, and Slack workspaces are the new Facebook groups. Birthdays seem to be FB's only remaining area of dominance!
Re-bundling all of this into one platform would certainly be more convenient, especially for the many users who are now overwhelmed with all the apps they have to check. However, it may be too late for Facebook to gain the respect (and trust) of Gen Z, especially with a corporate brand that feels both stale and vaguely predatory.
We also wonder whether Facebook will give Campus the space it needs to succeed. The company tends to tuck new features into odd or hard-to-find locations in its main apps (e.g. Facebook Watch, Dating, Instagram Reels, IGTV). Campus will be in a new section of the app instead of taking over a user's main feed - the additional friction around accessing it may prove to be too much for users who are already skeptical.
Will you use Facebook Campus? Comment below to let us know!
---
Vice Ventures is launching a mentorship program for young investors or anyone interested in VC. You can apply here - send your resume and a paragraph on why you're interested to info@viceventures.com with the subject "Mentee Application."
Rough Draft Ventures is hiring for Venture Fellows at campuses across the U.S.. Fellows will invest in and support student companies. Applications are due on 9/18, and there is a virtual info session on 9/14 (that's tomorrow!) - read more and apply here!
jobs 🎓
AngelList - Venture Associate (Remote, SF)
Contrary Capital - Associate (Remote)
Rothy's - Associate Digital Designer (SF)
Samsara - Strategic Finance Associate (SF)
Goodwater Capital - Associate (Burlingame)
AI Fund - Associate (Palo Alto)*
Robinhood - Behavioral Insights Data Analyst (Menlo Park)
Angel City - Chief of Staff (LA)*
Perksy - Chief of Staff (NYC)
Pinwheel - Technical PM (NYC)
Onfido - Product Ops (NYC)
CB Insights - Data Associate (NYC)
Instawork - Ops Coordinator (NYC)
*Requires MBA or 3+ years of experience.
internships 📝
Harlem Capital - Winter 2021 Interns (Remote)
Wescover - Content Production, Copywriter, Community Interns (Remote)
Remoov - Digital Marketing, Marketing Analytics Interns (Remote)
Techstars - Accelerator Intern (Remote)
Perch - Animator, Content Creator Interns (Remote)
Wish - Winter 2021 Influencer Marketing Intern (SF)
Shippo - Data Intern (SF)
Facebook - Product Design Intern (Menlo Park)
Coursera - Data Science Intern (Mountain View)
Polarr - Community and Marketing Intern (San Jose)
Freshly - Social Media Intern (NYC)
Stojo - Marketing & Comms Intern (NYC)
---
puppies of the week 🐶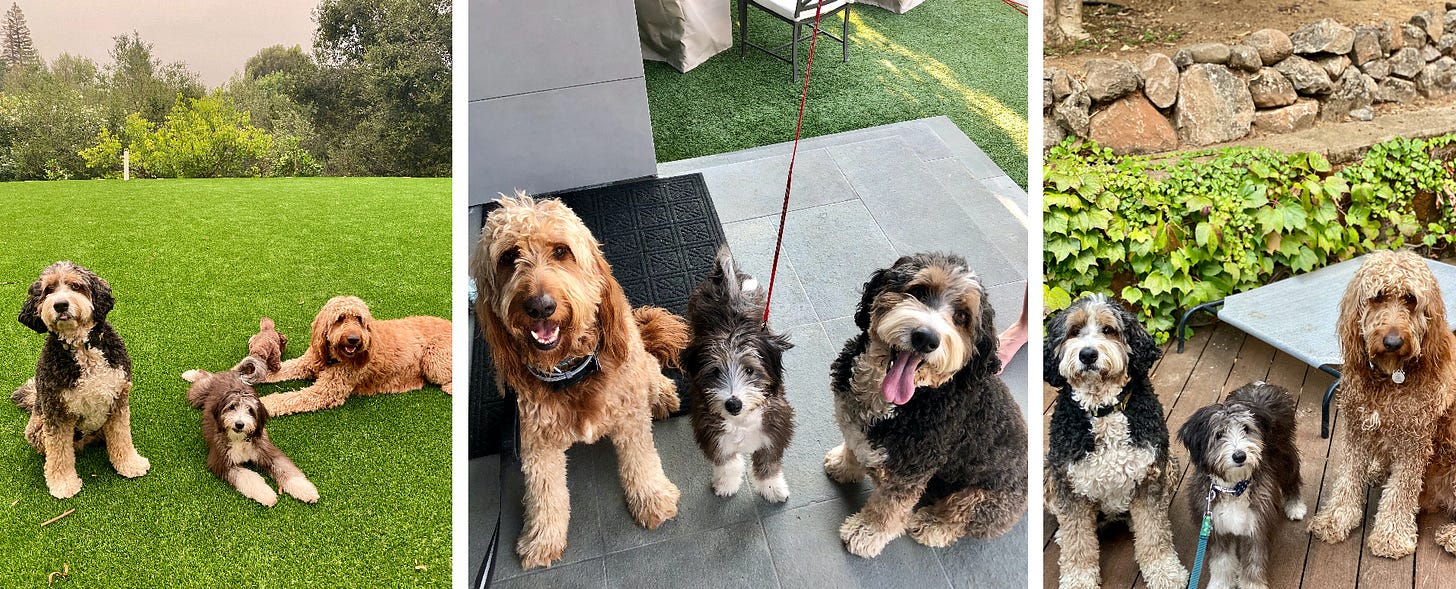 This week, we wanted to hype up our favorite squad - Kai (left in first photo), Moka (middle), and Les (right).
Kai is a five-year-old bernedoodle, Moka is a five-month-old mini sheepadoodle, and Les is a three-year-old goldendoodle. Kai and Les are BFFs, and Les just met Moka (Kai's new sister). They are already fast friends!
You can check them all out on Instagram - @kaithebernedoodle, @mokathesheepadoodle, and @leswoofwoof.
---
Hi! 👋 We're Justine and Olivia Moore, identical twins and venture investors at CRV. Thanks for reading Accelerated. We'd love your feedback - feel free to tweet us @venturetwins or email us at twins@crv.com.