Discover more from Accelerated
News and jobs in tech & venture capital.
Over 34,000 subscribers
🚀 Google's co-founders step down
Plus, Ryan Reynolds saves the "Peloton woman!"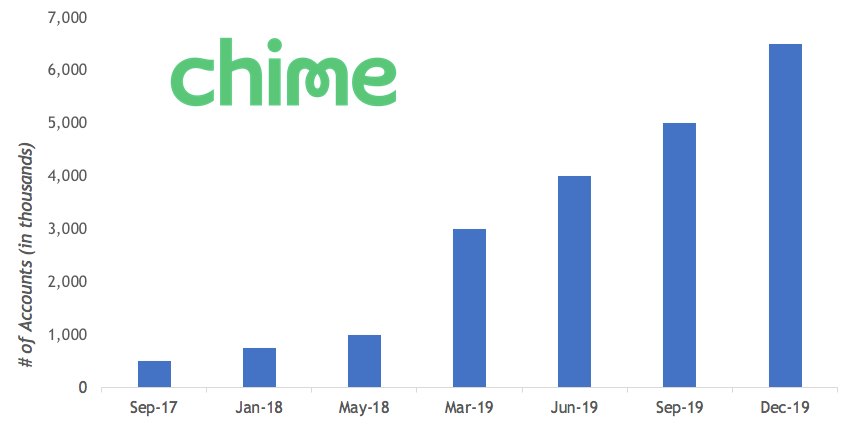 It's been a great year for digital bank Chime, which just raised a $500M Series E at a $5.8B valuation. The company quadrupled its valuation in less than a year—it last raised at $1.5B in March. As illustrated above, Chime has also been seeing impressive growth in accounts, from 3M in in March to 6.5M this month. Instead of charging fees, Chime makes money from debit interchange, and is expected to generate $200-300M in revenue this year.
---
news 📣
👋 Google's co-founders depart. Larry Page and Sergey Brin are officially stepping back from their roles as CEO and president of Alphabet, Google's parent company. Sundar Pichai, who has served as Google's CEO since 2015, will take Page's place. The move was framed as a simplification in management—a letter from the co-founders explained that the company "no longer needs two CEOs and a President." Page and Brin will remain on the board, and together hold 51% of the company's voting shares.
👜 Drama at Away. VC Twitter was abuzz this week about an article in The Verge on D2C luggage startup Away. The article details allegations from former employees that CEO Steph Korey created a "toxic work environment," and included screenshots from the company's Slack. The piece generated controversy - some saw Korey's actions as abusive, while others argued that she was rightfully pushing employees for results. Korey later tweeted an apology detailing her attempts to improve as a leader.
Sara Mauskopf, CEO of Winnie, wrote an interesting piece on the "Inevitable Takedown of the Female CEO" after the Away news broke - check it out here.
🚘 Uber publishes safety report. Uber released its first-ever safety report this week, with data on everything from support requests to sexual assaults and fatalities. The report covered U.S. rides in 2017 and 2018, and included almost 6,000 incidents of sexual assault from riders and drivers out of 2.3 billion trips. CEO Dara Khosrowshahi tweeted that he believes Uber will be a "better company" for making this data transparent, and called the report an "important step forward" in improving safety.
📱 Duolingo raises at $1.5B. Language learning app Duolingo announced a $30M Series F led by CapitalG (Alphabet's growth equity arm), becoming Pittsburgh's first unicorn! Duolingo has raised a total of $138M and boasts 30M monthly active users. The company has significantly boosted monetization in the past three years, going from $1M to $100M in bookings - while the core app is free, users can upgrade to a premium version to get rid of ads and access courses offline.
💰Magic Leap sees disappointing sales. It's been a while since we checked in on Magic Leap, the AR company that raised $2.6B for its futuristic headsets. The company launched Magic Leap One, a $2,300 product for developers, in summer 2018. CEO Rony Abovitz initially expected to sell 1M units in the first year, but later revised this to 100K. Leaked data from The Information revealed the company only sold 6,000 units in the first six months, and its second gen headset is "years away" from launch.
🌟 Forbes awards 30 Under 30. Forbes released its annual "30 Under 30" lists, with 600 honorees across 20 categories. A few lists to check out - consumer tech (shoutout to Kapwing co-founders Julia and Eric!), enterprise tech, retail & e-commerce, and social entrepreneurs. We were honored to be included in the venture capital category, and want to thank our Accelerated readers & campus scouts for their support!
You've probably seen the now-infamous Peloton ad, which many viewers interpreted as creepy and sexist (though others have argued that the backlash is overblown). The company saw its market value decline by $942M (!) as a result. But the ad was soon upstaged by Ryan Reynolds, who hired the actress to appear in a "sequel" ad for his alcohol brand Aviation Gin, which he published within two days of the Peloton controversy - is this the future of advertising?
---
what we're following 👀
Behind the scenes at VSCO, an eight-year-old company that had a breakout year.
Why are Silicon Valley investors flocking to Europe?
An extremely comprehensive guide to calculating D2C metrics from the CEO of Ro.
A look at The Washington Post's newest platform - TikTok.

It was a big week for VC podcasts! A few episodes to check out if you're traveling home for the holidays and need something to listen to:
Venture Stories - Sarah Tavel (Benchmark) and Nabeel Hyatt (Spark) on marketplaces
The Consumer VC - Caitlin Strandberg (Lerer Hippeau) on D2C brands and investing in the NYC startup ecosystem
Twenty Minute VC - David Tisch (Box Group) on the role of seed investors and his renewed excitement around consumer social
Starting Greatness - Mike Maples (Floodgate) interviews Andy Rachleff (Wealthfront) on finding product-market fit
---
jobs 🎓
Truework - Ops Associate (SF)
Mercury - Accounts & User Ops (SF)
Point72 - AI Associate (Palo Alto)
Runa Capital - Analyst/Associate (Palo Alto)
Chegg - Associate Chief of Staff (Santa Clara)
Primary Venture Partners - B2B Principal (NYC)
USV - Analyst (NYC)
XRC Labs - Associate (NYC)
F-Prime Capital - Associate (Boston)
Contrary Capital - Chief of Staff (Remote)
internships 📝
Yelp - Community Intern (SF)
Etsy - Data Science Intern (SF)
Flexport - Design Ops, Design Systems Interns (SF)
SoFi - Partnerships, MBA Investments Interns (SF)
Quora - User Research Intern (Mountain View)
Harper Wilde - Social Media Intern (Venice)
SmileDirectClub - Tech PM Intern (Nashville)
Facebook - Product Specialist Intern (NYC)
Anthemis - Female Innovators Lab Intern (NYC)
SmartAsset - Product Ops Intern (NYC)
---
puppy of the week 🐶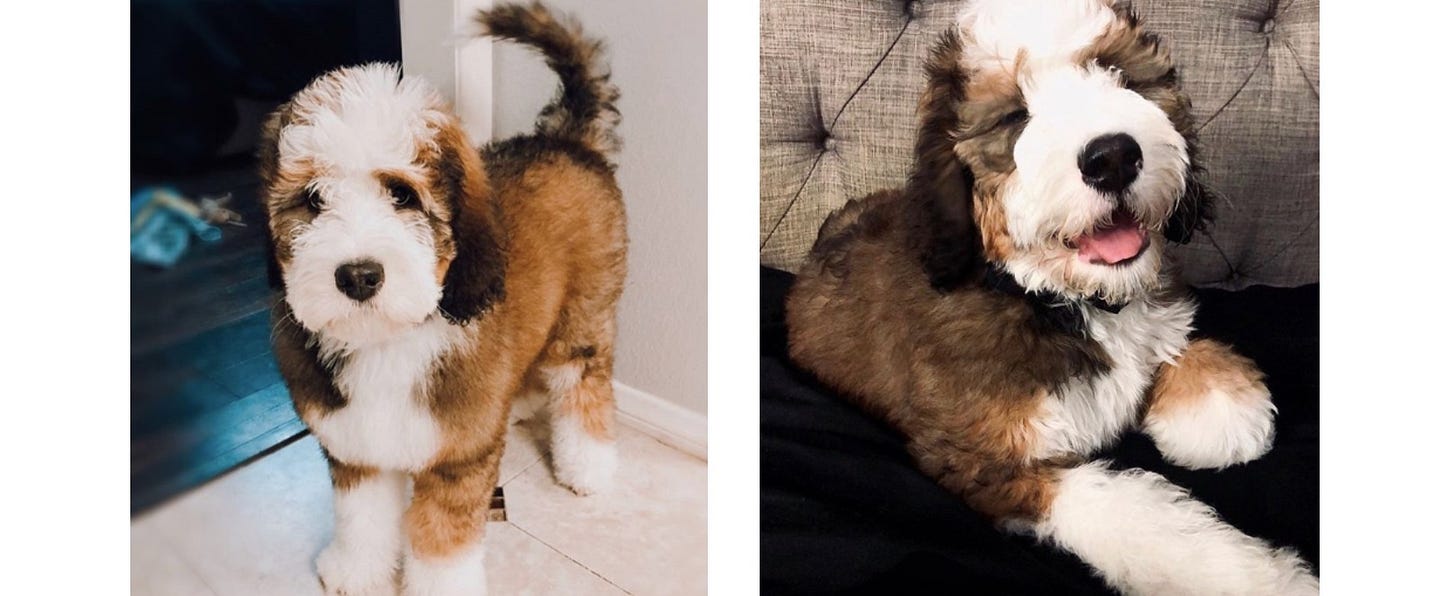 Meet Boomer, a four-month-old Teddy Bear bernedoodle who lives in LA.
His hobbies include attempting to eat socks, laying on top of tables, and drinking puppuccinos from Starbucks.
Follow his adventures on Instagram @boomer_thee_bernedoodle!
---
Hi! 👋 We're Justine and Olivia Moore, identical twins and venture investors at CRV. Thanks for reading Accelerated. We'd love your feedback - feel free to tweet us @venturetwins or email us at twins@crv.com.