Discover more from Accelerated
News and jobs in tech & venture capital.
Over 34,000 subscribers
🚀 Instagram's quiz filters go viral
Plus, a look behind-the-scenes at the "Hype House" for TikTok stars.
special announcement 👩‍💻
We have a number of announcements coming up about changes to Accelerated this year, starting with our weekly job postings! Accelerated started as a resource for college students, but many of our readers are now post-graduation, and we've gotten requests for jobs that require a bit more experience.
We're still going to feature a bunch of entry-level roles, but we're going to include a few roles every week for candidates with 3-5 years of experience. Even if you aren't at that stage yet, it may be interesting to see what companies are looking for as you plan your career. As always, we'd love your feedback - let us know what you think!
---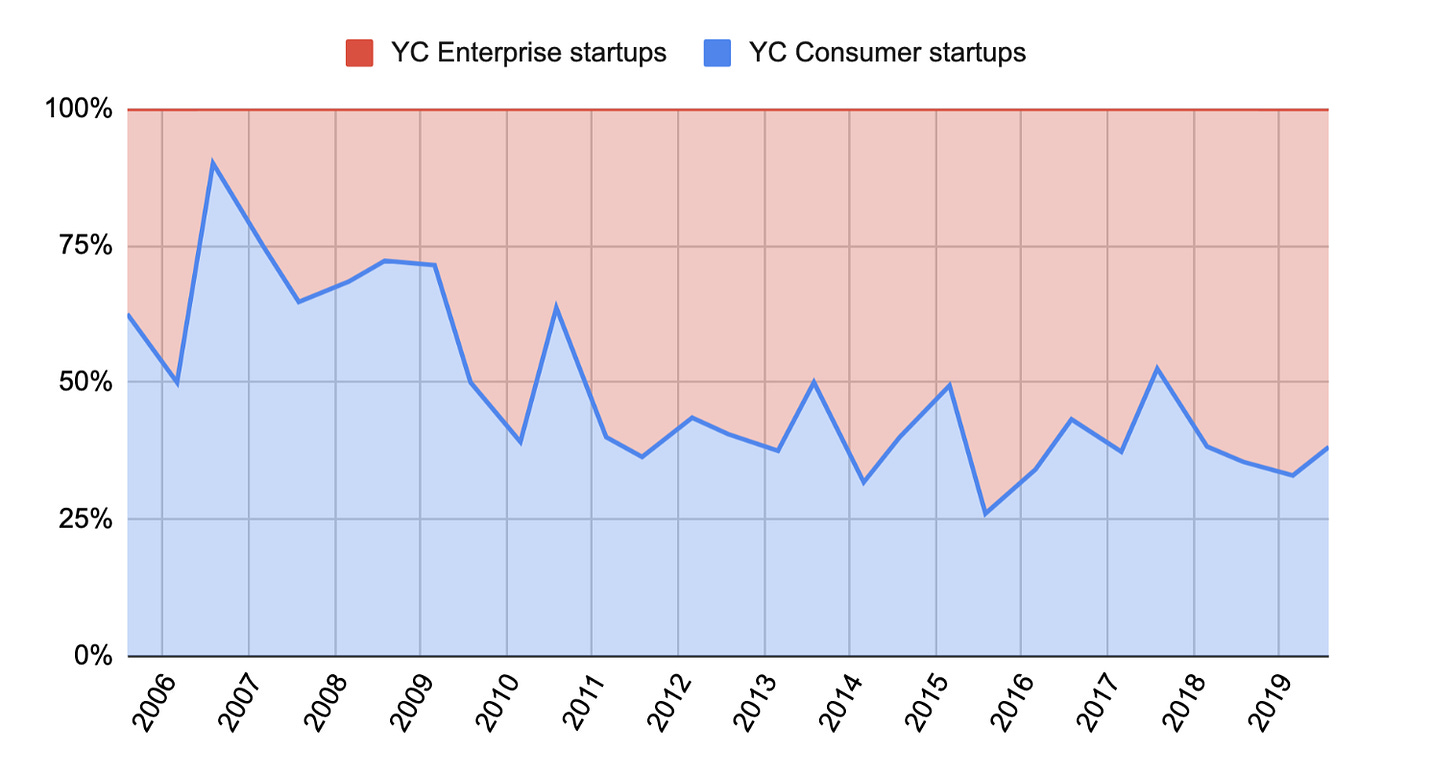 Eric Feng published an interesting blog post on YC's investing patterns since the first batch in 2005. His findings? YC's activity largely mirrors seed investing more broadly, in terms of both the total number of companies funded and the rise (or fall) of specific categories like developer tools and hardware.
The shifting mix of consumer and enterprise startups is one of the most prominent trends. In the early days of YC, 70-80% of startups were consumer, but recent classes are 30-40% consumer. Feng posits it's getting increasingly hard for consumer startups to break out, as a few players are dominating distribution - he calculated that it's ~28x harder for a new app to crack the top 30 today than it was five years ago.
---
news 📣
🚘 Gig economy battle continues. Uber and Postmates both sued California over AB5, a law passed in September that classifies many gig workers as employees instead of independent contractors. The law took effect on January 1, and is already facing significant resistance. A federal judge temporarily blocked the law from applying to truck drivers, and a group of gig economy startups have pledged $110M+ to a new ballot measure that would exempt app-based drivers and couriers.
🛑 California adopts new privacy law. January 1 was a big day for new legislation in California, with the Consumer Protection Act also going into effect. This law allows California residents to see the data that businesses have collected on them, request that it be deleted, and opt-out of it being sold to third parties. There's a six month period before the law will be enforced, and it only applies to a subset of businesses, but it could have a significant impact on companies like Uber and Facebook.
🎶 Spotify pauses political ads. Following in Twitter's footsteps, Spotify announced that it will no longer run political ads, as it doesn't have the tools to "responsibly validate and review this content." Both Bernie Sanders and the Republican National Convention have previously run campaigns on Spotify, but political ads reportedly don't represent a significant percentage of the company's ad revenue. Spotify said that it may re-evaluate this decision as fact-checking technology improves.
👩‍⚕️ One Medical files to IPO. Primary care startup One Medical filed to go public on the Nasdaq. The company, which was founded in 2007, has raised $533M in venture funding. One Medical serves patients who pay $200/year for membership or get access through their employers - it now has almost 400,000 members and operates 77 clinics around the country. Though the company did $199M in revenue in the first nine months of 2019 (29% YoY growth), it's still unprofitable, with a $34M net loss.
📈 Tesla hits record high. Tesla reported its Q4 production metrics, significantly beating analysts' expectations with 112,000 deliveries. The company delivered a total of 367,500 vehicles last year (a 50% YoY increase) and hit Elon Musk's lofty sales goal. Tesla stock reached an all-time high after the announcement, closing Friday at $443. It was a tough week for short sellers, who were down $900M in the first two days of 2020.
It's been a difficult few weeks for vaping advocates like U.S. Representative Duncan Hunter (who became famous for vaping in Congress). New FDA regulations prohibit companies from selling e-cigarettes pre-filled with teen friendly flavors like fruits, desserts, and mint - it's worth noting that this doesn't apply to devices without cartridges (like vape pens). Trump also signed a law in late December to raise the minimum age to purchase vaping (and tobacco) products from 18 to 21.
---
what we're following 👀
A look at Netflix's run for an Oscar, and how the company became the largest movie studio in Hollywood.
The young comedians who power the "viral meme factory" that is Twitter.
TikTok's 19 biggest teen stars are creating content together in an LA "Hype House," one of many new collab houses popping up for influencers.
The WSJ investigates how governments are hiring hackers and using spyware to track WhatsApp communications of potential terrorists.
Cleo Capital shares predictions from VCs and CEOs on what's next for the 2020s.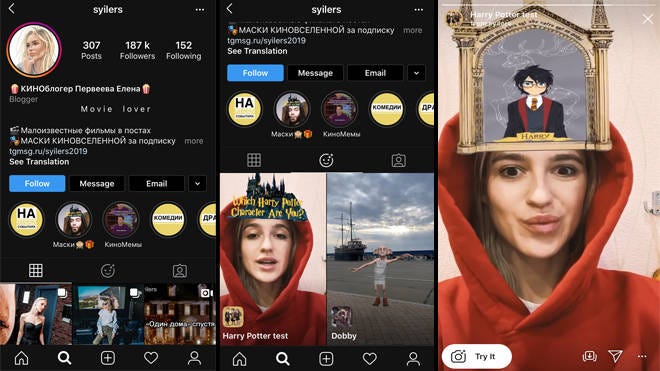 From Pop Buzz - one of many guides that has popped up in the last few days on how to access Instagram quiz filters.
Even with the rise of Instagram Stories, Snap has remained the king of interactive filters. It's not unusual to see people use Snap to take a photo or video and apply a filter, and then download the content to post on Instagram. But Instagram is finally starting to catch up, thanks to the launch of new "quiz filters" that have gone viral.
The filters are pretty basic. For example, in a "Which Disney character are you?" quiz, the filter will flick through character options above your head before randomly settling on one. However, the videos it generates can be pretty amusing and shareable, as it's capturing your reaction when you see which character you get.
Surprisingly, Instagram hasn't capitalized on these filters. They're notoriously difficult to find - if someone sends you a reaction video, you can click through to use the filter. Otherwise, you have to figure out the name of the creator, navigate to their profile, and find the filter. There's a gallery showcasing a few user-generated filters, but it's hard to access, not searchable, and doesn't have any of the popular quiz filters. Have you used or made a quiz filter? Let us know!
---
jobs 🎓
Airbnb - Workplace Project Manager (SF)
Padlet - Product Manager (SF)
Noblr - Product Analyst (SF)
Trulia - Product Manager (SF)
Side - Launch Product Manager (SF)*
Landed - Growth Manager (SF)
HopSkipDrive - Marketplace Analyst (LA)
GoodRx - Business Analyst (LA)
Bond Vet - Product Manager (NYC)
Oscar - Program Manager (NYC)*
JVP - Analyst, Associate (NYC)*
*Requires 3-5 years of experience.
internships 📝
Ground Up Ventures - Spring 2020 Campus Partners (Various)
Cleo Capital - MBA Thesis & Finance Intern, MBA Climate Change Intern (Various)
Flexport - Design Ops Intern (SF)
Quizlet - Communications Intern, BD Intern (SF)
Sheryl Sandberg & Dave Goldberg Foundation -Partnerships Intern (Palo Alto)
Kapor Capital - VC Summer Associate (Oakland)
CBInsights - Marketing, PR, Sales Dev, Intelligence Unit Interns (NYC)
Square - Marketing Design, Product Design Interns (NYC) 
Codecademy - Product Design Intern (NYC)
Grailed - Marketing Intern (NYC)
---
puppy of the week 🐶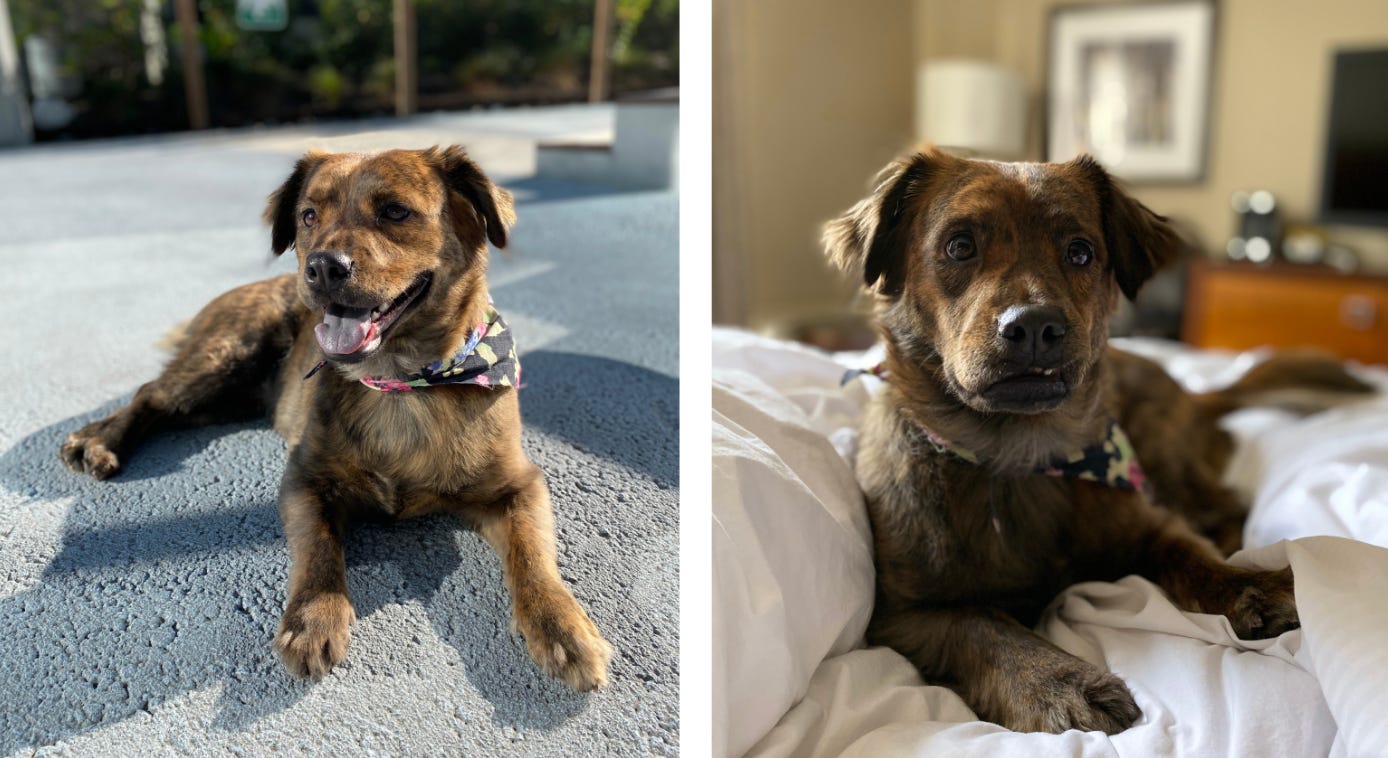 Meet Sasha, a soon to be two-year-old (her birthday is January 10th!) who lives in New York City. Sasha is a mutt, but her parents think she is a Boxer, Terrier, Pekingese, and Chow-Chow mix. 
Sasha loves playing with her best friend Chappy, waking up sleeping people by pawing their faces and sitting on their heads, rolling on the floor for treats, and chasing squirrels and pigeons. Follow her on Instagram @sashasnaggles!
---
Hi! 👋 We're Justine and Olivia Moore, identical twins and venture investors at CRV. Thanks for reading Accelerated. We'd love your feedback - feel free to tweet us @venturetwins or email us at twins@crv.com.