Discover more from Accelerated
News and jobs in tech & venture capital.
Over 34,000 subscribers
🚀 Is this a turning point for VR?
Plus, an inside look at Slack's response to the coronavirus.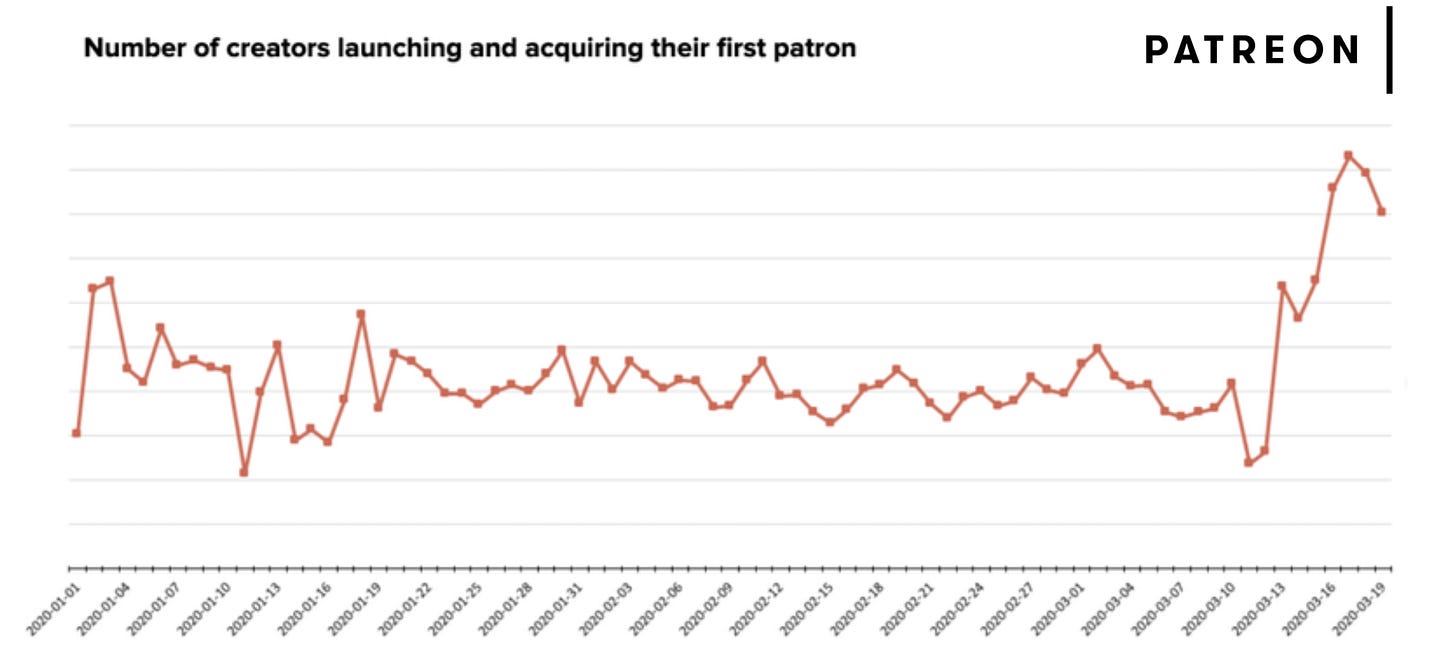 Coronavirus has had a huge impact on both enterprise and consumer spending, and many startups are clearly under stress. However, we'd also like highlight some of the positive stories of companies who have benefitted from supporting our new way of life. Last week, we took a look at the resurgence of video chat app Houseparty in the age of social distancing. This week, we're looking at creator subscription platform Patreon (a CRV portfolio company!), with data from TechCrunch.
Patreon helps creators (podcasters, musicians, writers, and more) make money from fans through monthly subscription. The graph above shows new signups for creators between January and March of this year, with a clear spike over the past few weeks. More than 30,000 creators have joined Patreon in the midst of the coronavirus, as income from conferences and live shows decline. These creators are growing their patron bases faster than ever - average new patron growth has increased almost 40% in March in markets like the U.S., UK, Canada, and Germany.
Whether this growth will continue is TBD - the company acknowledged that some patrons have had to cancel subscriptions as their own income falls, though churn rates overall are "stable." But just as Zoom is acquiring new users that will likely stay on the platform post-coronavirus, we expect to see the same with Patreon - and are curious to see how these new creators interact with the platform!
---
news 📣
😷 FDA approves new COVID-19 test. Some bright news at the end of this tough week - on Friday, the FDA approved a new point-of-care coronavirus test from medical device company Abbott. Why is this important? Instead of sending swabs out to labs and waiting days for results, doctor's offices and urgent care clinics will now be able to diagnose patients within minutes. Abbott plans to start shipping 50,000 tests a day starting next week, which will be a significant increase in capacity.
📦 OfferUp acquires letgo. It was a big week for local peer-to-peer marketplaces! OfferUp announced it raised a $120M round led by OLX Group, the majority investor in letgo. This may seem odd, but OfferUp will be acquiring letgo's U.S. business as part of the transaction, and OLX Group will own 40% of the combined entity. Together, the apps will have 20M MAUs in the U.S. According to Pitchbook, OfferUp had previously raised $261M, while letgo had raised $975M.
🏠 Airbnb slashes spend. The coronavirus has been particularly tough on Airbnb - it was considered one of the hottest IPO prospects for 2020, but is now seeing a massive drop in demand. The company has reportedly instituted a hiring freeze and stopped all marketing spend, and executives will take a 50% salary cut for the next six months. Airbnb is also encouraging hosts to offer free or discounted housing to healthcare workers, and is waiving all fees on these transactions.
🚘 Instacart scales up. Grocery delivery service Instacart announced that it's looking to hire an additional 300,000 contractors to meet increased demand. Instacart currently employs ~200,000 shoppers, though many are reportedly planning to go on strike on Monday. Workers are asking for personal protection equipment (e.g. hand sanitizer, gloves) and hazard pay, as well as extended paid leave for those with coronavirus symptoms. On Friday, the company instituted new safety guidelines and announced bonuses for shoppers, presumably in response to the planned strike.
💰 SoftBank bolsters balance sheet. SoftBank announced that it plans to sell up to $41B in assets, using the proceeds to buy back its own shares and reduce debt. As a reminder, SoftBank is a public holding company that operates a number of businesses, from telecom services to the $100B Vision Fund. SoftBank has had a challenging month - the stock plunged 50% since mid-February, and the company's credit was downgraded by both S&P and Moody's. The share buyback announcement renewed investor confidence, prompting the largest jump in the company's stock since 2008.
We'd be remiss not to cover one of the most important news items of the week - the emergence of Tiger King as Netflix's newest breakout hit. The show truly has something for everyone, whether you're interested in wild animal conservation, murder mysteries, cults, questionable fashion, Internet shows, explosions, food safety, or third-party political campaigns. It's a wild ride from start to finish!
If you haven't watched the show yet, we'd highly recommend you check it out (this compilation of tweets may convince you to give it a shot) - even Bill Gurley has joined in on the Twitter commentary! If you have watched it, you may be interested in this "Where are they now?" update. We're now looking for new recommendations of content to get us through quarantine - please comment below with your suggestions!
---
what we're following 👀
Nextdoor is thriving in the age of COVID, especially for locked-down New Yorkers.
Stewart Butterfield provides a day-by-day look at the impact of coronavirus on Slack.
Looking to invest in a video conferencing company? Don't buy ZOOM, which had trading suspended by the SEC after many investors mistook it for ZM.
Wired profiles a Twitch streamer exposing COVID scams on his channel.
Our new TikTok obsession - recreations of "A Little Bit Alexis" from Schitt's Creek!
The coronavirus has provided interesting test cases for VR - professional bicyclists meeting digitally to hold competitive races, hospitals creating models to show how COVID impacts patients' lungs, and a VR documentary produced by the Tower of David Museum to mimic the experience of a pilgrimage to Jerusalem. 
One of the most common use cases for VR in recent weeks has been theme park rides, especially for young kids stuck at home. Searches for "VR Disneyland" are up 2.5x over the past two weeks, according to Google Trends, and channels like "Virtual Disney World" and "SoCal Attractions 360" are racking up subscribers and views. 
VR headset ownership is still fairly low - eMarketer estimates that while 13% of Americans consume VR content, only half of these users do so on a headset. Much of the VR content available on sites like YouTube is consumed on a static screen, and can be enhanced through clicking/dragging or moving your device to see different angles - but is nowhere near the full VR experience in terms of immersiveness. We're curious to see if COVID-19 accelerates headset sales over the next few months!
---
We know the job market is in flux right now, so we're only featuring roles that were posted in the last week!
jobs 🎓
Fast - Product Manager (SF)*
Expensify - Marketing/BD Generalist (SF)
Rothy's - International Digital Ops Coordinator (SF)
Niantic - Product Manager (Sunnyvale)*
BetterHelp - Product Manager (Mountain View)
Quona Capital - Platform Associate (DC)
First Round - Chief of Staff (NYC)
Goldman Sachs - Product Manager Analyst/Associate (NYC)
Nasdaq - Product Manager (NYC)
MongoDB - Strategic Financial Analyst (NYC)
Pathrise - Associate Product Manager, Growth Marketing Associate (Remote)
*Requires 3-5 years of experience.
internships 📝
Amazon - MBA Corporate Projects Manager (Seattle)
Adobe - Project Management Intern (SF)
Uber - MBA Global Supply Chain Intern (SF)
DocuSign - Customer Success Program Management Intern (SF)
Snap - Project Manager Intern (LA)
Amazon Studios - Summer Intern (LA)
Lewis & Clark Ventures - Summer MBA Analyst (Clayton)
208 Seed Ventures - Summer Analyst (Missouri)
Quartet Health - Product Intern (NYC)
HOF Capital - VC Intern (NYC)
TikTok - Sales Ops Intern (NYC)
500 Startups - Content Marketing Intern (Remote)
---
puppy of the week 🐶

Meet Moose (2 years old, Bernese Mountain Dog / Black Lab mix) and Sully (9 weeks old, Golden Retriever). They live in DC and are new brothers!
Moose loves tennis balls - his hobbies include chasing them, chewing them, and guarding them. Sully is still developing hobbies, but he currently enjoys peeing on things, sleeping, and trying to play with Moose.
---
Hi! 👋 We're Justine and Olivia Moore, identical twins and venture investors at CRV. Thanks for reading Accelerated. We'd love your feedback - feel free to tweet us @venturetwins or email us at twins@crv.com.