Discover more from Accelerated
News and jobs in tech & venture capital.
Over 34,000 subscribers
🚀 Is TikTok for sale?
Plus, we're hosting audio rooms for the Accelerated community!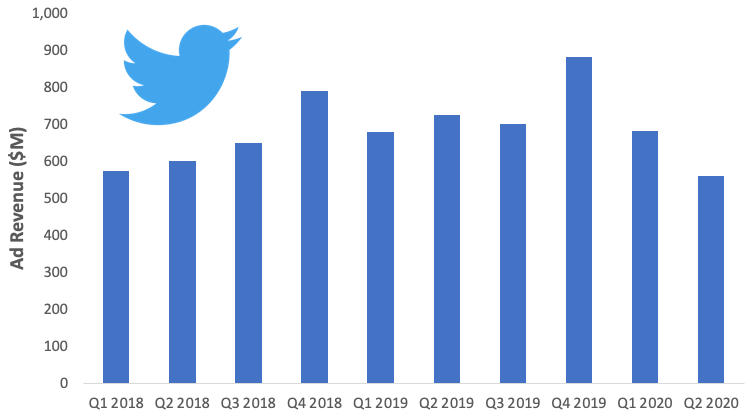 Twitter released Q2 earnings this week, with mixed results. User growth beat expectations - monetizable daily active users grew 34% YoY, the largest increase since Twitter started reporting this metric. However, as the graph illustrates, it was a tougher quarter for ad revenue, which fell 23% compared to Q2 2019.
What caused the decline? Ad spending dropped precipitously in March when the pandemic hit the U.S. It started to recover in April, but fell again in late May when many brands paused spending on social media in response to civil rights protests. 
Ad revenue isn't as reliable as subscription-based revenue, and Twitter has struggled to consistently grow it over time. CEO Jack Dorsey told analysts the company is finally starting to explore subscriptions as an additional revenue stream. He noted that there would be a "really high bar" for asking consumers to pay, but that we'll likely see some tests of subscriptions this year.
---
community announcement 
🚨
We're using an app called Chalk to host audio rooms with the Accelerated community! It's a cool interface where you can participate in conversations or just listen in - we'll be using it for general hangouts as well as structured sessions around specific topics.
You can join the Accelerated Chalk group here (it's just on iOS for now).
---
news 📣
🔨 Will ByteDance get broken up? It's been a turbulent few weeks for ByteDance, the parent company of TikTok. India banned the app in late June, and the U.S. government is considering a similar ban due to national security concerns (summary here). To prevent this, ByteDance is considering selling a majority stake in TikTok to U.S. investors, including Sequoia and General Atlantic. ByteDance founder Zhang Yiming has resisted the sale thus far, instead hiring an American CEO from Disney to run TikTok - we'll see if he changes his mind as a possible ban looms large.
📈 Snap and Tesla report earnings. It was a tough week for Snap, which fell 8% after its Q2 earnings announcement. Though DAUs and revenue both grew 17% YoY, CFO Derek Andersen said the boost in users from COVID "dissipated faster than we anticipated," and ad budgets will likely remain depressed in Q3. Tesla's stock, on the other hand, rose 5% after the company's first full year of profitability. However, the stock ended the week down after traders took profits from a 250% rally YTD.
⚖️ Slack files suit against Microsoft. Microsoft's Slack competitor, Teams, has been eating away at Slack's market share with big companies. This week, Slack did something about it - filing an antitrust complaint against Microsoft in the EU. CEO Stewart Butterfield said in a tweetstorm that Microsoft's decision to offer Teams for free in a bundle with Office 365 is a "textbook illustration" of an anticompetitive violation. The European Commission, which is traditionally more sensitive than U.S. regulators to antitrust concerns, will now decide whether or not to investigate.
🌳 Apple commits to carbon neutrality. Apple pledged this week to make all of its devices carbon neutral by 2030. This will involve working with suppliers that use 100% renewable energy, funding reforestation projects, and launching an "Impact Accelerator" to invest in minority-owned companies that drive supply chain innovations. Apple's move follows Microsoft's pledge earlier this year to be carbon negative by 2030, and Amazon's plan for carbon neutrality by 2040.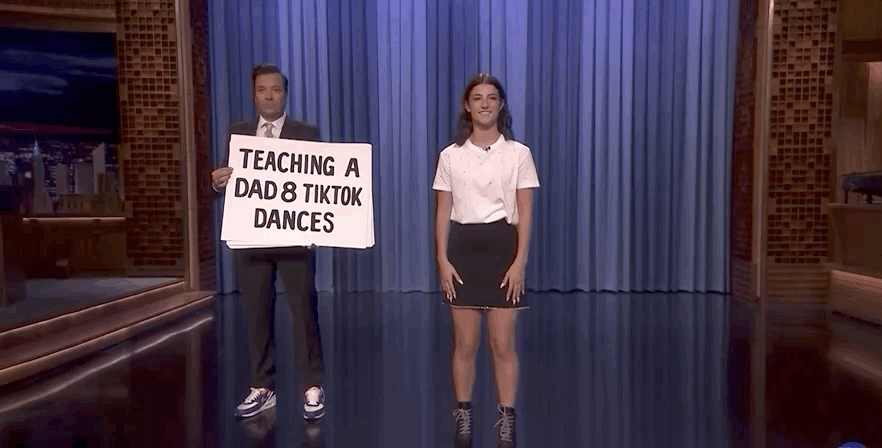 Big news from TikTok this week - the company announced a new $200M fund to support creators. The fund will be distributed over the next year, and will focus on creators over the age of 18 who want to "foster a livelihood" through the app. It's still unclear how creators will be chosen, how the money will be distributed, and whether creators will owe anything to TikTok in return.

TikTok thus far has struggled to help creators monetize - the company doesn't share its ad revenue, unlike YouTube or Instagram (with IGTV). Major TikTokers like Charli D'Amelio (GIFed above) have started to invest their time in alternative revenue streams off the platform. Charli and her sister Dixie just launched a makeup line with Morphe, while Addison Rae debuted a Spotify-exclusive podcast this week.

This fund may be part of an effort to engender more loyalty from creators. A creator who receives financial support from TikTok early on will be less likely to defect to platforms that have better built-in monetization, like YouTube. Whether TikTok will eventually have to share ad dollars to keep creators on the platform is TBD.
---
what we're following 👀
A fascinating thread on the history of Oatly, a 20-year-old Swedish company that recently became the hottest alt-milk brand in America.
Paige Doherty compiled a list of resources for people looking to break into tech & VC.
Kelvin Yu shares lessons learned from a gap year working in startups and VC in SF.
Accelerated reader (and UMich student) Leo Luo launched a newsletter exploring early stage consumer products, including interviews with founders - check it out here!
Cool TestFlight alert! Eternal, a new avatar-based social network, launched its public beta this week. You can download it here on Apple devices.
Eternal is somewhat hard to describe, because it's so different than other social networks - but the closest approximation might be a mix between Club Penguin and Discord. You select an avatar, and then create a virtual planet where you can invite friends to hang out in voice rooms.
You have to add at least one friend to make a planet, but when they aren't online it's a fun game to play in single-player mode. It's weirdly relaxing to run around exploring your planet (set to a cool soundtrack!) and appreciating the aesthetics of the app.
It's hard to build an immersive experience on mobile - we're impressed with what Eternal's team has accomplished with the beta, and looking forward to seeing it grow!
---
jobs 🎓
Soma Capital - Chief of Staff (SF, Remote)
Faire - Product Analyst (SF)
Aalto - Product Manager (SF)*
Puzzl - Founding Full Stack Engineer (SF)
Very Good Security - BD & Partnerships Associate (SF)*
SVB Capital - Investment Analyst (Menlo Park)
M13 - Investment Associate (LA)
AvantStay - Strategic Finance Associate, Product Associate (LA)
Pair - Supply Chain and Ops Manager (NYC)
Mirror - Finance Analyst (NYC)
Ribbon - Product Manager (NYC)
Peloton - Associate Product Manager (NYC)
Rhino - BD Analyst (NYC)
BlueCross BlueShield - VC Analyst (DC)
*Requires 3+ years of experience.
internships 📝
Takeme.to - Product Ops Intern, Visual Design Intern (Remote)
Triplebyte - Community Engineer Intern (SF, Remote)
TomoCredit - MBA BD Intern, Social Media Intern, Marketing Intern (SF, Remote)
Curology - Creative Project Manager Intern, Marketing Intern (SF, Remote)
Clara Foods - Marketing & Comms Intern (SF)
AppZen - Finance Intern (San Jose)
Bandit - Marketing Intern (Austin)
Bloomscape - Digital Marketing Intern (Detroit)
Atom Finance - Finance & Growth Intern (NYC)
Talkspace - Business Analytics Intern (NYC)
Teachable - Content Marketing Intern (NYC)
Create - MBA Venture GM Intern (NYC)
---
puppy of the week 🐶
Meet Django and Amber, two dalmatians who live in the UK. Django is ten months old, and Amber is six months old. 
They enjoy wrestling with each other, playing in the grass (or in their mini backyard pool), and watching the Disney classic 101 Dalmatians.
You can follow them on Instagram at @lua_dalmatians.
---
Hi! 👋 We're Justine and Olivia Moore, identical twins and venture investors at CRV. Thanks for reading Accelerated. We'd love your feedback - feel free to tweet us @venturetwins or email us at twins@crv.com.