Discover more from Accelerated
News and jobs in tech & venture capital.
Over 34,000 subscribers
🚀 Livongo + Teladoc = 💰?
Plus, our take on the launch of Instagram's TikTok copycat!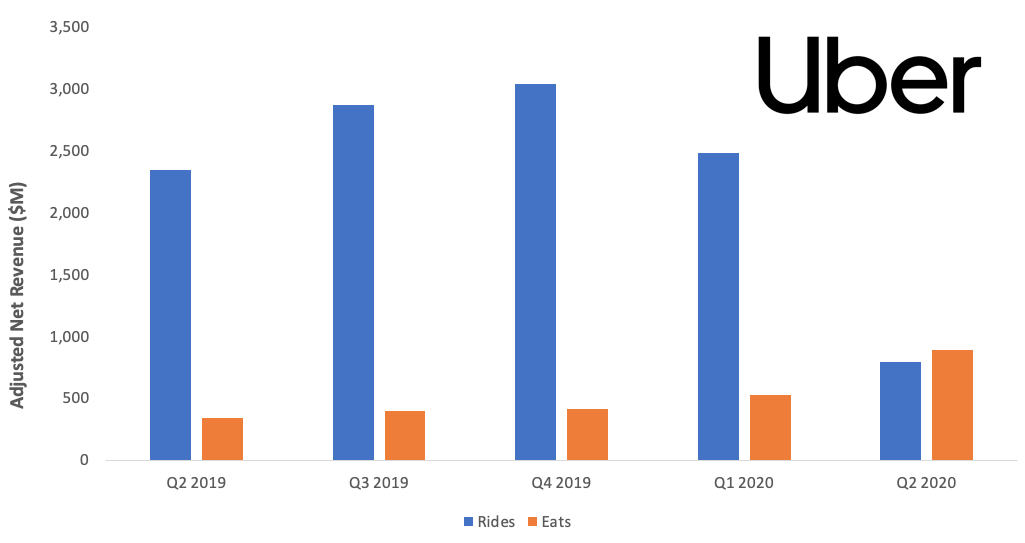 Uber announced Q2 earnings this week. Unsurprisingly, the company's core rideshare business continued to decline, with a 68% YoY drop in adjusted net revenue. It was the first quarter in Uber's history where adjusted net revenue for Eats (food delivery) exceeded that for Rides. 
Investors weren't thrilled with these results - Uber's stock closed Friday down 5%. While Eats is a bright spot, it isn't growing quickly enough to offset the loss in Rides revenue. Uber's take rate is much lower for food delivery than for ridesharing, and the company faces tough competition from DoorDash and GrubHub.
CEO Dara Khosrowshahi noted that the Rides business is showing signs of recovery in markets like France, where it has already returned to 70% of pre-pandemic levels. However, he suggested that Uber will be doubling down on delivery beyond food, with the opportunity to deliver things like prescription medication and pet supplies.
---
reminder 🚨
In case you missed it last week, we're doing a survey on how students are thinking about gap year options for 2020-2021! We'll share the data we collect in a future edition. We'd love your thoughts here - the survey should only take 2 minutes.
---
news 📣
🚫 Trump restricts Chinese apps. After weeks of rumors, Trump took action against TikTok and WeChat, signing executive orders that effectively ban both apps. The orders will not take effect for 45 days, giving TikTok time to close an acquisition by Microsoft (or another suitor). Unlike TikTok, WeChat's parent company (Tencent) doesn't operate completely separate apps for U.S. and Chinese users. This makes a WeChat acquisition less attractive for a U.S. company, and puts companies like Apple in a tough spot if they are prohibited from offering WeChat on iPhones sold in China.
Trump's order initially called out Tencent and "any subsidiary of that entity," which could include Riot Games (League of Legends), Fortnite, and even Snap, of which Tencent owns 12%. However, the White House later confirmed to reporters that only WeChat would be impacted.
💰 HeadSpin returns $ to investors. HeadSpin, a startup that helps developers test and monitor apps, is returning $95M in funding due to "irregularities" in its financials. The company became a unicorn with its Series C fundraise in February, when investors were told HeadSpin was making $100M in annual recurring revenue (ARR). However, an independent investigation commissioned by the Board found that ARR was closer to $15M. CEO Manish Lachwani was already quietly replaced in May.
🏥 Teladoc buys Livongo for $18.5B. Telehealth company Teladoc announced it is acquiring Livongo, which provides digital tools to help users manage chronic conditions (starting with diabetes). Livongo IPOed last summer, and the stock was up more than 4x YTD prior to the merger announcement. While the merger will create a "digital health behemoth," the market reacted poorly, sending both stocks down more than 10%. Why? Livongo shareholders don't want to merge with a slower-growth company, while Teladoc shareholders think they overpaid for Livongo.
📈 Mixed week for IPOs. This week brought two big IPOs! Shopify competitor BigCommerce rose almost 300% on its first day of trading. The company grew revenue 30% in both Q1 and Q2 (unsurprisingly, as COVID has lifted almost all e-commerce), and now hosts stores for more than 60,000 customers. Quicken Loans parent company Rocket Companies had a more muted debut, closing its first day up 20%. Rocket, which helps users take out mortgages online, has also benefitted from COVID - the company more than doubled loan origination in Q2 2020 compared to Q2 2019.
You don't have to be Andy Dwyer - if you're confused about what a special purpose acquisition company (SPAC) is, there's still time to find out! Our friend John Luttig at Founders Fund published an amazing blog post a few weeks ago that explains everything you need to know. 2020 is shaping up to be the year of SPACs, with seemingly constant updates on investment firms launching new vehicles.
The most recent news? Telemedicine startup Hims is considering going public via SPAC. The deal would value Hims at $2B, up from $1B last year. Investors have been speculating about an IPO after Hims reached $100M in annualized revenue in 2019. Competitor Ro just raised at a $1.5B valuation with $250M in annualized revenue.
---
what we're following 👀
An amazing thread on Taylor Swift as neobank debit cards. 
Vice dives into the cult of Brandy Melville resellers. 
Jordan Odinksy from Ground Up Ventures on the making of a cult brand. 
Product Hunt launched a platform to discover cool new apps in TestFlight.
Instagram launched Reels, its TikTok copycat, in the U.S. this week. Somewhat confusingly, Reels isn't a separate app or even a new tab within Instagram. If you go to your Explore page, you should see a Reels video at the top - if you click on it, you'll enter a feed that looks suspiciously like TikTok's For You Page.
We've spent time on Reels, and haven't been particularly impressed with the content thus far. Despite Instagram having a ton of data on our interests (we've been on Facebook since middle school), the content feels less relevant than what we see on TikTok. Most of the content in our feed is from brands or influencers we don't follow. 
We'll be interested to see if "everyday teens" (who have powered the growth of TikTok) start making Reels content, or if it remains a domain for more professional creators, like IGTV. Many TikTok users make videos that they may not want tied to their "real" identity on a platform like IG, which could dissuade them from using Reels. 
Have you used Reels, or are you thinking about it? Let us know in the comments!
---
jobs 🎓
Mon Ami - Ops Associate, PM* (SF, Remote)
Niantic - Strategic Finance Analyst (SF)
Crunchbase - Marketing Ops Associate (SF)
Carrot - Product Engineer (SF)
Uber - Product Analyst (SF)
Robinhood - New Grad Software Engineer (Menlo Park)
Steezy - Graphic Designer (LA)
Fetch - Product Manager (Austin)
WHOOP - Product Manager* (Boston)
Petal - Associate Product Manager (NYC)
Air - Product Manager (NYC)
Alloy - Product Manager* (NYC)
Otis - Investor Relations Associate* (NYC)
*Requires 3+ years of experience.
internships 📝
Unshackled Ventures - University Fellows (Remote)
Fullscreen - Fall Strategy, Public Figures, Marketing, Talent Mgmt Interns (Remote)
Primary Venture Partners - Fall MBA Associate (Remote)
Basepaws - Business & Marketing Intern (LA, Remote)
Hydrant - Graphic Design Intern (NYC, Remote)
Remoov - Fall Marketing Analytics, B2B Marketing Interns (SF, Remote)
Cloudflare - Data Analyst Intern (SF)
Chairish - SEO & Product Intern (SF)
Afterpay - Comms & PR Intern (SF)
Robinhood - Data Analyst Intern, Software Engineer Intern (Menlo Park)
Superbolt - Fall Growth Marketing NYC, Growth Marketing LA Interns (NYC, LA)
AptDeco - Digital Content Creator Intern (NYC)
---
cat of the week
🐈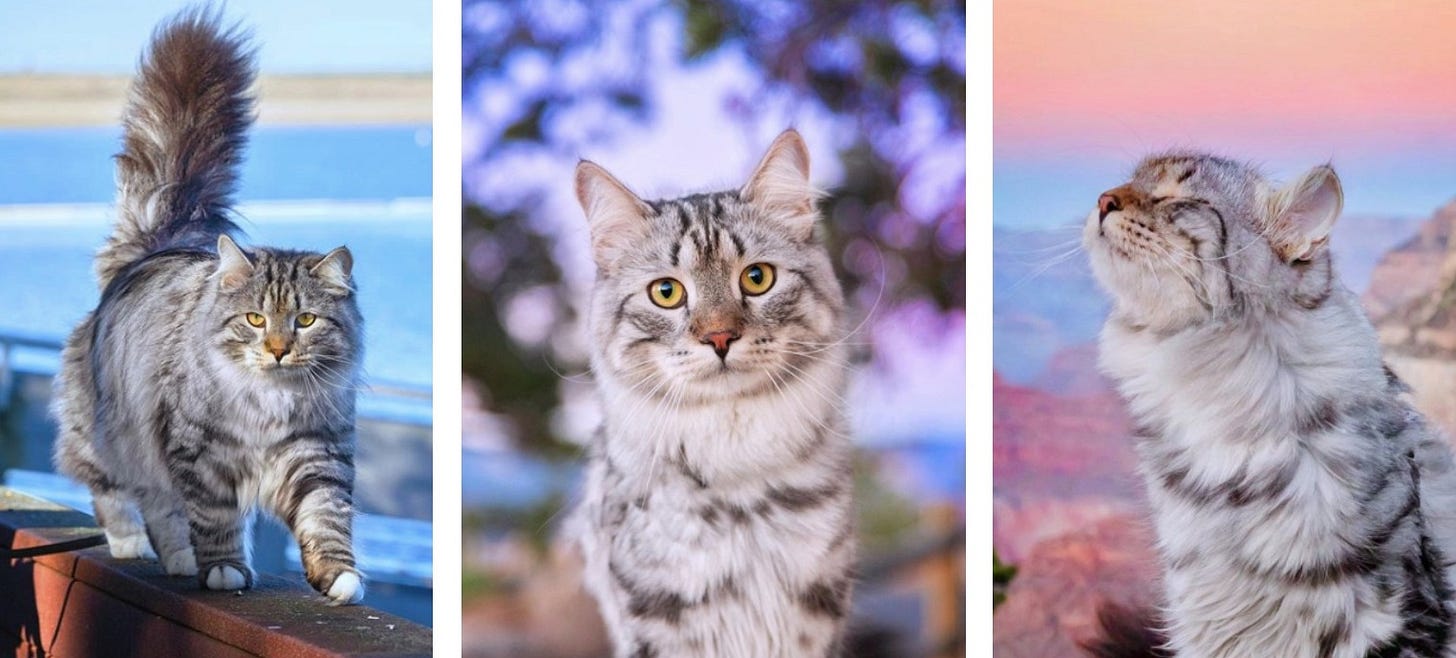 In honor of International Cat Day (yesterday), we're featuring a feline friend this week!
Meet Sterling, a silver Siberian cat who lives in San Diego. As you can see from the photos above, Sterling is an adventurer. He regularly travels to national parks, the beach, and even Las Vegas.
Check him out on Instagram @sterlingsilvercat!
---
Hi! 👋 We're Justine and Olivia Moore, identical twins and venture investors at CRV. Thanks for reading Accelerated. We'd love your feedback - feel free to tweet us @venturetwins or email us at twins@crv.com.