Discover more from Accelerated
News and jobs in tech & venture capital.
Over 34,000 subscribers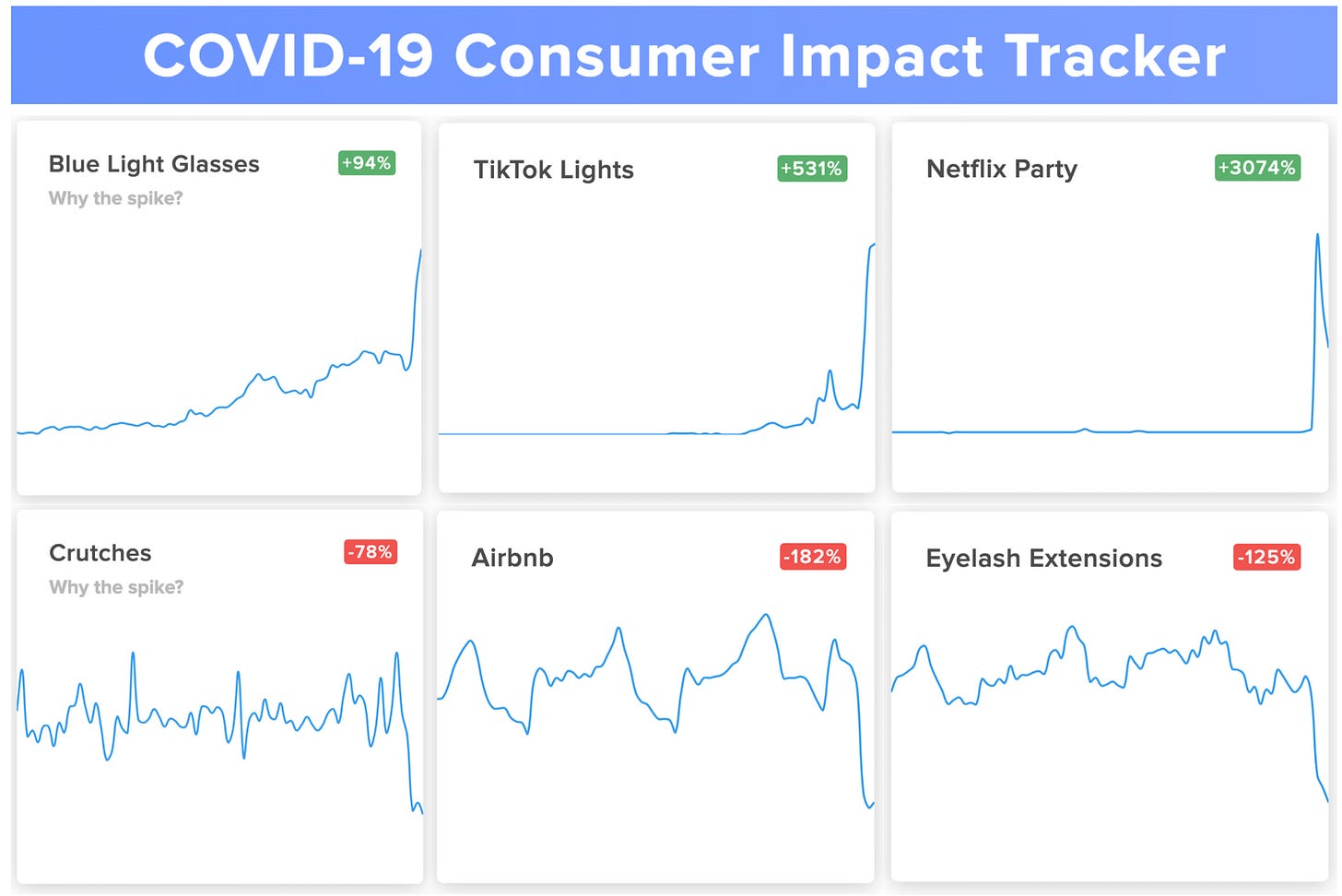 Glimpse launched a COVID-19 consumer impact tracker that follows the companies, products, and industries that have seen the biggest changes in interest and engagement due to the coronavirus. Glimpse analyzes search traffic, signals on sites like Reddit, YouTube, and Twitter, and Amazon purchases to quantify trends.
We'd recommend looking through the full data set yourself - it's really interesting! Some of the results are fairly predictable - "DIY haircuts" are up almost 800%, while "pet sitter" has dropped 95%. Others are more surprising or concerning - "RV toilet paper" is up 145%, while "bulk ammo" has risen 337%. Glimpse also highlights a few of the VC-backed startups that have seen recent spikes in search traffic, including Notion, Substack, Chime Bank, and Kapwing (a CRV portfolio company!)
---
news 📣
📦 Amazon stock slides. After hitting a record high, Amazon's stock plunged on Friday following the Q1 earnings release. Revenue grew 26% YoY, beating expectations, largely due to continued growth in AWS (cloud computing service) and Prime. However, CEO Jeff Bezos warned investors that he plans to spend the expected Q2 profit (~$4B) on COVID-related initiatives, including PPE for warehouse/delivery workers, increasing wages, and implementing additional cleaning measures.
📱Apple reports slowing iPhone sales. Apple also released earnings this week, and saw a similar slide in stock price despite beating revenue expectations. The company's revenue grew 1% YoY, an impressive feat given the significant disruption to Apple's supply chain and retail stores. However, iPhone revenue dropped 7%, which is unsurprising - demand for premium smartphones has dropped across most major manufacturers as consumers reconsider pricey purchases.
📈 Facebook stock surges. Facebook reported 18% YoY revenue growth in Q1 and hit 3B MAUs across all of its platforms (to put this in context, this is 2/3 of worldwide Internet users!). The company's stock surged 10%, as revenue significantly exceeded expectations. While Facebook saw a steep decrease in ad spend in March, it reported "signs of stability" in April. However, the company is not providing guidance for Q2 or FY2020, citing "a period of unprecedented uncertainty in our business outlook."
There were too many earnings reports to cover this week, but we wanted to flag that Alphabet, Spotify, Twitter, Microsoft, and eBay also released quarterly earnings!
🚧 Procore postpones IPO? It's been a tough few months for IPO candidates like Procore, which filed its S-1 in February and is now waiting for the markets to stabilize. Procore sells construction management software and did nearly $290M in revenue last year. The company has reportedly decided to delay its IPO, choosing instead to raise another $150M from private investors at a $5B valuation. We expect to see more pre-IPO companies close these types of rounds (as Airbnb did earlier this month) - many are unprofitable, and need capital injections to continue to fund their operations.
🖥️ Figma raises $50M. In other fundraising news, design software Figma closed a $50M Series D led by a16z at a reported $2B valuation. This would be a significant markup from Figma's last round in early 2019, which valued the company at $440M. Figma told TechCrunch that this was an "opportunistic" fundraise, which is becoming increasingly common for growth companies with significant investor demand that want to strengthen their balance sheets (see Notion's last round).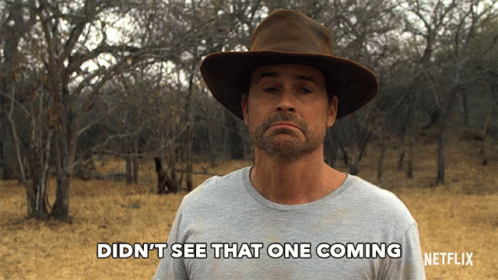 It was an odd week to follow Elon Musk on Twitter. Musk spent several days railing against shelter-in-place orders, arguing that they amount to "forcible imprisoning." He's been an outspoken critic against "coronavirus panic" for several months, making a number of controversial statements about specific medications and predicting that the U.S. would see nearly zero new cases by the end of April.
On Friday, Musk's Twitter took a turn for the bizarre. He tweeted: "Tesla stock price is too high imo," before sharing several lines from the Star Spangled Banner, saying that he's selling almost all of his physical possessions, and informing his followers that his girlfriend is mad at him. Tesla's stock plunged 8% almost immediately.
Musk is no stranger to Twitter controversy. Last year, he got in trouble with the SEC for tweeting that he secured funding to take Tesla private at $420/share, and then for revealing projected production volumes. In the aftermath of this incident, Musk was required to have any tweets related to Tesla's stock vetted in advance. He told the Wall Street Journal that no one approved this week's tweet on the company's stock price, which may be a violation of his settlement agreement.
---
what we're following 👀
Luminary raised $130M to take over podcasting - a year post-launch, how is it doing?
Inside colleges' efforts to replicate the campus tour experience online.
NYU researchers have discovered "pods" of Instagram users that game the algorithm using reciprocal engagement.
Are you getting a ton of texts from brands recently? You're not alone.
Cleo Capital launched Chrysalis to help laid-off tech employees start companies.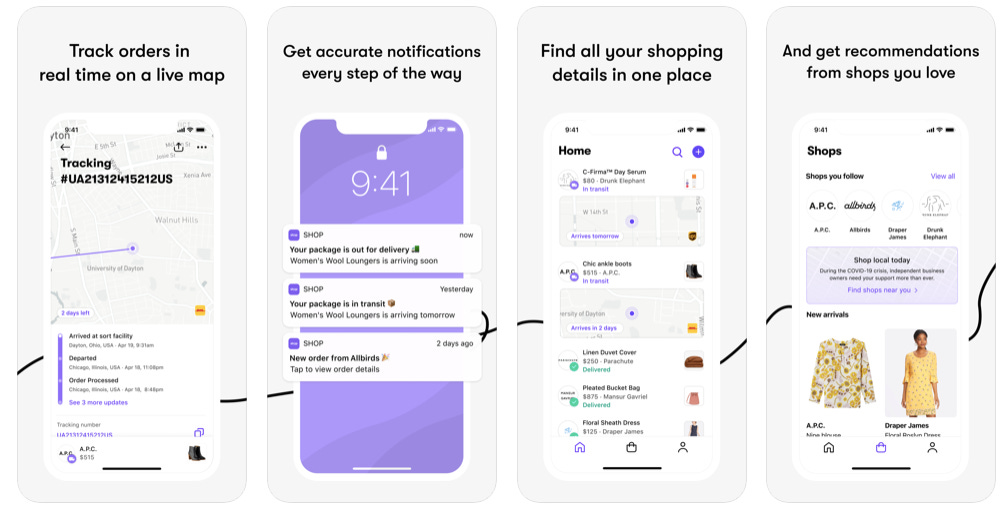 Big news from Shopify this week! The company released a revamped version of Arrive (now called Shop), its package tracking app. What's new?
A feed with products from brands you've previously shopped from or follow

The ability to browse local brick-and-mortar businesses and make purchases

Accelerated checkout via Shop Pay
Shopify fans were quick to suggest that this could be the company's first move towards becoming a B2C marketplace. Today, Shop only displays products from brands you choose to follow or have previously made a purchase from. In the future, Shop could recommend new brands to check out, or even create an Amazon-type marketplace that displays inventory across sellers when you search for a given item (e.g. "green shorts"). This could be a significant revenue driver for Shopify, as brands would likely pay to be featured in consumers' feeds.
However, Shopify CEO Tobi Lütke pushed back against this vision in a conversation on Clubhouse. Lütke said he views Shop as a retargeting tool to help brands increase the LTV of their existing customers, not a channel for brands to acquire new customers. We're interested to see what happens here - a B2C marketplace could provide significant ad revenue to Shopify, but the company has long positioned itself as a neutral platform that doesn't promote some of its retailers over others.
Arrive had 16M users before the rebrand, so you may have the new Shop app and not even know it! If you've used it, we'd love to know what you think - comment below to let us know.
---
As always, these roles were all posted or updated in the last week. A few opportunities to highlight for founders:
Dorm Room Fund is launching a remote Female Founder Track program this summer.
Weekend Fund is hosting weekly remote pitch sessions with early stage investors.
jobs 🎓
Niantic - Product Manager (SF)
Envoy - Product Manager (SF)
Grove Collaborative - Strategic Finance Analyst (SF)
Roblox - Creator Ops Specialist (San Mateo)
PayPal Ventures - Senior Associate (San Jose)
Teladoc - Product Manager (Sunnyvale)
Red Cedar Ventures - Analyst (Michigan)
645 Ventures - Associate (NYC)
Squarespace - Product Marketing Coordinator (NYC)
Greycroft - Pre-MBA Associate (NYC)
Stadium Live - Full-Stack Engineer (Toronto)
Deel - Remote Advocate (Remote)
internships 📝
Many of these internships will likely start remotely or be entirely remote - we'd recommend contacting the company if you have questions about this!
Blend - Finance Intern (SF)
Snackpass - Software Engineering Intern (SF)
Jam City - PM Intern (LA)
StackCommerce - Partnerships Intern (LA)
Techstars - Intern (NYC)
Atom Finance - MBA Intern (NYC)
Stitcher - Freakonomics Radio Intern (NYC)
Sesame - Marketing and Content Strategy Intern (Remote, NYC)
Steve Schlafman - Intern (Remote)
Darling Ventures - Intern (Remote)
Flutter - Software Engineering and Marketing Interns (Remote)
Atento Capital - University Investment Fellow (Remote)
---
puppy of the week 🐶

Whiskey is an almost two-year-old dapple dachshund who lives in Los Angeles. 
She enjoys trying on different festive bandanas and hoodies, giving a piercing stare to the camera, and playing around outside in the grass and at the beach. 
You can follow Whiskey on Instagram @its.whiskey.time!
---
Hi! 👋 We're Justine and Olivia Moore, identical twins and venture investors at CRV. Thanks for reading Accelerated. We'd love your feedback - feel free to tweet us @venturetwins or email us at twins@crv.com.