Discover more from Accelerated
News and jobs in tech & venture capital.
Over 34,000 subscribers
🚀 Nestlé drops $ for a startup
Plus, what happened when TikTok stars challenged Trump in court?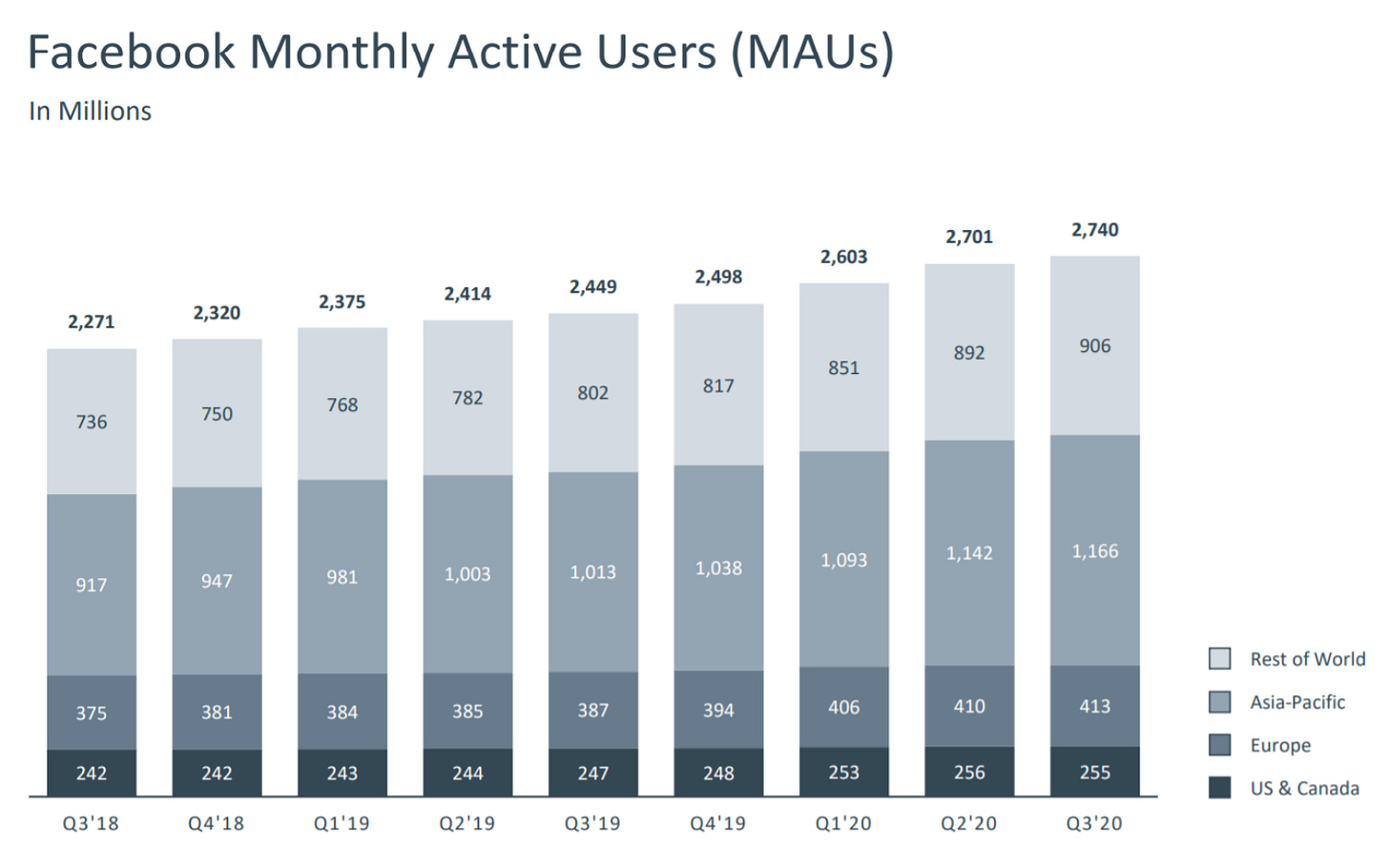 Facebook announced Q3 earnings this week, reporting 22% YoY revenue growth and a 14% increase in users across all apps. A total of 3.2B people worldwide were monthly active users (MAUs) on a Facebook-owned platform - 41% of the world's population.
Unfortunately, the core Facebook platform saw a 2M decline in MAUs in the U.S. and Canada. This isn't particularly surprising - Facebook still has 255 million MAUs in North America (almost 70% of the population), so it's reaching market saturation.
CEO Mark Zuckerberg warned investors that North American MAUs may continue to fall as the "COVID boost" evaporates, similar to Netflix's recent user decline. However, the company is still seeing growth from other markets. Asia-Pacific accounted for more than 50% of new users over the past year, and now comprises the largest percentage of Facebook users by region (43%).
---
news 📣
📊 Earnings bonanza. It was a big week for tech earnings!
😋 Nestlé acquires Freshly. Consumer demand for meal delivery has been surging during the pandemic, and Nestlé is doubling down with a $1B+ acquisition of Freshly. Nestlé previously led the company's Series C in 2017 as a "strategic move" to evaluate the meal kit market. Freshly has grown significantly since then, shipping 1M meals per week and forecasting $430M in revenue this year. Nestlé is paying $950M upfront, with an additional $550M to come if Freshly hits future growth milestones.
⚖️ DOJ scrutinizes fintechs. The Justice Department is reportedly taking a closer look several fintech acquisitions, with an eye on antitrust concerns. According to the WSJ, Visa's $5.3B purchase of Plaid and Intuit's $7B purchase of CreditKarma are both under investigation. The Visa / Plaid deal was announced in January, and initially supposed to close by the end of the summer. It's now indefinitely delayed as the DOJ is preparing for potential litigation, though no final decisions have been made.
The contentious relationship between TikTok and the Trump administration continues to heat up, with a group of TikTok creators scoring a victory this week. A federal judge ruled on the side of three TikTokkers who filed suit against Trump's ban of the app, arguing that it would unlawfully prevent them from making a living.
The judge issued a temporary injunction against the ban, which will take effect on November 12th (unless the previously announced acquisition is finalized). She noted that it would cause "irreparable harm" to the creators on the platform, and that the national security concerns cited by the Trump administration were "hypothetical."
The Trump / TikTok battle will continue to play out in court over the next few months, and could be significantly impacted by the outcome of the election. While Joe Biden has called TikTok a "matter of genuine concern," he hasn't officially stated whether or not he'd ban the app, and some creators believe he's much less likely to do so.
---
what we're following 👀
First Round's new podcast In Depth features startup leaders giving tactical advice.
Ty Haney on why she regrets raising VC funding for Outdoor Voices.
Sequoia's Mike Vernal on how founders should think about the "TAM question."
How to build a personal moat as a young (or aspiring!) startup investor.
🎉 Bonus! From Accelerated readers:
💡 Jothi Ramaswamy (Harvard) interviews women in STEM & media on her new podcast Lightbulb Moment - the first two guests were iJustine and Sara Dietschy!

👩🏻‍⚕️ Joanna Lichter Cohen (MIT) on why investing in women's healthcare matters - and what startups are working on in this space .

💼 Micah Smurthwaite (Next47) on how startups should think about structuring their first sales comp plan.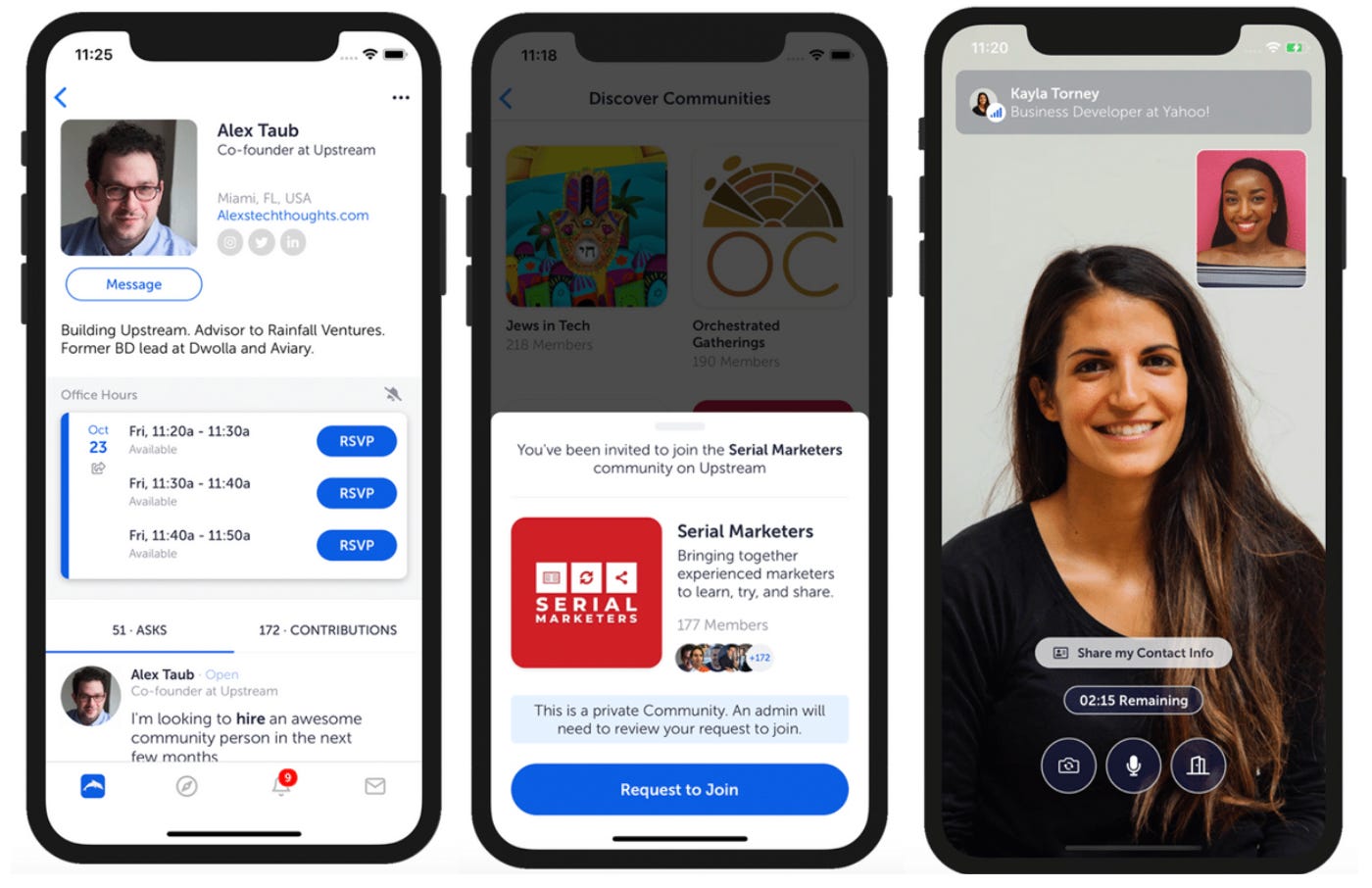 We have a love/hate relationship with LinkedIn. It's a great place to store and showcase your digital resume, but the community and content aren't that helpful. And the "LinkedInfluencer" trend has gone too far (check out @StateofLinkedIn for examples!).
But disrupting LinkedIn isn't an easy task - users have built networks there, and it's the best place to look up someone's professional history. New startups might wedge in by taking one LinkedIn features and doing it 10x better - like Upstream is doing with LinkedIn Groups! The company publicly launched this week, with an app where users join focused communities (ex. "Stanford Founders in NYC") and can post "asks" or offers to help. Users can also attend events and office hours within the Upstream app.
We've been beta testers for the last few months, and would describe it as a mix of some of the better parts of LinkedIn, Twitter, and Clubhouse! The groups feel intimate enough to be helpful, but aren't exclusive - anyone can send an ask to join. The events have attendee caps and breakout rooms, which encourages real conversation, and all office hours are 1-1. Hosts over the past week include Kirsten Green, Taylor Lorenz, Steve Schlafman, and Charles Hudson - with many more upcoming!
Similarly to what Clubhouse is facing, we'll be curious to see how the team is able to maintain quality and community as the user base scales. We're guessing this may involve building identity within the app outside of a static, LinkedIn-like profile, as well as creating "venues" to build relationships outside of the scheduled events.
Are you an Upstream user, or are you using any other potential "LinkedIn killers"? let us know in the comment section below!
---
jobs 🎓
PicnicHealth - Chief of Staff (Bay Area)*
CircleUp - Product Insights Analyst (SF)
Pinterest - Biz Ops Associate (SF)
Plastiq - Product Manager (SF)
Lean In - Chief of Staff to the CEO (Palo Alto)*
AI Fund - Partner (Palo Alto)
Hippo Insurance - Strategic Finance Analyst (Palo Alto)
FanDuel - Associate PM (LA)
Metropolis - Launch PM (LA)*
Magic Spoon - Founder Apprentice (NYC)
Two Sigma - Product Manager (NYC)
Greycroft - Associate (NYC)
*Requires 3+ years of experience.
internships 📝
EasyKnock - Data Intern (Remote)
Atomic - Generalist MBA Intern (SF)
Reddit - Summer Product Design Intern (SF)
Zendesk - Product Strategy & Ops Intern (SF)
Asana - Data Science Intern (SF)
Uber - Summer MBA Strategy Intern (SF)
TikTok - Content Partnerships Intern (LA)
Wardrobe - Marketing Intern (NYC)
Itsme - Community Intern (NYC)
Gemini - Marketing & Comms Intern (NYC)
Wistia - PM Intern (Boston)
Hubspot - MBA Intern (Boston)
---
puppy of the week 🐶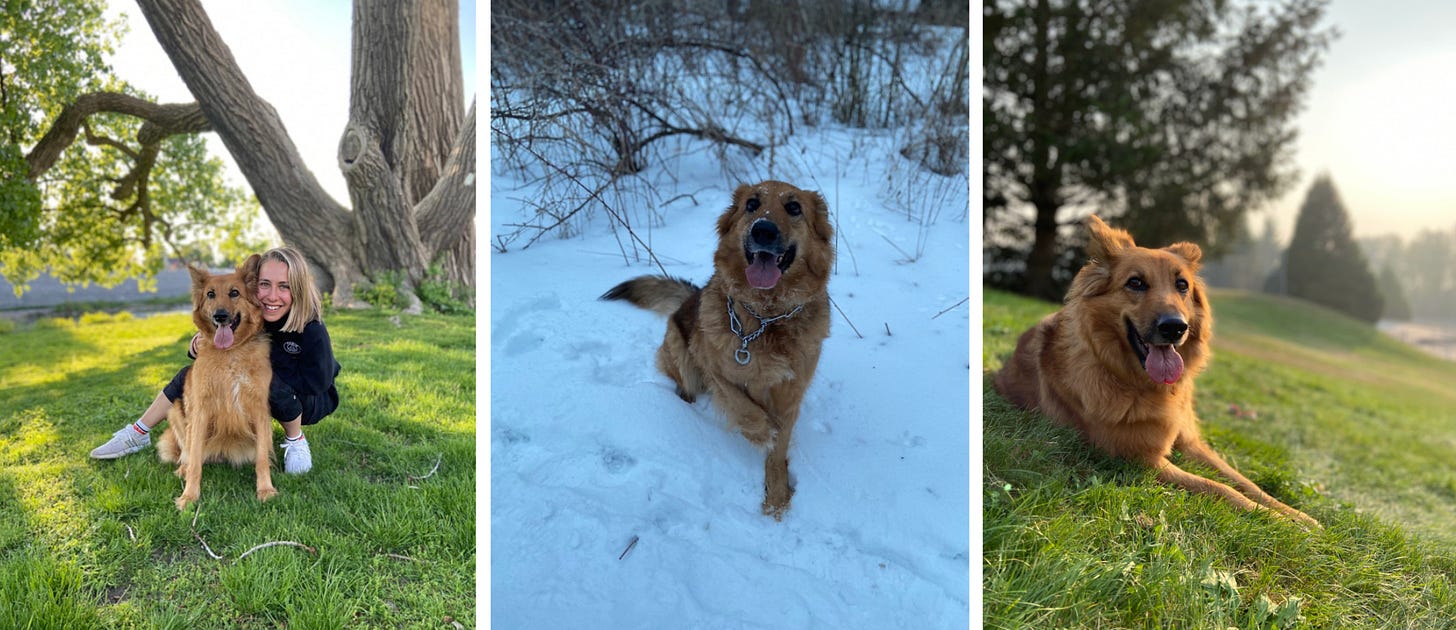 Meet Haley, an eight-year-old German Shepherd/Husky mix who lives in Ontario, Canada.
Haley, who was named after the One Tree Hill character, is a busy woman. She is the mom of several stuffed animals, enjoys chasing down food (especially spicy food), and is bilingual - she understands both English and Spanish!
---
Hi! 👋 We're Justine and Olivia Moore, identical twins and venture investors at CRV. Thanks for reading Accelerated. We'd love your feedback - feel free to tweet us @venturetwins or email us at twins@crv.com.