Discover more from Accelerated
News and jobs in tech & venture capital.
Over 34,000 subscribers
🚀 One Medical pops at IPO
Plus, are influencers allowed to promote medications?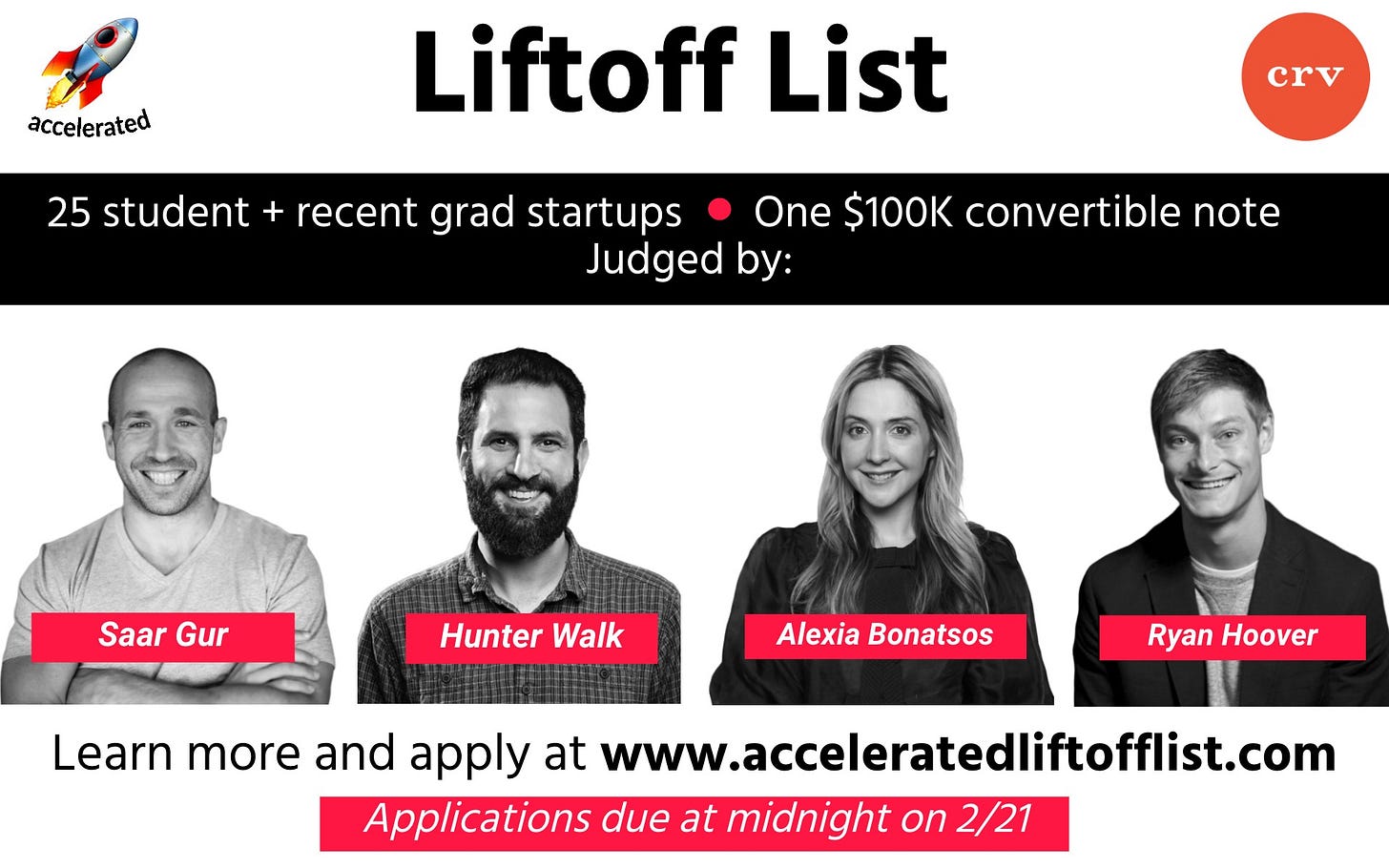 In case you missed our announcement earlier this week - we're working on the Liftoff List, which will feature the 25 most exciting student (and recent grad) companies across the country! Three of the companies will have a chance to pitch live to an awesome panel of VC judges (check them out above!), and one company will receive a $100k convertible note investment from CRV. The list will also be distributed via Accelerated and a national tech publication.
Applications for the Liftoff List are open until 2/21, and you can learn more and apply here! If you have any companies you'd like to nominate for the list, please email us at twins@crv.com. All recommendations are welcome - we're excited to hear from you!
---
news 📣
👩‍⚕️ One Medical goes public. Primary care startup One Medical had a successful public debut on Friday, ending the day up 58% from its IPO price. The company raised $245M in the IPO, and boasts a market cap of $2.7B. One Medical is now trading at 12x trailing twelve month (TTM) revenue, a healthier multiple than many investors expected given that the company is unprofitable, growing relatively slowly (29% YoY), and is debatably a "tech" company. If you're interested in reading more about One Medical, we'd recommend checking out this S-1 teardown!
🛏️ Casper takes a hit. In other IPO news, Casper (which filed its S-1 in early January) reported its initial price range, implying a $690-770M valuation. This is a significant drop from the company's last private valuation of $1.1B in February 2019. Casper also reported preliminary estimates for 2019 financials, projecting $440M in revenue and a $94M net loss. This would imply 23% YoY revenue growth, down from 43% in 2018.
📊 Tech companies report earnings. Apple hit a record high after blowing through both revenue and EPS estimates. Amazon had a similarly impressive outing, crushing EPS estimates and raising guidance for Q1 revenue. The company announced it now has 150M Prime members worldwide. Tesla also had strong earnings, costing short sellers another $1.5B. Meanwhile, Facebook's stock dropped - though the company hit 2.5B MAUs, expenses increased significantly thanks to a jump in headcount.
💨 Altria writes down Juul. Tobacco giant Altria took another big write-down on its 35% stake in Juul - it now marks the investment at ~3x less than the $12.8B it paid in 2018. According to Altria, the number of outstanding legal cases against Juul has increased 80%+ since the end of October, which prompted the write-down. Altria will no longer help Juul with marketing and distribution, and reserves the right to launch its own e-cigarettes if Juul is banned from selling in the U.S. for at least a year.
💊 Practice Fusion comes under fire. Medical records startup Practice Fusion paid a $145M settlement this week after admitting that its software encouraged doctors to prescribe more opioids. The startup took kickbacks from drug companies, and allowed them to draft "clinical decision support" alerts that prompted physicians to write opioid prescriptions. Practice Fusion had raised $150M from VCs, and was once considered an IPO candidate before being acquired by Allscripts in 2018 for $100M.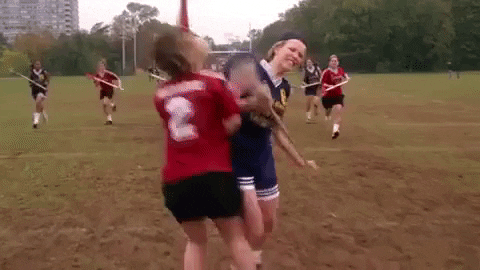 It's been a tough few years for media companies, but Barstool Sports has been bucking the trend. Penn National Gaming is buying a 36% stake in the company in a deal that values Barstool at $450M (a big jump from a ~$100M valuation in 2018!). The company reportedly generated $90-100M in revenue last year, primarily through its podcasts, merch sales, and gambling business. Special shoutout to this news for generating by far the most discussion in our Accelerated Slack group 😂.
---
what we're following 👀
Product Hunt's new site YourStack helps users share their favorite products.
Remember Dubsmash? TechCrunch looked at the company's climb back up to 1B monthly views after going viral (and then almost dying) in 2016.
The FDA is launching a study to look into influencers endorsing medications.
Interested in LA startups? Check out dot.LA, which raised $4M to cover SoCal tech.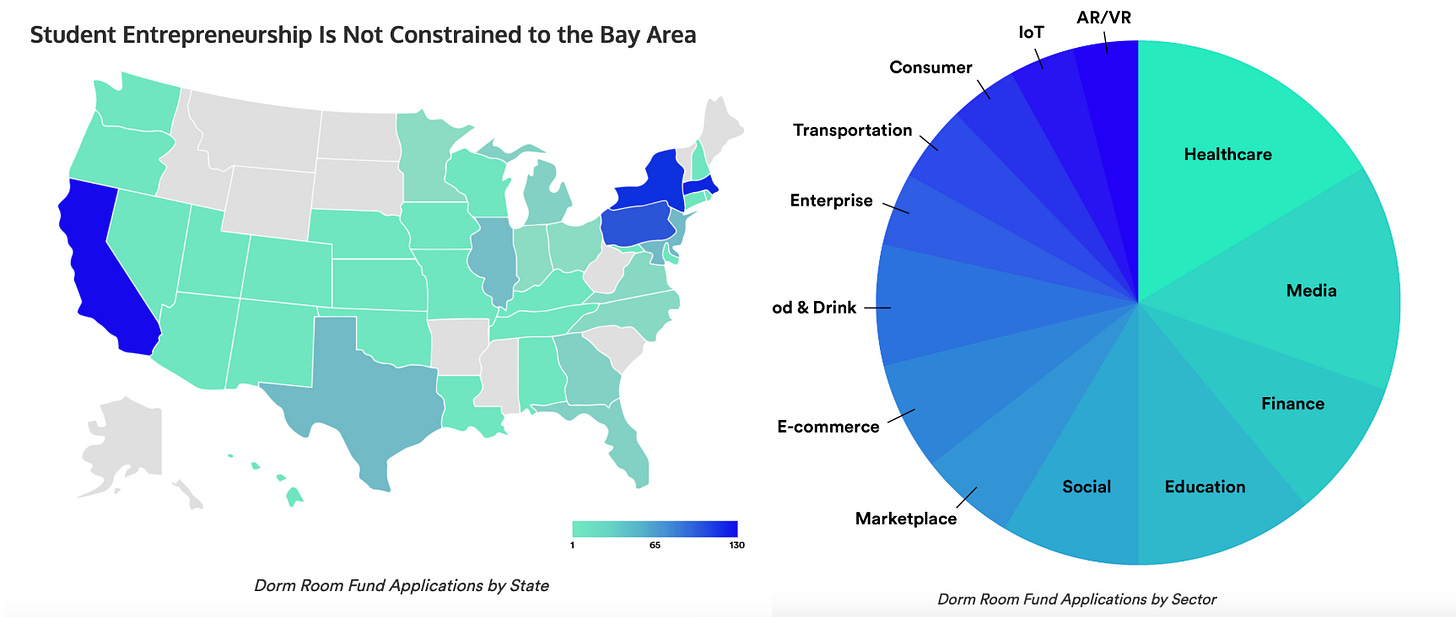 Dorm Room Fund published a fascinating report on the State of Student Startups, using data from the 700 applications the fund received in 2019. While DRF has investment teams in the Bay Area, New York, Philadelphia, and Boston, 60% of applications came from schools where they don't have partners. Of the startups in DRF's pipeline, 33% had a female founder, and 46% had a founder who reported being an underrepresented minority.
In terms of what student founders are working on - only 13% of the startups were building products that specifically target students. Healthcare was the most popular sector, followed by media and education. Check out the full report here!
---
jobs 🎓
NFX - Product Analyst, Principal* (SF)
Schematic Ventures - Associate (SF)
Affinity - Product Manager* (SF)
Emerson Collective - Senior VC Associate* (Palo Alto)
Morpheus Ventures - Analyst (LA)
Chief - Member Experience Associate, Finance & Ops Associate, Core Ops Coordinator (NYC)
Virgin Management - Investment Associate (NYC)
SeedInvest - Strategy Analyst (NYC)
The Engine - Program Manager (Boston)
Felix Capital - Investor (London)
internships 📝
OneLogin - Business Development Intern (SF)
thredUP - Commercial Partnerships, New Ventures MBA Interns, Finance Intern, Recruiting Ops Intern (Oakland)
Electronic Arts - PM Intern (Redwood City)
PayPal Ventures - MBA Investment Associate Intern (San Jose/ SF)
Anthos Capital - Gaming Intern (Santa Monica)
FabFitFun - Data Analytics Intern (LA)
Harper Wilde - Social Media Intern (LA)
Snap - International Markets Strategy Intern (LA)
Summer - BD Intern (NYC)
Vetcove - Software Engineering Intern (NYC)
---
puppy of the week 🐶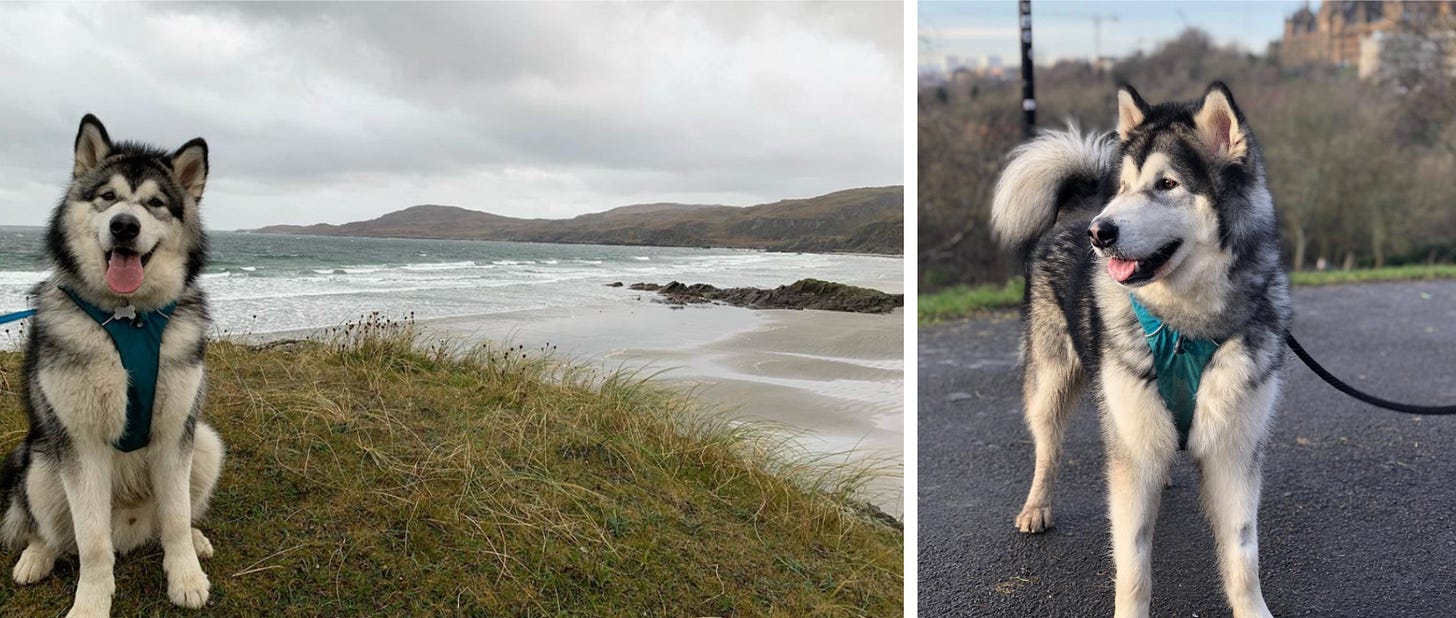 Meet Stitch, a one-year-old Malamute who lives in Glasgow, Scotland.
Stitch enjoys staring at sheep in fields, hanging out at the beach, and eating apples. He also is a fan of playing in puppy pools, and is a pretty good sport when it comes to getting a bath.
You can follow him on Instagram @stitchmalamute!
---
Hi! 👋 We're Justine and Olivia Moore, identical twins and venture investors at CRV. Thanks for reading Accelerated. We'd love your feedback - feel free to tweet us @venturetwins or email us at twins@crv.com.