Discover more from Accelerated
News and jobs in tech & venture capital.
Over 35,000 subscribers
🚀 Quibi calls it quits
Plus, what you need to get hired at a VC fund!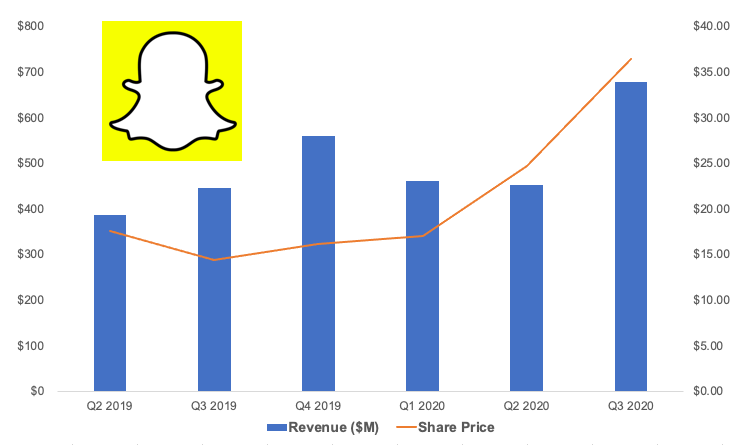 The past few years have been tough for Snap. Thanks to anemic user growth, increased competition with Instagram, and weak ad revenue, the stock has rarely exceeded its IPO price. Some have even questioned Snap's future as an independent company, wondering if it would better off within a bigger tech or media business.
In an odd twist, 2020 may finally be Snap's year! The stock is up 164% YTD, and the company just reported blowout Q3 earnings. A few highlights: 
The company tallied 249M daily active users (DAUs), up 19% YoY. Nearly all of this growth is driven by "Rest of World" users (outside of North America and Asia). 

Revenue increased 52% YoY. Average revenue per user climbed 28%, but different geographies tell very different stories - ARPU grew 46% YoY in North America, but fell 6% in "Rest of World." 

Snap's net loss shrunk from -51% in Q3 '19 to -29%. The company continues to see positive adjusted EBITDA, which it reported for the first time in February.
---
news 📣
🎬 Quibi calls it quits. After six months of disappointing downloads, Quibi is shutting down. The company, helmed by Jeffrey Katzenberg and Meg Whitman, aimed to make premium mobile video content starring top talent. It made headlines for raising nearly $2B pre-launch, with the goal of competing with heavyweights like Netflix and Disney. When Quibi finally launched in April 2020, consumers weren't buying it - an estimated 92% canceled after the free trial period. This week, Whitman and Katzenberg announced they will return remaining capital (reportedly $350M), speculating that either the idea "wasn't strong enough" or launching during COVID was too difficult.
We shared some thoughts with The Wall Street Journal on why Quibi's content was particularly unappealing to Gen Z - check it out here!
🚘 Court rules against gig companies. This week, an appeals court upheld the ruling that gig companies must classify drivers as employees, not contractors. All eyes are now on Prop. 22, a CA ballot measure that would allow drivers and delivery workers to remain contractors, while providing benefits like healthcare subsidies. While Uber has claimed 72% of drivers support Prop. 22, a group of drivers filed suit this week, claiming they are being "coerced" into this support. Prop. 22 is the most-funded measure in California history, with $185M behind "Yes" and $12M behind "No."
⚖️ DoJ files antitrust suit against Google. In other major lawsuits, Google is now facing charges from the Department of Justice, which claims the company has unfair monopolies in search and search advertising. Attorneys general from 11 states also joined the DoJ in the lawsuit. The Google team called the suit "deeply flawed," arguing that consumers use Google "because they choose to, not because they are forced to." The case is expected to take years to resolve, and is the most aggressive antitrust action against a tech company since Microsoft's battle with the government in 1998.
📉 Tech stocks struggle. While Snap had a record week, Netflix and Tesla trended in the opposite direction. Netflix ended down 9% after global new subscribers came in far below expectations, despite the company's warnings that this summer's COVID bump would not last. Tesla initially rose after strong Q3 earnings, including the fifth-straight quarter of profitability, a record number of deliveries, and beta-tests of fully self-driving mode. However, the stock ended down after a recall of 50,000 cars in China.
Nextdoor has competition in the neighborhood surveillance game! Facebook is testing Neighborhoods, which are essentially local Facebook Groups you can join if you live in a certain geographic range. While Neighborhoods may help Facebook's mostly millennial and Gen X user base connect with those around them, some see the launch as just another opportunity for Facebook to serve more targeted ads.
Nextdoor is reportedly considering going public via SPAC (who isn't these days?) at a $4-$5B valuation. The company serves a quarter of U.S. neighborhoods, and more than 260k neighborhoods worldwide - so Facebook has a ways to go to catch up!
---
what we're following 👀
Shawn Xu shares lessons learned after a year at Floodgate (part one and part two).
Hunter Walk discusses the qualifications you need to get hired at a VC firm.
a16z dives into the rise of payroll API startups.
This week in amazing products - McBroken reverse engineers McDonald's internal APIs to determine which locations have a broken ice cream machine.
We've been following the creator economy for a long time - CRV was an early investor in Patreon, Kapwing, and Karat, among others! With every new platform (e.g. YouTube, Instagram, Vine), we've watched a generation of creators invent new genres of content and figure out ways to grow an audience. Lately, we've been thinking a lot about the types of creators that will rise to prominence on TikTok (beyond the mega-stars like Charli D'Amelio), as well as how they will monetize their influence.
One interesting trend we've noticed - creators are using TikTok as a distribution channel for their small business. They make interesting videos that highlight their work, and then direct followers to an external website to purchase. If you spend a lot of time on TikTok, you probably get occasional videos from random local boutiques that somehow get tons of views on their store tours. However, we're more interested in individuals that use TikTok to turn their side hobbies into a business. Two examples:
@galeyalix - Alix works in finance on the weekdays, but on the weekends she does mini-home renovations. Her clients give her a budget, the keys to their home or apartment, and then return after 48 hours to see what she's done. She documents the whole process on TikTok, getting millions of views on most videos (and plenty of comments asking for pricing / availability).

@styledbylahrssen - Emi is a fashion design student in NYC, but as a side hustle she works as a personal stylist. Clients send her lookbooks and sizing information, and she buys pieces at thrift stores and puts together outfits for them (which she then showcases in videos). She works with clients around the country, many of which find her on TikTok
Who is your favorite small business / side hustler on TikTok? Let us know in the comments below!
---
jobs 🎓
Forerunner Ventures - Analyst (SF)
AllTrails - Strategic Finance Associate (SF)
Flexport Capital - Portfolio Lead (SF)*
ThredUP - New Ventures Associate (Oakland)
Next Insurance - Growth PM (Palo Alto)*
Left Lane Capital - Investors (NYC)
Chainalysis - Chief of Staff (NYC)
Welcome Homes - Marketing & CX Associate (NYC)
Nomad Health - Ops Associate, PM* (NYC)
Toast - Business Services Lead (Boston)
Bravely - Ops Coordinator (Remote)
*Requires 3+ years of experience.
internships 📝
True Ventures - Summer Fellows (Remote)
Curated - Content Intern (Remote)
Startup Grind - Community Management Intern (Remote)
Basepaws - Business & Marketing Intern (Remote)
OctoML - Winter/Spring PM Intern (Seattle)
General Catalyst - Summer Analyst (SF)
Salesforce - Summer Data Analyst Intern (SF)
Strava - Product Analyst Intern (SF)
8VC - Summer Fellows (SF)
Unity - PM Intern (SF, Austin)
Female Innovators Lab - Summer Intern (NYC)
Toast - Partner Marketing Intern (Boston)
---
puppy of the week 🐶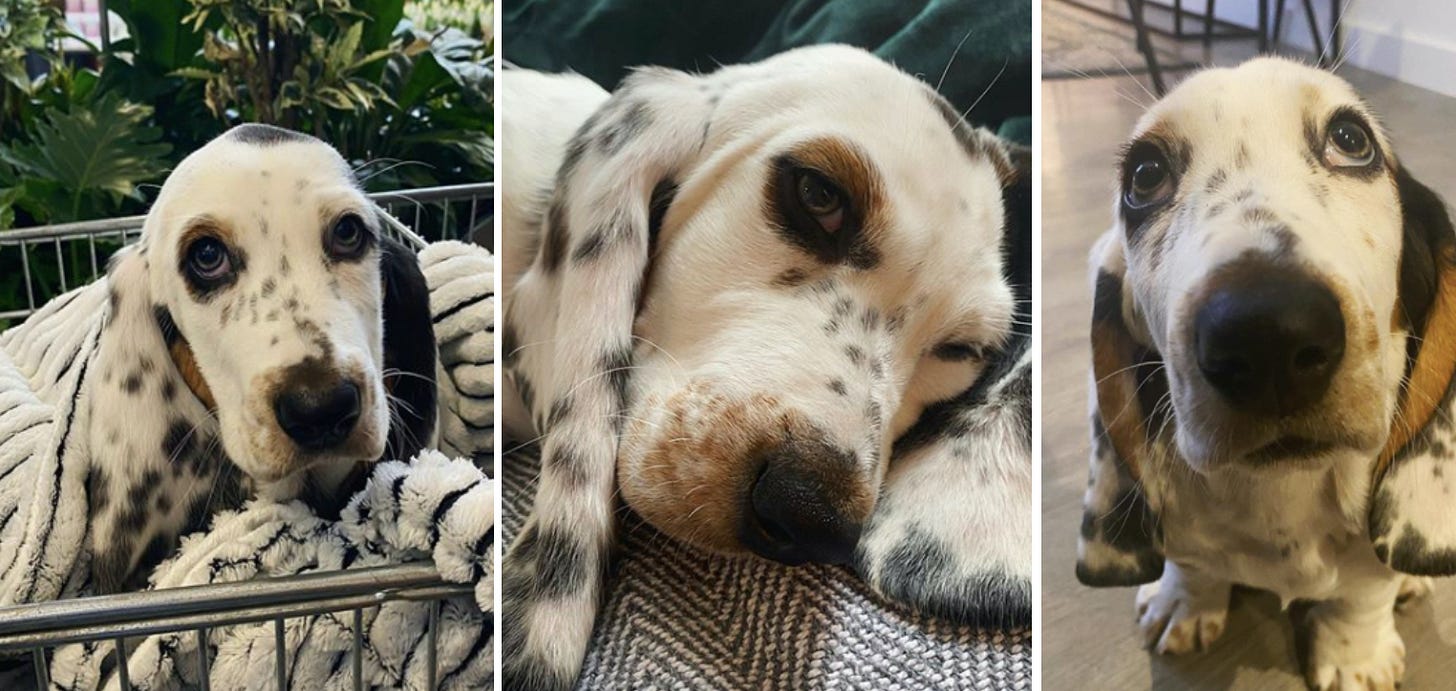 Meet Percy, an eleven-week-old basset hound. His hobbies include eating the sofa, napping, and begging for treats. He's not a fan of hiccuping or getting a bath. 
Check him out on Instagram @percythebassethound!
---
Hi! 👋 We're Justine and Olivia Moore, identical twins and venture investors at CRV. Thanks for reading Accelerated. We'd love your feedback - feel free to tweet us @venturetwins or email us at twins@crv.com.