Discover more from Accelerated
News and jobs in tech & venture capital.
Over 34,000 subscribers
🚀 Quibi finally makes its debut!
Plus, why is the Library of Congress archiving memes?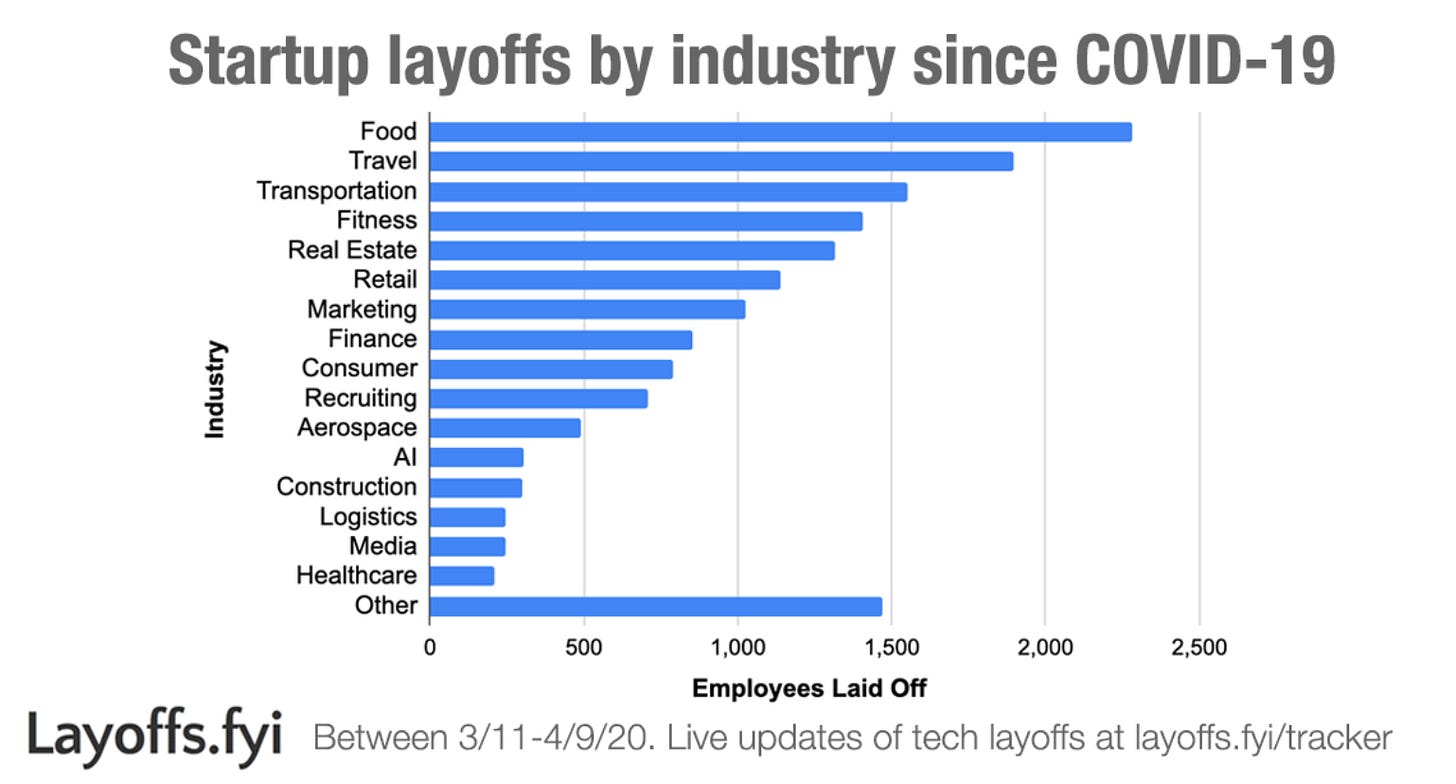 It's a stressful time for many startups, and it's been really tough to see amazing employees let go. We're hopeful about some of the initiatives that help match people with new jobs, including Pear's "Startup, Hire Me!", Candor's Layoff Hiring List, and the Layoff Network. If you're aware of another site we should feature, please email us at twins@crv.com!
Crunchbase News dug deep into startup layoffs caused by the coronavirus using data from Human Interest founder Roger Lee. Lee has tracked almost 20,000 layoffs across 220 companies thus far (most of which have been reported in the media), but believes the real number could be substantially larger. A few data points:
Layoffs doubled between the weeks of 4/2 and 4/8

SF has been hit the hardest, accounting for 1/3 of the layoffs, followed by NYC

Food, travel, and transportation are the industries that have seen the most layoffs

An estimated 64% of layoffs are due to shelter-in-place (companies are seeing demand fall and don't need as many employees), while 36% are due to companies attempting to extend their runway
You can follow Lee's tracking live at Layoffs.fyi. If you're a startup that's hiring, his site also tracks great talent that may be available to bring on to your team!
---
news 📣
🏠 Airbnb raises more $. Airbnb closed on $1B in debt and equity from PE firms Silver Lake and Sixth Street Partners. The company is reportedly paying 10% interest, slightly above junk bond rates. Why fundraise, especially when Airbnb has $3B in cash and a $1B credit line? The capital will allow Airbnb to "invest over the long term in its community of hosts," which is important as some hosts remain angry despite a $250M payout to cover 25% of cancellation fees. The company predicts 2020 revenue will fall 54%, and warrants issued value Airbnb at $18B, down from $31B in 2017.
😷 Apple and Google join forces on COVID tool. The tech giants are teaming up on a new contact-tracing API that will help users determine whether or not they may have been exposed to the coronavirus. If a user is confirmed COVID-positive, they can consent to sharing their location data, and Apple/Google will alert anyone who has been in close proximity with them in the last 14 days. The entire system is opt-in, and will be offered via API so that public health agencies and other organizations can integrate with it. It's expected to launch in mid-May.
⚖️ WeWork sues SoftBank. The battle continues! After SoftBank yanked its $3B tender offer to WeWork shareholders last week, the company filed suit against its largest investor. WeWork's board accuses SoftBank of inventing reasons to back out of the deal due to "buyer's remorse," and references SoftBank's own tenuous financial position as other Vision Fund companies continue to struggle. SoftBank responded that the suit was "desperate and misguided."
💰Tech cos and CEOs make major donations. Twitter and Square CEO Jack Dorsey announced that he is transferring $1B of his Square equity to a new COVID-19 relief fund. A group of other high-profile investors and entrepreneurs, including John and Patrick Collison, Reid Hoffman, and Tobias Lütke, teamed up on Fast Grants, which will allocate $10-$500k to scientists working on COVID-related projects. TikTok also pledged $375M to combat coronavirus, including $250M in grants, $100M in ad credits to small/medium businesses, and $25M in ad space for NGOs and health authorities.
🥡 Food delivery apps face restrictions in SF. SF Mayor London Breed capped the commission that platforms like DoorDash and Uber Eats can take from restaurants at 15%. The cap will start on Monday, and last through SF's state of emergency. Breed said that "every dollar counts" for restaurants now, making prior commission rates of up to 30% too high. The move sparked debate in the tech community, as some fear that delivery companies may scale down in SF as a result. Grubhub emailed users asking them to oppose the cap, stating that consumer fees would increase by $5-$10/order.
Despite the fact that matches can no longer meet in person, dating apps are thriving in the corona age! Tinder, Hinge, and OKCupid have all reported a 20-30% increase in usage over the past few weeks. This may be due to the fact that users are bored sitting at home, but these companies also deserve credit for quickly responding to the pandemic by introducing (or promoting) features like in-app voice and video calls, and lifting distance radiuses (especially for college students). On Bumble, call usage is up almost 100% since March 13, with an average call time of 30 minutes.
---
what we're following 👀
We talked to TechCrunch on where we think consumer social is headed. The full version is paywalled, but you can see a summary here!
Hollywood talent agencies like WME, CAA, and UTA have a new focus - TikTok stars.
How the coronavirus is reflected in Venmo emojis!
The Library of Congress is archiving memes, and has an international team collecting content about the coronavirus.
Forbes's Alex Konrad sat down with the Vision Fund's Masayoshi Son for a wide ranging interview, covering everything from his misplaced trust in Adam Neumann to how many of his companies he expects to go bankrupt.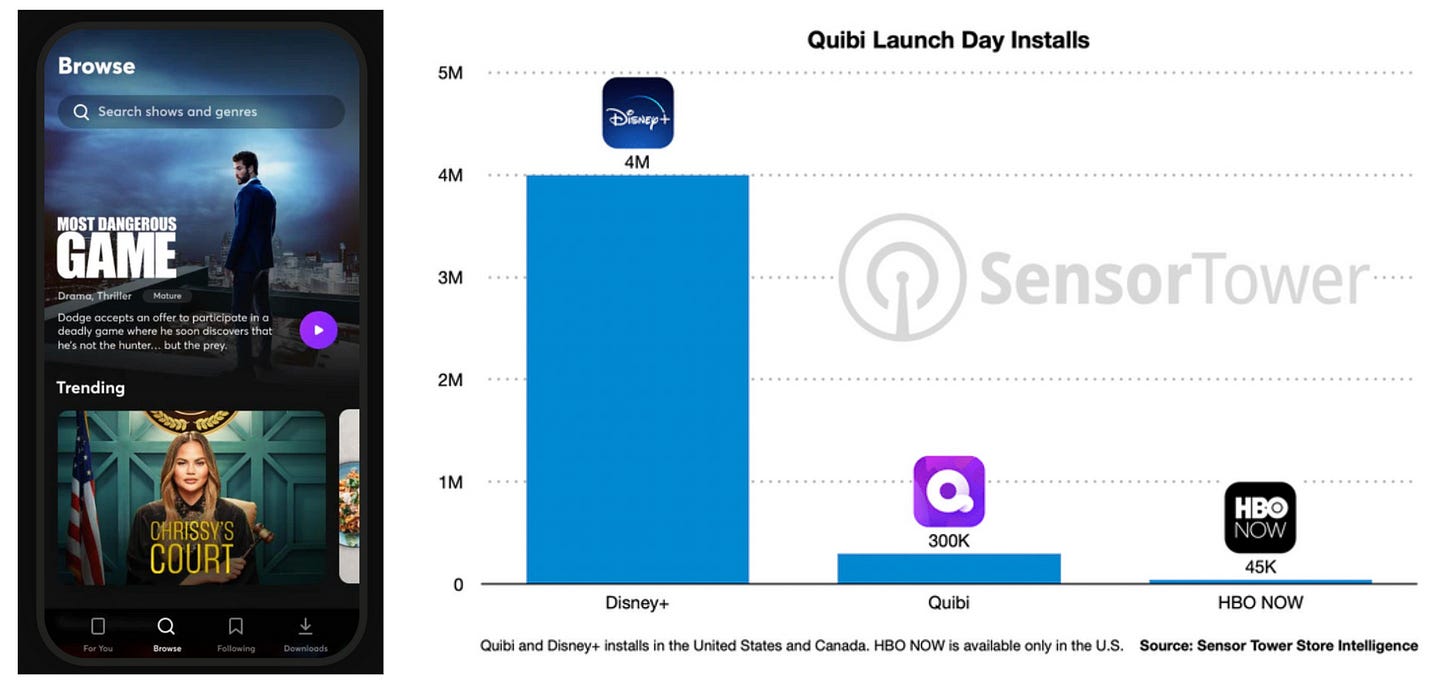 Did you download Quibi this week? The short-form mobile video company debuted last Sunday with a slate of star-powered shows. Compared to other mobile video content like Snap Originals, Quibi differentiates via high production value - shows cost up to $100,000 per minute to produce (the company raised nearly $2B pre-launch!). According to SensorTower, the app saw 300k downloads at launch despite a heavy ad campaign. To put it in context, this is 13x less than Disney+'s launch day downloads, though it's significantly higher than HBO NOW's 45k launch downloads (in 2015).
Some critics are bearish on the app's future in its current form - pointing out issues like an inability to take screenshots (which limits shareability), and arguing that there is no "must-see" content at launch. Ironically, the "mobile-only" nature of Quibi, which was marketed as a selling point, has frustrated many users who want to watch the shows on a bigger screen. Others have faith in the Quibi team's ability to produce high-quality shows that users will love (especially with so much funding), as well as the fact that the premium content space is wide open right now on mobile.
What do we think? Quibi didn't have the huge splash its team was likely hoping for, and we would have liked to see more "can't-miss" shows at launch. However, when it comes to content, some of Quibi's shows are truly weird and intriguing in a way that could eventually yield a viral hit. New episodes of each show also drop daily, which has kept us coming back regularly over the first week of use. The five to eight-minute episode length fits in well to a quick break in the middle of the day - so Quibi doesn't have to compete for time versus Netflix or traditional TV.
We'll be sticking with Quibi over the next few months as their initial slate of content is rolled out, but are hoping to see more of a "wow" factor in terms of the content for the app to retain users long-term, especially after the three-month free trial expires. Are you a Quibi user? What do you think about the platform, and what are your favorite shows? Leave a comment below!
---
jobs 🎓
Affirm - Strategic Finance Analyst (SF)
Apothecary.ai - Full Stack Developer (SF)
Bond - Data Scientist (SF)
Roblox - Associate Product Manager (San Mateo)
Mighty Networks - Customer Advocacy (Palo Alto)
CAA - M&A Associate (LA)
TikTok - Growth PM (LA)*
645 Ventures - Associate (NYC)
Better.com - Growth Analyst (NYC)
Ramp - Product Designer (NYC)
Rhino - Product Manager (NYC)*
*Requires 3-5 years of experience.
internships 📝
Amazon - Twitch Prime UX Intern (Seattle), Business Analyst Intern (SF)
thredUP - Brand Design Intern (Oakland)
Zynga - Project Management, UI/UX Interns (SF)
Curated - MBA Strategy & Ops Intern (SF)
Lyra Health - MBA Product Marketing Manager Intern (Burlingame)
Atlassian - Data Science Intern (Mountain View)
RStor - Software, Business Interns (Saratoga)
PledgeLA - Summer VC Intern (LA) - 🚨applications due today!
Cameo - Social Media/Community Manager Intern (LA)
Newchip Accelerator - VC Intern (Austin)
CB Insights - Intelligence Unit Intern (NYC)
---
puppy of the week 🐶

Meet Nanook and Boomer, a 3.5-year-old mutt and seven-month-old Australian Shepherd who live in La Veta, Colorado.
Other than making intense faces at the camera, Nanook and Boomer enjoy going on hikes and adventures outdoors, playing in the snow, and staring at birds. Nanook also loves swimming, while Boomer likes chewing on Lululemon leggings.
Follow them on Instagram at @_thebrotherbears!
---
Hi! 👋 We're Justine and Olivia Moore, identical twins and venture investors at CRV. Thanks for reading Accelerated. We'd love your feedback - feel free to tweet us @venturetwins or email us at twins@crv.com.