Discover more from Accelerated
News and jobs in tech & venture capital.
Over 34,000 subscribers
🚀 Quibi seeks an exit strategy
Plus, LinkedIn's latest feature has us scratching our heads...
Snapchat, Instagram, Facebook, and now…LinkedIn? This week, the platform launched its own "Stories" product, where users can post photos or videos (maximum of 20 seconds) that disappear after 24 hours. The new feature is part of an effort to make all users "feel welcome" on the platform, according to LinkedIn's VP of Design.
Unsurprisingly, the majority of users are slamming the launch as something no one wanted (or asked for 👀). However, some of the platform's biggest "influencers," like Gary Vaynerchuk and Alan Gannett, are celebrating the addition - many of them used LinkedIn's videos product (introduced in 2017) to rise to fame on LinkedIn.
We'll be following how LinkedIn Stories develop, as the typical day at many jobs isn't exciting enough to draw an audience (it wouldn't be very interesting to watch us on Zoom all day!). We expect to see companies use Stories to post more scripted, promotional content for recruiting purposes. It could also be a good medium for consultants and freelancers to showcase their work to prospective clients in a more dynamic format.
---
news 📣
🚚 Nikola faces fraud claims. Electric truck company Nikola had a tumultuous week. The company lost its founder and executive chairman Trevor Milton after claims surfaced that Nikola vastly overstated its proprietary technology, and faked demo videos for investors. Tesla is also suing the company for allegedly stealing their truck design. This is complicated by the fact that Nikola went public in June via SPAC - the stock has fallen 80%, though GM acquired 11% of the company just weeks ago.
🏢 WeWork pulls out of China. Remember this time last year, when WeWork delayed its IPO? The company continues to massively cut costs - this week, WeWork sold a majority stake in its Chinese subsidiary to a private equity firm for $200M. This is a significant markdown from a 2018 round that valued the subsidiary at $5B. WeWork will receive an ongoing fee for use of its name in China, and will retain a board seat.
🎮 Microsoft doubles down in gaming. Despite losing out on TikTok, Microsoft is still making waves in M&A! The company will pay $7.5B for ZeniMax Media, the owner and publisher of best-selling gaming franchises like Doom and The Elder Scroll. You may not think of Microsoft as a gaming company, but it owns Xbox and has been highly acquisitive of indie gaming studios. Microsoft has 15M subscribers on Xbox's Games Pass, representing $1B+ in annual revenue, and will be adding ZeniMax's titles to the service, which could be a significant draw for new subscribers.
💉 Illumina buys back Grail. In other acquisition news, Illumina is paying $8B to acquire Grail, a liquid biopsy startup. Next year, Grail plans to debut a blood test that will be able to detect 50 cancers at the early stages. The announcement sent Illumina's stock tumbling. Investors are concerned that Grail's offering may compete with products from Illumina's major customers, and also worry that the price tag is too steep for a pre-revenue company. Interestingly, Grail was initially created within Illumina but spun out in 2016, eventually raising $2B from other investors.
📹 Amazon announces new hardware. Amazon held a big hardware event this week, showcasing both new products and upgrades to old favorites. As you might expect, we're getting a bunch of new Echos and Eero routers. In more surprising announcements, Amazon debuted an indoor home security drone, a car security system that will initially only work with Teslas, and a video game streaming service called Luna. Luna will work across all devices (not just Amazon's own hardware), but will be integrated with Twitch, which is owned by Amazon.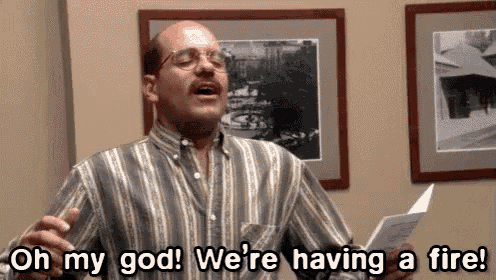 Short-form mobile video app Quibi, which had a disappointing launch six months ago, is considering exit options. According to The Wall Street Journal, Quibi is currently deciding whether to find an acquirer, raise more money, or go public via SPAC.
The company, which has raised a whopping $1.8B, will have reportedly spent $1B by the end of Q3. Producing quality content with top-tier talent is expensive, as Netflix can attest, and Quibi also burned a lot of cash on flashy marketing campaigns.
No word yet on who the potential acquirers may be (or what they might be willing to pay!).
---
what we're following 👀
ThingTesting explores the rise of brands that are "made for TikTok."
Alexis Ohanian has filed to start a new venture fund, called 776.
Packy McCormick (of Not Boring) dives into the Opendoor SPAC - and gives his thoughts on the company's valuation!
YouTube's ongoing quest to quash conspiracy theory videos using AI.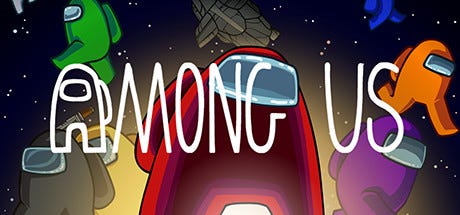 If you spend any time in online gaming, you're probably familiar with Among Us - a multiplayer murder mystery game set in space. Similar to the game Mafia, players are tasked with finding the imposter among them before he or she kills everyone else. The game is free to play on mobile (with ads), and costs $5 to download on desktop.
Among Us has topped the App Store, Google Play Store, and Steam charts for the last few weeks - but the game was released in 2018! What happened? Game content went viral on other platforms this summer, driving a flood of new users. On Twitch, streamers like xQcOW and sodapoppin brought the game to their large audiences, and videos tagged "#amongus" on TikTok have 4.5 billion views. Discord has also fueled the game's success - Among Us offers only text chat, so players utilize Discord's voice chat rooms to more effectively communicate during gameplay.
Among Us is now inarguably a phenomenon, with users creating fanart and fanfiction around characters, and even making music about friends lost in the game! The game's developer, Innersloth, announced this week that they are canceling a planned sequel (for now) to focus on leveling-up the existing game experience. Because Among Us was published several years ago, the code base is "so outdated" that the Innersloth team is having trouble supporting the demand, let alone adding new features.
Do you play Among Us, or are there other mobile games you're excited about? Let us know in the comments below!
---
jobs 🎓
Craft Ventures - Associate (SF)
Triplebyte - Growth PM (SF)
Verily - Strategy Associate (SF)
Zynga - New Grad PM (SF)
Ethos - Strategic Finance & Biz Ops Associate (SF)*
TransLink Capital - Associate (Palo Alto)
TikTok - Ops Associate (LA)
Lyft - Market Ops Specialist (LA)
Whoop - BI Analyst, Product Manager* (Boston)
Vise - Product Manager (NYC)
Wagmo - Senior PM (NYC)*
Mulberry - Strategic Finance Associate (NYC)
Rosecliff Ventures - Investment Analyst (NYC)
*Requires 3+ years of experience.
internships 📝
Virtru - Data Analytics & Business Intelligence Intern (Remote)
Redfin - PM Intern (Seattle)
Blend - Software Engineer Intern (SF)
Cloudflare - Summer 2021 PM Intern (SF), Startup Program Intern (Austin)
Pinterest - Data Science Intern (SF)
Lookout - Social Media and PR Intern (SF)
Chan Zuckerberg Initiative - Investments Summer Analyst (Redwood City)
Anthos - Summer 2021 VC Analyst, Consumer Trends Interns (LA)
LeaseLock - Marketing Intern (LA)
Ipsy - Brand Ops Intern (LA)
Spotify - Summer PM, Podcast Ops, Biz Strategy, MBA Product Mktg Interns (NYC)
Braze - Customer & Partner Marketing Intern (NYC)
---
puppy of the week 🐶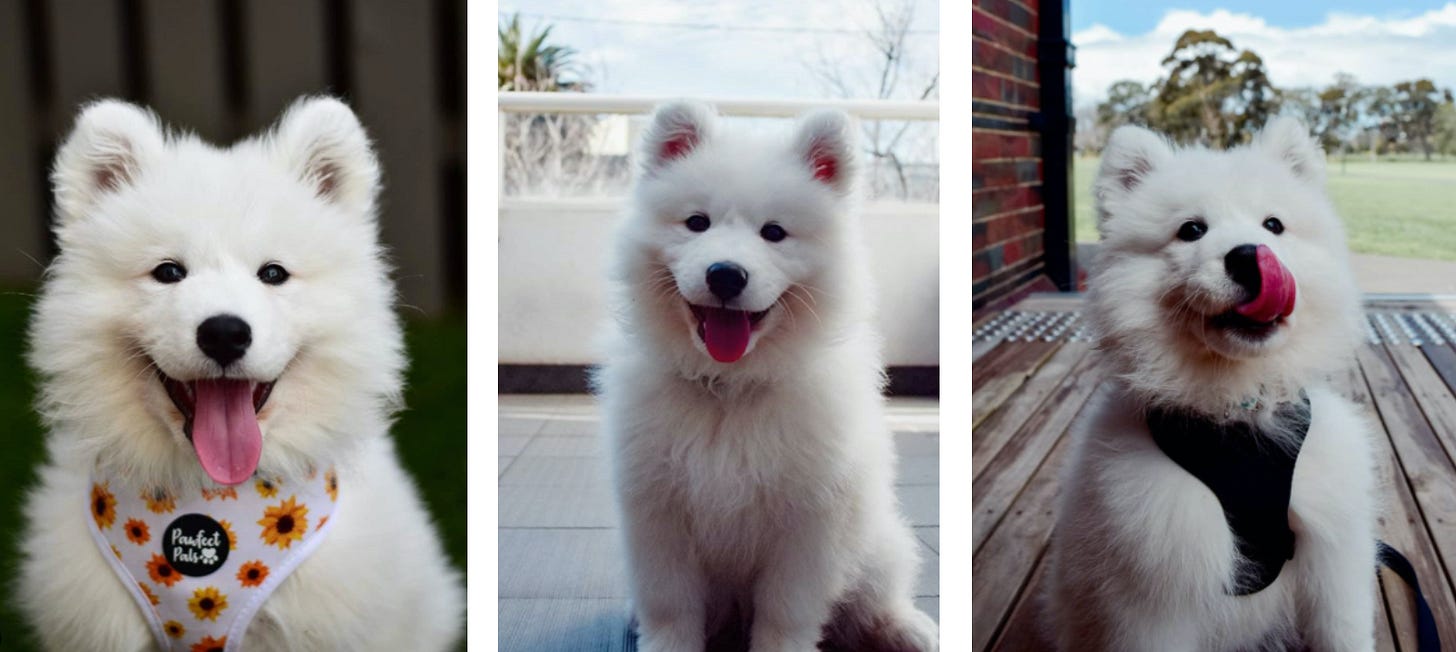 Meet Lumière, an 11-week-old Samoyed (we call them "white clouds") who lives in Melbourne, Australia. She was named after the candle from Beauty and the Beast.
Lumière's hobbies include going to the park, and eating treats.
Check her out on Instagram @lumiere_sammybear!
---
Hi! 👋 We're Justine and Olivia Moore, identical twins and venture investors at CRV. Thanks for reading Accelerated. We'd love your feedback - feel free to tweet us @venturetwins or email us at twins@crv.com.