Discover more from Accelerated
News and jobs in tech & venture capital.
Over 34,000 subscribers
🚀 Saying goodbye to HQ Trivia
Plus, why did Lyft's stock fall after strong earnings?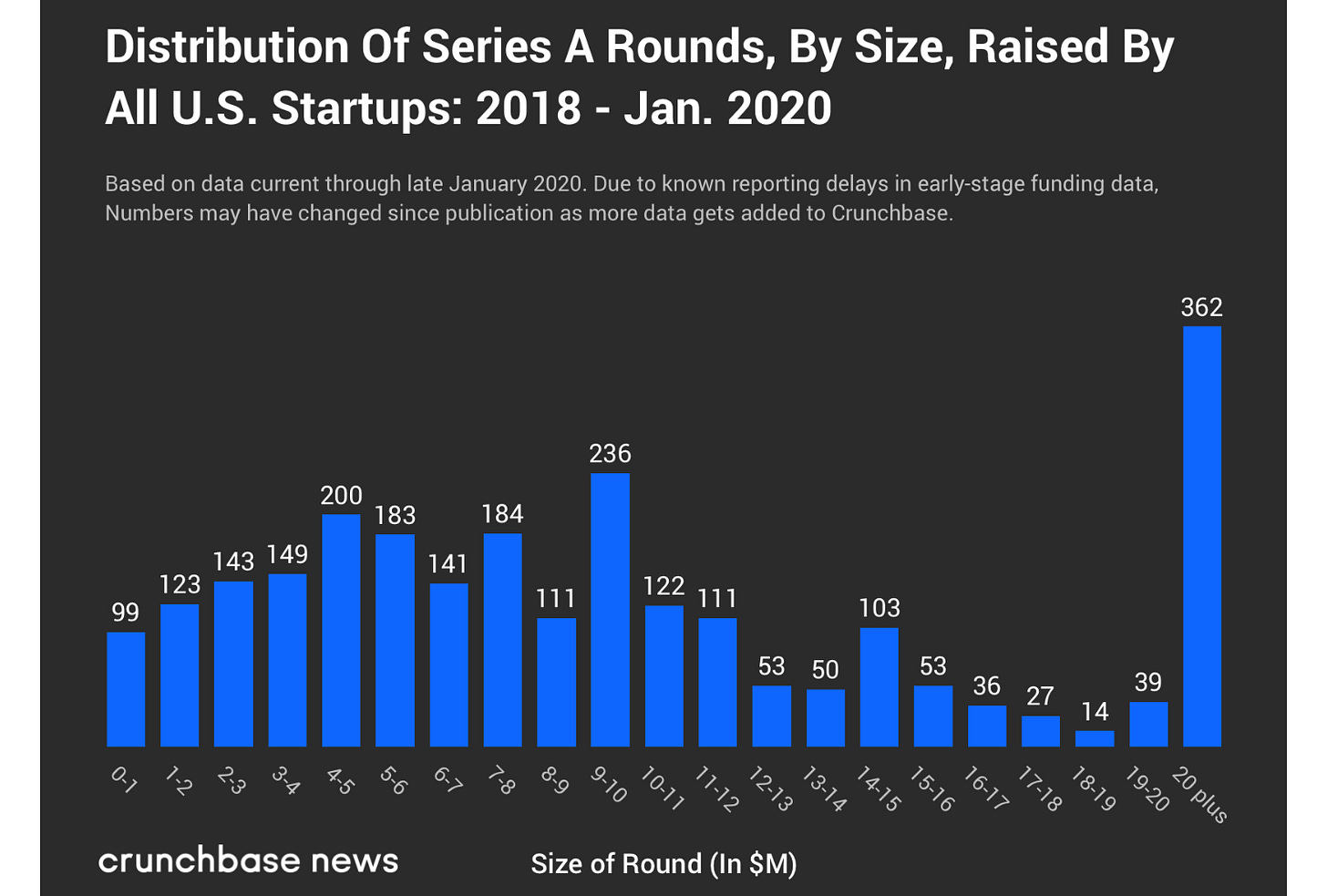 Crunchbase published some great new data on Series A round sizes. Ten years ago, the average Series A fundraise was $5M. Over the past two years, the average Series A was $9M, and 15% of rounds were $20M+.
While early stage companies are raking in capital, many later stage startups (e.g. Uber, Casper, Lyft) have struggled to meet public market expectations and are trading at significantly lower valuations than their last private rounds. Others (e.g. Postmates, WeWork) have delayed their IPOs indefinitely. It seems that these companies were not well-served by raising so much private capital to fund unprofitable growth.
We expect to see the size of growth rounds fall in the next few years (particularly with the potential absence of the Vision Fund) and believe this will trickle down to earlier rounds. This will likely manifest in smaller early stage rounds for companies without clear businesses models, as well as lower conversion from seed/Series A to Series B for startups with unattractive unit economics.
---
🚨 Special reminder that applications for the Accelerated Liftoff List are due this Friday, February 21! Submit your startup for the chance to receive a $100k convertible note investment, and pitch live to a panel of amazing VC judges. Learn more and apply at our website, and feel free to email us with questions at twins@crv.com. 🚨
---
news 📣
📦 Brandless shuts down. D2C consumer goods startup Brandless is closing its doors after raising $290M in funding. The company launched in 2017 with the aim of offering quality items for lower prices by cutting out supermarkets and brand names. Brandless initially sold everything for $3, but was later forced to raise some prices and expanded into new categories like CBD. SoftBank committed to invest $240M just a year after launch, but couldn't keep the company afloat - Brandless lost two CEOs in the past year and was unable to figure out a sustainable business model.
🚘 Uber clouds Lyft's earnings. Lyft reported strong Q4 performance, beating analysts' expectations for revenue, active riders, and loss per share. The company did $1B in Q4 revenue, a 52% YoY increase, thanks to a jump in active riders and higher spend per rider. However, Lyft stock fell 17% this week, largely due to an unfavorable comparison with Uber. While Lyft still doesn't expect to be profitable until Q4 2021, Uber announced last week that it's aiming for profitability later this year.
🏠 Airbnb battles rising costs. Airbnb is also reportedly struggling to achieve profitability - the company had a net loss of $322M in the first nine months of 2019, compared to a $200M profit over the same period in 2018. Why is this happening? Airbnb is spending $150M in safety initiatives after recent incidents, and is reportedly investing $100M in upgrading its tech platform. As a reminder, Airbnb is expected to go public this year, though this could be delayed due to the coronavirus.
🥡 Toast raises mega-round. Restaurant software startup Toast raised a $400M Series F at a $4.9B valuation, a nearly 2x valuation increase in less than a year. Toast is a great example of how the breadth of a product can expand over time - it started with point-of-sale devices, but now offers a broader software platform that can manage a restaurant's online orders, payroll, scheduling, and more. The company added "tens of thousands" of new customers last year and grew revenue 109%.
Live gameshow startup HQ Trivia shut down on Friday after a turbulent past two years. The game peaked at 2.3M concurrent users in February 2018, but struggled to retain users over time. The company faced a number of internal challenges - co-founder Colin Kroll passed away in December 2018, host Scott Rogowsky left in April 2019, and employees reportedly attempted to oust CEO Rus Yusupov.
According to Yusupov, the company had an acquisition offer that fell through at the last minute, forcing a shutdown. Hosts Anna Roisman and Matt Richards gave the show a drunken sendoff on Friday night, blaming investors for refusing to continue to fund the company. Meanwhile, Scott Rogowsky went after Yusupov on Twitter, calling him a "clinical sociopath" and blaming him for the company's demise. Whew.
Despite the messy ending, we'll always remember HQ fondly. It was amazing to watch the app go from a few thousand to millions of users in a couple of months, and we believed in the company's potential (though many of our concerns ended up coming true!). HQ was a truly innovative product at a time when there weren't many new ideas in consumer entertainment, and we expect to see other startups build off HQ's legacy!
---
what we're following 👀
Seeing Mike Bloomberg on a lot of IG meme accounts? He's paying for it.
Taylor Lorenz talks to the 14-year-old who created the viral "Renegade" dance but never got credit for it.
Instagram accounts are the new thrift stores for Gen Z buyers and entrepreneurs.
CRV partner Anna Khan shares ten tips for building a valuable open source business.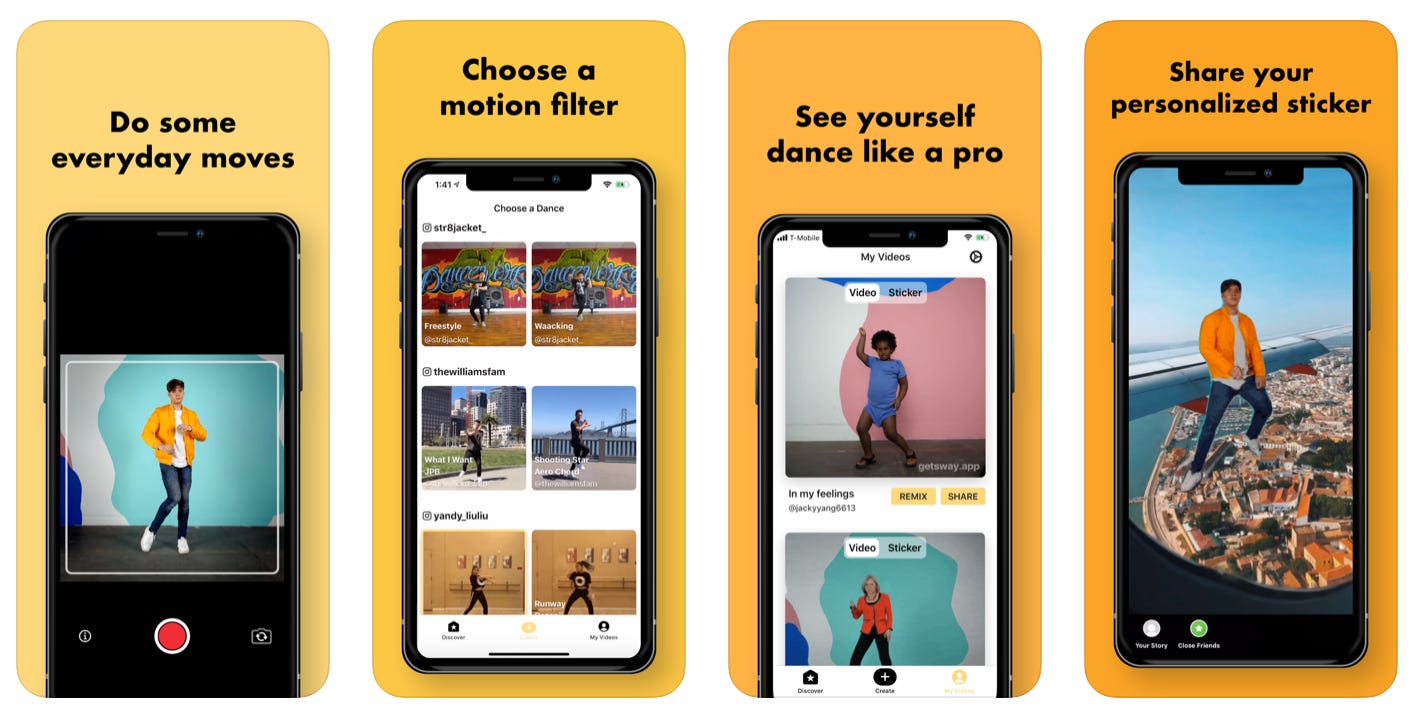 If you're like us, you've been obsessively watching TikTok and feeling somewhat depressed that so many teens can out-dance you. A new app called Sway, which shot to the top of the App Store's Entertainment category, may have come to our rescue.
Sway has been described as "autotune for dance." Users take a 30-second video of themselves moving around, apply a Sway filter (you can choose from popular dances like Renegade), and press a button to get a dance video. From our experience with the app, uploading your video "avatar" and generating your first dance takes just a few minutes for Sway to process. The output isn't perfectly smooth - but it's amazingly good for a free consumer tool (check out user videos on Sway's Instagram!)
Sway is one of a few early stage "deepfake" apps, and one of the first we've seen that targets video. Other apps in the category include Morphin, which allows you to insert your face into GIFs, and Lyrebird (acquired by Descript), which allows you to imitate other voices. Are you a Sway user, or do you have thoughts about consumer applications of deepfakes? Let us know!
---
jobs 🎓
Seven Peaks Ventures - Associate (Seattle)
Obvious Ventures - Growth Principal (SF)
Pared - Product Analyst (SF)
Bungalow - Property Ops Analyst (SF)
LinkedIn - Chief of Staff, Consumer Marketing (SF)*
M13 - Investment Analyst (LA)
S3 Ventures - Associate (Austin)
Lerer Hippeau - Analyst (NYC)
BARK - Product Manager (NYC)*
Datadog - Growth Strategy Associate (NYC)
Pair Eyewear - Graphic Designer (NYC)
*Requires 3-5 years of experience
internships 📝
Puppet - Competitive Intelligence Product Intern (Portland)
Glassdoor - PM Intern, Product Design Intern (SF)
Aurora - MBA Intern (SF)
Lob - Spring Product Intern (SF)
Acumen - VC Summer Associate (SF)
Bloom Nation - Social Media Intern (Santa Monica)
Two Sigma Ventures - Investment, Marketing & Comms Interns (NYC)
Nova Credit - MBA BD Intern (NYC)
Spotify (Gimlet) - Reply All Intern (NYC)
Quip - Brand Marketing Intern (Brooklyn)
Heartcore Capital - Intern (Berlin)
---
puppy of the week 🐶

The puppy of the week was a tough call this weekend - if you watched the Westminster Dog Show, you know that poodle Siba (pictured left) took the top title, but golden retriever Daniel (right) was the people's champion. We think they're both winners!
Siba's victory represented the first time a standard poodle has won the competition in almost 30 years. Siba is a three-year-old from Pennsylvania, who enjoys running around in her field at home and eating pancakes. To maintain her hair quality, she needs a two-to-three hour blowout every week.
Daniel is five years old and also from Pennsylvania. A golden retriever has never won Westminster before, and Daniel's first place finish in the Sporting category was the first time the breed took the title since 2006. The New York Times spoke to Daniel's owner Tammy Tomlinson, who said Daniel was taking the Best in Show loss in stride: "This morning, he dug himself a nice hole in the backyard and decided to lie in it."
---
Hi! 👋 We're Justine and Olivia Moore, identical twins and venture investors at CRV. Thanks for reading Accelerated. We'd love your feedback - feel free to tweet us @venturetwins or email us at twins@crv.com.