Discover more from Accelerated
News and jobs in tech & venture capital.
Over 35,000 subscribers
🚀 Travis Kalanick raises $ for a new startup
Plus, is TikTok the fastest growing social app of all time?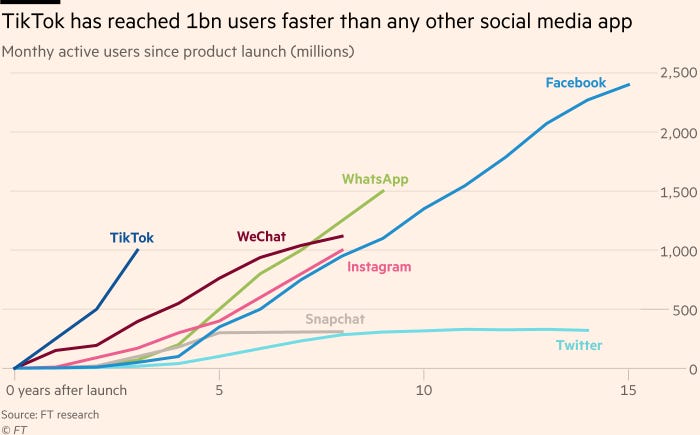 TikTok continues to dominate the conversation around consumer social apps - a Financial Times story this week noted that it hit 1B monthly active users faster than any other platform. The app, which launched in September 2016, is owned by Chinese company Bytedance. 60% of TikTok's U.S. users are Gen Zers (24 y/o or younger), and users spend an average of 52 minutes per day on the app.
The article sparked controversy over whether the app's growth rate should be directly compared to other social networks. While many social apps primarily grow via word-of-mouth, TikTok benefitted significantly from its acquisition of Musical.ly, which reportedly had 100M+ MAUs. TikTok has also spent a lot of money on marketing - the company spent $1B on customer acquisition in the U.S. in 2018, and a recent decrease in ad spend led to slower user growth.
---
news 📣
🚘 Uber announces earnings. Uber reported relatively strong Q3 earnings, beating revenue expectations with 30% YoY growth. The company had a net loss of $1.2B, a significant improvement from last quarter's $5.2B loss, and CEO Dara Khosrowshahi said that he expects to achieve adjusted EBITDA profitability in 2021. Despite this, Uber stock hit an all-time low on Wednesday when the lockup period expired, allowing early investors and employees to sell their shares (though not all did!).
💵 Kalanick raises from the Saudis. Former Uber CEO Travis Kalanick reportedly raised $400M from Saudi Arabia's sovereign wealth fund for CloudKitchens. The company rents real estate, converts it into commissaries, and leases it out to delivery-only restaurants (the "WeWork for restaurant kitchens"?). Though CloudKitchens has been operating in stealth, it's reportedly at significant scale - sources say that the company has acquired 10+ smaller competitors and owns 100 locations worldwide.
💖 Bumble buyout. Blackstone announced that it's buying a majority stake in MagicLab, the parent company of four dating apps (including Bumble), from Russian billionaire Andrey Andreev. The deal values MagicLab, which is profitable, at $3B. Bumble founder Whitney Wolfe Herd will now serve as the company's CEO, with Andreev stepping down after allegations that he made racist & sexist comments to employees and enabled a toxic work culture.
🐽 eGenesis raises Series B. In crazy science news this week, biotech startup eGenesis raised a $100M Series B to gene-edit animal organs for use in humans. More than 100,000 people in the U.S. are awaiting organ transplants, and could potentially receive organs from compatible animals like pigs. Unfortunately, many pigs have viruses that are harmful to humans - eGenesis edits pig cells to eliminate these viruses and make the organs safe for transplant, and hopes to be running clinical trials in a few years.
🛍️ Shopify wages war on Mailchimp. It's been a year of product expansion for e-commerce giant Shopify. After debuting a fulfillment network and hardware for brick-and-mortar stores, Shopify is now testing a new tool for email marketing, which is directly competitive with Mailchimp. Shopify previously had a Mailchimp integration, but the two companies had a messy breakup in March.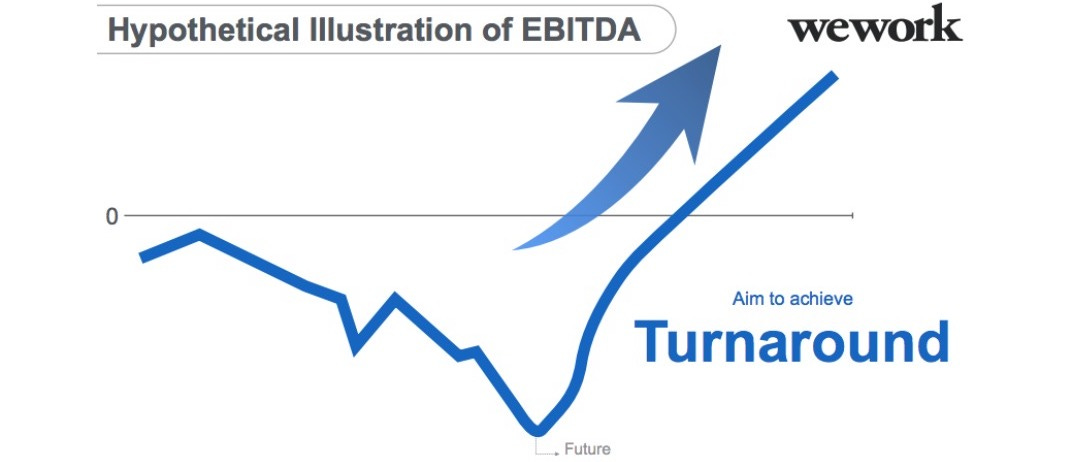 SoftBank released a doozy of an earnings presentation, addressing topics like "significant decrease in profit" and "WeWork problem." The deck lays out why WeWork is in dire straits: low gross profit - high opex = negative EBITDA.
It's unclear why SoftBank didn't address this problem earlier or exactly how they intend to turn it around, other than pressing pause on opening new locations and reducing costs. VC Twitter was particularly amused by the above slide, which appears to show EBITDA suddenly going up and to the right in the undefined "future" - of course, there's no labels on the axes to determine when this might happen.
---
what we're following 👀
Carta looked at how startup equity is awarded by gender (spoiler: it's disappointing!).
Taylor Lorenz investigates how thousands of college students were scammed by a digital media startup. 
How to get access to your secret consumer score at companies like Airbnb and Yelp. 
The story behind the mini-pony that went viral after riding BART this week.
Our colleague Anna Khan started a newsletter called Keeping Things SaaSy - it's a must-read for anyone interested in enterprise! You can check out the latest issue here and subscribe here.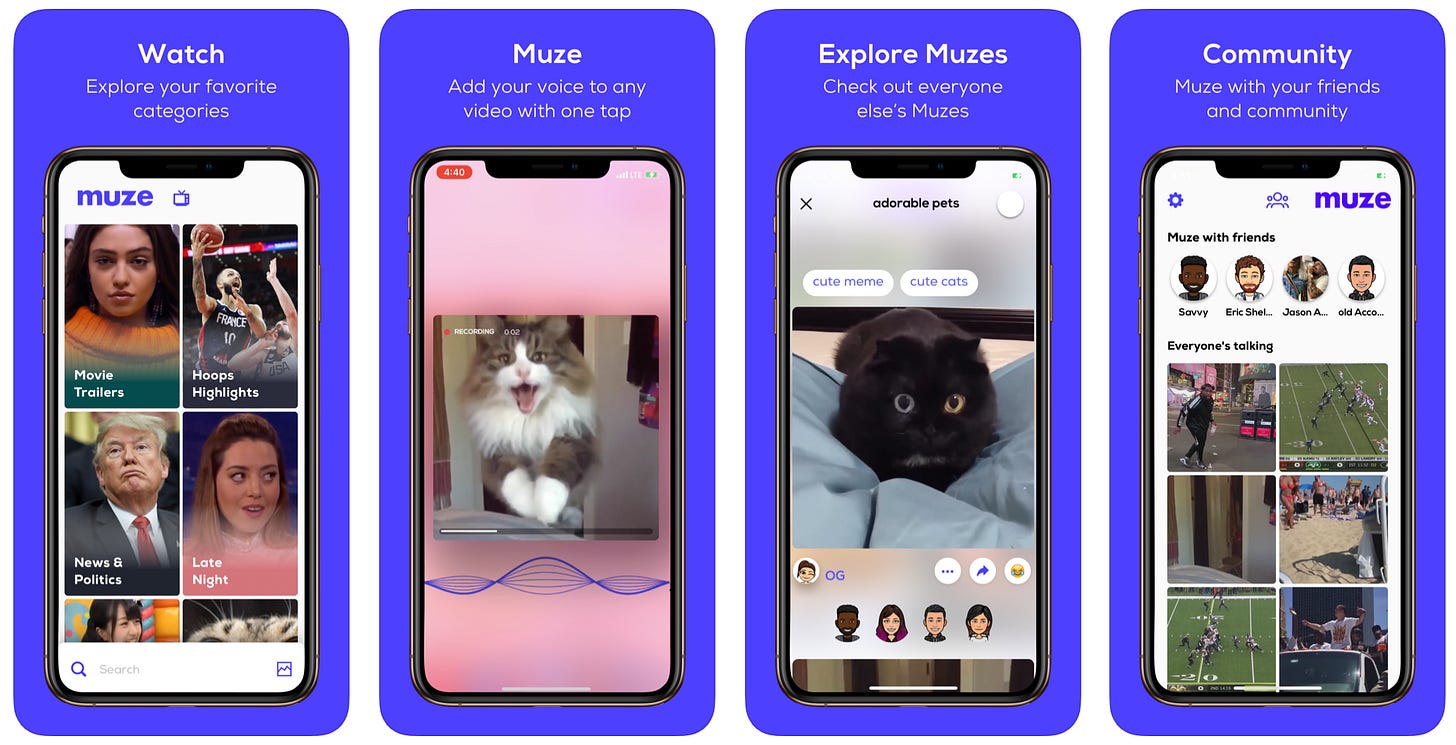 Did you know Snapchat has a startup accelerator? We've been keeping a close eye on the 10 companies in the 2019 class, and are particularly excited about MuzeTV, which is backed by Floodgate and other top venture funds. Muze allows you to take any video and add your voiceover to it. You can check out the viral clips already available on the app or upload your own, and then publish them for friends and the Muze community.
Muze is one of several companies built on the new trend of "social audio," which is a space we've been following. It's often easier to create audio content than video, but audio can be just as entertaining (and easier to consume!) Muze recently came out of stealth - you can download the app here and check out their remote intern roles here!
---
jobs 🎓
productboard - Product Manager (SF)
Fast - Product Manager (SF)
Salesforce - Strategy & Ops Analyst (SF)
Emergence Capital - Investor (San Mateo)
Cisco Investments - Associate (San Jose)
Goldman Sachs Imprint (ESG) - Analyst (SF)
TikTok - Strategy & Research Analyst (LA)
Double - Product Manager (NYC)
Better.com - Biz Ops Associate (NYC)
Upsolve - BD Associate (NYC)
First Round - Chief of Staff (Philly)
internships 📝
AirGarage - Marketing Intern (SF, Remote)
Blend - PM Intern (SF)
Splunk - MBA Corporate Strategy Intern (SF)
Spotify - Podcast Production Intern (LA)*
Iris Nova - Ops Intern, Finance/Accounting Intern (LA)
Cameo - Marketing Intern (LA)
Mio - Spring Marketing Intern (Austin)
Formlabs - Marketing Intern (Boston)
Main Street - Growth Intern (NYC)
Loeb.nyc - Innovation Intern (NYC)*
---
puppy of the week 🐶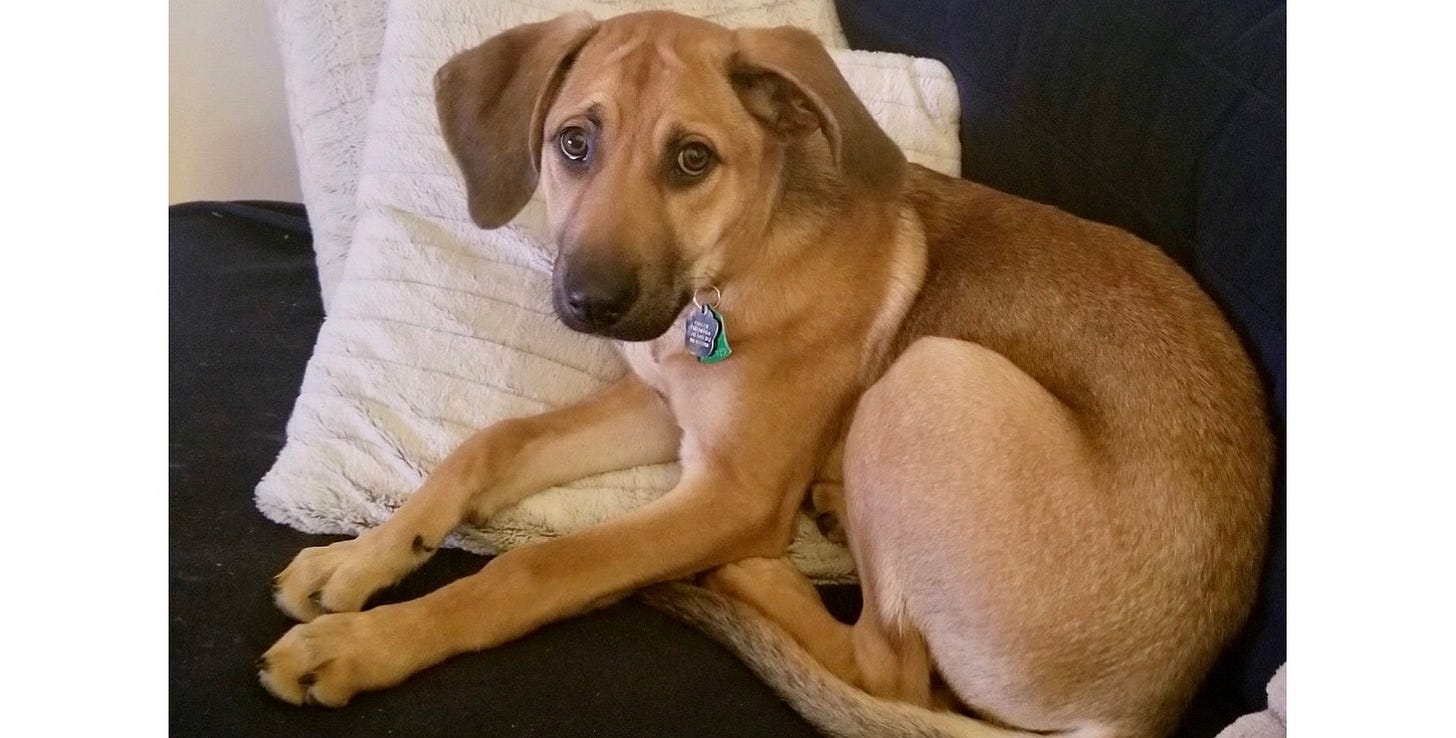 Meet Mushu (named after the dragon in Mulan!), a one-year-old shepherd-hound mix who lives in DC. Mushu enjoys chasing tennis balls, curling up on the couch with a good bone, and watching Michigan football on TV with mom and dad. 
---
Hi! 👋 We're Justine and Olivia Moore, identical twins and venture investors at CRV. Thanks for reading Accelerated. We'd love your feedback - feel free to tweet us @venturetwins or email us at twins@crv.com.