Discover more from Accelerated
News and jobs in tech & venture capital.
Over 34,000 subscribers
🚀 Twitter takes on Trump
Plus, a new TikTok clone is paying users to watch videos!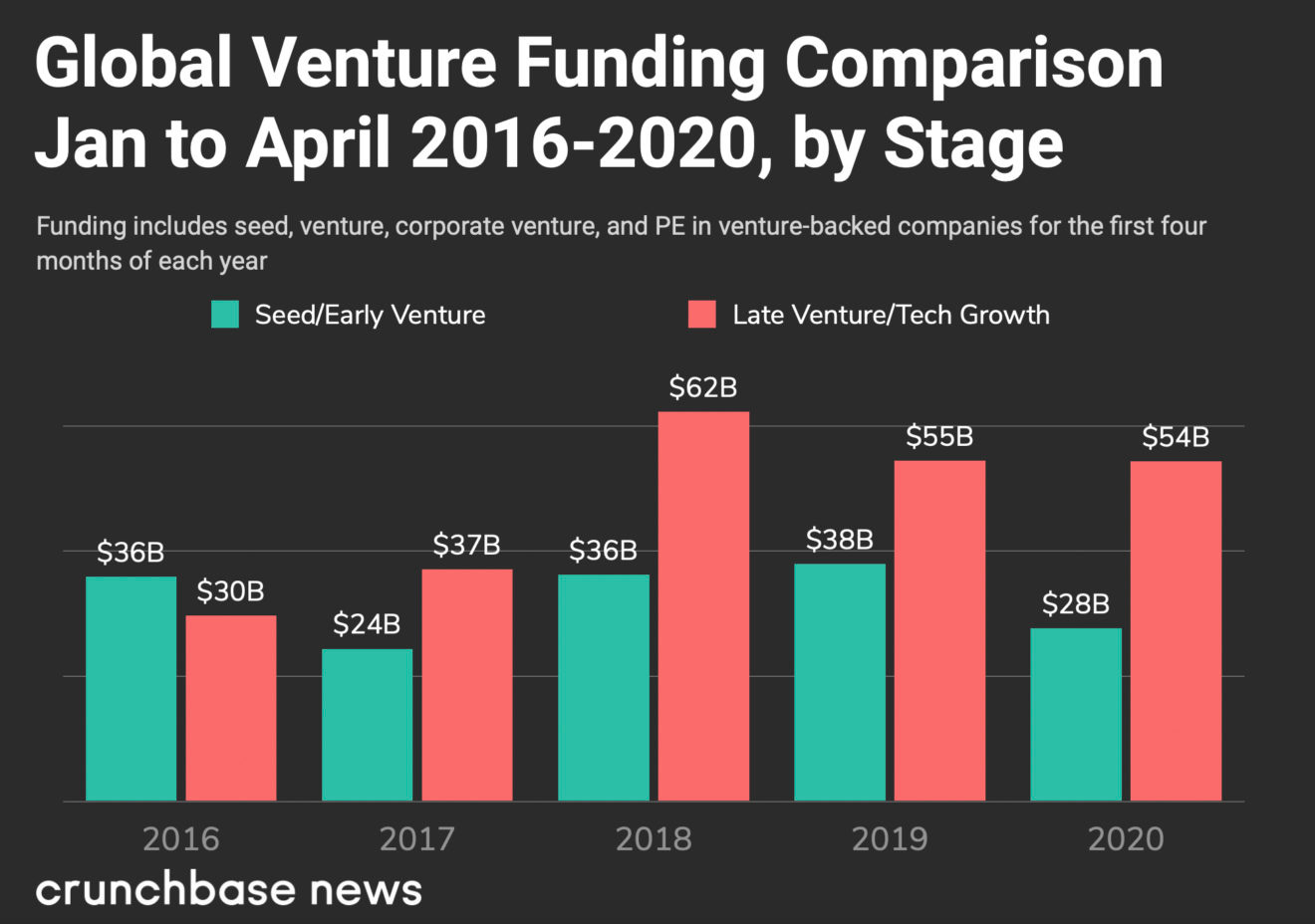 Now that we're three months into shelter-in-place, it's finally possible to start getting some reliable data on how the COVID quarantine has impacted funding rounds!
Crunchbase News put together an analysis (using data through April) on how global venture funding in the first four months of 2020 compared to previous years. A couple of takeaways:
Global funding volume totaled $82B, a 12% YoY decrease. However - most of this decline occurred as COVID was taking hold in China in January and February, with activity picking up again in March and April even as the U.S. entered SIP.

While seed funding was down 32% YoY and Series A/B funding was down 26% YoY, late stage venture & growth were stable. These later stage deals now represent a larger portion of overall dollars deployed - 66% versus 59% in 2019.

China saw the largest contraction in funding volume (30% YoY), while the U.S. and Europe each saw a 13% drop. India actually saw a substantial increase in investment volume compared to 2019, though this is largely due to Reliance Jio.
---
news 📣
✋ Twitter takes on Trump. Tension between Twitter and President Trump came to a head this week. It started with Twitter adding a fact-checking label to two of Trump's tweets about California's mail-in voting. Trump struck back, accusing Twitter of censorship and signing an executive order to limit legal protections for social media companies. Early the next morning, Twitter applied a warning label to one of Trump's tweets about looting in Minneapolis for violating policies against glorifying violence.
Meanwhile, Mark Zuckerberg came under fire from Facebook employees for doing nothing about Trump's content on the platform. Zuckerberg stated that Facebook's position is to "enable as much expression as possible unless it will cause imminent risk of specific harms or dangers," and they decided Trump's posts did not do so.
🚀 SpaceX celebrates historic launch. It was a big week for SpaceX! The company launched its first spacecraft with human passengers on Saturday, becoming the first private U.S. company to do so. It's been nearly a decade since astronauts were launched to space on U.S. soil, as NASA's Space Shuttle program was shuttered in 2011. Crew Dragon (the SpaceX spacecraft) will take two astronauts to the International Space Station, and regular trips are expected to begin later this year.
📱Instagram boosts creator monetization. Instagram announced several new features aimed at helping creators make money on the platform. A select number of creators will now be able to sell badges on Live videos and make ad revenue from their content on IGTV (similar to the ads you see on YouTube). Instagram will also be expanding access to existing monetization features (Live Shopping and Brand Collabs Manager) to a broader base of creators after successful early rollouts.
💻 HBO Max launches. HBO launched yet another streaming service, HBO Max. The $15/month subscription has more content than HBO Go and Now, including non-HBO content and exclusive originals. The launch was far from seamless, with significant confusion around the difference between HBO's three streaming services and no integration with Roku or Amazon's Fire TV. An estimated ~87K people downloaded the HBO Now app on the first day, compared to 300K for Quibi and 4M for Disney+.
There are officially far too many streaming services - if you're trying to decide what to buy, Vox put together a helpful guide on how they compare.
🦄 Apeel becomes a unicorn. An under-the-radar unicorn emerged this week - Apeel Sciences raised $250M at a $1B valuation! The round was led by GIC, with participation from celebrities like Oprah Winfrey and Katy Perry. Apeel makes invisible coatings that keep produce fresh for longer and reduce food waste. The company has retail partners in the U.S., Germany, and Denmark - you may have already used their coatings if you've bought avocados at Kroger.

A new social app hit #1 in the App Store just three weeks after launch. Zynn is a TikTok clone (it literally looks exactly the same) with one core difference - it pays users for their engagement! You earn coins for watching videos and referring friends to the app, and can later redeem them for cash or gift cards.
The app developer is Owlii, which was originally an AR startup focused on 3D imaging. Owlii was recently acquired by Kuaishou, TikTok's largest competitor in China. Kuaishou claims to have 300M DAUs in China, and did $5.7B in revenue last year. The company has raised $4.4B in funding, most recently at a $28B valuation.
Giving away money is a surefire way to generate hype, but we'll be interested to see how long it lasts. Once you exhaust your friend referrals, you'd have to spend a lot of time on the app to make any money, and it's TBD if the company's content algorithm is as strong as TikTok's. Have you used Zynn? Let us know below!
---
what we're following 👀
The New York Times explores how Cameo, Substack, and Patreon power the "new model media star."
Sprig co-founder Gagan Biyani shares an honest look at why his startup failed.
Forbes published its annual list of the next $1B startups, and also revoked Kylie Jenner's billionaire title (causing lots of drama).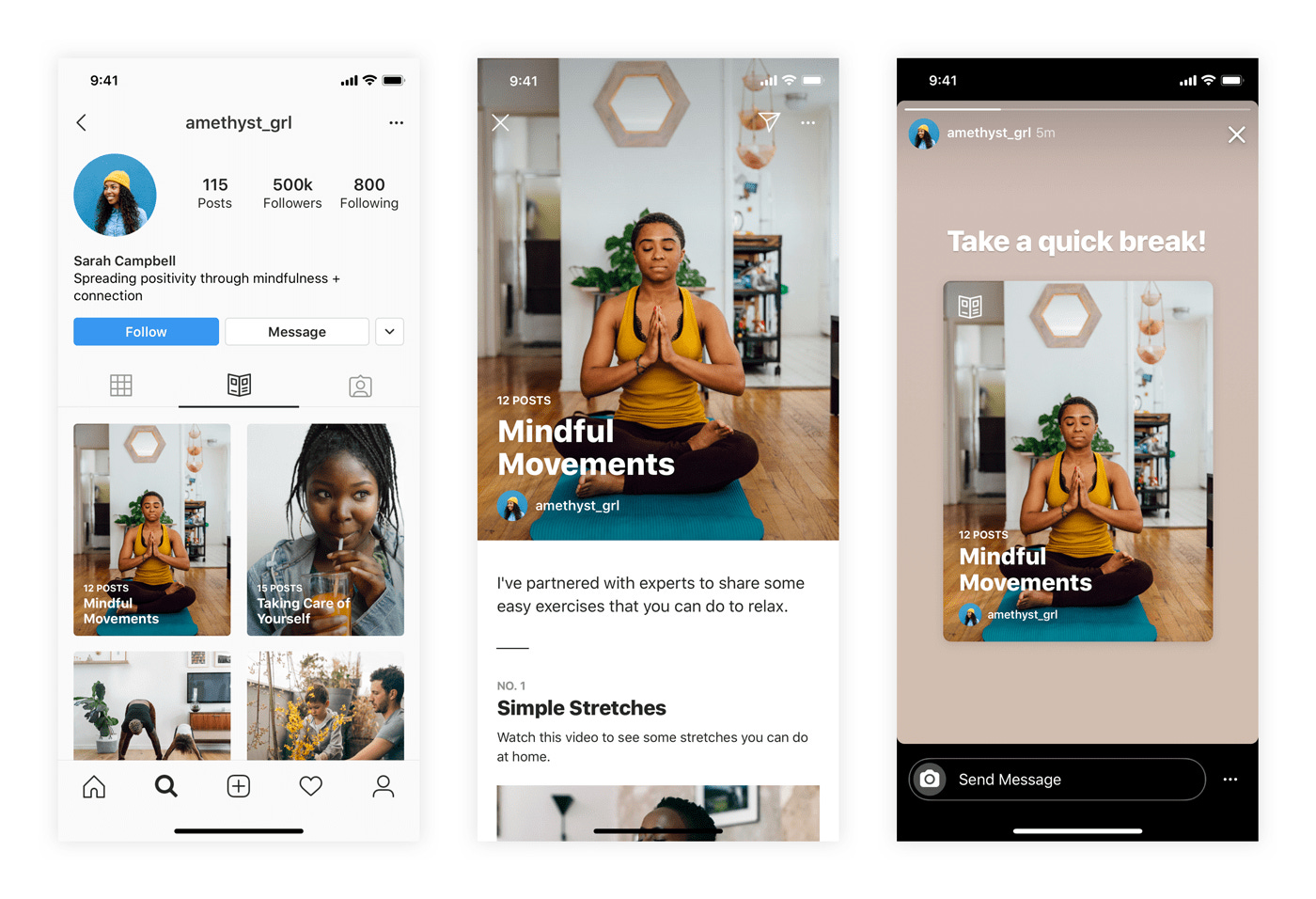 This week, we're featuring a piece from Patricia Mou, a PM at StitchFix, on the rise of social media therapists. Patricia also writes a newsletter on mental health called Wellness Wisdom.
In the past year, there's been an influx of therapists setting up shop on Instagram and TikTok, joining a growing cohort of wellness influencers on social media. Their content ranges from guides on embracing imperfection, self-care, and attachment theory to strategies for combating impostor syndrome. Sometimes they'll host a Q&A or even livestream a practice therapy session! The goal for many is to make therapy approachable and inviting, debunking the myth that therapy is shameful.
Therapy typically costs $100+ per hour (more in major metros!), and is often not covered by insurance. Many people can't afford this, and are turning to social media instead. I believe there's room for a more comprehensive platform where users can consume free mental health content and connect with therapists. A few feature ideas:
Built-in verification of therapist credentialing to mitigate bad actors.

Ability for users to take a quiz and be matched with therapists who will best serve them, with ongoing adjustments based on content you "like."

Marketplace for live Q&As and group therapy sessions with therapists.

Ability to bookmark content across all therapists into a digital journal.

Enabling consumers to become creators by sharing mental health breakthroughs and struggles in an Instagram-like feed.
---
Soma Capital is launching a fellowship program for students interested in shadowing a founder or incubating their own company!
Check out this job board for intern/full-time roles at Cardinal Ventures companies! All startups are founded by Stanford students, and most are pre-seed or seed-stage.
jobs 🎓
Expa - Principal (SF)
Clockwise - Product Manager (SF)
Extend - BD Associate (SF)
Juni Learning - Software Engineer (SF)
PlayVS - Ops Associate (LA)
Burst - Junior PM (LA)
Tinder - Product Manager (LA)
Navitas Capital - Associate (Chicago)
Techstars - Data Analyst & Ops Associate (NYC)
Alma - Ops Associate (NYC)
Warby Parker - Product Manager (NYC)
internships 📝
Almanac - Content Intern (SF)
Robinhood - MBA Consumer Benchmarking & Insights Intern (Menlo Park)
Malwarebytes - Summer MBA Intern (Santa Clara)
Talkspace - Business Analytics Intern (NYC)
The Proof - Growth Intern (NYC)
Quartet Health - Devops Intern (NYC)
The Block - Journalist Intern (NYC)
Caption Health - MBA Strategy Intern (Remote)
Acceleprise - Program Ops Intern (Remote)
Dipsea - Summer Intern (Remote)
Cleo Capital - Summer MBA Intern (Remote)
Type One Ventures - Summer Venture Fellowship (Remote)
---
puppy of the week 🐶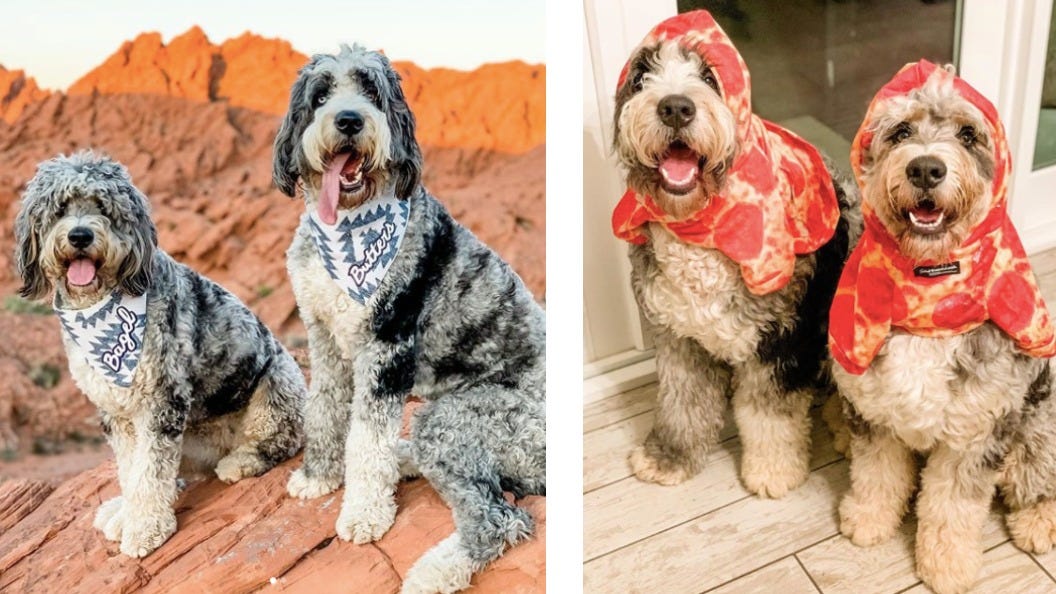 Meet Butters (right in first photo) and Bagel (left in first photo), Merle Bernedoodles who live in Orange County. Bagel is one, and Butters is about to turn two.
They're adventurers who love road trips, kayaking, and hiking, but they also like chilling out at home with fun costumes.
Check them out on Instagram @buttersmybagel!
---
Hi! 👋 We're Justine and Olivia Moore, identical twins and venture investors at CRV. Thanks for reading Accelerated. We'd love your feedback - feel free to tweet us @venturetwins or email us at twins@crv.com.