Discover more from Accelerated
News and jobs in tech & venture capital.
Over 34,000 subscribers
🚀 Uber and Lyft face down regulators
Plus, what's going on with the quarantine food at NYU?
news 📣
🚘 Uber and Lyft fight back. It was another dramatic week in Uber and Lyft's continuing battle against California AB5. Both companies threatened to shut down service in California if forced to reclassify drivers as employees. At the eleventh hour, they were given a temporary reprieve until the appeals court reviews the case this fall. A measure exempting rideshare and food delivery companies from AB5 will also appear on the ballot in November, and Uber and Lyft are lobbying hard for it to pass.
💰 Palantir leak reveals losses. Palantir previously announced plans to go public, and this week we got a closer look at its financials through an S-1 leak. An overview:
As expected, Palantir is heavily reliant on government work, with 54% of YTD revenue from government contracts.

The company saw 25% revenue growth last year, mostly driven by existing customer expansion vs. new customers.

Palantir has long been rumored to be approaching $1B in revenue, but only brought in $742M in 2019.

The company recorded a $580M loss last year - 17 years in, Palantir is still far from profitability, with particularly significant sales & marketing spend.
🤑 Robinhood, SpaceX raise mega-rounds. Robinhood continues to take on more capital, announcing a $200M fundraise at an $11.2B valuation (up from $8.6B in July!). The company has now raised a total of $800M since coronavirus hit the U.S.
SpaceX also had a big week, closing on $1.9B (its largest funding round yet) at a $46B valuation. It's been a good year for SpaceX, with a successful human space mission and continued progress on its Starlink Internet service, which will launch later this year.
🚨 And some quick updates on ongoing stories from last week:
Epic Games' fight over the "Apple tax" for in-app purchases continues. Apple contends (via leaked emails) that Epic asked for special treatment in avoiding the 30% commission, while Epic's CEO said he was advocating for all developers.

Oracle has become an unlikely contender to acquire the U.S. operations of TikTok, joining Microsoft, Twitter, and others exploring potential bids. Why would Oracle want to buy a Gen Z social app? Most people are pretty confused.

Airbnb officially filed to go public - the filing documents are still confidential, so there's no data to crunch yet! Meanwhile, used clothing marketplace thredUP is reportedly prepping for an IPO in early 2021.
We'd hoped that we were done with WeWork updates for 2020 - but we're back in it! The latest development is SoftBank agreeing to lend the company another $1.1B (despite the ongoing legal battle between SoftBank and the company's board). WeWork has not yet tapped this capital, but it will be available for the next 12 months.
WeWork reportedly burned $671M in Q2 2020 (up 40% from Q1), despite cutting its workforce substantially. The company saw a 12% QoQ drop in membership, but is increasingly focused on targeting larger corporate clients that aren't yet bringing employees back to their main offices. Q2 marked the first time that companies with 500+ employees made up more than half of WeWork's core revenue.
---
what we're following 👀
Our partner Anna Khan shared her journey from analyst to GP on The 20 Minute VC.
How VCs are using TestFlight as a hunting ground for new investments.
The Cap Table interviewed Homebrew's Kate Coughlin Stern on transitioning from finance to startups, and how she evaluates seed-stage companies.
What it's like to work as an assistant to one of the world's biggest influencers.
From Accelerated readers: 
Joanna Lichter Cohen profiles six female MBA founders on their journeys.

Gaby Goldberg's guide to building in public.
As students transition back to campus life, many colleges seem to be struggling with how to safely house and feed students while keeping them somewhat isolated. If you've been on TikTok this week, you've likely seen the viral videos from NYU students sharing their boxed "meals" delivered at odd hours. 
These videos are entertaining, but the situation is much more serious on other campuses. A number of colleges, including UNC Chapel Hill and Notre Dame, have sent students home or converted to online classes after failing to contain outbreaks. And videos of huge parties at University of Alabama, Penn State, and UConn have sparked concern that there's no effective way to enforce social distancing guidelines. 
Most colleges are asking students to sign pledges committing to safe behavior, but others are taking it a step further. TechCrunch published an article this week on Albion College, which required students to download a location-tracking app called Aura. The app monitors each student's location 24/7, and flags anyone who leaves campus without permission - that student then loses access to campus buildings. 
There have been some serious security concerns around Aura (one student found an easy way to access others' data), and parents and students alike aren't happy with the lack of privacy. However, we wouldn't be surprised to see more schools use technology to track students' COVID test results, monitor symptoms, and even identify suspiciously large gatherings that may violate campus policies. Is your school using a COVID-tracing app this year? Comment below to let us know! 
---
jobs 🎓
Hipcamp - Product Manager (Remote)
Twitter - Consumer Strategy & Ops Associate* (Remote)
FreeWill - Digital Content & Marketing Specialist* (NYC, Remote)
Norwest Venture Partners - Associate (Bay Area)
137 Ventures - Analyst (SF)
Acceleprise - Associate (SF)
Curated - Product Manager (SF)
thredUP - Mobile PM (Oakland)
Chan Zuckerberg Initiative - Senior Venture Associate* (Redwood City)
Onaroll - Employee Champion (NYC)
Alloy - Data Engineer (NYC)
Stripe - New Grad Software Engineer (NYC)
Braze - Associate Product Manager (NYC)
*Requires 3+ years of experience.
internships 📝
Envision Accelerator - Venture Ops Manager (Remote)
Cowboy Ventures - Fall Interns (Remote) - requires 3+ years of full-time experience
Path Ventures - Intern (Remote)
Toolio - Sales Development Intern (Remote)
Clare - Customer Experience & Community Management Intern (Remote)
Snap Yellow Accelerator - MBA Community Program Associate (Remote, LA)
Growth Collective - Sales Intern (Remote, Atlanta)
Unbabel - Product Marketing Intern (Remote, SF)
Patreon - Summer 2021 Software Engineering Intern (SF)
Primer - Product Design Intern (SF)
At-Bay - MBA Corporate Development Intern (SF)
January.ai - MBA PM Intern (Menlo Park)
---
puppy of the week 🐶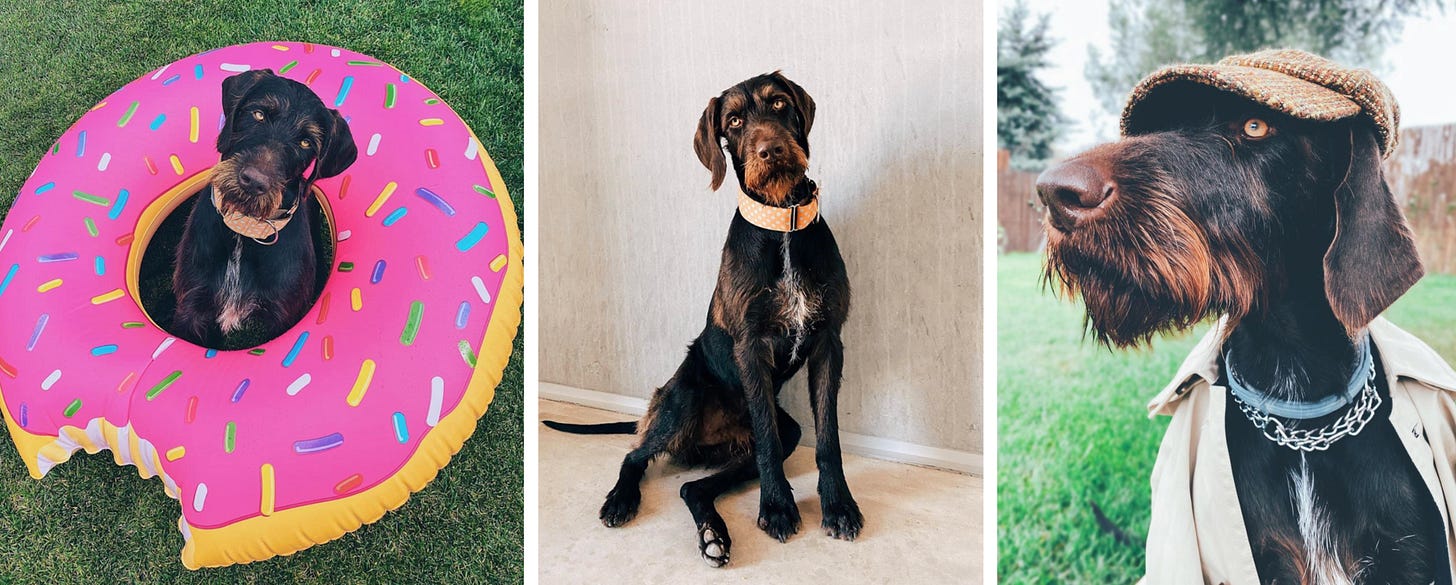 Meet Taz, a two-year-old Drahthaar (German wire-haired pointer) who lives in Madrid.
Taz enjoys playing in the pool, trying to avoid the summer heat, and chilling out with his family on the weekends (he loves getting attention!). He's been struggling a little bit with quarantine (who hasn't?), but is keeping a very positive attitude.
You can follow Taz on Instagram at @tazthedrahthaar.
---
Hi! 👋 We're Justine and Olivia Moore, identical twins and venture investors at CRV. Thanks for reading Accelerated. We'd love your feedback - feel free to tweet us @venturetwins or email us at twins@crv.com.