Discover more from Accelerated
News and jobs in tech & venture capital.
Over 34,000 subscribers
🚀 Vine 2.0 is finally here!
Plus, is the "Serial" podcast up for sale?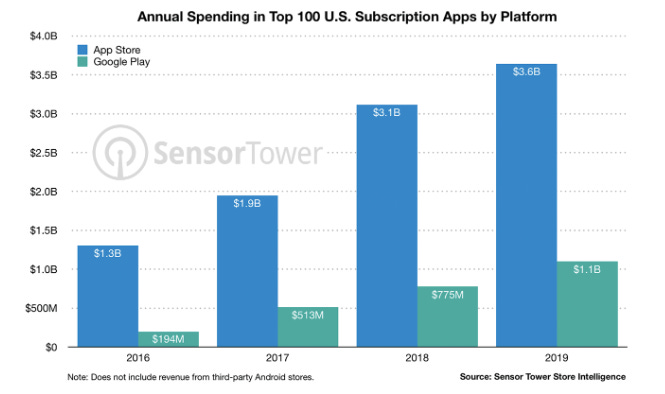 You may be annoyed by apps constantly prompting you to upgrade to premium, but the strategy seems to be working! SensorTower estimates that U.S. consumers spent $4.6B on the top 100 subscription apps last year, a 21% YoY increase.
Tinder was the #1 grossing app (combined iOS and Google Play revenue), followed by Pandora. Google had three apps in the top ten with YouTube at #3, Google One at #7, and YouTube Music at #9. Streaming TV was also popular with HBO Now at #4, Hulu at #6, and ESPN at #10.
iOS still dominates spend, with $3.6B in revenue compared to Google Play's $1.1B. However, it's growing less quickly - iOS subscription revenue only increased 16% last year, compared to 42% for Google Play.
---
news 📣
🚘 Uber tests driver-set fares. Uber drivers in three cities (Santa Barbara, Palm Springs, and Sacramento) can now set their own fares up to 5x the base price. Drivers with lower prices are more likely to be matched with riders, but in busy times even higher price drivers may get a match (similar to surge pricing). The move is part of Uber's continued efforts to classify drivers as independent contractors - other recent changes include allowing drivers to reject riders without a penalty, giving drivers more upfront trip info, and giving riders a price range instead of a fixed price.
🎥 Netflix releases first earnings since Disney+ launch. Netflix had a rocky week after reporting Q4 2019 earnings - the stock fell 2% on Wednesday, but then climbed 7% on Thursday. Though Netflix beat expectations for revenue and new international subscribers (8.3M vs. 7.2M expected), it fell short on new subscribers in North America. The company released some fun metrics on its most popular content - The Witcher is tracking to be the platform's largest season one TV release ever.
🔬 Memphis Meats raises $161M. Cell-based meat company Memphis Meats raised a Series B led by SoftBank, with participation from Bill Gates, Richard Branson, and others. The startup grows meat in a lab by cultivating animal cells and allowing them to grow muscle and connective tissue. Memphis Meats plans to use the funding to open a production facility in the next 18-24 months. While the company is similar to Impossible Foods and Beyond Meat in focusing on sustainably-grown protein, Memphis Meats makes meat itself, instead of a plant-based alternative.
📱Bezos's phone hack goes viral. Forensic experts and UN officials have determined that Amazon CEO Jeff Bezos's phone was hacked in 2018. Initial reports suggest that the hack took place when Saudi Crown Prince Mohammad bin Salman (MBS) sent Bezos a video message on WhatsApp. The reported motive was an attempt to control coverage on Saudi Arabia by The Washington Post, which Bezos owns. The Saudi Embassy responded that the claims are "absurd" and called for an investigation.
👩‍🔬 23AndMe lays off 100 employees. At-home genetic testing company 23AndMe laid off 15% of its workforce this week amidst declining sales in consumer test kits. CEO Anne Wojcicki said she was "surprised" to see the market turn - she hypothesized that the slowdown could be caused by privacy concerns or fear of an upcoming recession preventing spending on the $99+ tests. The company plans to double down on D2C sales and therapeutics, while reducing spend in its clinical studies arm.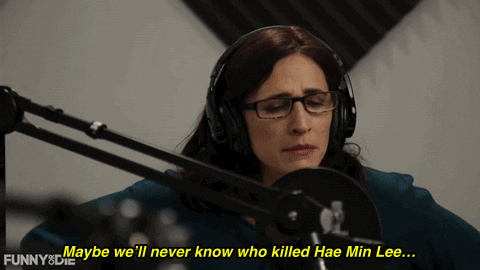 Podcast startup Serial Productions, which produced hits S-Town and Serial (as far as we know, the only podcast to ever garner a Funny or Die parody) is reportedly exploring an acquisition. One potential buyer is the New York Times, which is the fourth-largest podcast publisher with more than 10M monthly listeners. Serial Productions is co-owned by Sarah Koenig (Serial season one's host), Julie Snyder, and Ira Glass, who founded the company in 2017 out of "This American Life."
---
what we're following 👀
How building a community can be a company's competitive advantage.
A look at the rise of D2C drinks catering to the "anxiety economy."
Behind the scenes with Bryant Eslava, the photographer who works with social media's biggest stars.
🎧 We were on the Alma Matters podcast this week! We shared our thoughts on a variety of topics, from how we figured out what we wanted to do after college to what it's like being an introvert in venture.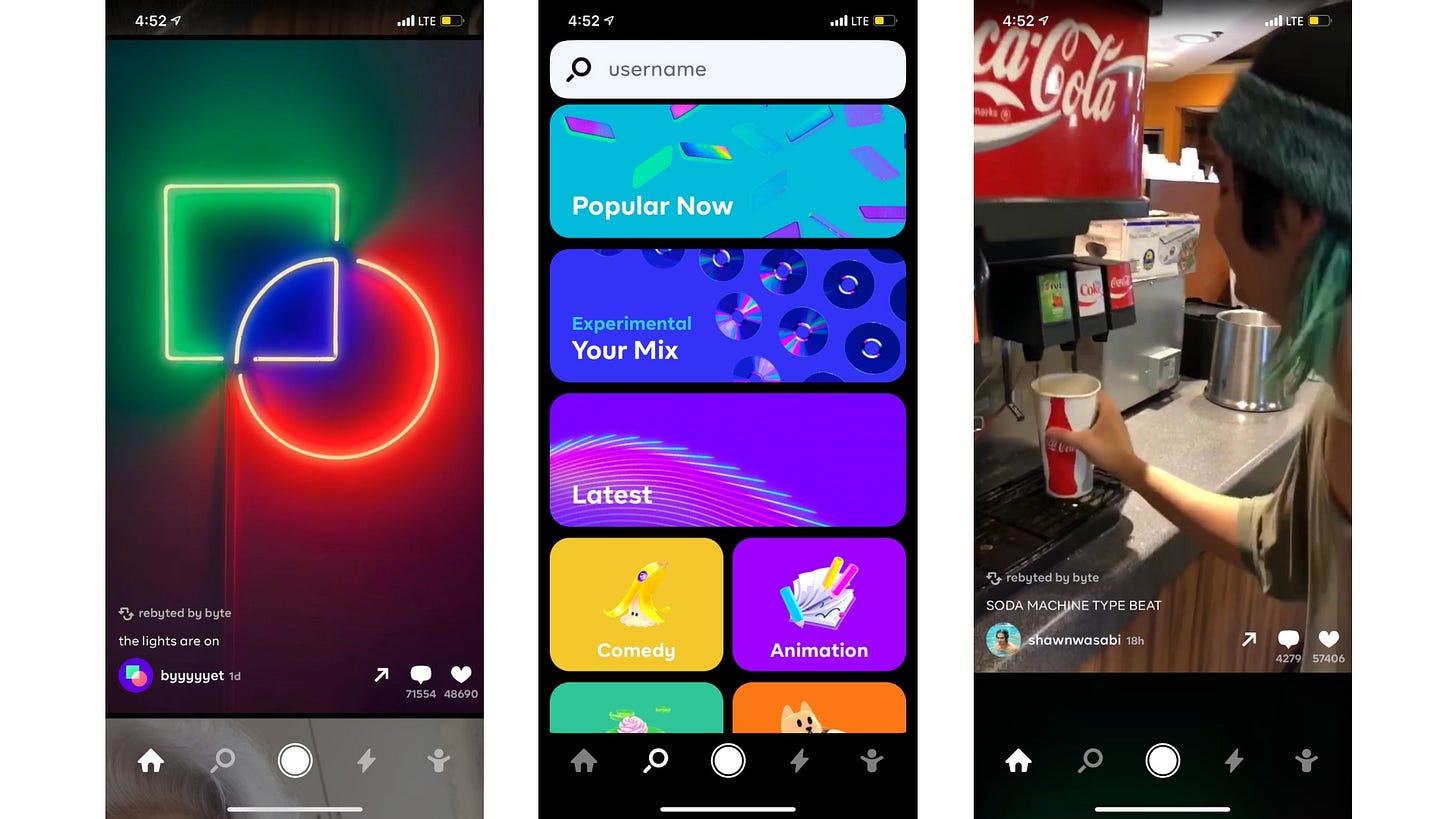 VC Twitter was abuzz this week with the launch of Byte, otherwise known as Vine 2.0. Byte was founded by Dom Hofmann, one of the co-founders of Vine, and features six-second looping videos (sound familiar?). The social landscape has changed since Twitter shut down Vine in early 2017 - most notably, TikTok now dominates short form video with 1.7B downloads.
Some have questioned whether Byte is anything new in the age of TikTok. However, we've already noticed a difference in the content posted on Byte. TikTok videos can be up to 60 seconds (10x longer than Byte videos), and many creators use that time to tell stories, do makeup or fashion tutorials, or perform a complex dance. Thus far, most of the popular videos on Byte are humorous, and the time constraint forces users to be concise yet creative - with only six seconds, you have to get to the punchline quickly!
We're interested to see the types of creators that gravitate towards Byte and the new genres of content they create. The Byte team already seems more focused on creator monetization than TikTok, with plans to launch a partner program that rewards the most popular creators. This could be significant in convincing existing creators to try out Byte (or new creators to start there!).
---
jobs 🎓
First Round Capital - Talent Sourcer (SF)
Afore Capital - Operations Associate (SF)
DoorDash - Strategy & Ops Associate (SF), Product Ops Associate (NYC)
Aalto - Product Manager (SF)
Translink Capital - Associate (Palo Alto) 
Ladder - Associate Product Manager (Palo Alto)
Handy - Strategy Associate (NYC)*
Function of Beauty - Digital Product Manager (NYC)
Bombas - Product Manager (NYC)
Reggora - Product Manager (Boston)
*Requires 3+ years of experience.
internships 📝
Atomic.vc - Summer Intern (SF)
Omada Health - Strategy & Business Ops Intern (SF)
Oura - Rotational Management Internship (SF)
IDEO - MBA Business Design Intern (SF)
Chan Zuckerberg Initiative - Product Design Intern (Redwood City)
Atlassian - Summer Design Intern (Mountain View)
Zoom - Product Design Content Intern (San Jose)
ShopShops - Influencer Marketing Intern (NYC)
EasyKnock - Customer Success Intern (NYC)
Nova Credit - Marketing Intern (NYC) - starts March 2020
---
puppy of the week 🐶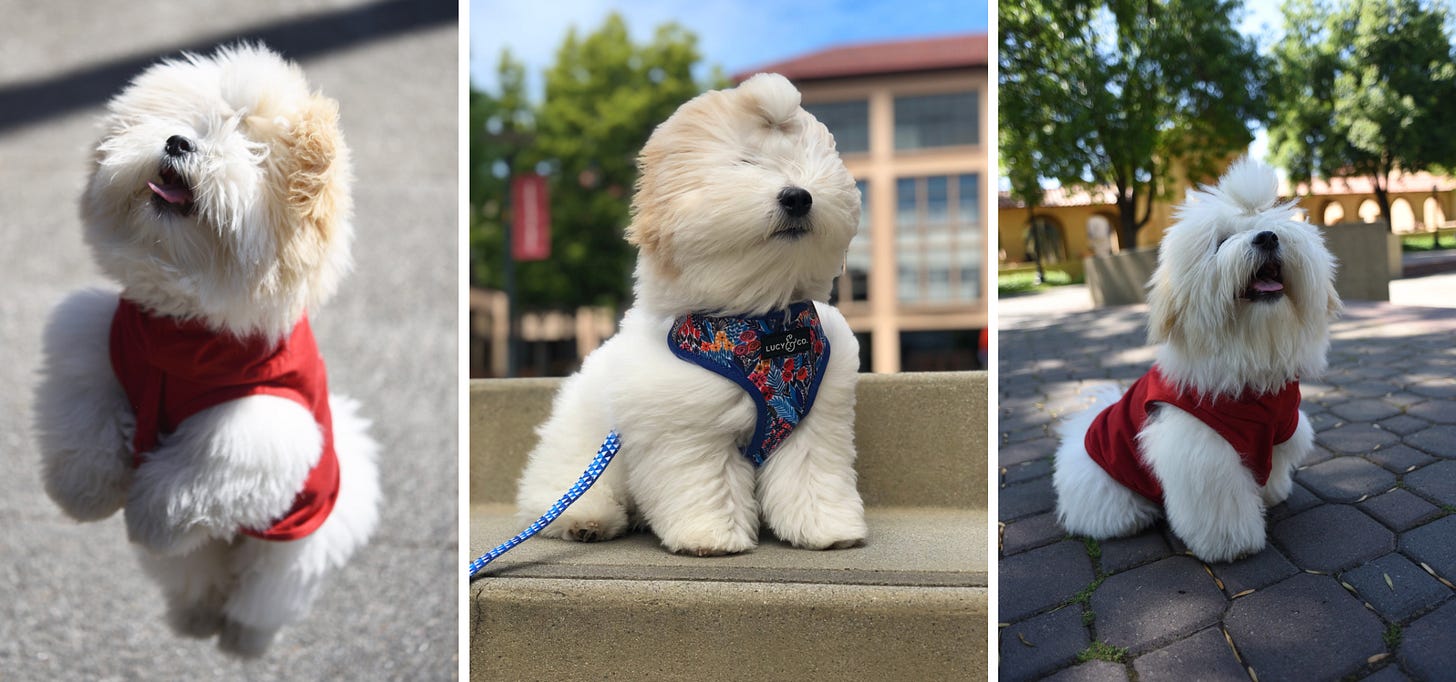 Meet Pongo, a one-year-old Coton de Tulear who lives in Stanford, California.
He enjoys posing for photos (especially when it's windy out - it shows off his floof), prancing in tall grass, sleeping in later than his mom, giving exceptionally good cuddles, jumping (he's got hops so good, he should be in the NBA), and giving face kisses.
You can follow him on Instagram @pongo.the.floof!
---
Hi! 👋 We're Justine and Olivia Moore, identical twins and venture investors at CRV. Thanks for reading Accelerated. We'd love your feedback - feel free to tweet us @venturetwins or email us at twins@crv.com.