Discover more from Accelerated
News and jobs in tech & venture capital.
Over 35,000 subscribers
🚀 What can we learn from Airbnb's leaked financials?
Plus, two firms are reportedly competing to bail out WeWork!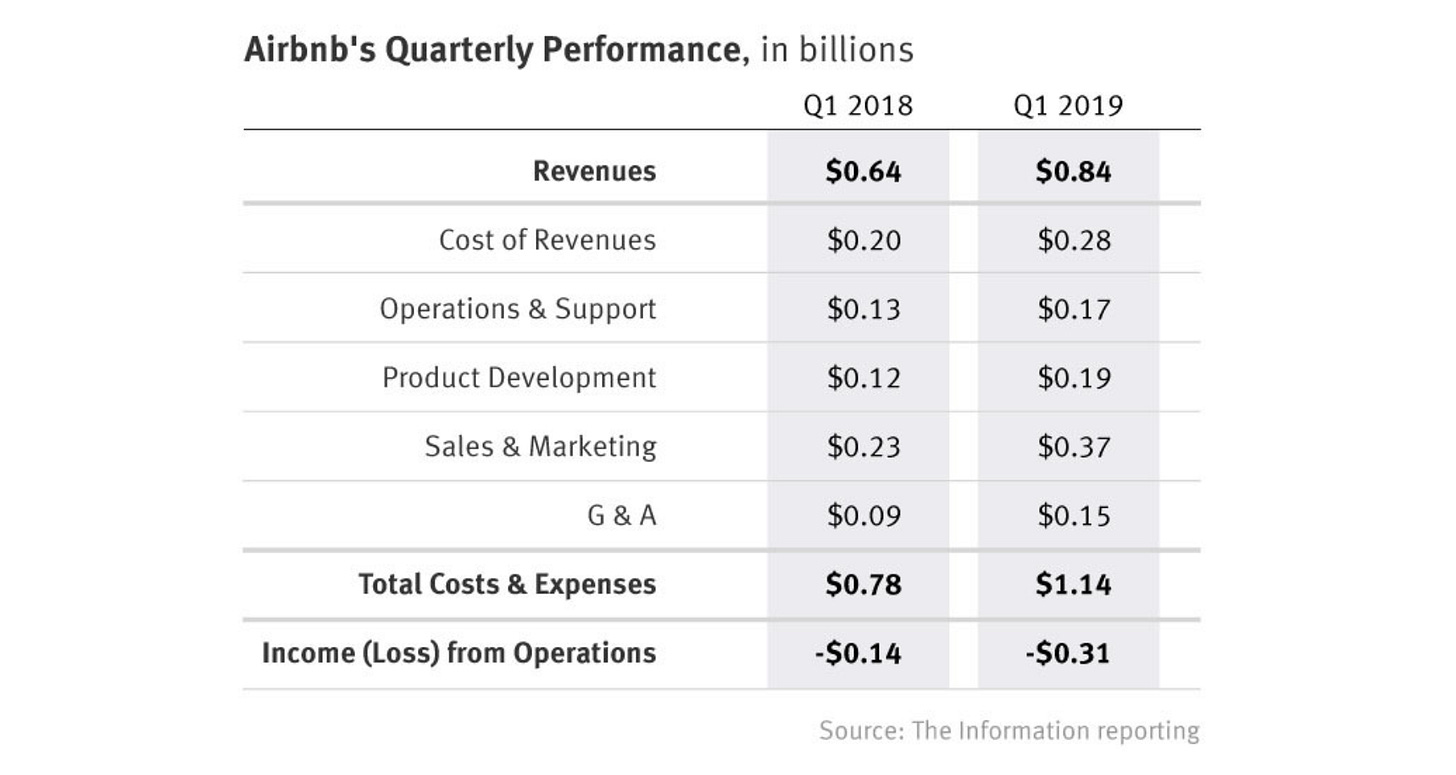 The Information released new data on Airbnb's financials this week - Airbnb is still a private company but is expected to go public (potentially via direct listing) next year. In Q1 2019, Airbnb's revenue totaled nearly $840M (up 31% YoY). Gross margin was largely consistent at 67% (vs. 69% last year), but the company's operating loss more than doubled, largely thanks to a 58% jump in sales & marketing expense.
Airbnb reportedly has $3B in cash on its balance sheet and can access a $1B line of credit, so it's not in any kind of distress. However, it's interesting to see Airbnb ramp up spend so significantly, particularly given that the company announced its second straight year of (adjusted) profitability last year. Investors will be hoping to see this sales & marketing spend lead to a significant jump in revenue this year.
---
news 📣
🏢SoftBank moves in on WeWork. When will we be able to stop talking about WeWork? Hopefully soon, but for now the saga continues. This week's update is a potential attempt by SoftBank (WeWork's largest shareholder) to put together a "rescue financing plan" of $5B in equity and debt, at a valuation less than $8B (!!). JP Morgan will reportedly submit a competing offer. In the meantime, top talent is leaving the company, with the departures of chief creative officer Adam Kimmel and chief marketing officer Robin Daniels this week.
🚘 Uber's major layoffs. In Uber's third round of layoffs in the last three months, the company let go of 350 workers (~1% of total staff). The layoffs came mostly in the company's U.S. and Canada offices, and were focused on the Uber Eats, Advanced Technologies Group, marketing, and recruiting divisions. According to CEO Dara Khosrowshahi, this was the "last wave" of a process intended to set the company up for success in the next few years. The layoffs come in the wake of Uber's increasing losses and poor stock performance post-IPO.
📱Google announces new hardware. Google's annual "Made by Google" hardware event in NYC featured announcements around Pixel, Nest, and more. The event kicked off with Google's 4K gaming platform Stadia, which will be available for purchase on November 19th for $130 (hardware starter kit + 3 months of premium service). The headliner product was Google's Pixel 4 phone, which will be released on October 24th. Google's Pixel 4 campaign has been mostly camera-focused - the company brought photographer Annie Leibovitz on stage to talk about her experience using the Pixel.
💻 Netflix beats earnings. It was a good week for our favorite subscription service, as Netflix's shares surged 8% on the company's Q3 earnings report. Netflix beat profit expectations by almost $200M, and grew U.S. subscribers by 520k (after a surprising loss of 120k subscribers in Q2 that sent the stock tumbling). The company also addressed the upcoming launches of competitors like Disney+ and Apple TV+ (which both debut in November), with CEO Reed Hastings commenting that "we're not really competing with each other, but with broadcast."
💳 Venmo rolls out a credit card. After several months of rumors, Venmo's parent company PayPal announced the impending launch of a Venmo credit card in 2020. The P2P payments app has 40M users and saw $24B in transaction volume last quarter, but is still unprofitable. The card, which is being developed in partnership with Synchrony Financial, will allow users to easily split payments as well as receive real-time payment alerts. Venmo previously launched a physical debit card in 2018.
Another week, another platform where we can be aggressively targeted with custom ads! Snap announced the launch of its Dynamic Ads platform, where advertisers upload product catalogs and items are displayed to targeted users in real-time. Dynamic Ads is Snap's latest move to boost monetization, and is heavily targeted to DTC brand advertisers - many of whom have started to move their promo code offers off Instagram and to other platforms as customer acquisition costs rise.
---
what we're following 👀
What happens when drug tests can't tell the difference between CBD and THC?
Rothy's and Steve Madden are feuding over suspiciously similar shoe designs.
Colleges are tracking prospective students' web traffic to determine their likelihood of accepting an admissions offer.
WeWork pulled thousands of phone booths over issues with formaldehyde gas.
How companies in India and Mexico are using WhatsApp as a growth hack.
If you've been reading this newsletter for a while, you know we're fascinated with medical mysteries. We love The New York Times' Diagnosis, a weekly column that describes a patient's strange symptoms and invites readers to write in with ideas for diagnoses. These patients have completely stumped their doctors, and they're willing to give crowdsourcing a shot. Now, the column has been transformed into a series on Netflix, with each episode following one patient's journey towards a diagnosis.
It's an interesting show for many reasons - it showcases the inadequacies in the American healthcare system, but also highlights how advancements in technology are making a real difference for patients. Angel Parker, the first patient in the series, is being sued by several doctors because she can't afford to pay her medical bills. Her case is eventually solved by a researcher in a pediatric hospital in Italy, who reads the NYT column, does a videocall with Angel to discuss her symptoms, and then invites her to Italy for comprehensive genetic testing (which is completely free!).
---
jobs 🎓
Revel - Business Analyst, Director of Marketing (SF)
ICONIQ - Ops Associate (SF)
Curology - Biz Ops & Finance Associate (SF)
500 Startups - Investor Success Associate (SF)
Techstars - BD Associate (Chicago)
Rosecliff Ventures - Tech Analyst (NYC)
Better.com - Funding Analyst (NYC)
Teachable - Product Analyst (NYC)
645 Ventures - Associate, VP (NYC)
internships 📝
Pitchbook - Research Intern, Marketing Intern (Seattle)
Bungalow - Biz Ops & Strategy Intern (SF)
Bolt - MBA Biz Ops Intern (SF)*
Thumbtack - Analytics Intern (SF)*
Waymo - Mapping Intern (Mountain View)
Facebook - MBA PM Intern (Sunnyvale)
Two Sigma Ventures - Intern (NYC)*
Peloton - Social Media Intern (NYC)
AngelList - Venture Financing Intern (Various)
---
puppy of the week 🐶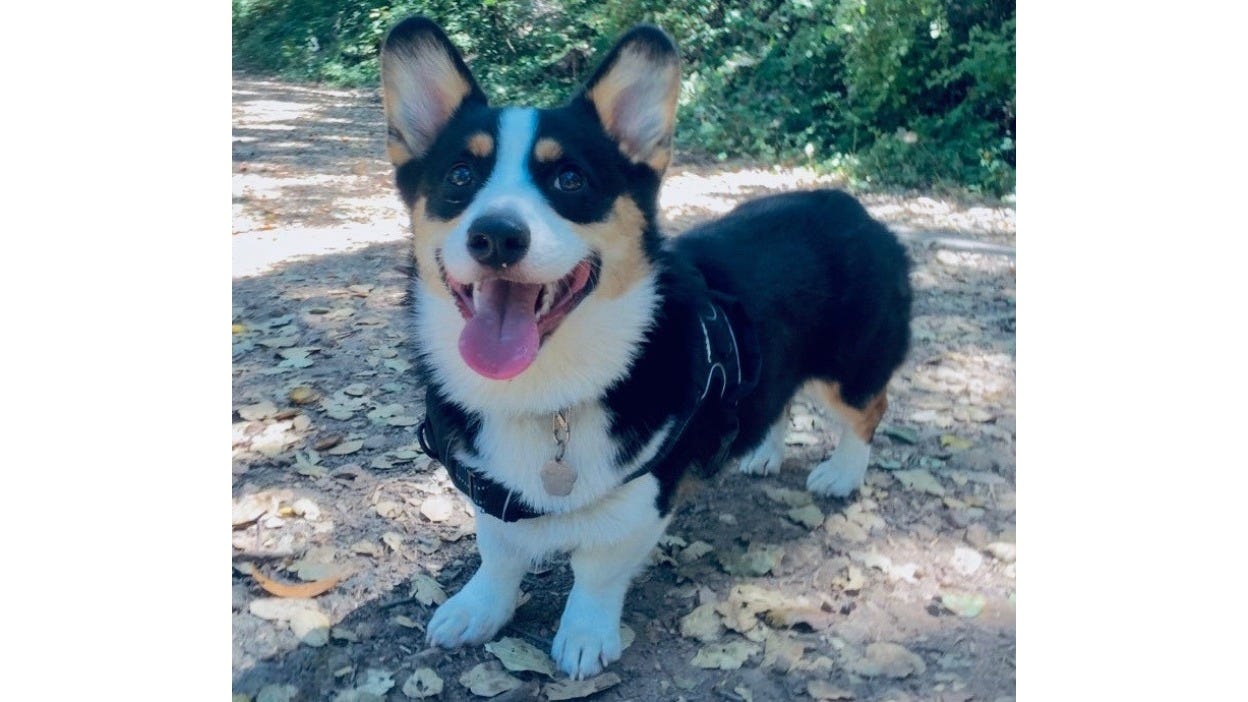 Meet Tank, a one-year-old tricolor Welsh Corgi who lives in the Bay Area. 
His hobbies include snuggling, chewing up cardboard, and digging in the backyard. He also likes to play fetch with himself - he's very talented!
---
Hi! 👋 We're Justine and Olivia Moore, identical twins and venture investors at CRV. Thanks for reading Accelerated. We'd love your feedback - feel free to tweet us @venturetwins or email us at twins@crv.com.