Discover more from Accelerated
News and jobs in tech & venture capital.
Over 34,000 subscribers
🚀 What do you need to raise a Series A?
Plus, internal drama continues to plague SoftBank.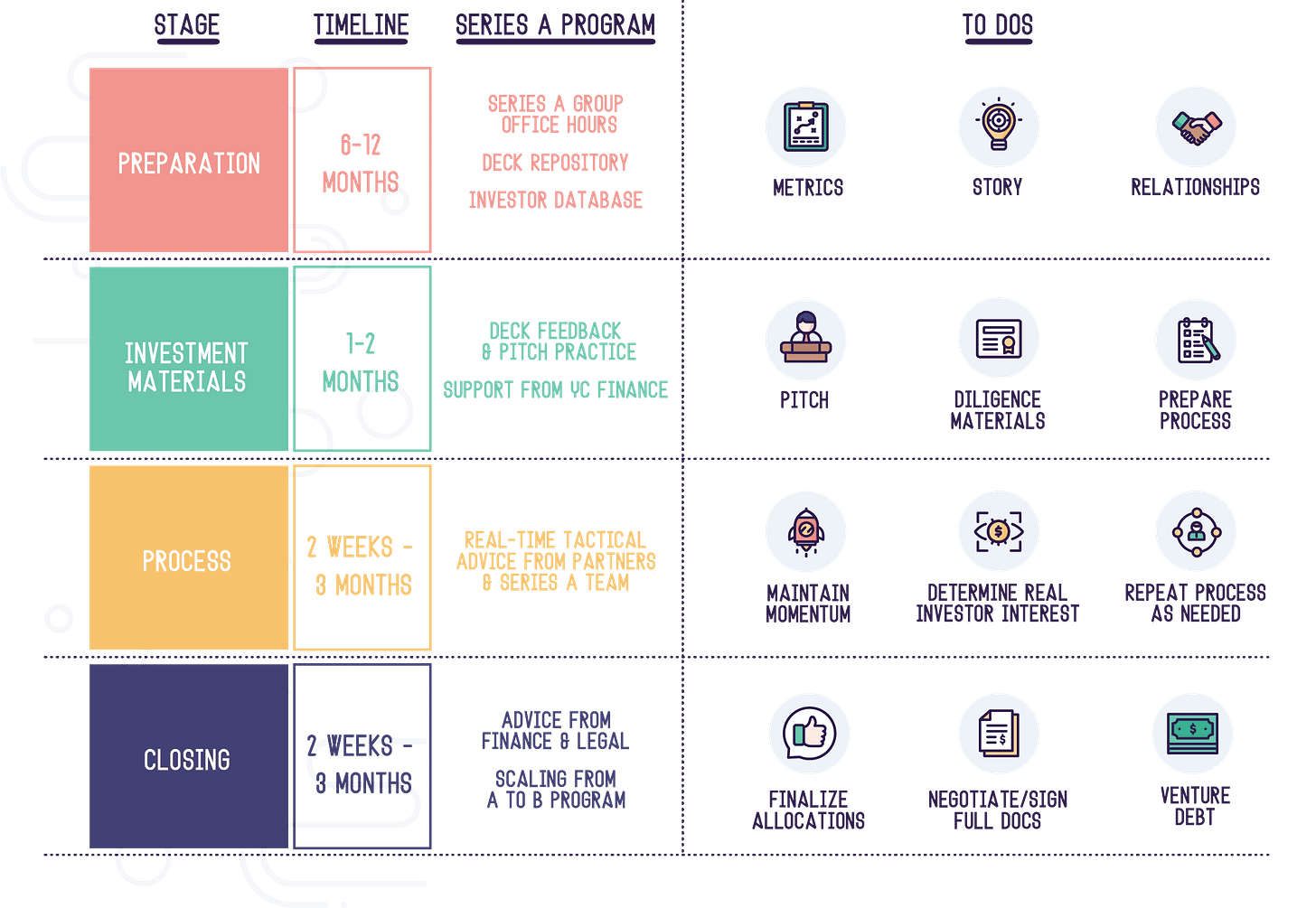 YC released a very thorough guide to raising a Series A this week, detailing everything from how to handle pre-emptive offers to the best ways to practice your pitch. If you're thinking about raising, we'd recommend a full read - the guide walks through what to do from 12 months in advance of the raise through the final close on the round. We found some of the data disclosed throughout the guide to be particularly interesting:
12% of Series As raised by YC companies in the past 2 years were pre-empted

Companies that talked to multiple investors took ~2% less dilution and raised ~$900k more than companies that only talked to one investor

The average successful YC Series A founder had coffee chats/meetings with at least 30 investors (!) when raising the round

Rough Series A benchmarks by type of company in the YC portfolio:

B2B SaaS: $0.5M - $5M run rate

B2B Usage-Based: $1.3M - $6.1M ARR

Marketplace: $4.8M - $63.2M GMV

Consumer Transactional: $3.5M - $9.6M run rate

Consumer Subscription: $1.5M - $6.8M run rate
---
news 📣
💳 Intuit snaps up Credit Karma. In another massive exit for fintech, Intuit announced its intent to buy Credit Karma for $7.1B. Credit Karma gives consumers free credit scores, and monetizes by referring them to financial products like credit cards and loans. The company also has a tax filing product that is directly competitive with Intuit's TurboTax. Credit Karma did nearly $1B in revenue last year (up from $500M in 2017), and was considered an IPO prospect for 2020. It had raised $645M in venture funding, most recently at a $4B valuation.
🥡 DoorDash files to IPO. DoorDash announced this week that it has confidentially filed its S-1 in preparation for a public listing. While the company doesn't release many metrics, Second Measure estimated that DoorDash has ~38% market share in the U.S. as of January 2020 (beating out GrubHub at 31%, Uber Eats at 20%, and Postmates at 10%). The company has raised just over $2B, most recently at a $13B valuation. DoorDash is a CRV portfolio company, but we have no private information on the filing!
👋 Disney gets a new CEO. In a surprising turn of events, longtime Disney CEO Bob Iger announced he is stepping down from the role and transitioning to executive chairman. Iger will be replaced by Bob Chapek, who was previously running Disney's theme parks, experiences, and products. Interestingly, Chapek has less experience with Disney's direct-to-consumer streaming business (Disney+, ESPN, and Hulu), which is expected to be a major growth driver for the company moving forward.
💻 Roblox raises at $4B valuation. Gaming startup Roblox announced a $150M Series G this week led by a16z, at a significant step-up to the company's last private valuation of $2.5B. Roblox reportedly has 115M monthly active users and is cashflow positive - it makes money on in-game purchases of digital items and mini games created by independent developers. In other big rounds this week, digital bank Revolut raised $500M at a $5.5B valuation and ride-hailing app Grab raised $856M.
😷 Coronavirus cancellations. As concerns about the coronavirus escalate, organizers of several significant tech events have decided to make last-minute cancellations. Facebook canceled the in-person component of F8, its annual developers conference. Mobile World Congress was also canceled, as was the Game Developers Conference. In related news, Zoom is benefitting from the increase in remote work, adding an estimated 2.2M MAUs in the first two months of 2020 (compared to 2M in all of 2019).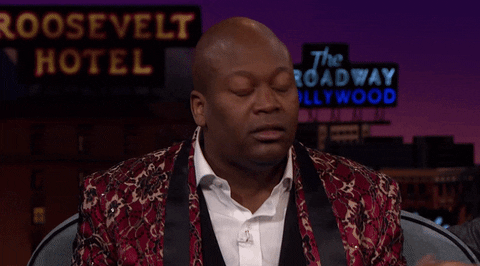 The Wall Street Journal published an article this week with some bizarre allegations against Rajeev Misra, who leads SoftBank's Vision Fund. Misra is accused of sabotaging two of his rivals within SoftBank, both of whom left the firm. He allegedly ran smear campaigns against them in the media and to SoftBank's board, and is also accused of attempting to lure one of them into a compromising position (that would be recorded and used for blackmail). SoftBank says it's investigating the allegations.
---
what we're following 
👀
Amazon is launching a shoppable fashion reality show with Heidi Klum & Tim Gunn.
Searching for the perfect job? You could get hired as a Gen Z consultant!
How influencers putting up paywalls is impacting brand deals in surprising ways.
A fascinating look at the "Transcribers of Reddit" volunteers, who make the site accessible for visually impaired users.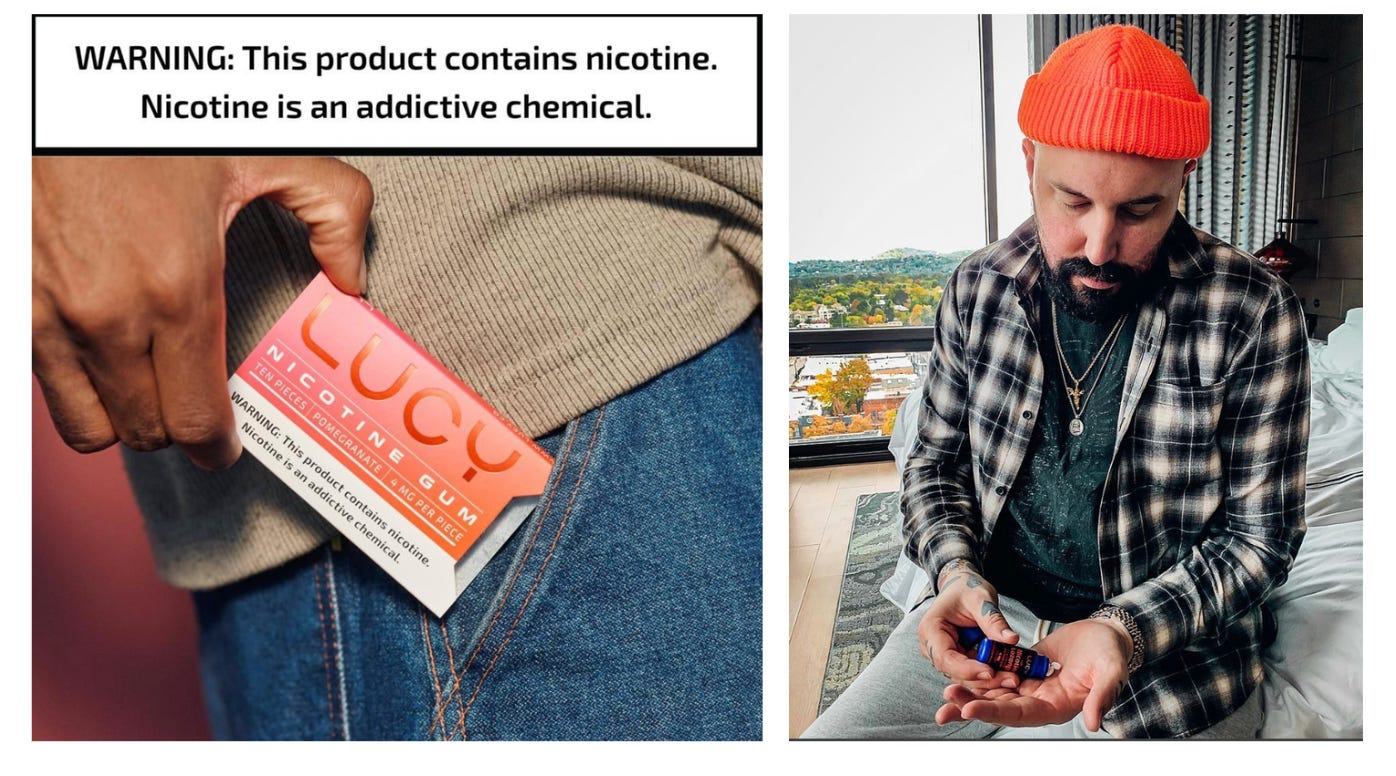 Last week, we highlighted canned water company Liquid Death's $9M Series A. This week, we're looking at another Series A from an LA-based D2C company - Lucy Goods. Lucy's first two products are nicotine gum (which comes in three flavors) and lozenges. Lucy's $10M round was led by RRE Ventures.
There's a few interesting things about this fundraise. First, we've noticed a general slowdown in early stage D2C funding in late 2019 and 2020, perhaps due to concerns about these companies struggling to IPO (e.g. Casper) or raise growth rounds (e.g. Outdoor Voices). However, there continues to be quite a bit of activity in the food and bev category - Haus, 1Balance, Nuggs, Magic Spoon, Bev, Wild Earth, and Eclipse Foods all raised seeds or Series As in the past 18 months. Many of these companies are capitalizing on wellness trends like keto, CBD, dairy-free, and low/no-alcohol drinks. 
Lucy's fundraise also comes amidst Juul's continuing struggles, with a ban on flavored vaping products that has impacted the company's valuation. Altria, which acquired 35% of Juul in 2018, has since written down the investment to 1/3 of its initial price. Unlike Juul, Lucy has not marketed to underage users. Most of the company's social posts feature older users, and contain a warning that the product contains an addictive chemical (check out two example IG posts above). It seems like this marketing approach is safer from a regulatory perspective - but time will tell!
---
jobs 🎓
Convivialité Ventures - Analyst (SF)
AngelList - Investor Relations Associate (SF)
Fuzzy - Product Manager (SF)*
Clocktower Technology Ventures - Analyst (SF), Associate (London)
Roblox - Associate Product Manager (San Mateo)
Niantic - Platform Product Manager (Sunnyvale)*
Plus Capital - Analyst (LA)
Seated - Strategic Finance Analyst (NYC)
Book of the Month - Digital Marketing Strategy Associate (NYC)
Underscore VC - Analyst (Boston)
OpenView - Growth Analyst (Boston)
Founders Intelligence - Analyst (London)
*Requires 3-5 years of experience.
internships 📝
DoNotPay - Summer Interns (SF)
Tigera - MBA Product Manager Intern (SF)
Reddit - Community Intern (SF)
Thumbtack - Consumer Communications Intern (SF)
Nova Credit - Product Design Intern (SF)
Hint - MBA Brand Management Intern (SF)
Impossible Foods - Consumer Insights Intern (Menlo Park)
a16z - Summer Intern (Menlo Park)
Indicator Ventures - Summer Intern (Boston, NYC)
Bleacher Report - Revenue Strategy Intern (NYC)
Quip - MBA Growth Intern (Brooklyn)
---
puppy of the week 🐶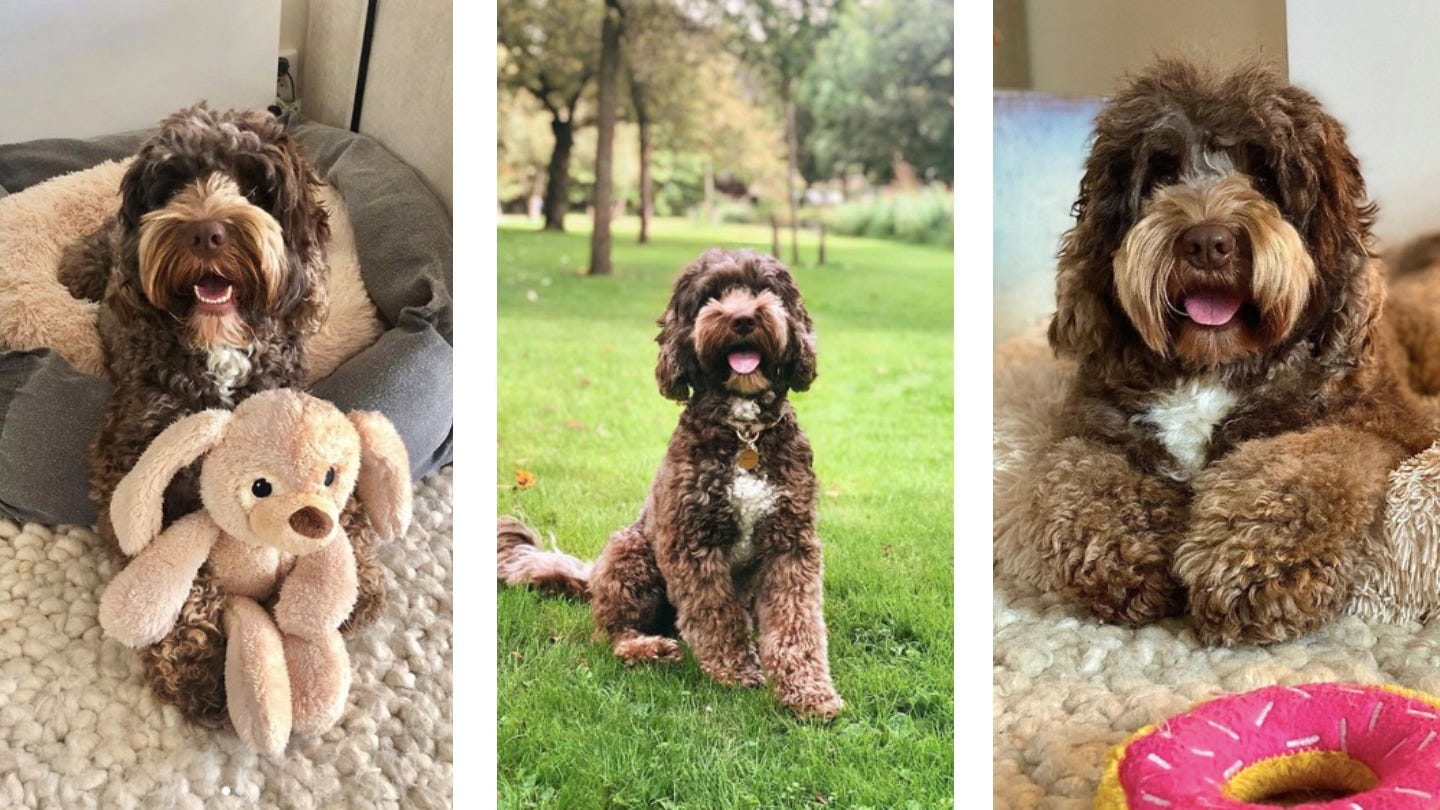 Meet Moos, a two-year-old mini Australian labradoodle who lives in Rotterdam.
His hobbies include rolling in the leaves, running around at the beach, and playing in the snow.
Check him out on Instagram @petitmoos!
---
Hi! 👋 We're Justine and Olivia Moore, identical twins and venture investors at CRV. Thanks for reading Accelerated. We'd love your feedback - feel free to tweet us @venturetwins or email us at twins@crv.com.