Discover more from Accelerated
News and jobs in tech & venture capital.
Over 34,000 subscribers
🚀 Who took down Twitter?
Plus, Contrary Capital's new $100k gap year program!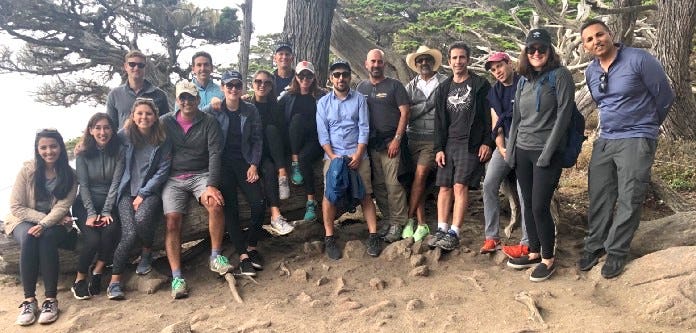 We're celebrating our 50th anniversary at CRV 🎉, and we're excited to announce our 18th fund! We'll continue investing in early stage startups from a new $600M fund, focusing on consumer, enterprise, healthcare, and bioengineering.
Fun fact - this fund was raised entirely virtually due to the pandemic! If you'd like to learn more about our strategy (or you're curious about how VCs fundraise over Zoom), check out our team's blog post - CRV: Chapter 18.
---
news 📣
💻 Netflix stock plunges. Netflix reported Q2 earnings this week, beating analysts' expectations for revenue and net new subscribers. However, the company's stock fell 10% due to lower growth projections for the second half of 2020. In other news, Netflix promoted Ted Sarandos (formerly Chief Content Officer) to co-CEO alongside Reed Hastings. Hastings said that he is "in for a decade" at Netflix, and the move just formalizes the existing leadership collaboration between the two.
🤑 Robinhood expands mega-round. Robinhood announced that it closed another $320M in its previously announced Series F, bringing the total round size to $600M. The company is now valued at nearly $9B, and continues to see explosive growth fueled by millennial investors looking to profit from market volatility. Robinhood opened 2M new user accounts in Q1 2020, with a median user age of 31.
🛑 Cloudflare outage takes down Internet. A number of major websites, including Discord, Postmates, and Shopify, were temporarily down on Friday due to issues with Cloudflare's DNS service (which connects domains to IP addresses). Cloudflare stated the outage was caused by a coding error on a router, not a breach or attack - the CEO tweeted that they would put systems in place to prevent it from happening again.
📈 nCino goes public. Another week, another controversial IPO pop! nCino, which provides cloud-based banking services to financial institutions, jumped 195% in its public debut. The company did $138M in revenue last year (50% YoY growth) but is still unprofitable. It raised $213M pre-IPO and ended the week at a $6.6B market cap.
🦚 NBC launches Peacock. NBC finally entered the streaming wars this week with the debut of Peacock, a freemium offering that combines classic shows (e.g. The Office, Law & Order SVU) with original content. The Peacock app quickly shot to the top of the App Store. According to SensorTower, it was the second most successful launch of a streaming service (behind Disney+) since 2014 - ahead of both Quibi and HBOMax.
Chaos reigned on Twitter this Wednesday after hackers used high-profile accounts (including those belonging to Barack Obama, Apple, and Elon Musk) to spread a Bitcoin scam. The company temporarily disabled tweeting from verified accounts until the situation was under control.
Twitter reports that the hackers targeted employees with a social engineering attack to gain access to internal tools, which they then used to take control of accounts. 130 accounts were compromised, and the hackers received $120k in bitcoin.
The New York Times spoke with four of the hackers, who organized via Discord. One reported that a user named "Kirk" got access to Twitter's Slack, and found credentials to log in to various tools. Kirk initially auctioned off lower-profile usernames before deciding to tweet from verified accounts. It's unclear if the hackers will take further action - Twitter said the group was able to download data from eight accounts.
---
what we're following 👀
Alison Rapaport shares how she got a job as a partner at Serena Ventures.
Interested in hearing more student founder stories? Check out the Founders Couch podcast, which features more than 25 companies (including Liftoff List honorees!)
Harry Stebbings launched his second venture fund - 20VC - to invest in U.S. startups.
Forbes profiles Madison Reed, the hair care brand that's grown 12x during quarantine.
Contrary Capital will invest $100k in five student startups via Gap Year 2020. Also -check out Contrary's new community for early-career tech talent here!
The battle to dominate mobile shopping is heating up! This week, Google launched Shoploop out of its incubation division, Area 120. Shoploop is a video-based, mobile-only platform. Creators upload short clips (max 90 seconds) on how they use a product, and users can click to buy. The content feels similar to highly condensed YouTube beauty tutorials. Users can like or share videos, but it's not a very social platform (yet!)
Google isn't the only tech giant trying to crack the mobile shopping market. Instagram launched a redesigned version of its Shop tab (which you can find on Discover) this week, making commerce a more prominent part of the app. Amazon also opened up access to its livestreaming technology, Amazon Live, to influencers. Creators will now be able to spin up Amazon-powered streams in other apps, including a "click to buy" button for viewers to purchase via Amazon.
Big tech companies like Amazon and Shopify have the advantage of scale and pre-existing relationships with customers. However, we see an opportunity for startups to build the best mobile shopping platforms targeting specific verticals, similar to vertical social networks. A few we've seen thus far are NTWRK (Gen Z streetwear), The Yes (women's fashion), and WhatNot (collectibles).
Are there any new apps you're excited about in mobile shopping? Let us know!
---
jobs 🎓
Maven Ventures - Analyst/Associate (Bay Area)
Niantic - Product Manager, Special Projects (SF)
Coinbase - Listings Analyst (SF)
Patreon - Frontend Engineer (SF)
Bond - Product Manager (SF)*
Box - Chief of Staff, Product (Redwood City)*
LG Technology Ventures - Associate (Santa Clara)
Expa - Principal (NYC)
Chainalysis - Product Marketing Manager (NYC)
CasaOne - BD Associate (NYC)
koodos - Creative Developer (Boston, NYC)
The Fund - Associate (Remote)*
*Requires 3+ years of experience.
internships 📝
Citadel - MBA Marketing Intern (Remote)
Bizly - Associate PM Intern (Remote)
Teachable - Fall Content Marketing Intern (Remote)
Lunchclub - Operations Intern (Remote, SF)
Maypole - Marketplace Kickstarter Intern (Remote, Bay Area)
Wish - Product Design Intern (SF)
Blend - Finance Intern (SF)
CustomInk - BD Intern (LA)
Pinata Farms - Frontend Engineering Intern (LA)
Boulevard - Talent Acquisition Intern (LA)
RapidSOS - BD Intern, MBA BD Intern (NYC)
Formlabs - Social Media & PR Intern (Boston)
---
puppy of the week 🐶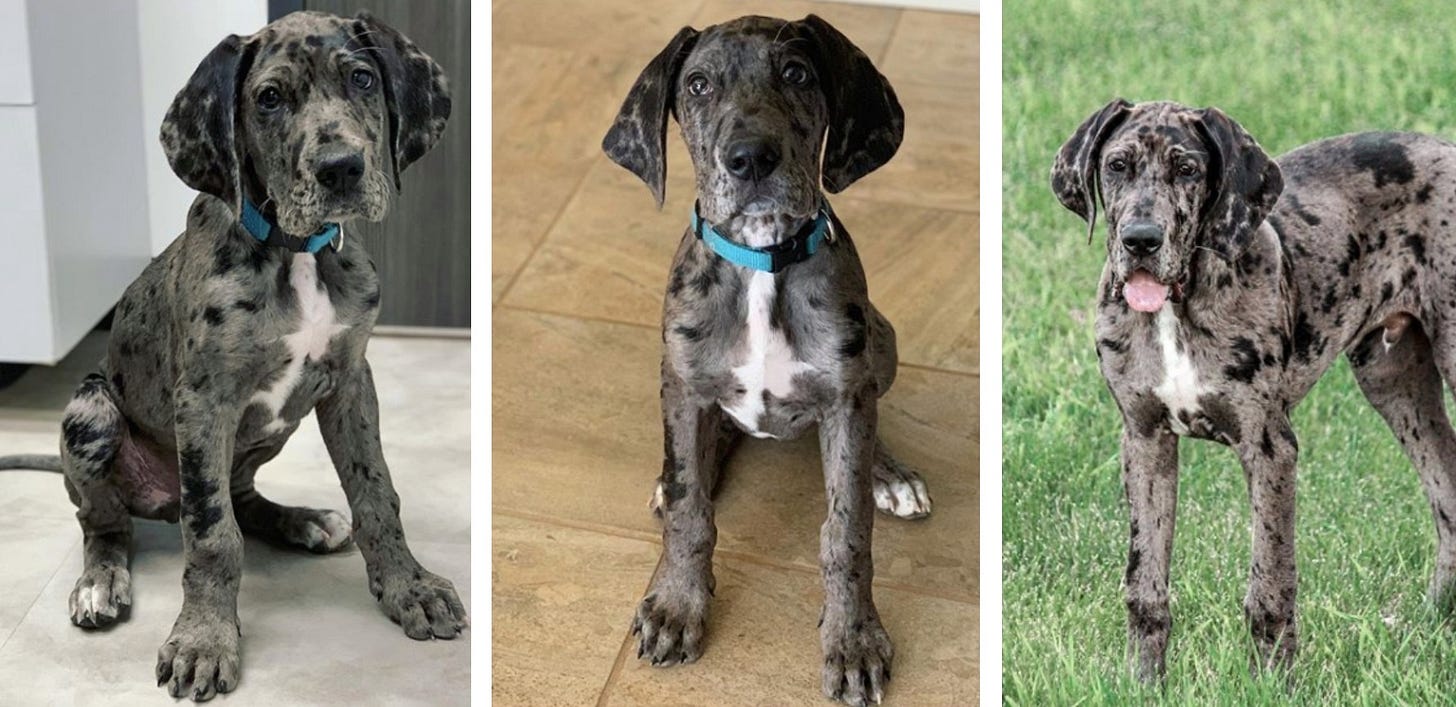 Meet Earl, a four-month-old Blue Merle Great Dane who lives in Canada.
Earl is growing quickly - these photos were all taken a few weeks apart! His other hobbies include napping in the grass and riding around in his dad's truck.
You can find him on Instagram @earl.the.merle.dane!
---
Hi! 👋 We're Justine and Olivia Moore, identical twins and venture investors at CRV. Thanks for reading Accelerated. We'd love your feedback - feel free to tweet us @venturetwins or email us at twins@crv.com.