Discover more from Accelerated
News and jobs in tech & venture capital.
Over 34,000 subscribers
🚀 Why is Instagram paying creators for content?
Plus, we're collecting data on college students taking gap years!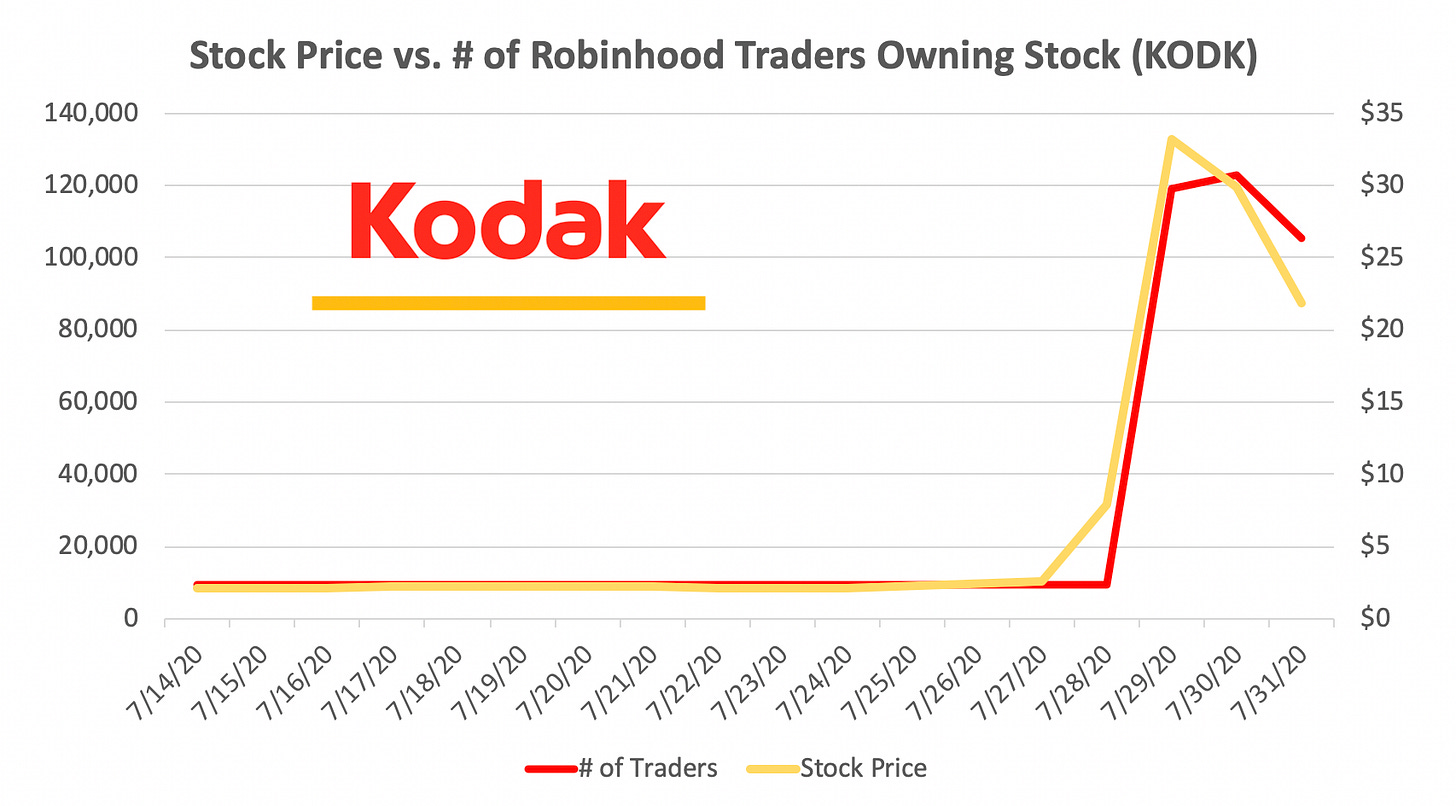 Camera company Eastman Kodak (KODK) made a sharp pivot this week, announcing that it was receiving a $765M federal loan to produce pharmaceuticals. The stock climbed 2,760% at its peak, tripping circuit breakers with its dramatic rise.
Retail investors piled in on the rally, with newly minted day traders sensing opportunity to make a quick profit. KODK was the most-purchased stock of the week on Robinhood - the number of Robinhood traders owning KODK climbed from <10,000 on Monday to 100,000 by Friday.
Check out Robintrack to see other fascinating trends in Robinhood trading behavior (Ford was the most-sold stock last week, while Apple was the second-most purchased!)
---
announcement 
🚨
Are you a college student (undergrad or grad?) We're doing a survey on how students are thinking about gap year options for 2020-2021, as well as what choices your school is giving you! We'd love your thoughts here - the survey should only take 2 minutes.
---
news 📣
🤵 Congress grills CEOs on antitrust. The CEOs of Amazon, Apple, Facebook, and Google appeared (remotely) in Congress to testify about potentially anti-competitive behavior. Amazon and Google faced allegations they used data to quash competitors, while Apple came under fire for the commission it charges app developers. Facebook was accused of copying or killing competitive apps - and an interesting text exchange between Instagram's CEO and an investor was submitted as evidence.
💸 Tech earnings bonanza. It was a busy week for tech company earnings!
💃 TikTok seeks a buyer. It's been another tumultuous week for TikTok! President Trump told reporters on Friday that he's planning to ban the app as soon as this weekend. ByteDance (TikTok's parent company) is looking to sell its U.S. operations, and was reportedly in advanced talks with Microsoft before Trump said that he wouldn't support an acquisition. As TikTok's future is uncertain, competitive apps Triller and Byte (from a co-founder of Vine) have popped to the top of the App Store - Josh Constine wrote a great post analyzing the main competitors.
🦄 Ro becomes a unicorn. Consumer healthcare startup Ro announced a $200M round led by General Catalyst at a $1.5B valuation. The company launched in 2017 to help men get hair loss and erectile dysfunction medication online, and has since expanded to women's health, supplements, smoking cessation, and more. Ro also has a mail order pharmacy that delivers 500 generic medications for $5/month. Despite not taking insurance (all customers pay out-of-pocket), Ro is generating $250M in annual revenue.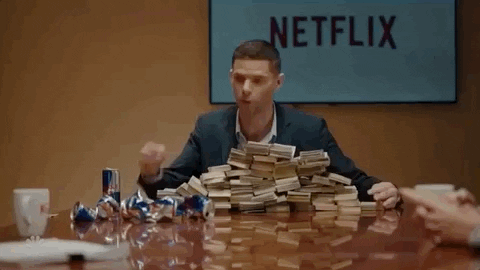 It's a good time to be a teen on the Internet! Instagram is reportedly offering hundreds of thousands of dollars to high-profile TikTok creators who start using Reels, Instagram's new short-form video feed (this started before the news of TikTok's impending ban). Creators who post exclusively on Reels will be paid the most, though others can make money by adding Reels to the portfolio of platforms they use.
Reels launched in India (where TikTok was banned) in earlier this month, and is expected to debut in the U.S. and 50+ other countries in early August. Facebook previously launched Lasso, a standalone TikTok clone, in 2018, but shut down the app in early July after it failed to get traction. Reels will be housed within the Instagram app, and should benefit from the company's 100M+ U.S. users!
---
what we're following 👀
Floodgate's Shawn Xu launched the Anchor List, featuring 24 top tech operators.
Who was behind the Twitter hack? Authorities have arrested a 17-year-old in Florida.
Why is SAP spinning out Qualtrics less than two years after its $8B acquisition?
Instacart shoppers are fighting against bots that take the platform's best orders first.

As the COVID-19 pandemic continues, data is starting to emerge about the impact it's having on mental health. Unfortunately, 30%+ of U.S. adults are now reporting symptoms of anxiety and/or depression, up from 11% in 2019. Many don't know where to go for treatment, or are unable to afford care (as it's often not covered by insurance).
We've been keeping an eye on companies that increase access to care, and wanted to highlight Frame, an LA-based startup that launched earlier this year. The Frame platform consists of two core features:
Live (and recorded) video sessions with therapists discussing common issues (e.g. managing anxiety, imposter syndrome, and coping with unemployment). Volunteer participants engage in dialogue with the therapist, while others can watch & anonymously submit questions. These free sessions help users understand the types of issues they can address in therapy and get general advice.

A matching tool for users who decide they want to see a therapist. You answer questions about your issues and preferences, and can then find a therapist and schedule sessions through Frame. This tool is currently available in California.
We're particularly intrigued by the idea of free video sessions that help users understand what therapy sessions are like and why they might be helpful. Over time, we hope this helps alleviate the fears or misconceptions some people have about therapy, and encourages more people to seek help!
A few other startups aiming to increase access to mental health treatment - Headway (helps NY residents find & book sessions with providers who take their insurance), Daybreak Health (YC company offering online counseling programs for teens), Mantra Health (partners with college health centers to help students get treatment more quickly).
Note: We're not investors in any of these companies, we're just interested in this space!
---
Susa Ventures is launching a six month, part-time fellowship for aspiring VCs! Check out more info here - applications are due on August 18. Fellows will receive carry for deals they source, as well as a monthly stipend to compensate for hours taken off work.
jobs 🎓
Truework - Chief of Staff (SF)*
Glassdoor - Product Manager, Biz Ops Associate (Remote, SF)
Mercury - Generalist Engineer, Backend Engineer (Remote, SF)
Robinhood - Data Analyst (Menlo Park)
M13 - Investment Associate, Launchpad Program Manager (LA)
GOAT - Junior Project Manager (LA)
Vista Equity Partners - BD Associate (Austin)*
Techstars - BD & Growth Associate, Marketing Associate (Indianapolis)
Crossbeam - Product Manager (Philly)
Onaroll - Senior Backed Engineer (NYC, Remote)*
Grove - Engineering Wizard (NYC)
Primetime Partners - Senior Associate / Principal (NYC)
*Requires 3+ years of experience.
internships 📝
Curology - Fall Brand Marketing Intern, MBA Marketing Intern (Remote)
Gympass - Copywriting Intern (Remote)
Remesh - Marketing Intern (Remote)
Classo - Product Management, Graphic Design, Biz Dev Interns (Remote)
FIGS - Ops Intern (Santa Monica, Remote)
Zumper - Advertising Analyst Intern (SF, Remote)
GoodWallet - Marketing Intern, Graphic Design Intern (SF, Remote)
Caraway - Fall Social & Content Marketing Intern, (NYC, Remote)
Glow - Marketing Intern (SF)
TikTok - Content Marketing Intern (LA)
RapidSOS - MBA Healthcare Strategy Intern (NYC)
Bubble - Gap Year Software Engineer Intern (NYC)
---
puppy of the week 🐶

Meet Nalla, a 10-week-old bernedoodle who lives in San Francisco!
Nalla can't wait until she is fully vaccinated and can run wild in Alamo Square Park. For now, she's working from home, where she is responsible for keeping an eye on her parents (who recently got married - see photo on right!).
---
Hi! 👋 We're Justine and Olivia Moore, identical twins and venture investors at CRV. Thanks for reading Accelerated. We'd love your feedback - feel free to tweet us @venturetwins or email us at twins@crv.com.