Discover more from Accelerated
News and jobs in tech & venture capital.
Over 35,000 subscribers
🚀 Why is Netflix giving away content?
Plus, how to find a startup internship - with tips from an expert!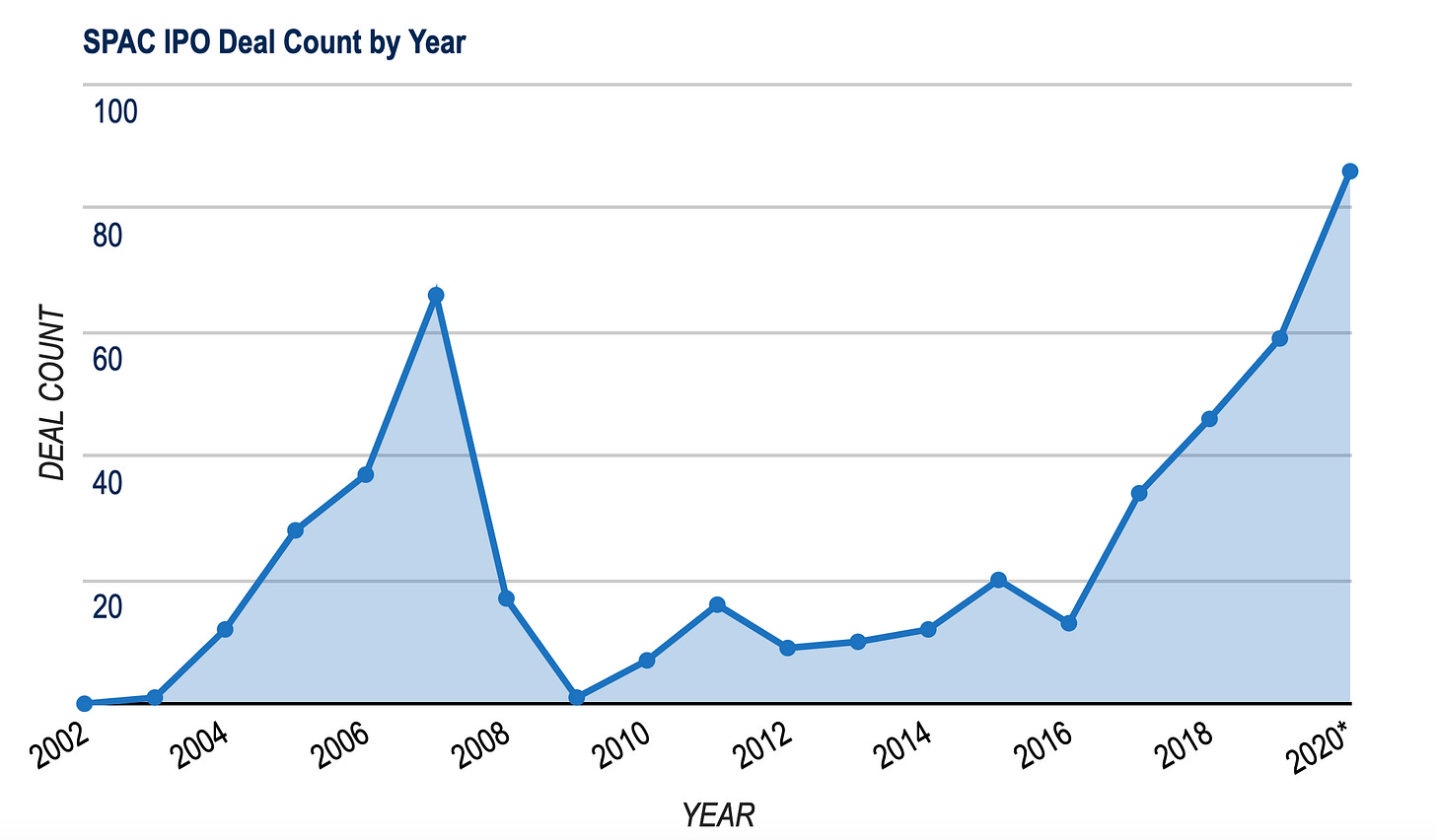 Graph above is from SPAC Insider - check out their site for more data!
This week saw some more SPAC action! Mobile gaming company Skillz announced that it plans to go public this year through a merger with Flying Eagle Acquisition Corp (a blank check company). Skillz, which makes games like Solitaire Cube and Blackout Blitz, has 40M MAUS and will host 2B tournaments by the end of the year. The deal will value the company at $3.5B.
Flying Eagle also took sports betting company DraftKings public earlier this year in a $3B deal. DraftKings's CEO told CNBC last week that he hopes the SPAC market "settles down a little bit," as the investment vehicle is "not a fit for every company."
---
news 📣
🔨 Stock splits cause market disruption. Both Apple and Tesla executed stock splits (4-for-1 and 5-for-1, respectively), prompting outages at brokerages like Robinhood and Charles Schwab as trading volume soared. A stock split theoretically shouldn't cause a price increase - while # of shares increases, price per share decreases proportionally to maintain the same market cap. However, a lower price per share can make a stock more accessible to retail investors. While Apple and Tesla stock popped following the announcement of the splits, they both ended the week down.
💻 Zoom crushes Q2 earnings. Zoom continued its incredible rally, with 3.5x YoY growth that sent the stock up another 40%. The company averaged nearly 150M monthly active users in Q2, with growth mostly driven by new customers (though existing customers are also upgrading). Zoom's market cap has grown more than 5x over the past year to $129B - making it bigger than IBM! While the company raised guidance for FY2021, some investors feel the valuation is unsustainable.
💛 IPO season continues. The heavy IPO activity isn't slowing down, with Wish confidentially filing its S-1 and Bumble planning a 2021 debut. E-commerce marketplace Wish, which has 70M MAUs, did $2B in revenue last year and was last valued at $11.2B. Meanwhile, dating app Bumble has 100M MAUs and would reportedly seek a $6-$8B valuation. Bumble turned down a $450M acquisition offer from Match Group (Tinder's parent co) in 2017.
📺 Netflix releases free content. Netflix continues to explore creative strategies for user acquisition! This week, the company lifted the paywall on several of its original shows (only the first episode 🙄) and full-length movies. The free content includes some of Netflix's biggest hits, like Bird Box, Murder Mystery, Stranger Things, and Grace and Frankie. Netflix added 10M subscribers in Q2 (up 27% YoY), but is forecasting lower Q3 growth and has cut marketing spend (down almost 30% in Q2 compared to 2019).
Big news! CRV portfolio company Patreon joined the unicorn club 🦄with a $90M round at a $1.2B valuation. Patreon allows creators to sell monthly memberships to exclusive content or communities. The company currently serves more than 200,000 creators (and 6M fans!), and has paid out more than $2B to date to creators.
CEO Jack Conte announced the fundraise in the video above, and explained the company's core priorities moving forward: (1) expanding internationally; (2) enhancing the patron experience; and (3) making creators more discoverable.
---
what we're following 👀
A thoughtful piece from Josh Constine on how content density explains why TikToks are so much more compelling than Instagram Stories.
The everyday Twitter users who are making serious money off of viral tweets.
How cell phone geofences are being used to identify people near crime scenes.
NPR investigates why Moderna execs have sold an unusually high volume of company stock while developing a COVID vaccine.
Venture firm GSV is hosting a digital summit on the future of edtech, with speakers including Malcolm Gladwell, Bill Nye, and Gloria Steinem - register here for free!

We're excited to feature an interview with UC Berkeley senior Deevy Bhimani. Deevy spent the summer as a PM intern at Roblox, and previously worked at startups like Loom. He's a director at Cal Hacks and served as an ambassador to Lightspeed.
We included an excerpt of our interview below - check out Medium for the full thing!
How did you go about exploring startups you might want to work for, doing diligence on them, and then getting in touch with the team?
Whenever I read about a company that was interesting, I would do a lot of LinkedIn stalking. I would look at the founders and early employees and see if they seemed interesting. The privilege of being an intern is that  there's an end date. As long as the company could survive the next three months, I was mostly concerned about the "people" component of my experience. Once I got an interview with a company, I would consume all the content I could find about them!
It can be tough to be successful with cold emails. Any advice for other students looking to reach companies in this way? 
I try to keep it max four sentences, with a lot of white space in between — I never send one big paragraph. Most people open emails on phones but write emails on desktop. Startups also have limited time and money, and usually need people that can hit the ground running. One way to do this is by sending that initial cold email with a product spec, mockups of a new experience, or a synthesis of user interviews.
What's your advice for underclassmen trying to figure out what they're interested in?
The value of generalists is underestimated. I'm not an amazing engineer and I'm not the best designer, but I've done a lot of random things. I've worked at a three-person startup, I've done growth, data analytics, product management, customer success, and business analysis. At the time, I just felt lost, wandering from role to role. But looking back, it's helped to have so many different experiences. If you find something that you really like and are good at, that's great, and keep doing it. But if not, that's not a bad thing. Over time, you will build skills that the right people will value. 
Curious about the resources Deevy uses to learn about startups, how he prepped for his interview at Loom, or what he does on the first day of every internship to set himself up for success? Check out the rest of the interview here!
---
Chapter One started a fully remote scout program - they're looking for candidates interested in consumer products, future of work, or open source software/dev tools.
jobs 🎓
Anyl - Product Manager (Remote, NYC)
Techstars - BD & Growth Associate (Remote)
Lyft - 2021 Associate Product Managers (SF)
Two Chairs - Growth Associate (SF)
Gorgias - Designer (SF)
Chowbus - Associate Product Manager (Chicago)
Bumble Fund - Analyst (Austin)
Zageno - Marketing Specialist (Cambridge)
Founder Collective - Principal (Boston)
Clyde - Associate Product Manager (NYC)
Petal - Associate Product Manager (NYC)
Redesign Health - Ops Associate (NYC)*
*Requires 3+ years of experience.
internships 📝
Opal - Generalist Intern (Remote)
Match Group - Product Intern (Remote)
KiwiCo - Content Intern (Remote)
Shippo - Data Intern (Remote)
Samsara - Technical PM Intern (Remote)
Splice - Artist Team Intern (Remote)
Datadog - Product Manager Intern (Remote, NYC)
Roblox - Summer 2021 PM, Data Science Interns (San Mateo)
Facebook - Data Science/Analytics Intern (Menlo Park)
Freshly - Social Media Intern (NYC)
Block Renovation - Interns (NYC)
Salsify - Spring 2021 Communications, Video Marketing Co-Ops (Boston)
---
puppy of the week 🐶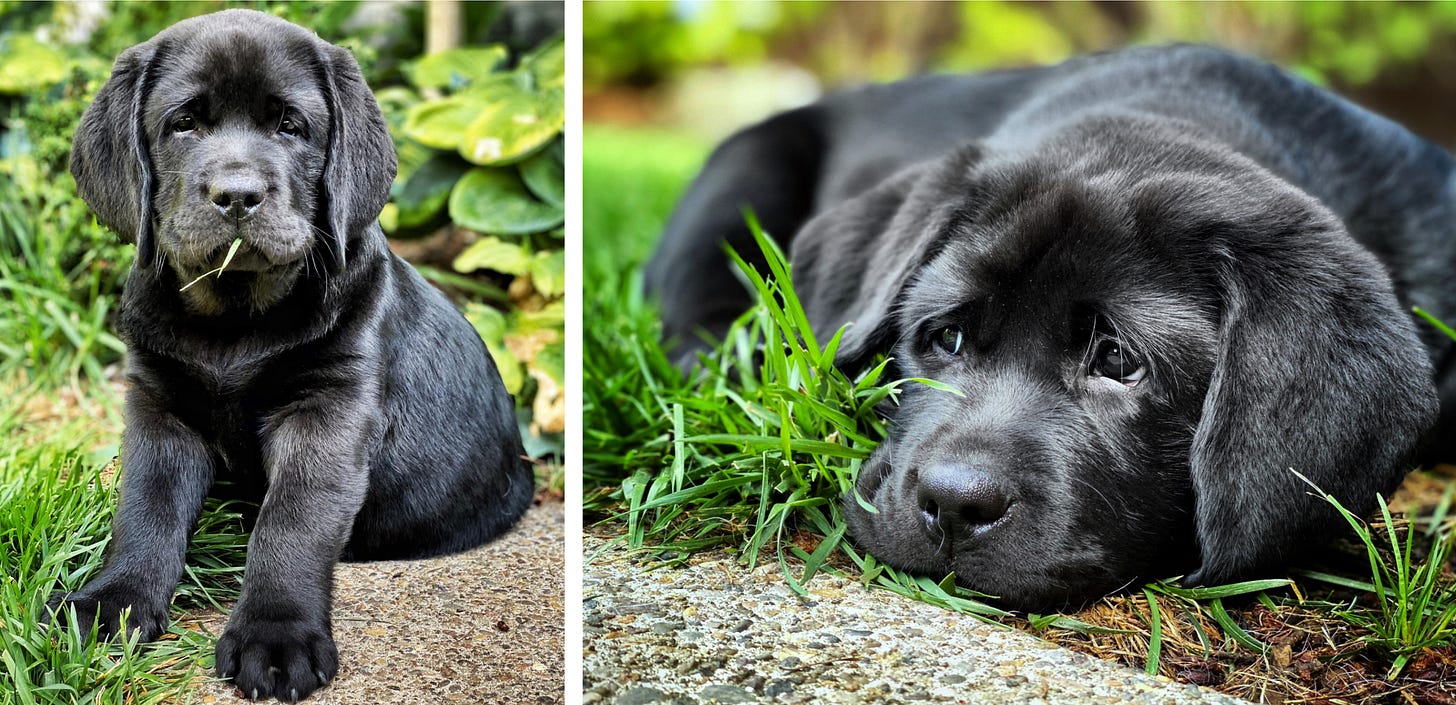 Meet Max, a three-month-old black lab who lives in Oregon.
Max enjoys playing in (and sometimes trying to eat) the grass, hanging out with his big sister Lily, and patrolling his neighborhood on walks.
He's too young for social media, but hopefully we'll see him on Instagram soon!
---
Hi! 👋 We're Justine and Olivia Moore, identical twins and venture investors at CRV. Thanks for reading Accelerated. We'd love your feedback - feel free to tweet us @venturetwins or email us at twins@crv.com.