Discover more from Accelerated
News and jobs in tech & venture capital.
Over 35,000 subscribers
🚀 Why is Twitter discouraging retweets?
Plus, David Dobrik raised a seed round!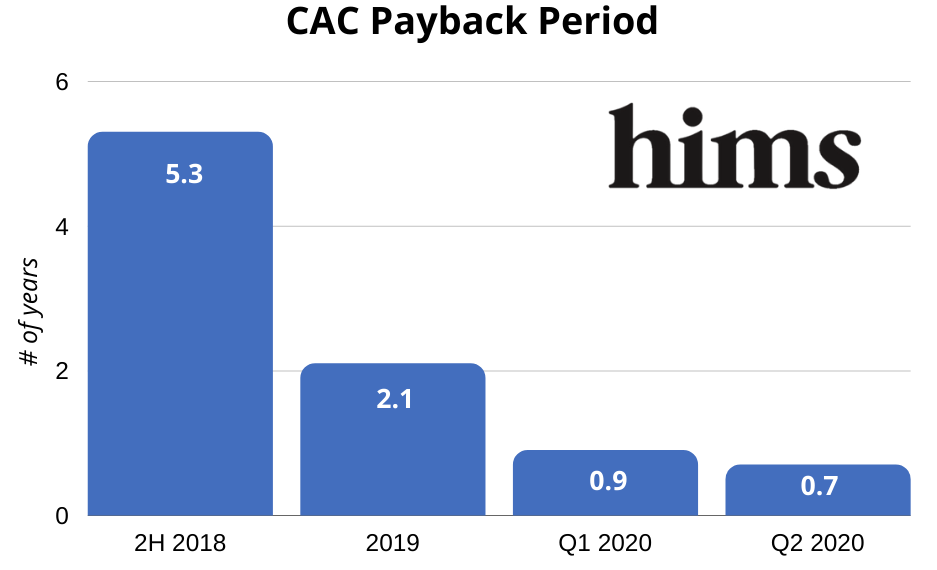 Last week, we mentioned that D2C telemedicine company Hims & Hers is set to go public via SPAC. This week, we're excited to dive into some of the data from the company's investor presentation!
The biggest surprise for us was CAC payback, which measures how quickly a company recoups the cost of acquiring a customer. In 2018, it took Hims & Hers five years to pay back CAC - now, it takes just over half a year!* What caused this drop?
The company's gross margin increased dramatically, largely due to vertical integration (including running its own pharmacy)

Average order value (AOV) grew as Hims started to serve more conditions and offer non-prescription products (e.g. vitamins)

CAC fell by 44%, which is rare for a D2C brand at scale!
What's next for Hims & Hers? Expanding to serve older consumers and adding products for more chronic conditions, including cholesterol, diabetes, and sleep issues. The company also plans to accept insurance (it's currently cash-pay only), which is likely a significant point of friction for many prospective customers today.
*CAC payback over time is our estimate from data in the investor presentation!
---
news 📣
🚘 Waymo launches driverless ride-hailing. Big news for autonomous driving fans! Waymo (Alphabet's self-driving car unit) is now offering fully autonomous rides with no backup driver. Unfortunately, the service will only be available within a sub-region of Phoenix, where the company has been testing with beta riders for the past three years. It's still TBD when Waymo will be able to expand more broadly - it takes time to construct the detailed maps of an area that are crucial to autonomous operations.
💰 Affirm files for IPO. Ever seen an option to pay in installments on an e-commerce site? It's likely powered by Affirm, which filed to go public this week. The company, led by PayPal co-founder Max Levchin, works with 6,000 merchants and is used by more 5.6M consumers. Affirm has raised more than $1B in venture funding, and is reportedly seeking a $10B valuation at IPO. Despite the pandemic, Q3 set a record for IPOs - and Affirm joins a long list of Q4 candidates to close out 2020!
🥒 Instacart and GoPuff raise mega-rounds. As millions of Americans continue to shelter-in-place, food delivery companies are flourishing. This week, Instacart announced a $200M raise at a $17.7B valuation, while GoPuff raised $380M at a $3.9B valuation. Instacart has seen explosive growth due to COVID and was actually profitable earlier in 2020. GoPuff focuses on convenience store items (largely snacks and alcohol) that it buys from manufacturers and re-sells to consumers. The company, which launched out of Drexel University, reportedly did $250M in revenue last year.
₿ Square bets on bitcoin. Square CEO Jack Dorsey has long been a proponent of Bitcoin - he believes it will ultimately be the world's "single currency," and introduced BTC to Cash App in 2017. This week, Dorsey announced that Square purchased $50M of Bitcoin (~1% of the company's assets). He was somewhat vague about exactly why they made the purchase, but the company's financial statements suggest they view it as a long-term investment. Bitcoin trading revenue on Cash App rose to $875M in Q2 2020 (up 6x YoY), and Bitcoin sales accounted for half of Square's total revenue.
As the U.S. presidential election approaches, Twitter is making moves to prevent the spread of misinformation. The company is starting with a new feature aimed at getting users to stop mindlessly retweeting content.
Starting on October 20, users who click the "retweet" button will instead be prompted to "quote tweet" and add text. The Twitter team announced via a blog post that this additional friction is intended to make users consider why they are amplifying a tweet, as well as encourage them to add their own thoughts and reactions.
Twitter will also attempt to direct users to credible information when they try to retweet "misleading" content, as determined by the company's content moderation team. Check out the full list of election season changes coming to Twitter here!
---
what we're following 👀
In peak 2020 news, Cole Haan dropped a sneaker collab with...Slack? 
A Coinbase update - 5% of employees (60 people) took the exit package. 
Why VC firm FirstMark Capital raised a $360M SPAC. 
Triller's plan to lure in TikTok's biggest creators with cars, houses, and helicopters.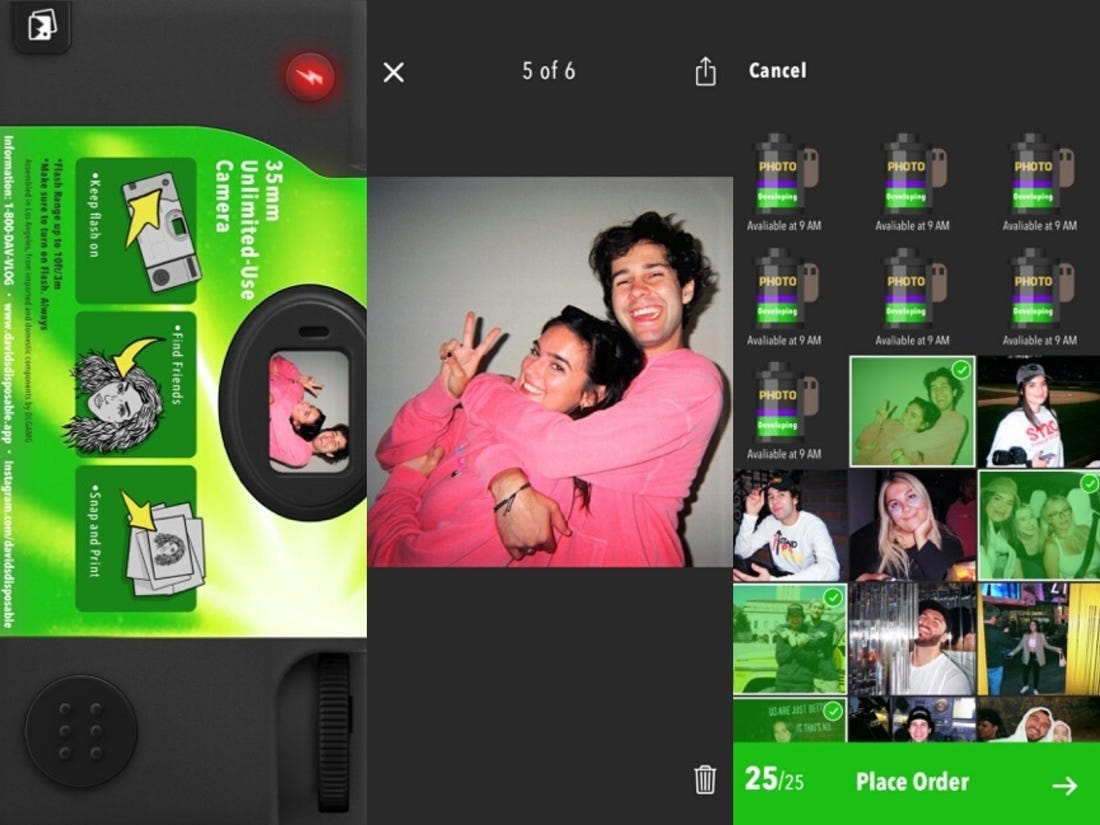 While 2020 has been dominated by huge fundraises, a unique seed round caught our eye this week! David Dobrik raised a $4M round for Dispo, his disposable camera app. The round was led by Seven Seven Six, Alexis Ohanian's new venture fund.
Dispo, originally known as David's Disposables, launched in late 2019. Users take retro-looking photos that "develop" in the app at 9am daily, and can order prints (they arrive in ~3 weeks) for $1 per photo - recreating the Polaroid experience for 2020.
The current product isn't incredibly differentiated, as there's a slew of retro camera apps like HUJI Cam and Dazz Cam. However, Dobrik's celebrity status made the app go viral. It hit #1 in the App Store and racked up 1M+ downloads in the first few weeks post-launch, though growth has since slowed (Dispo has 2.6M total downloads).
What's more interesting here is Dobrik and team's vision to build a broader social platform, starting with a way to pool friend photos into group albums. It feels like no product currently "owns" taking and sharing authentic photos with friends. Facebook albums are no longer relevant, Instagram feels like a place for over-edited "highlights," and Snap's ephemerality makes it best suited for use cases like one-on-one messaging.
It's easy to write off celebrity-founded apps, as many have failed. However, Dispo has a full-time CEO, venture funding, and a differentiated vision - most celebrity apps are just another platform to sell merch or share "behind-the-scenes" content! If the company is able to build a compelling product, Dobrik's audience could give Dispo a massive advantage in distribution.
What do you think of Dispo? Comment below to let us know!
---
jobs 🎓
Office Hours - Product Designer*, Software Engineer (SF, Remote)
Bullpen Capital - Analyst (SF)
YC Continuity - Associate (SF)
Kapwing - Chief of Staff (SF)
Primer - Senior Full Stack, iOS Engineers* (SF)
Citi Ventures - Principal (Palo Alto)
Dispo - Designer, Engineers (LA)
Atento Capital - Associate (Tulsa)
Primary Venture Partners - Associate (NYC)
Eniac Ventures - Analyst (NYC)
Dandy - Chief of Staff (NYC)
Torch Capital - Chief of Staff* (NYC)
Wren - Marketing Generalist (Remote)
*Requires 3+ years of experience.
internships 📝
Standard Cognition - Strategy & Ops Intern (Remote)
OnDeck - Education and Content Intern (Remote)
Roblox - Summer PM Intern (Remote)
Wren - Marketing Intern (Remote)
Dipsea - Winter/Spring Generalist Intern (Remote, SF)
Cruise - MBA Global Markets, Rideshare Strategy & Ops Interns (SF)
Wealthfront - Communications Intern (Palo Alto)
Samsung Catalyst Fund - MBA VC Intern (Menlo Park)
Adobe - PM Intern (Menlo Park)
Spotify - Summer Business Strategy Intern (NYC)
Flatiron Health - Summer Data Science Intern (NYC)
Datadog - Winter, Summer 2021 Product Manager Interns (NYC, Remote)
---
puppy of the week 🐶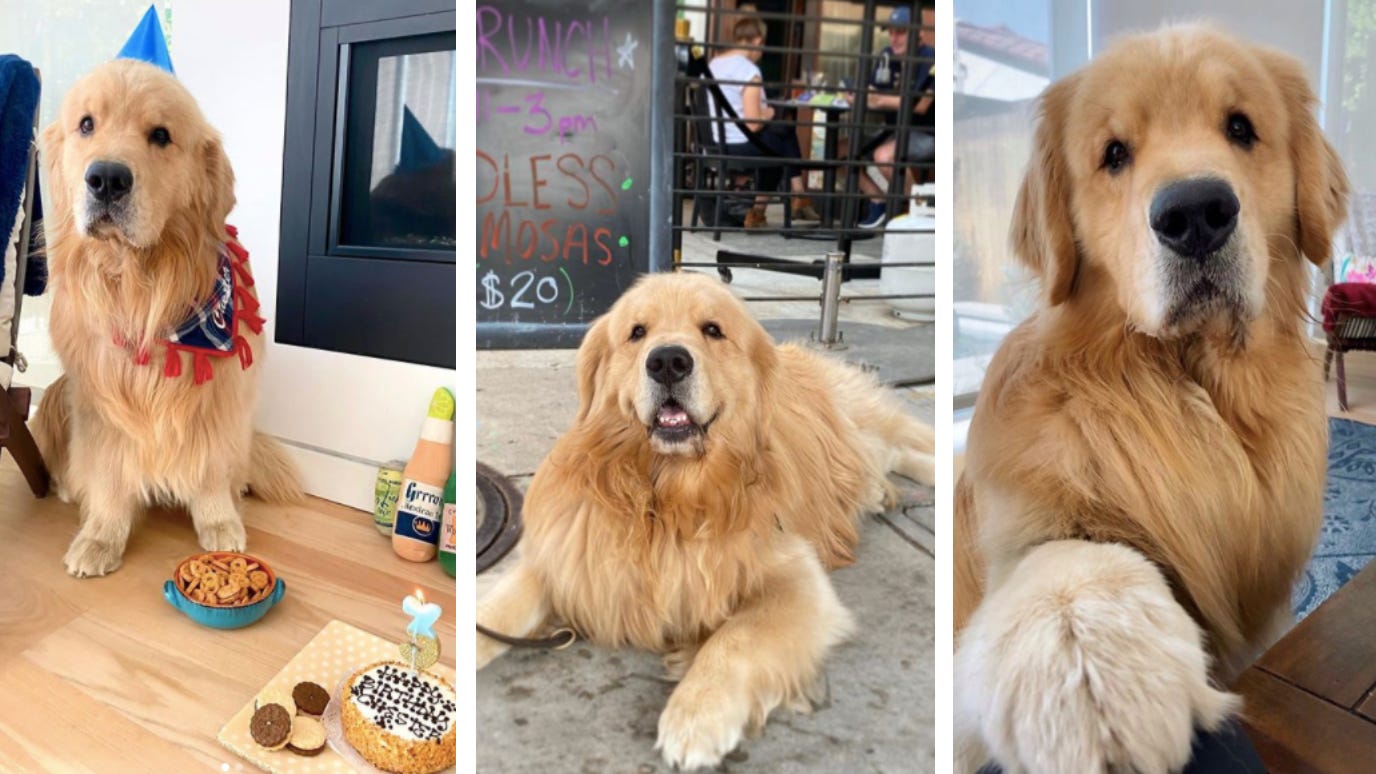 Meet Chester, a golden retriever who lives in LA and just turned three (see pic on the left from his party)! 
His hobbies include giving hugs, hanging out at the beach or pool (he's very proud of learning how to swim!), and making TikTok videos. 
Check him out on Instagram @chasin_chester!
---
Hi! 👋 We're Justine and Olivia Moore, identical twins and venture investors at CRV. Thanks for reading Accelerated. We'd love your feedback - feel free to tweet us @venturetwins or email us at twins@crv.com.