Discover more from Accelerated
News and jobs in tech & venture capital.
Over 35,000 subscribers
🚀 Would you use a Google debit card?
Plus, another new entrant to the streaming wars!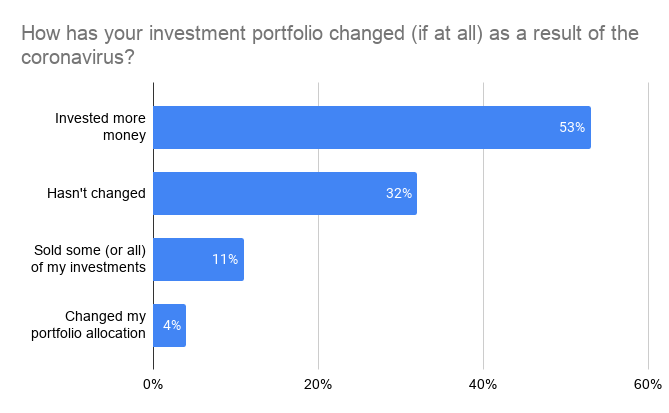 Thanks to everyone who participated in our survey a few weeks ago about investing in the age of the coronavirus! We're excited to share the results - we'll summarize some of the key takeaways below, but you can check out the full blog post for more:
75% of you had investment portfolios before the coronavirus outbreak. Robinhood was the most popular trading platform, followed by Coinbase.

53% of you are investing more as a result of the recent market turbulence, while 32% are holding steady. Many of you see opportunity to buy in at low prices, or make money with speculative bets on individual stocks.

Gen Z'ers are trading more frequently and are more bullish on alternative assets like crypto. Millennials are putting more money to work, but are largely sticking with equities and fixed income.

65% of you are checking the markets on a daily basis, and 82% believe the stock market has not yet hit the bottom.

---
news 📣
💸 Robinhood raising mega-round? It's been a tumultuous few months for Robinhood! The company suffered several platform-wide outages in March as trading volume spiked, leading to customer complaints and even lawsuits. However, Robinhood has also seen record signups and revenue growth, and is reportedly considering raising a $250M round led by Sequoia. This deal would value the company at ~$8.25B, a slight increase over its last round in July. In related news, Trade Republic (the "Robinhood of Germany") raised a $67M Series B led by Accel and Founders Fund.
💻 Verizon buys BlueJeans. Zoom has dominated the recent conversation around videoconferencing, but Verizon just announced that it's acquiring rival BlueJeans. The acquisition price wasn't publicly disclosed, but sources place it at ~$400M (Zoom is trading at a $40B+ market cap!). BlueJeans was founded in 2009, and raised $175M in funding. Unlike Zoom, it's not available to consumers for free - BlueJeans has 15,000 business customers, including large companies like Facebook and LinkedIn.
📈 Tech stocks hit record highs. It was an odd week in the stock market, with a quick rebound leaving many investors puzzled. Microsoft, Amazon, and Netflix had particularly strong weeks, with the latter two companies hitting record highs. Unsurprisingly, Netflix is thriving thanks to shelter-at-home, peaking at a market cap near $200B. Amazon (which is honestly keeping us afloat right now) is similarly seeing unprecedented demand and is hiring another 175,000 warehouse & delivery workers.
💳 Google gets into debit. TechCrunch had an interesting scoop this week on Google's continued foray into fintech, with leaked images of a debit card the company is reportedly planning to launch alongside several banks. The card will likely be connected to Google Pay, and greatly increase the app's functionality. While Google Pay currently only enables online purchases or P2P payments, the debit card can be used both online and in-stores. No word yet on when the card will launch!
💰Stripe takes on more $. Payment processing startup Stripe announced that it raised an additional $600M as an extension to its Series G (initially closed last September.) The company, which is now valued at $36B, has $2B on its balance sheet to weather an economic downturn without pressure to go public. Stripe is one of the rare businesses that may benefit from the coronavirus - it now counts Zoom as a customer, and has facilitated $1B in sales for customers added since the virus hit the U.S.
Another week, another streaming service! NBC officially launched Peacock to a subset of Comcast customers, with plans to roll it out nationwide by July. Peacock will combine NBCUniversal's existing TV shows and movies (e.g. The Office, 30 Rock, Law & Order) with original content. Unlike most streaming services, Peacock will have a free tier - however, it will only include half of the programming. Access to originals & the full library of content will cost $5/month with ads, or $10/month with no ads.
Does the world really need another streaming subscription? It was undoubtedly better for consumers from a cost perspective when network content was concentrated on a few platforms (like Netflix), though it's unsurprising that networks are now jostling for a cut of subscription revenue. We'll be interested to see if Peacock's original content is worth the price - CNET did a write-up on the planned lineup, though production is now delayed due to the coronavirus.
---
what we're following 👀
An inside look at life on a cruise ship during the coronavirus outbreak.
How cultural dissonance and internal competition fractured the relationship between Mark Zuckerberg and Instagram's founders.
Why is YC changing its policy for follow-on investments?
The New York Times made some cool data visualizations on how the coronavirus has impacted consumer spending across various categories.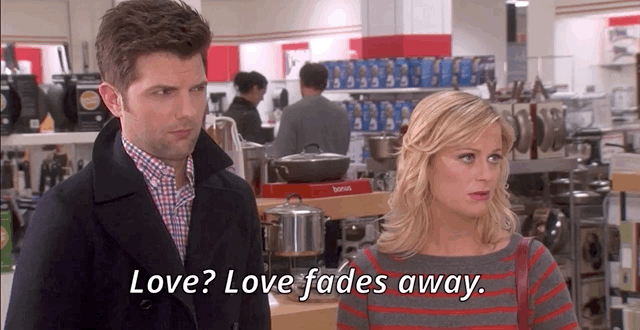 One under-the-radar fundraise caught our attention this week - Thrasio, a two-year-old company, raised a $110M round (debt & equity) at a $780M valuation. According to the founders, the company is doing $200M+ in gross revenue and is profitable!
How did it scale so fast? Thrasio identifies best-selling brands on Amazon and approaches the owners with acquisition offers (all cash, close in 45 days). It's a classic PE-style rollup strategy - Thrasio onboards brands to its operating platform and tweaks the businesses (e.g. branding, search optimization) to maximize their potential.
Thrasio has acquired 43 brand thus far, with products ranging from hiking gear to pet deodorizer. We're interested to see what happens with this company - Amazon is a huge platform to build off of, and it's a great time to be selling high-quality products there. Thrasio works with brands that leverage Amazon's fulfillment platform, so they don't have to invest in their own physical infrastructure. On the seller side, Thrasio seems like a good liquidity opportunity for operators of sub-scale brands, particularly those who aren't looking to grow their brand to a massive exit.
Have any thoughts on Thrasio or other companies building on top of Amazon? Comment below and let us know!
---
We know many companies have paused hiring - these roles were all posted or updated in the past week!
jobs 🎓
GGV - Analyst (SF)
Guild - Product Manager (SF)
Roo - Biz Analytics & Product Ops Analyst (SF)
NEXT VENTŪRES - Associate (Bay Area)
Netflix - Content Strategy & Analysis Associate (LA)
B Capital Group - Pre-MBA Associate (LA)
Navitas Capital - Associate (Chicago)
Stensul - Chief of Staff (NYC)
Choco - Global Venture Developer (NYC)
Techstars - Program Ops Associate, BD & Growth Associate (NYC)
internships 📝
Coinbase - MBA Customer Experience Data Analyst Intern (Portland, SF)
Cloudflare - Special Projects Intern, MBA Marketing Intern (Remote)
Salesforce - MBA Strategic Partnerships Intern (SF)
Instabase - Data Analyst Intern (SF)
WePay - Associate PM Intern (Redwood City)
B Capital Group - MBA Summer Associate Intern (LA)
Dataminr - Research & Ops Development Summer Intern (NYC)
Amazon - Business Developer Intern (NYC)
Two Sigma Ventures - Summer Analyst (NYC)
Algolia - Sales Data, Biz Ops and Finance Intern (NYC)
---
puppy of the week 🐶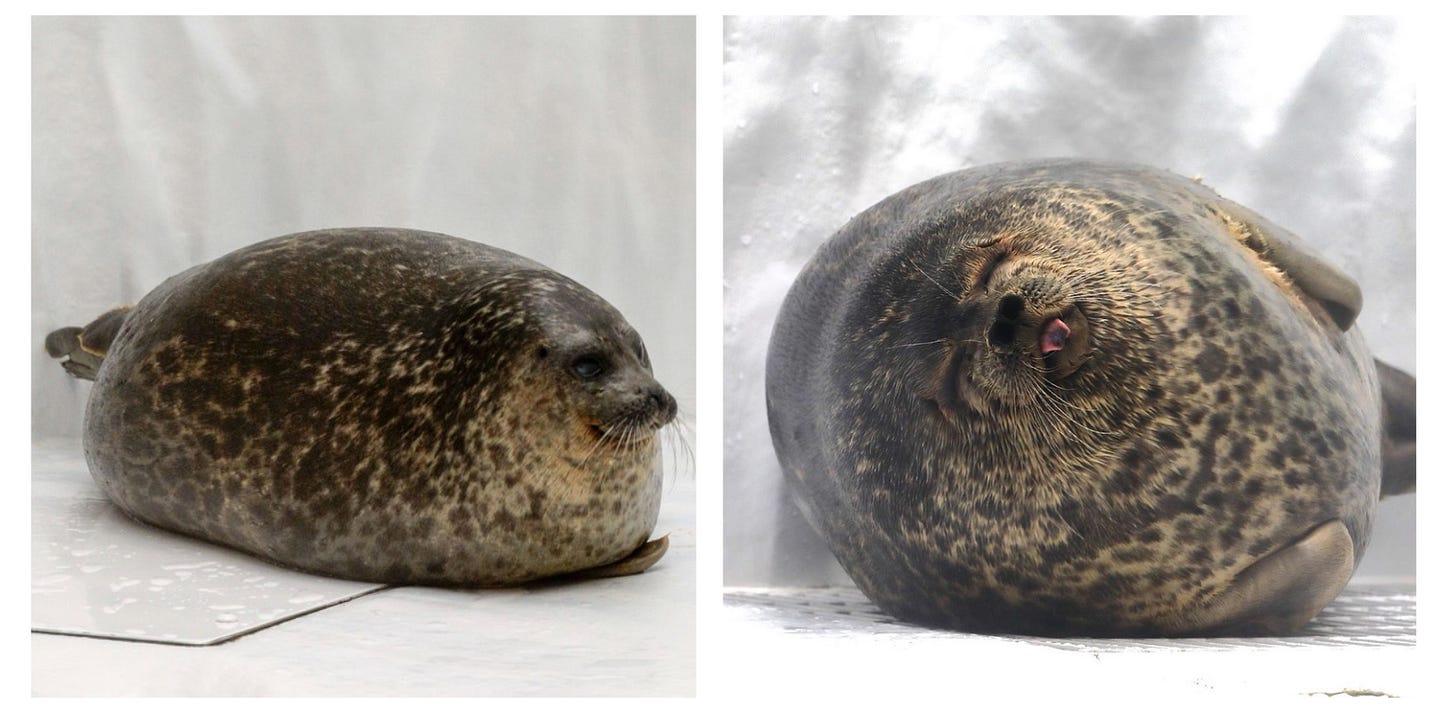 Yes, baby seals are called pups as well!
Meet Yuki, a ringed seal that lives in the Osaka Aquarium in Japan (she's a real quarantine mood, tbh). Yuki went viral in 2018 after this video of her squishing her face into her body started making the rounds on Twitter.
According to the aquarium, Yuki is actually a fairly normal size at 1 meter in length and 50 kg (110 pounds) - she just has a bit of a rounder look when she pulls her head in to shield her neck from the cold. Yuki has become so famous in Japan that one Tumblr user created a page to help fans avoid buying a bootleg Yuki stuffed animal.
Thanks to our Accelerated reader Jenna for alerting us to Yuki's greatness!
---
Hi! 👋 We're Justine and Olivia Moore, identical twins and venture investors at CRV. Thanks for reading Accelerated. We'd love your feedback - feel free to tweet us @venturetwins or email us at twins@crv.com.