Discover more from Accelerated
News and jobs in tech & venture capital.
Over 34,000 subscribers
College food app Snackpass raises $21M
Plus, First Round's annual State of Startups report!

First Round published its annual "State of Startups" report, with survey data from 950 founders & employees. A few things that are top-of-mind for entrepreneurs this year:
Profitability. Founders aren't expecting their companies to be unprofitable for long—63% expect to reach profitability in less than three years. However, 67% say they are currently optimizing for growth over profitability.

Community. When asked if building a community of users was important, 28% of founders said "it's our moat/critical to the success of our business." Another 51% said that community was important for another reason (building brand awareness or customer success).

Fundraising. 65% of founders believe that raising capital will get harder in the next 12 months, while only 5% believe it will get easier. 81% of founders expect that raising their next round of capital will be challenging.

Sales. When asked what priority they would focus on if they could clear their schedule for the day, the plurality of founders (20%) said sales. 29% of founders said that a sales leader was the hardest hire to make, significantly higher than the next highest (engineering leader at 22%).

---
news 📣
🚘 Uber struggles in Germany. Uber was banned from Germany this week after a Frankfurt court ruled the company has been violating multiple laws. In Germany, Uber dispatches drivers from private-hire vehicle companies—you can't just sign up to be a driver! Uber was sued by Taxi Deutschland, which claimed that Uber drivers were not abiding by regulations around the process for accepting jobs. The company has responded that it will continue operating in the country, and may file an appeal.
💰 Ripple raises $200M. Blockchain payments company Ripple announced a $200M Series C at a $10B valuation led by Tetragon. Ripple's digital currency, XRP, is currently the third largest cryptocoin by market cap at $8.3B (though it's down 45% this year). The company's enterprise product, RippleNet, is used by 300 financial institutions around the world for cross-border transactions.
💻 LogMeIn acquired for $4.3B. Remote access/support company LogMeIn agreed to be acquired by Francisco Partners and Evergreen for $4.3B. The deal will likely close in mid-2020 after regulatory review. The company went public more than ten years ago, and expects to do $1.25B in revenue this year (which would be ~5% YoY growth). LogMeIn has a portfolio of almost 20 products, but you're probably most familiar with video platform GoToMeeting and password vault LastPass.
🥡 Snackpass raises Series A. This week in startups you may recognize, order ahead app Snackpass raised a $21M Series A led by Andreessen Horowitz. Snackpass lets you order in advance at local restaurants, so you can skip the line and just pick up your food when you arrive. You also earn loyalty points to redeem for rewards, and can send credits to friends through a social payments feed that's similar to Venmo. The company was founded at Yale in 2017 and is now live on 11 campuses.
🤑 Travis cashes out. New public filings reveal that former Uber CEO Travis Kalanick has sold $2.5B in Uber stock in the past seven weeks. He's now divested himself of more than 90% of his stake in the company. Kalanick was prohibited from selling his shares until November 6, when the IPO lock-up expired. He's sold stock every day since, despite the fact that it's down more than 30% from the IPO price.
2019 was a rough year for SoftBank, with companies like Uber, WeWork, and Wag seeing significant drops in value that have impacted the Vision Fund's returns (including a $5B writedown in October). Bloomberg published another story this week on a culture of "recklenessness" at the firm, which details odd behavior by founder Masayoshi Son and his partners - including (allegedly) screaming at employees and making sexist comments. Here's to hoping for a better 2020!
---
what we're following 👀
CRV partner Anna Khan shares five tips for pitching to investors.
Buzzfeed recaps the songs that went viral on TikTok in 2019.
Crypto investors are asking for an exec's body to be exhumed to prove he's really dead.
How Amazon leverages its scale to squeeze small businesses on the platform.
Consider yourself an amateur detective? Check out Solve, an interactive media startup that just announced $20M in funding. You may recognize Solve from Snapchat or Instagram—they create short-form video mysteries inspired by real events. Each mystery has four suspects, and you have to guess who committed the crime. With this round, the company is expanding into other types of media (its podcast just launched!).
True crime is definitely "trending," with a surprisingly large and highly engaged audience. We're interested to see how Solve adds interactive elements to forms of content (like podcasts) that have traditionally been fairly static. And we're also curious to see if they can eventually convert the passionate true crime audience to paying subscribers for their content (which is free today and monetized via ads).
---
jobs 🎓
DoorDash - Strategy & Ops Associate (SF)
Faire - Business Operations (SF)
NFX - Product Designer (SF)
SVB Capital - Data Engineer (Menlo Park)
Cameo - Strategy Analyst (Chicago)
Female Founders Fund - Analyst, Senior Associate (NYC)
Brigit - Business Intelligence Analyst (NYC)
Garner Health - Chief of Staff (NYC)
Headway - Client Ops (NYC)
Depop - Product Manager (London)
internships 📝
Facebook - Launches Ops PM Intern, Products and Service Ops Intern (SF, Sunnyvale)
Ubiquity6 - Game Engineer Intern (SF, Redwood City)
thredUP - UX Research Intern (Oakland)
ThoughtSpot - PM Intern (Sunnyvale)
Lime - Research Intern (SF)
Goop - Fashion Intern (Santa Monica)
Rhapsody Venture Partners - Spring Intern (Boston)
Rent the Runway - Marketing Intern (NYC)
CB Insights - Finance Intern (NYC)
Global Founders Capital - Intern (Berlin)
---
puppy of the week 🐶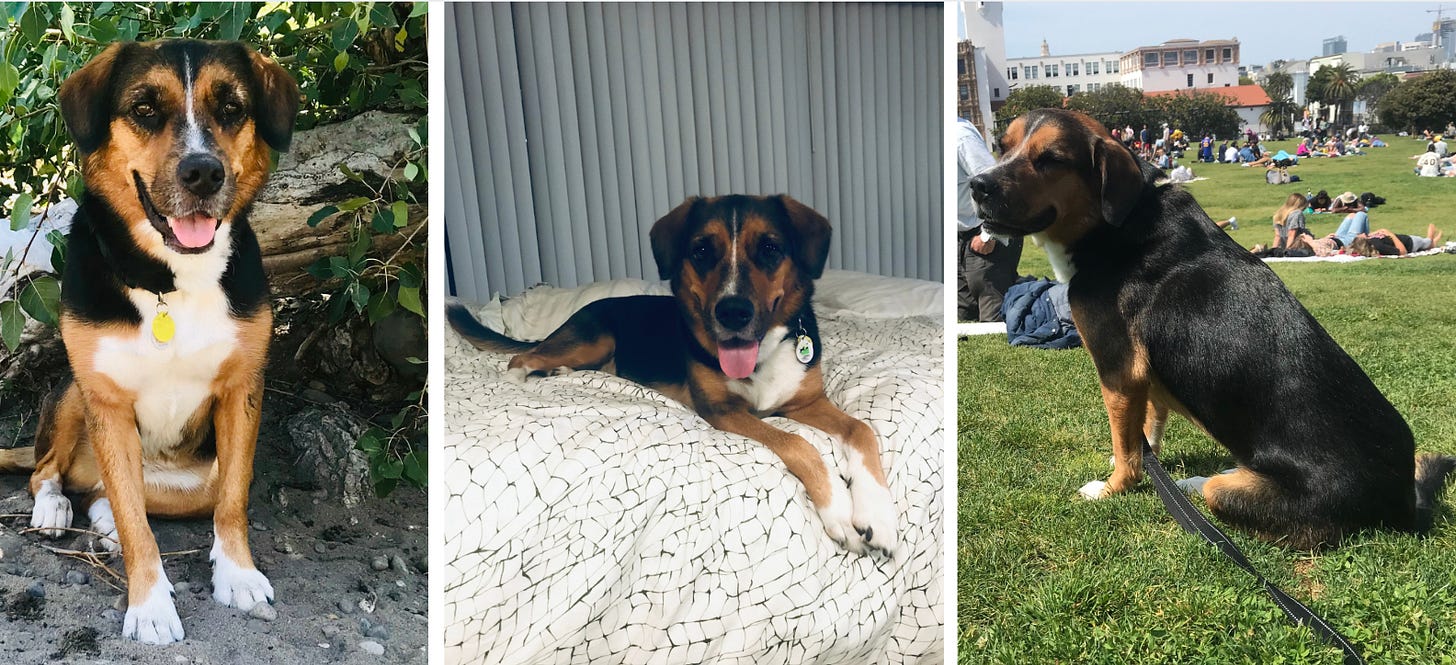 Meet Molly—she's 2.5 years old and lives in SF. Molly loves hanging out with her friends and going on urban hikes around the city to explore all the smells.
If you ask her mom, Molly's favorite thing is to get pets from everyone she meets. She has a signature move, "threading the needle" - if you are squatting on the ground, she will push her head between your side and arm and give you a big smile.
---
Hi! 👋 We're Justine and Olivia Moore, identical twins and venture investors at CRV. Thanks for reading Accelerated. We'd love your feedback - feel free to tweet us @venturetwins or email us at twins@crv.com.