Discover more from Accelerated
News and jobs in tech & venture capital.
Over 34,000 subscribers
Will the U.S. government ban TikTok?
Plus, the curtain is finally lifted on Quibi's retention numbers!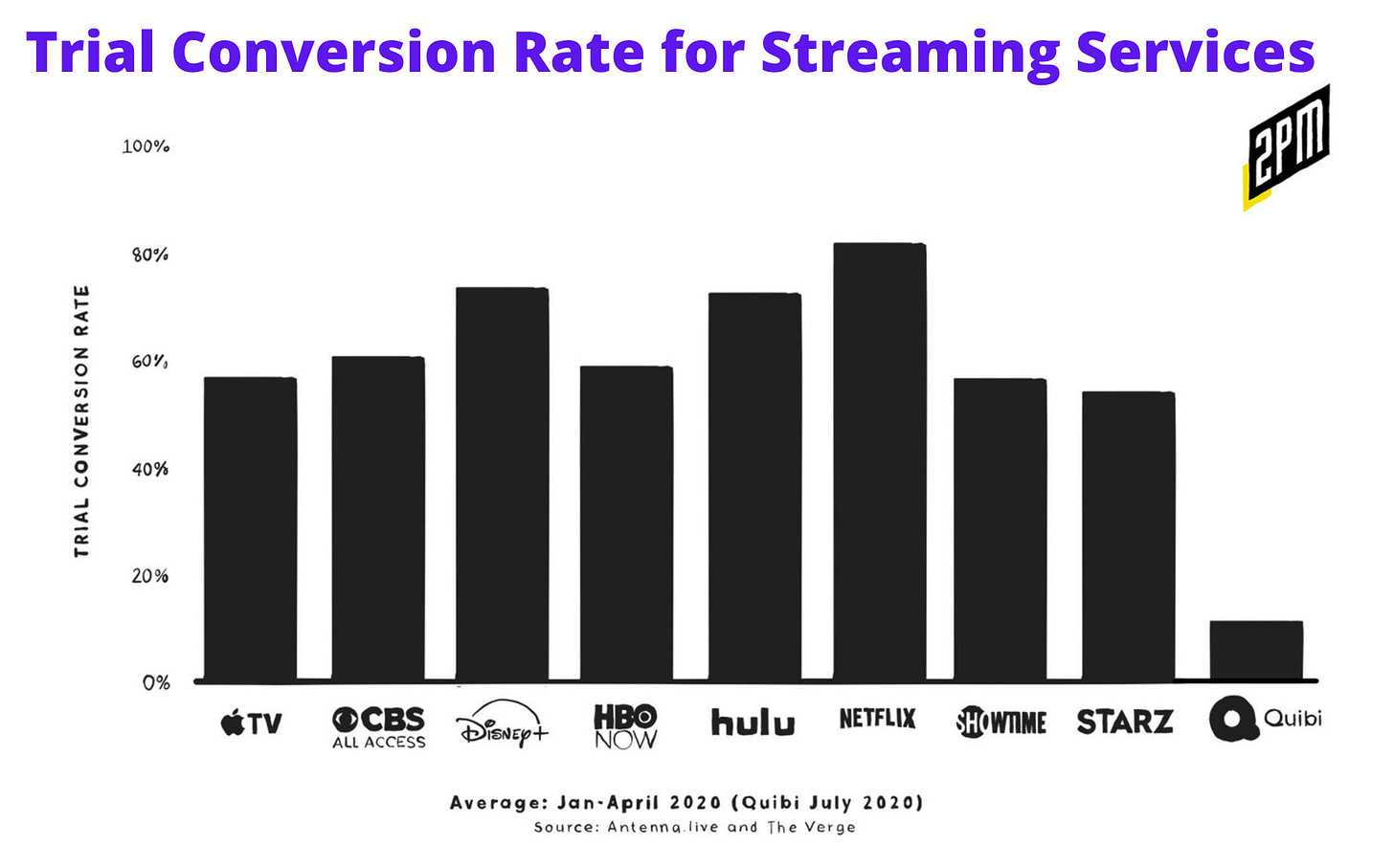 Graphic above from the amazing Web Smith at 2PM!
The numbers are finally out on Quibi's retention - and they aren't looking good. Of the company's first cohort of 910,000 users (who signed up for a three-month free trial in April), only 8% converted to a paid account. These numbers are much lower than trial conversion rates for services like Apple TV, Netflix, and Disney+, all upwards of 50%.
Quibi has had 5.6M downloads so far. If the 8% conversion holds, this represents 448k paying users. This means the company will likely fall far short of its 7.4M subscriber target for 2020. Quibi has since revised the length of its free trial down from 90 days to 14 days, which could lower retention further if users don't get "hooked" in two weeks.
Quibi has always been a "big swing" on the future of entertainment, and the company isn't finished yet! Of the $1.75B of investor capital raised pre-launch, Quibi will have burned $1B by October. Co-founder Jeffrey Katzenberg said in June that the platform was being "retooled." The company has slowed their rate of new releases, allowed streaming on smart TVs, and is making changes to the content slate. But whether it's too little, too late - especially with key team departures and internal discord - is TBD.
Are you a current or churned Quibi user? Share your thoughts in the comments!
---
news 📣
📈Palantir to go public. Data analytics company Palantir confidentially filed with the SEC, the first step towards an IPO. Palantir was founded 17 years ago, and will reportedly make $1B in revenue in 2020. However, little is known about the business beyond the company's history of helping governments with controversial projects. Palantir has raised $2.6B, most recently at a $20B valuation. The IPO valuation is expected to top $25B, which would make Palantir one of the largest-ever tech IPOs.
This week brought a surprising amount of IPO news - Coinbase may be going public in late 2020, Quicken Loans may start trading as soon as this month, and Rackspace is returning to the public markets after a $4.3B acquisition by private equity fund Apollo in 2016.
🚫Will the U.S. ban TikTok? It was a crazy week in TikTok land, and we're not just talking about the Charli/Lil Huddy drama! The U.S. government is considering a ban on Chinese social apps, including TikTok - Secretary of State Mike Pompeo said users should expect to "have [their] private information in the hands of the Chinese Communist Party." Some companies acted pre-emptively and banned the app from work phones, including Wells Fargo and Amazon (which later reversed the policy).
👩Magic Leap gets a new CEO. We updated you earlier this year on beleaguered AR startup Magic Leap, which pivoted to enterprise after failing to find consumer traction with $2B in funding. The company pulled off a $350M fundraise in May, which came with a promise that CEO Rony Abovitz would resign. Magic Leap announced a new leader this week - Microsoft exec Peggy Johnson, who approached the company about the role due to her excitement about the promise of "spatial technology."
🎈Google launches fleet of Internet balloons. Google's "Loon" had an exciting commercial debut this week, as the company's high-altitude balloons started delivering Internet to tens of thousands of people in Kenya. Loon was founded in 2011, but the launch represents the first use of the tech for non-emergency purposes. Google is working with African Internet carrier Telkom Kenya, a test that may determine the fate of other planned partnerships to provide low-cost Internet in remote areas.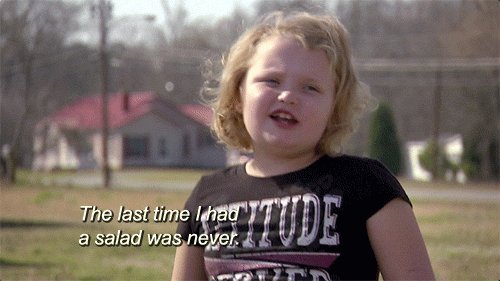 The rumored Uber-Postmates acquisition, which we discussed last week, was confirmed on Monday! The price came in at $2.65B, in line with industry estimates. Uber announced that Postmates will continue to run as a stand-alone consumer app, but will integrate with Uber Eats's merchant and delivery network. Uber's shares were up 8% on the news, as investors anticipate higher food delivery profits with less competition - which some have flagged as a bad sign for restaurants and consumers.
---
what we're following 👀
Lenny Rachitsky explores how now-giant B2B companies found their first customers.
Twitter is once again exploring a paid subscription for power users.
The WSJ investigates how Hollywood is turning to tech to make content decisions.
Apple released the iOS 14 public beta - check out TC's roundup of the key features.
One app's loss is another app's gain? Short form video app Byte, created by former Vine co-founder Dom Hofmann, surged in the charts this week. The app had seen fairly soft traffic since its launch in January, with some speculating that the company debuted too late and would never catch up to TikTok.
However, this week Byte hit #1 in the U.S., and reached the top 10 in five other countries! TikTok users, particularly on "alt TikTok" (more here), see Byte as the most promising alternative in the event of a TikTok shutdown. Byte's downloads rose more than 14,000% between Tuesday and Wednesday as rumors of a ban began to swirl.
Byte and TikTok are similar products in concept. But for an app where users spend more than an hour a day on average, the details matter - especially for content creators! Users who migrated from TikTok have complained about glitchy audio, shorter video lengths, and a less customized algorithm on Byte. The Byte team tweeted that they plan to address these concerns (and introduce other new features) soon.
Will Byte's traction last if TikTok isn't banned? We'd typically be skeptical - TikTok's network effects are hard to overcome, and the algorithm is so good (with years of a head start on Byte). However, the ongoing conflict between "straight" and "alt" TikTok means we could see two separate apps serving these audiences, who seem to have drastically different preferences that might manifest in different features. This is especially likely if Byte acts fast to please new users, which they seem to be doing! Have you downloaded Byte recently, or are you a long-time user? Let us know below!
---
jobs 🎓
Quora - Product Designer (Remote)
Flowspace - Product Manager (Remote)
Kapwing - Backend Software Engineer (SF)
Snapdocs - Product Designer (SF)
Zetta Venture Partners - Associate (SF)
Airtable - Product Designer (SF)
Chan Zuckerberg Initiative - Senior Associate, Ventures (Redwood City)*
Mulberry - Business Ops Manager (NYC)
Mobilize - Biz Dev Representative (NYC)
Noom - Growth PM (NYC)
Techstars - BD & Growth Associate, Engineering Associate, Marketing Associate (DC)
*Requires 3+ years of job experience.
internships 📝
Aura Frames - Marketing & Comms Intern (Remote)
Kyte - Product Management Intern (Remote)
ByteDance - Gaming Researcher Intern (Remote)
Electronic Arts - Fall 2020 Corporate Strategy Intern (Remote)
Microsoft - MBA Marketing Intern (Redmond, WA)
Miro Health - Animation Intern (SF)
Hippo Insurance - Rotational Intern, Diversity Program (Austin)
Pieces - Data Analyst Intern (Dallas)
Masterworks - Data Collection Intern (NYC)
Maev - Email Marketing, Growth Hacker Interns (NYC)
Chainalysis - Information Security Intern (Remote, NYC)
---
puppy of the week 🐶

Meet Haley, an eight-month-old lilac tricolor English Bulldog who lives in Germany.
All of Haley's posts are in German, so we can't report this with 100% accuracy, but she appears to enjoy going on boating expeditions, swimming in her mini-pool, and making very serious faces for the camera.
You can follow Haley on Instagram @haley_tricolor!
---
Hi! 👋 We're Justine and Olivia Moore, identical twins and venture investors at CRV. Thanks for reading Accelerated. We'd love your feedback - feel free to tweet us @venturetwins or email us at twins@crv.com.