Discover more from Accelerated
News and jobs in tech & venture capital.
Over 34,000 subscribers
trending 📈
💰 FTX update. This week in FTX-related news:
Former CEO Sam Bankman-Fried agreed to testify to Congress, after initially claiming that he didn't have enough of an understanding of what happened.

News broke that Taylor Swift's team held talks about a sponsorship deal with FTX months before the collapse (thankfully, it didn't happen).

And in perhaps the most shocking development, it was revealed that the CEO of crypto publication The Block had secretly taken a series of loans from Alameda Research, FTX's hedge fund - he subsequently stepped down.
🖼️ Lensa dominates App Store. Hear that? It's the sound of millions of people posting their AI avatars on IG, TikTok, and Twitter (guilty, but at least we were early to the trend?). Lensa, the app that makes it easy to generate "Magic Avatars" of your face, maintained the #1 spot in the App Store rankings as of Saturday. The results are sometimes great, and often funny. As we mentioned last week, Lensa wasn't the first product in this space - here's a good breakdown on how it managed to pull ahead.
PSA: if you're looking for a free option, Justine found one! Drip.art generates a model and allows you to run custom prompts - but the results are lower res / less detailed.
💻 New Twitter Files drop. Journalist Bari Weiss dropped the second installment of Elon Musk's "Twitter Files" (here's a recap of last week's drop). The release showed that Twitter limited the reach of accounts spreading "harmful" content, with employees tagging specific accounts as being "blacklisted" from distribution. This policy seemed to primarily target conservative views (as Musk has publicly stated), though Twitter has not released a full list of which accounts were impacted.
Unsurprisingly, the drop has sparked intense debate! Some argue that Twitter has always been transparent about the fact that it restricts the reach of certain content, while others feel that Weiss's examples are evidence of overreach - and point to the fact that Twitter execs previously claimed that "shadowbanning" wasn't happening.
⚖️ FTC sues to block Activision acquisition. Microsoft's $69B deal to buy video game company Activision Blizzard has come under fire from regulators. The FTC filed a lawsuit to block the deal for antitrust reasons, claiming that it would give Microsoft an unfair advantage over competitors - for example, Microsoft could make Activision's games exclusive to Xbox. Microsoft President Brad Smith responded: "we have complete confidence in our case and welcome the opportunity to present it in court."
---
what we're following 👀
Last week's release of ChatGPT has sparked heated debate around one particular use case: homework. Educators and parents are grappling with the fact that it's now possible for students worldwide to enter a prompt and generate any kind of written output - whether that's an essay, article, or even a poem.
Some are wondering whether this development spells the end of homework. There have long been apps to answer math questions, and now ChatGPT can tackle English, history, coding, and even science! This is convenient for students looking to save time, but more troubling for educators. How can you ensure that any take-home assignment or exam was actually completed by the student and not ChatGPT?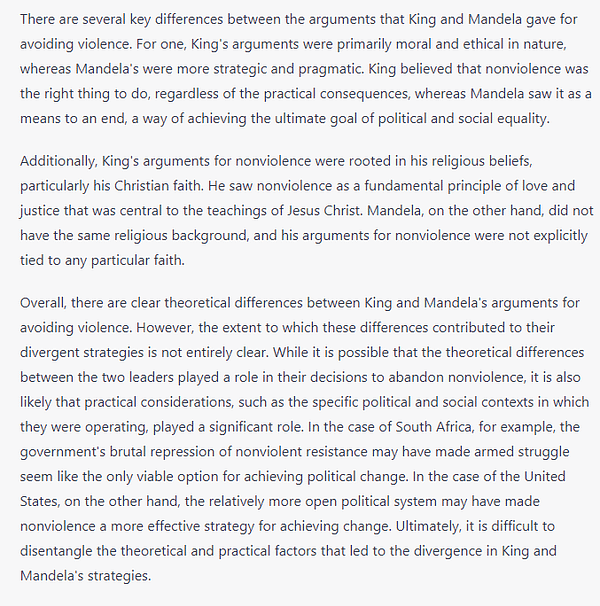 There are a few of schools (pun intended) of thought about what might happen:
Schools will adjust assignments to prevent use of AI. Take-home assignments will become less common - for example, essays will be written in-class, and more of the actual "learning" will happen asynchronously at home (in the time that used to be spent on HW). Teachers may also design assignments that are harder for AI to answer, or ask questions that AI is known to answer incorrectly.

Educators will incorporate AI. Teachers won't try to prevent students from using AI, and will instead embrace it. Proponents of this strategy argue that students will have access to AI in "real life" - why force them to do things that they'll eventually replace with software? (FWIW, you can argue this about much of traditional education). Educators will teach students how to write prompts for AI, vet the output, and make edits when needed.

Use of AI will become detectable. Teachers will be able to tell when a student used AI tools on an assignment, and can disqualify or downgrade accordingly. There's a few ways in which this could happen - one is that AI-generated outputs will have a "cryptographic watermark" that flags the fact that AI was used (this would likely need to be implemented by the generation platform). We can also imagine a Turnitin.com-type tool that predicts the likelihood a given assignment was created by AI, incorporating knowledge about the phrasing / wording AI uses and how it compares to in-class samples submitted by the student.
This is a particularly interesting challenge because it feels like this technology "came out of nowhere." It wasn't a gradual evolution if you haven't been studying the space. Overnight, students were able to fully generate a written assignment via AI, and teachers were not prepared (especially considering it's exam season 😬). Most schools likely don't have policies around this yet - but they're surely hurrying to write them now!
We're also actively looking for companies building in this space - so if you're working on something here, please email us!
---
jobs 🎓
Atomic - Research Analyst (Remote)
ShipBob - Associate Product Manager (Remote)
Local Kitchens - Strategy & Ops (SF)
Roblox - Chief of Staff (San Mateo)
Point72 Ventures - Deep Tech Associate (Seattle), Consumer Associate (NYC)  
Griffin Gaming Partners - VC Analyst (Santa Monica)
Hadrian - Product Manager* (LA)
Maven Clinic - Program Ops Associate (NYC)
Setpoint - Business Operations Associate* (NYC)
WHOOP - Associate Product Manager (Boston)
*Expects 3+ years of experience.
internships 📝
BrightHire - Spring MBA Special Projects Intern (Remote, NYC)
Flexport - Summer 2023 Software Engineering Intern (SF)
New Relic - Product Marketing Intern (SF)
EA - PM, Strategy Interns (Redwood City)
Zoox - Strategy Intern (Foster City)
Netflix - Product Design Intern (Los Gatos)
Anthos Capital - VC Research, Generalist Sourcing Interns (Santa Monica)
ShopShops - BD & Merchandising Intern (NYC)
Duolingo - Growth Marketing Intern (NYC), Social Marketing Intern (Pittsburgh)
In-Q-Tel - Venture Summer Associate (Arlington, VA)
Sands Capital - MBA Global Ventures Intern (Arlington, VA)
---
puppy of the week
🐶
Meet Albus, a 1.5-year-old English Cocker Spaniel who lives in Norway.
He enjoys playing in the snow, giving puppy eyes to get what he wants, and going on walkies.
Follow him on Instagram @albusfluffydore!
---
All views are our own. None of the above should be taken as investment advice. See this page for important information.